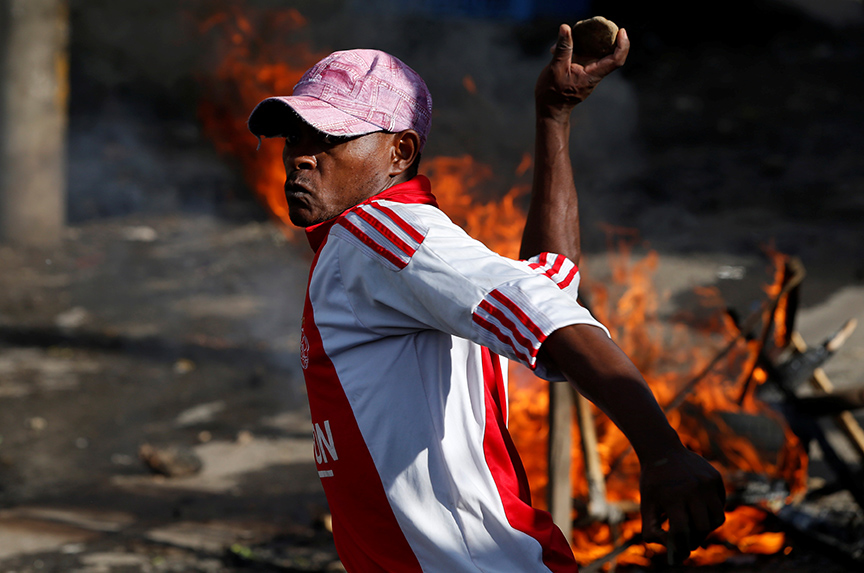 For decades, Africa was portrayed by the international community as the hopeless continent. Then, as African countries staged a takeover of the world's fastest-growing economies list in the early 2000s, the narrative shifted to "Africa rising." It was eventually noticed that not all of Africa was rising. In fact, if anything, Africa was splitting in two, with only an elite set of countries barreling off to participate in the global economy, leaving the rest stuck in the same old quagmire of conflict and poverty. Thus, a narrative of African "winners and losers" emerged.
The violence surrounding the presidential election rerun in Kenya on October 26 contributes to a different narrative, in which one of Africa's longtime "winners" faces destabilizing struggles that may reverberate throughout the continent.

Now it just looks like East Africa is sinking, and fast. Africa's largest economies – Nigeria and South Africa – have always been shaky, but in the last year many of the continent's rising powerhouses have begun to wobble badly. Ethiopia is a powder keg of protests and ethnic conflict; it is merely a matter of time before civil strife in Uganda erupts into violence; Tanzania's president is busily shortchanging his country's economy; and now Kenya has made a complete hash of its presidential elections, setting itself up for years of strife.
Kenya's electoral discord is a serious tragedy for Africa, and is likely to dramatically worsen the security situation in East Africa.
Kenya held peaceful presidential elections on August 8, but the poll results were annulled by the nation's supreme court, which found irregularities and illegalities in the voting process. The July torture and murder of a top elections official enflamed tensions and sparked allegations of election hacking and vote rigging that were all too credible in the wake of Kenya's disastrous 2007 election. Following the contested election, the court's ruling was intended to restore confidence in the electoral and justice system, preempt another round of violence, and reassure opposition voters that justice would, this time, prevail. It was made in hopes that if incumbent Kenyan President Uhuru Kenyatta won re-election, as was likely, opposition voters could at least believe he did it fairly.
The supreme court's decision was widely and appropriately hailed as a victory for Kenya's democracy—and even Kenyatta, begrudgingly, said he would comply with the ruling.
Then the system completely collapsed. A new round of elections was scheduled, then rescheduled. Kenyatta started name-calling, and pushed for legislation to curtail the supreme court's power to overturn elections. Days before the election, the leading opposition candidate, Raila Odinga, announced in a spectacular act of bad faith that he would boycott the election rerun and urged his followers to take to the streets in protest.
Leading up to the election rerun, police dispersed the protests by opposition supporters, over two dozen people were killed, and the government refused to engage the opposition in dialogue. A top election official, Roselyn Akombe, resigned in frustration and fear and fled the country. Another top election official announced his lack of confidence in the credibility of the rerun, and the bodyguard of a chief justice was shot. International observers announced that they would not be going near the polls, and the supreme court, when asked to rule on a postponement of the election, decided en masse not to show up to decide the case. Odinga then declared his political party a "resistance movement" and demanded civil disobedience from his followers, who obliged by blocking access to polling stations in their own opposition constituencies. Most Kenyans simply decided to stay home: less than 34 percent turned out to vote.
Kenya is now left picking up the pieces of this colossal failure in an attempt to restore the credibility not only of its leadership, but also of its institutions.
In the short term, the damage to the country and its political situation will probably be minimal. Kenyatta's supporters, who include many foreign officials and most of Kenya's business elite, will be elated that he won and that business with and within Kenya can continue as usual. Kenyatta's reputation will be somewhat tarnished by the illegitimacy of his most recent election—but this is after all the man who was brought up on charges of crimes against humanity after he helped to rig the 2007 election, and he managed to survive that. Undoubtedly, Kenyatta will press on just as though the election had given him a mandate, and the country will have little choice but to play along.
Odinga, too, has been shorn of credibility over the past month. However, he has lost presidential elections many times before, but he remains a fixture of Kenyan politics. There is a slight chance that he will be able to create a true "resistance movement" in Kenya. However, like Kenyatta, he will persist with his political opposition, and his actions will add to the erosion of Kenyans' confidence in the system and may enflame tribal discord.
Kenya cannot afford such a situation.
Make no mistake, Kenya is one of Africa's winners—its institutions are going to recover from this crisis. The electoral mishaps will be corrected, and the next round of elections will be better. The officials who quit will be replaced, enquiries will take place, reforms will be instituted, and—most important by far—devolution of power and resources to the regions will continue. The trajectory still points upward.
However, the numbers of the disaffected among the Kenyan people will grow because of this episode. A certain number of the people who supported Odinga will lose faith once and for all. As they become more disenfranchised and disenchanted by the political establishment, they will become more vulnerable to recruitment by extremist groups. Kenya is already at war with al Shabaab, whose attacks have terrorized underdeveloped northern regions of the country that are already prone to separatist urges. As Kenya's polity becomes more fragile, al Shabaab's opportunities are magnified That will have repercussions for the whole of East Africa. The dynamic mirrors a similar vulnerability in Ethiopia, where security forces have cracked down with horrifying violence on large swathes of the public.
Africa's reputation as a continent on the rise will be bruised by the instability shaking yet another investment destination. At some point, investor enthusiasm for new markets will be overwhelmed by their fear of risk. These negative news stories have real consequences for growth—and for tourism—and they stunt the opportunities available to African entrepreneurs. This repeated insecurity in one of Africa's most popular and most prized nations is likely to harm to the continent at large.
Likewise, East Africa cannot afford this surge of insecurity. The continent is resilient, but al Shabaab's successful spread into Kenya is a sign of the vulnerability of even the most prosperous, democratic nations. Currently, Ethiopia and Kenya are bulwarks of stability in a very troubled region. If they falter, the instability in South Sudan and Somalia will rapidly spread. (It already has, in the form of refugees spilling over borders and terrorist movements setting up offshoots.) There is a tipping point, at which insecurity becomes unmanageable. In light of what is happening in Ethiopia, and now Kenya, it is time to worry.
Bronwyn Bruton is deputy director and director of programs and studies in the Atlantic Council's Africa Center. Follow her on Twitter @BronwynBruton.