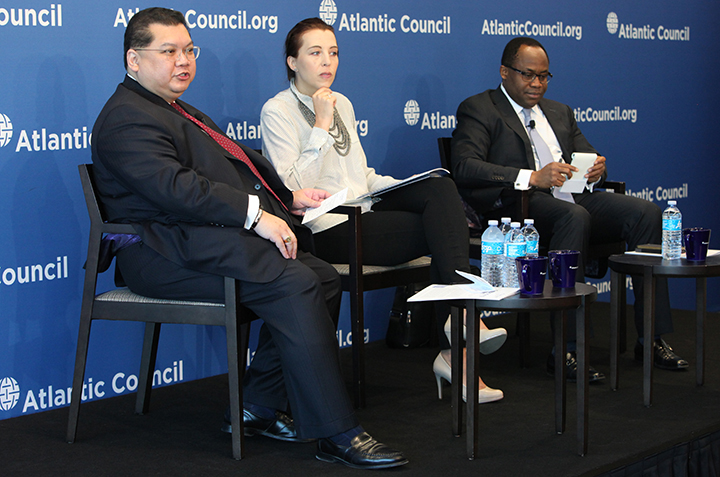 Opportunity seen to embrace reforms in period of slow growth
A combination of rapidly declining commodity prices and an economic downturn in the world's emerging markets has created a "perfect storm" of economic troubles for African countries, said panelists at an event hosted by the Atlantic Council's Africa Center on April 14.
J. Peter Pham, Director of the Africa Center, and Aubrey Hruby, a Nonresident Senior Fellow in the Center, spoke on the panel. Uche Orji, CEO and Managing Director of the Nigerian Sovereign Investment Agency, also joined the panel.
Orji spoke on how African countries can weather this "perfect storm"—and maybe even emerge better off after it subsides.
"We see it as an opportunity for a lot of African countries to embrace this period of slow growth in order to make the kind of reforms necessary for medium- and long-term sustainable growth," Hruby said. She and Pham authored an Atlantic Council report entitled Embracing Impact: How Africa Can Overcome the Emerging Markets Downturn.

Winners and losers
Select East African countries, as well as Morocco, Senegal, and Côte d'Ivoire, are slated for continued economic growth this year, despite the constrained fiscal atmosphere across the continent. Last month, Côte d'Ivoire succeeded Nigeria as sub-Saharan Africa's top prospect for investment.
Commodity-dependent countries will suffer more than their peers. The economies of Angola, Nigeria, and Zambia have been especially impacted by plummeting oil, copper, iron ore, and platinum prices.
"Nothing like urgency to really spur [reforms] on," Hruby said.
On the other hand, countries not dependent on commodities, such as Kenya and Ethiopia, import oil from their neighbors. These economies stand to save money on their import bills amid the oil price glut.
The way forward
Pham summed up the study's primary recommendation to African governments: "Diversify, diversify, diversify." Citing Morocco, he detailed the North African country's success in diversifying its economy through sectors such as agriculture, renewable energy, and tourism. Following this diversification strategy, no single export accounts for more than 10 percent of Morocco's export earnings, even though the country is home to the world's largest phosphate reserves.
"[Morocco] is an example for an Angola or a Nigeria. They have the commodity dependence potential, but they have worked through it," added Hruby.
The study's recommendations also aimed at the United States: sustain high-level commercial diplomacy between the United States and Africa. There is "no doubt," that US commercial diplomacy—orchestrated by President Barack Obama and Secretary of Commerce Penny Pritzker's visits and trade missions to the continent—has made a difference, said Hruby.
"[This policy is] bringing whole new groups of people to the table," Hruby said. "It's not just the handful of Fortune 50 companies that have been in Africa for decades."
While those companies are needed, the United States needs a "new batch" of investors and commercial partners to do business with the continent, and the next US administration must continue to engage US companies wary of investing in Africa, she added.
The view from Africa's powerhouse
Nigeria has been hit hard by falling oil prices and a depreciating currency. The West African country is projected to experience its lowest growth rate in sixteen years. Yesterday, the government announced a $6 billion loan and currency swap deal with China—an attempt to tackle the country's $11 billion deficit.
Orji, who has managed the Nigerian Sovereign Investment Authority (NSIA) since it opened in 2012, echoed the study's findings that current economic conditions provide an opportunity—both to make needed reforms and invest while prices are low—for the continent's largest economy.
"We've been here before," he said. In time, and with some policy "tweaks," Orji was confident that Nigeria would rebound.
Due in large part to more supportive government policies, Orji explained that NSIA has begun investing "aggressively" in five infrastructure-related sectors in Nigeria: transport, agriculture, healthcare, power, and housing.
These investments complement the government's priority to diversify Nigeria's economy away from oil. Government and export revenues remain highly dependent on oil, yet the sector accounts for only 17 percent of the country's total gross domestic product, according to Orji.
Inherent in this diversification strategy is the fight against corruption, a challenge which Nigerian President Muhammadu Buhari came into office promising to end. "It's very important that the country gets it right," Orji said, noting that NSIA has stringent transparency and accountability mechanisms in place—including a full audit every three months—to prevent abuse of its funds.
Despite the uphill battle, Orji was optimistic that Nigeria—working with NSIA, the Nigerian government, and foreign partners like the United States—could tackle some of the difficult reforms advocated in Pham and Hruby's report.
"I expect that my organization will become a signal that the government is serious about fiscal discipline, Nigeria is ready to do things differently," Orji said.
Kelsey Lilley is an Associate Director with the Atlantic Council's Africa Center. Follow her on Twitter @KelseyDegen.