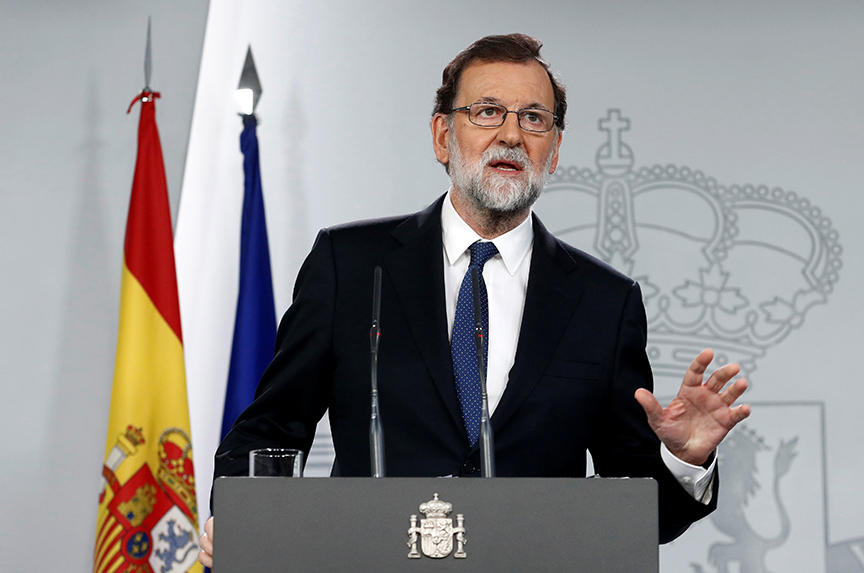 Spanish Prime Minister Mariano Rajoy on October 21 announced his government's intention to remove the leaders of Catalonia's regional government and called for elections to be held as soon as possible.
"By deciding to hold elections in Catalonia, the Spanish government is essentially calling a repeat referendum on independence in an extremely polarized situation," said Fran Burwell, a distinguished fellow at the Atlantic Council.
"Whether that election will have any credibility—despite its legality—will depend on which parties participate, whether activists are released from jail, and whether the true costs of independence—which will be severe—can be debated in a rational manner," she added.

Rajoy's decision follows an October 1 independence referendum in Catalonia, which Spain's constitutional court had declared illegal. The Madrid government deployed police to stop the referendum resulting in clashes that left hundreds of people wounded.
"The government had to enforce Article 155. It wasn't our desire, nor our intention. It never was," Rajoy said on October 21. "But in this situation, no government of any democratic country can accept that the law is ignored."
Carles Castello-Catchot, chief of staff in the Atlantic Council's Brent Scowcroft Center on International Security, said Rajoy's response to this crisis could backfire.
"This unprecedented measure to manage the most important crisis of Spain's still relatively young democracy is all Rajoy's government had left to try to reign in the secessionists, but could also further complicate finding a real political solution to Catalonia's aspirations which, far from going away, may grow louder as Article 155 settles in," said Castello-Catchot.
Rajoy's unprecedented action, taken under Article 155 of the Spanish constitution, is intended to end Catalonia's bid for independence. The Spanish Senate must approve the measures, a process that Rajoy said would happen within the next week. Rajoy's Popular Party has a majority in the Senate.
By invoking Article 155, the Madrid government can suspend Catalonia's autonomy, remove its leaders, and replace its police force. The article states that if a region's government "acts in a way that seriously threatens the general interest of Spain," the government in Madrid can "take necessary measures to oblige it forcibly to comply."
Tunku Varadarajan, a journalism fellow at Stanford University's Hoover Institution, said in an October 4 Atlantic Council briefing that the referendum was nothing short of a "coup d'état masquerading as a referendum." The referendum prompted a rare intervention from Spanish King Felipe VI, who chastised Catalan leaders.
Following the referendum, Catalan President Carles Puigdemont and other regional leaders signed a declaration of independence, but immediately suspended it to allow for talks with Madrid. Rajoy then asked Catalonia's leaders whether they had formally declared independence from Spain. As the October 19 deadline to provide an answer to Rajoy passed, Puigdemont declined to answer yes or no and threatened that Catalonia could formally declare independence if the Madrid government did not engage in dialogue and invoked Article 155.
The Catalan government claims that almost 90 percent of around 2.3 million people who participated in the referendum voted in favor of independence. There are around 5.3 million registered voters in Catalonia. Since the referendum, massive demonstrations in support of Spanish unity have taken place in Barcelona.
Meanwhile, the prospects for dialogue between Madrid and the Catalonian government appear remote. The Guardian quoted an unidentified Spanish government spokesman as saying: "We're not prepared to discuss the dismemberment of Spain and they don't want to talk about anything else."
Ashish Kumar Sen is deputy director of communications at the Atlantic Council. Follow him on Twitter @AshishSen.