South Korea's fraught relationship with Japan seems finally to be on the upswing: South Korean President Yoon Suk Yeol's trip to Tokyo on March 16-17 restored a semblance of normality, and Japanese Prime Minister Fumio Kishida last week invited South Korea to attend the Group of Seven (G7) summit in Hiroshima in May. It is progress, but not enough. More steps are needed, and by Japan in particular, to ensure that better bilateral relations stick.
Even before taking office, Yoon made clear that a top foreign policy priority was restoring South Korea's relationship with Japan to the cordial, if not exactly friendly, status quo ante—that is, before Yoon's predecessor, Moon Jae-in, decided to play to public sentiment by taking a torch to the relationship.
The coup de grace under Moon was the 2018 ruling by the South Korean Supreme Court ordering Mitsubishi Heavy Industries and Nippon Steel to compensate South Korean workers for forced labor under Japan's colonial rule; Moon's government basically endorsed the ruling. The Japanese government cited the 1965 Treaty on Basic Relations Between Japan and the Republic of Korea which settled "completely and finally" all outstanding bilateral issues, including reparations, and the Japanese companies refused to comply. With Seoul poised to confiscate corporate assets to pay the claims, Japan scuttled South Korea's most-favored-nation trade status and restricted exports to South Korea of high-tech materials involved in producing chips and smartphone displays, a sharp blow to South Korea's tech sector. South Korea-Japan relations were thrown in the deep freeze.
Yoon takes a huge risk
Relations remained frozen until Yoon took steps to undo the damage, leading to a formal proposal on March 6 to provide compensation to the South Korean plaintiffs through a Seoul-backed public foundation, instead of direct payment from the responsible Japanese firms. Accordingly, the Foundation for Victims of Forced Mobilization by Imperial Japan, created in 2014 and affiliated with the South Korean interior ministry, is designed to collect voluntary private-sector donations to compensate the plaintiffs, as well as other plaintiffs who win pending legal cases. The South Korean government will seek donations from South Korean companies, such as steel-making company POSCO, that benefited from the 1965 treaty (under which Tokyo provided $800 million in grants and loans to Seoul).
South Korean Foreign Minister Park Jin, in announcing this solution, expressed his hope that the Japanese government might also offer a "comprehensive" apology and that the Japanese firms involved would make voluntary contributions to the foundation.
With this irritant in bilateral relations seemingly managed, both sides endeavored to return to the status quo ante on the trade front: the South Korean government announced that it would withdraw its World Trade Organization complaint against Japan, and Japan's ministry of economy, trade, and industry announced that it would lift the restrictions imposed on export to South Korea of high-tech industrial products.
And despite strong political opposition at home, Yoon persevered and made a pilgrimage to Tokyo to finalize matters. During his visit, Yoon and Kishida also announced the resumption of bilateral security talks, which have been in abeyance for five years, and agreed to establish a dialogue on Japan-Korea economic security at national security council level. Also during the visit, the Japanese Keidanren industrial federation and the Federation of Korean Industry announced a $1.5 million fund to promote exchanges among young people.
The United States, a strong proponent of restored South Korea-Japan ties, had persistently worked behind the scenes to help bring about this rapprochement. Interestingly, Kishida treated Yoon to a "yoshoku" dinner—a now-quaint cuisine of Japanese-style Western dishes prepared in the manner that Japanese chefs created for a curious public upon first contact with Westerners, including Americans, during the Meiji period. (This was at Renga-tei, established in 1895 and one of the oldest still-operating "Western-style restaurants" in Japan.) The United States was therefore, in a symbolic sense, in the room when the two leaders dined together.
Public condemnation is swift
Strong opposition to the Yoon administration's compensation plan emerged immediately. South Korea's main opposition Democratic Party called the plan "the biggest humiliation and stain in diplomatic history," while legal representatives of the plaintiffs said it "effectively provides immunity to the accused Japanese firms from legal obligations." Activists from a coalition of over six hundred civic and labor organizations protested outside the South Korean foreign ministry, stating that they will not accept any solution without a renewed apology and direct compensation from the Japanese companies involved.
A March 8-9 Gallup Korea poll showed 59 percent of South Koreans oppose the plan, as it does not require Tokyo's official apology and compensation, while only 35 percent said they support the compensation plan. Similarly, 64 percent said there is no rush to repair Korea-Japan relations unless Japan changes its attitude, while only 31 percent said ties with Japan should be rapidly improved even if it requires South Korea to make compromises.
Given its unpopularity among the South Korean public, the plan's sustainability is being called into question. Commentators have been quick to point out that the timeframe for compensation under the plan runs out in ten years, and that Yoon's presidential term expires in four. The head of the Democratic Party, Lee Jae-myung, noted ominously in this regard: "After five years of a president's term, a different individual will be making a final decision for the nation's policies."
Japan needs to step up
It may be tempting for Japan's leaders to fold their arms with satisfaction and allow Seoul to shoulder the entire burden of repairing Japan-Korea ties, given that the source of the most recent rupture came from the South Korean side. However, this would be short-sighted and against Japan's national interest as China's growing ambitions become more of a concern in the region and North Korea's missile tests are more frequent. If the objective is not to point fingers, but to truly improve bilateral relations to deal with these and other concerns, the Japanese government needs to demonstrate stronger efforts to reciprocate. Here are several next steps Tokyo could take:
At the G7 Summit in Hiroshima in May, Kishida should host a high-profile bilateral meeting with Yoon.
Kishida should rapidly schedule a visit to South Korea to underscore the point that Yoon's visit earlier this month was him visiting not as a supplicant, but as a genuine partner.
Japan should propose a more formal, regular, and multi-layered series of bilateral security consultations along the 2+2 model (foreign and defense ministers) that Japan regularly conducts with the United States. This institutionalization would make it harder for either side to simply shut down bilateral communication in these channels in reaction to future disputes.
Tokyo should also quietly encourage Japanese corporations, including the two involved in the lawsuit, to contribute to South Korea's voluntary fund. That would help Yoon respond to criticism that the Japanese companies got off scot-free.
In sum, the more that Japan shows its relationship with South Korea is a two-way street, the more sustainable it will be in the face of South Korean public opinion. This is critical not only for getting the Japan-South Korea relationship back on firm footing, but also for bolstering prospects for security cooperation among the United States and its allies in northeast Asia in the coming years.
Thomas Cynkin is a nonresident senior fellow in the Indo-Pacific Security Initiative at the Atlantic Council's Scowcroft Center for Strategy and Security
---
Further reading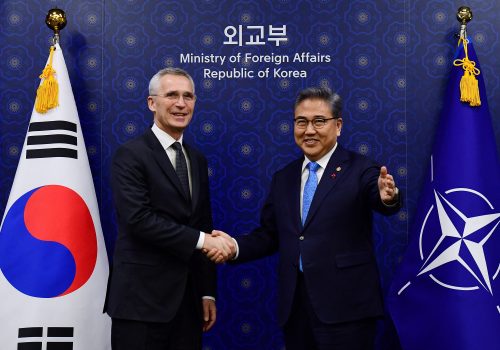 Mon, Feb 6, 2023
New Atlanticist By Sara Bjerg Moller
NATO Secretary General Jens Stoltenberg's visit to Japan and South Korea trip was striking both for its timing and for its messaging shift on China.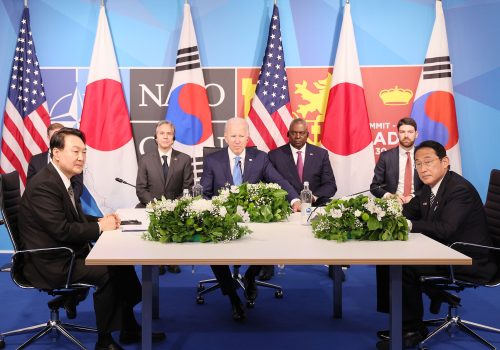 Tue, Dec 20, 2022
Issue Brief By Lauren D. Gilbert, Kyoko Imai
Trilateral cooperation among the United States, Japan, and South Korea has proved challenging over the years, owing largely to historical tensions. As a result, this project has sought perspectives from next-generation leaders of the three countries to define areas where targeted, flexible, and informal cooperative arrangements can provide clear mutual benefit to all.
Thu, Jan 5, 2023
In-Depth Research & Reports By Atlantic Council
This Trilateral Cooperation Policy Portfolio seeks to offer actionable and practical policy recommendations for stakeholders in Washington, Tokyo, and Seoul aimed at enhancing security and prosperity, upholding common values, and bolstering the rules-based order in the Indo-Pacific region. We welcome you to stay tuned for upcoming reports, as part of this effort, coming in 2023.