Last week, US Secretary of Defense Lloyd Austin and the Philippines' National Defense Secretary Carlito Galvez announced plans to accelerate the implementation of the Enhanced Defense Cooperation Agreement (EDCA), a pact to strengthen bilateral defense cooperation, by granting US rotating forces access to four additional military bases, bringing the total number of EDCA sites to nine. It's the latest example of the Biden administration's strategy to harness the United States' "unmatched network of allies and partners" in competing with China. While the US-Philippines announcement is getting plenty of air time, NATO Secretary General Jens Stoltenberg's visit to South Korea and Japan last week is not—but it deserves equal attention. Indeed, of the two, the latter development could prove to be more consequential.
This is not to suggest that the United States securing access to additional bases in the Philippines isn't a big deal; it is. But the United States already has access to five air bases, including the Antonio Bautista Air Base in Palawan—an island near China's Nine-Dash Line—as well as Cesar Basa Air Base and Fort Magsaysay near Manila on Luzon Island, the part of the Philippines' archipelago that is closest to Taiwan. While the selection of new sites hasn't been finalized yet, the United States is reportedly hoping to secure access to a second base on Palawan and potentially three more bases in Luzon. Last week's deal, as Mike Ives of the New York Times (and others) have noted, "would have strategic implications if a conflict were ever to break out in Taiwan or the South China Sea."
The strategic implications of Stoltenberg's visit to Seoul and Tokyo may not seem as obvious on the surface, but look closer and they are there. While diplomatic relations between the two northeast Asian countries and the Alliance are nothing new—both South Korea and Japan have been members of NATO's "partners across the globe" for more than a decade—Stoltenberg's visit shows that the transatlantic Alliance's strategic approach to the Indo-Pacific is entering a new phase.
Although Stoltenberg has visited both capitals before (his last trip to the region was in 2017), this trip is striking not only for its timing, but also the noticeable change in the message Stoltenberg delivered while there. The fact that Stoltenberg chose—with war raging in Europe, the West repeatedly split over which weapons systems to send Ukraine, and with just eight months left in his term—to undertake the trip is hugely significant. As the secretary general told an audience in Seoul, his delegation's visit is "a strong expression of the great importance we attach to the partnership between the Republic of Korea [South Korea] and NATO."
Throughout his visit to the region, the secretary general argued that NATO's security and East Asia's security are interconnected. Whether it's North Korea's delivery of weapons to Russian forces fighting in Ukraine or China's military buildup, Stoltenberg's message was clear: "What happens in Europe matters to the Indo-Pacific. And what happens here in Asia matters to NATO."
Stoltenberg's language and tone when referencing China this past week was particularly noteworthy. China only appeared on NATO's agenda for the first time at the Alliance's London Summit in December 2019. Back then, China merited only one (measured) line in the summit communiqué: Beijing's growing influence and international policies, the communiqué noted, "present both opportunities and challenges." Skip ahead to last week and the language Stoltenberg used to describe China represents a noticeable shift. The secretary general told reporters in Tokyo that Beijing, together with Moscow, is "leading an authoritarian pushback against the international rules-based order." In case his point was lost on the assembled journalists, he continued: "What is happening in Europe today could happen in East Asia tomorrow. So we must remain united and firm." While the NATO leader stopped short of calling China an adversary, he agreed with Tokyo that China's behavior is a matter of serious concern and noted the "scale of the challenge" that China presents requires the Alliance and Japan to "work together to address it."
To be sure, some of this language matches the tone of NATO's latest Strategic Concept, unveiled at last summer's Madrid Summit. In Seoul last week, Stoltenberg even nearly recycled a line from that document, saying that "China poses a challenge to our values, to our interests and to our security." The secretary general also acknowledged that China is "much higher on the NATO agenda" than before because it is "coming closer to NATO," whether in cyberspace or through its attempt to control critical infrastructure such as 5G networks. Other reasons why China is rising on NATO's agenda, Stoltenberg outlined, consist of its coercive behavior in the South China Sea, ongoing military buildup, and connections to Moscow's war in Ukraine—the last of which the secretary general brought up on more than one occasion, citing China's failure to condemn the invasion and its growing relationship with Russia. All of this is a far cry from just a few years ago. In Alliance terms, the shift in NATO's strategic messaging on China has occurred at lightning speed.
Of course, Stoltenberg's tougher messaging on China may not perfectly reflect every Alliance member's preferred strategy toward China. Differences of opinion on this within the Alliance are well known, with some preferring a more cautious tack toward China. But NATO countries understand that while Stoltenberg may not represent their capital's favored approach, he ultimately speaks for the Alliance as a whole. Whether the next NATO secretary general will embrace the message Stoltenberg carried with him on his trip is, at least for now, still an open question. However, history suggests that most secretaries general eventually end up bending to Washington's will.
Stoltenberg's visit marked more than just a shift in rhetoric. It marked a growing realization since Russia's invasion of Ukraine last February on the part of both NATO and US allies in the Indo-Pacific that the security of the North Atlantic and Asia are "inseperable." There have already been tangible rcesults, such as progress toward a new Individually Tailored Partnership Programme between NATO and Japan, a framework agreement that outlines each NATO partner's objectives for its relationship with the Alliance. Stoltenberg also used his trip to publicly announce his intention to invite both the South Korean and Japanese leaders to the NATO Summit in Vilnius, Lithuania, later this year. In a historic first, leaders from Japan and South Korea—together with leaders from New Zealand and Australia—attended the Madrid Summit last summer where NATO unveiled the new Strategic Concept. By declaring his intention to once again host this grouping of NATO Asia-Pacific partners (known as the AP4) at the annual gathering of allied leaders, Stoltenberg is signaling that this was not a one-off and could soon become part of NATO's new normal.
---
Sara Bjerg Moller is a core faculty member of the Security Studies Program at the Edmund A. Walsh School of Foreign Service at Georgetown University.
Further reading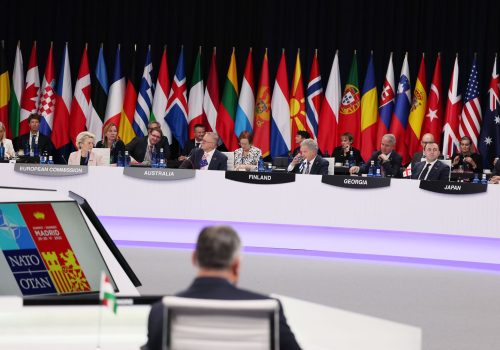 Thu, Feb 2, 2023
Report By Hans Binnendijk and Daniel S. Hamilton
Allies made it clear that they consider Russia their most immediate and direct threat. Yet they also made headlines by addressing challenges emanating from the People's Republic of China (PRC).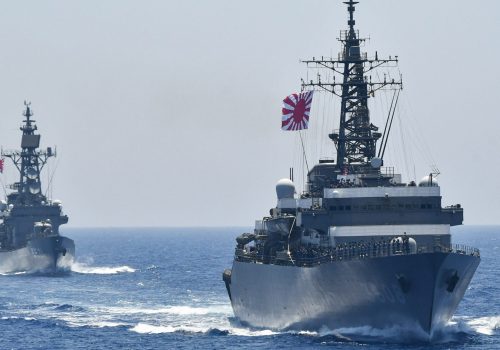 Fri, Aug 5, 2022
New Atlanticist By Naoko Aoki
Despite only small changes so far, it's clear that Shinzo Abe's legacy will continue guiding Japanese defense policy.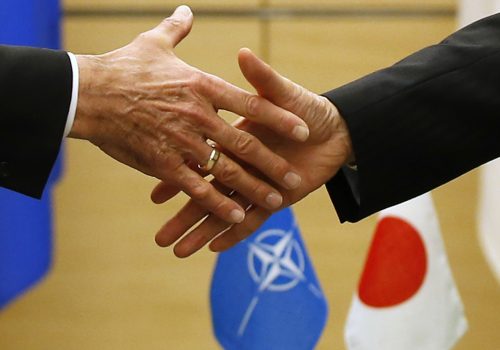 Fri, Mar 26, 2021
New Atlanticist By Mirna Galic
Although NATO and its Asia-Pacific partners have developed their relations over the past two decades, various constraints have limited the ambition and potential of these relationships. But there may be a change of the status quo on the horizon.