The most right-wing government in Israel's history took office this month, and ministers from Benjamin Netanyahu's new cabinet quickly found the limelight by testing the patience of the Arab people—drawing widespread criticism from Israel's neighbors and beyond. Then this past weekend, tensions between Israelis and Palestinians exploded into violence: An Israeli raid in Jenin, West Bank, intended to thwart a terrorist plot left nine dead. Then a Palestinian gunman killed seven people in a terrorist attack on an East Jerusalem synagogue.
With violence escalating once again, Netanyahu will be under pressure from members of his cabinet and his right-wing base to enact tougher measures against Palestinians. But if the prime minister is to achieve his long-sought goal of normalization with Arab countries including Saudi Arabia, he will have to find a way to end the bloodshed—and keep a lid on his far-right ministers who too often only inflame tensions.
In recent days, international condemnations poured in quickly against both the Jenin raid and the synagogue attack. Saudi Arabia called the raid a "serious violations of international law" and advocated for an "end to the occupation." The statement was followed by criticism from the United Arab Emirates (UAE), Kuwait, and Oman. US Secretary of State Antony Blinken, who met with Netanyahu on Monday, called the East Jerusalem attack "abhorrent," while Saudi Arabia said it "condemns all targeting of civilians," a rare show of support to Israel.
This renewed wave of violence is the culimination of tensions that have been mounting between Israelis and Palestinians ever since Netanyahu's government took office in early January. On January 3, National Security Minister Itamar Ben-Gvir staged a provocative visit to Jerusalem's Temple Mount—also known as the Al-Aqsa Mosque—the holiest site for Jews and third-holiest for Muslims, where a delicate status quo allows only Muslims to pray, with Israel overseeing the security of the site and Jordan managing its religious buildings. Saudi Arabia and the UAE, two countries involved in normalization and peace talks with Israel, called the visit an "attack" on the holy site. (Netanyahu was forced to postpone a trip to Abu Dhabi that was slated to be his first official foreign visit since becoming prime minister again.) Oman, a country that many had believed was next in line to sign the Abraham Accords, outlawed any relations with Israel. While Oman's decision was most likely an appeasement strategy toward Iran, Ben-Gvir's actions gave the sultanate the perfect way out.
The security minister has become the face of the most far-right faction of Netanyahu's new cabinet. Ben-Gvir has advocated for reinstating the death penalty for Palestinians sentenced of crimes against Jews, was convicted of terrorism incitement in 2007, and supports unilaterally ending the agreement about the Temple Mount that has been in place since Israel annexed East Jerusalem in 1967. After visiting the Temple Mount, Ben-Gvir continued his stream of contentious behavior when he ordered the removal of Palestinian flags from public spaces.
It's not just Ben-Gvir stirring the pot. Netanyahu's new cabinet includes ministers who have called for the annexation of the entire West Bank, are activitely limiting Israel's Supreme Court's powers through a deeply controversial justice reform, are fervently against the LGBTQ+ community, wish to reduce women's rights in the military, and seek to limit Jewish immigration to Israel only to those who fit the Orthodox criteria. More recently, Israel's Finance Minister Bezalel Smotrich boasted about his refusal to cooperate with the United Arab List party, while the new Culture and Sports Minister Miki Zohar seeks to either completely halt or significantly reduce state funding to artwork and movies that in his view offend Israel.
Netanyahu has far greater plans for Israel than solely steering the country to the far right on domestic issues. Internationally, Netanyahu's most ambitious goal is to expand the Abraham Accords' reach to include Saudi Arabia, a once far-fetched notion that has become more realistic given the two countries' recent rapprochement. Normalization would be a major diplomatic win for Netanyahu, as it would help define his legacy, bring about enormous economic gains for the region, and pave the way for other Arab and Muslim-majority countries to normalize ties with the Jewish state. Netanyahu has made this point clear time and time again, most recently stating that normalization with Saudi Arabia would be a "quantum leap" for peace with Palestinians and pressuring the Biden administration to move past the murder of Saudi journalist (and US resident) Jamal Khashoggi and "reaffirm" its alliance with Saudi Arabia.
Whether Saudi Arabia also intends to negotiate a peace deal with Israel is the multi-billion-dollar question. The kingdom certainly views the deal as advantageous, first and foremost for security reasons.
Both Israel and Saudi Arabia view Iran as the most acute threat in the region, and a peace deal would strengthen the anti-Iran bloc that the Abraham Accords has already established through the Bahrain-UAE-Israel alliance. Additionally, a deal with Israel would strengthen Crown Prince Muhammad Bin Salman's (MBS) attempts to show Western allies that he is a moderate leader and Saudi Arabia is a moderate country, a quest he has been pursuing since 2018 when he approved a series of reforms to reduce the country's strict adherence to Islamic law, including wide-reaching reforms ameliorating women's lives in the kingdom.
It would also undoubtedly help restore the longstanding US-Saudi alliance, which has seen major setbacks since the 2018 killing of Khashoggi (for which the Central Intelligence Agency found MBS responsible) and last year's Saudi agreement with Russia to cut oil production—which led US President Joe Biden to vow unspecified "consequences" for the kingdom. MBS reportedly told a visiting delegation of Americans that he had three main demands of Washington in exchange for peace with Israel: assurance over the strength of the US-Saudi alliance, consistent weapons supplies, and a deal allowing a civilian nuclear program.
However, Saudi Arabia is also a historic champion of the Palestinian cause, and it has made it clear on several occasions that normalization with Israel must come hand-in hand with the creation of a Palestinian state. At the recent Davos conference, Prince Faisal bin Farhan claimed that peace with Israel will only come by "giving the Palestinians a state"—and it's hard to imagine Israel's current government ever agreeing to that. Saudi Arabia is also home to Mecca and Medina, Islam's two holiest sites, and is keen to maintain its legitimacy as their rightful religious custodian in the eyes of the Muslim world.
A careful reading of the tea leaves shows that Netanyahu may, in fact, be able to normalize relations with Saudi Arabia without a two-state solution. But actions by his far-right ministers and his own further crackdowns on Palestinians may push Arab countries further away from normalization. Support for the Palestinians is still a uniting (perhaps the only uniting) cause among the Arab world, as evidenced by the most recent Arab Barometer survey, which indicated that the vast majority of citizens in most Arab countries still oppose normalization with Israel. At the Qatar World Cup, soccer players and fans alike showed their support for the cause by brandishing Palestinian flags on multiple occasions.
Netanyahu is showing a willingness to save face with his Arab neighbors at the expense of political allies at home. He recently backed the Israel defense minister's decision to evacuate an illegal Jewish settlement in the West Bank, creating fractures within his coalition, as Netanyahu defied Smotrich, who leads the far-right Religious Zionism Party. Netanyahu also paid a surprise visit to King Abdullah in Jordan, home to some three million Palestinians.
The Abraham Accords are undoubtedly a significant milestone for peace and prosperity in the region. The Accords could generate up to one trillion dollars in new economic activity if everything goes as planned and new countries normalize ties with Israel. They would create new jobs, incentivize trade, and create new business opportunities for millions. Yet, if left unchecked, Netanyahu's far-right ministers will make it harder to continue on this trajectory. Witness how after Netanyahu's surprise Jordan visit, Ben-Gvir stated that he will continue to "go up to the Temple Mount" regardless of Jordan's stances on the matter.
If Netanyahu wants to move forward with his most ambitious foreign-policy aim, he will need to find a way to tamp down the right-wing domestic political theater—including from his own ministers—and make things right with his putative Arab allies. And none of that is possible unless he is able to first stop this cycle of violence.
---
Alissa Pavia is an associate director at the Atlantic Council's Rafik Hariri Center and Middle East Programs.
Further reading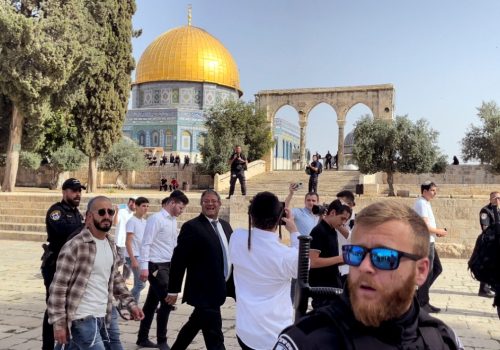 Mon, Jan 30, 2023
MENASource By Ksenia Svetlova
Will PM Benjamin Netanyahu find the desired equilibrium between the radical politics of his coalition partner and diplomacy with Arab capitals?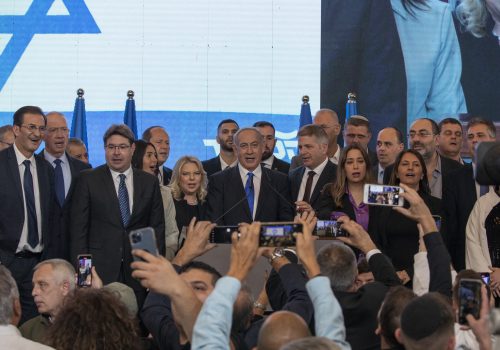 Wed, Nov 2, 2022
MENASource By Shalom Lipner
Whichever scenario materializes, it's not impossible that Israelis could yet find themselves summoned to vote in a sixth election before 2023 is up.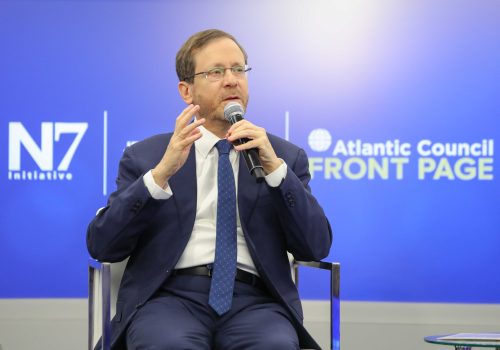 Wed, Oct 26, 2022
New Atlanticist By Nick Fouriezos
President Isaac Herzog, at an event hosted by the Atlantic Council and Jeffrey M. Talpins Foundation's N7 Initiative, spoke about regional cooperation and Israel's approach to the war in Ukraine.