Watch the full event
According to Estonian Prime Minister Kaja Kallas, the transatlantic community's ability to reestablish peace on the European continent rests on whether it can "break the historical cycle of aggressions" by Russia.
That will take more than backing Ukraine's win: In her view, "Russia also has to lose." But that military defeat will require more Western support to Ukraine, particularly arms, ammunition, and training. "Our strategy must be to stay firmly on the course and boost our long-term support."
Kallas spoke on the first day of the EU-US Defense & Future Forum, cohosted by the Delegation of the European Union to the United States and the Atlantic Council's Europe Center. She said that the war in Ukraine and current global shortages in ammunition are showing NATO allies that they'll need to increase the amount and speed of their defense production.
"Russians have understood that quantity of resources is quality, and as a result have stepped up production of ammunition and machinery," she explained.
In contrast, she added, NATO allies "have a lot to do" to boost their defense industries and prepare their stockpiles. Kallas—who expressed interest in serving as the next NATO secretary general at a separate event on Tuesday—suggested allies begin by investing more than 2 percent of gross domestic product in defense and by harnessing technological advancements to increase production.
Below are more highlights from the conversation—moderated by Wall Street Journal reporter Vivian Salama—which touched upon the transatlantic community's efforts to boost its defense production and ways the West can continue to support Ukraine.
Revving the defense industry's engines
Kallas hailed the EU's joint ammunition procurement initiative, which finances artillery and missiles for Ukraine. She explained that the idea was inspired in part by how the EU reacted to the COVID-19 pandemic, purchasing vaccines in advance in large, bloc-wide orders.
"The question is how we go from here because we have a lot of gaps in the defense industry," Kallas warned, explaining that while countries are making pledges to supply Ukraine, actual orders for ammunition aren't being submitted to the defense industry. It is a "chicken and egg issue," she explained. "We should… actually go into real procurement to give the certainty to the defense industry to boost their production."
The prime minister noted that there is a role for the United States in supporting pan-European defense procurement, as NATO's Article 5 binds it to collective defense obligations. The role "is written there," she said. "We just have to fulfill it."
It will be important not only to increase production, Kallas said, but also to ensure that each country's defense industrial base produces according to NATO standards. That way, defense technologies and equipment are compatible with each other across borders and can be exchanged easily in the event of a crisis, she explained.
She warned NATO allies not to buy into Russian President Vladimir Putin's claims that bolstering NATO's eastern flank amounts to a provocation. "NATO is a defensive alliance. It is not there to attack anybody, but to defend," she said, adding that buying into the argument that NATO shouldn't have arms close to Russia's border means that the entire country of Estonia will be left unarmed. For the European continent, "defense starts from [Estonia's] borders," she said.
Mobilizing support
On top of conventional warfare, Russia has continued a "shadow war" to undermine international support for Ukraine, Kallas warned, pointing to Russia's cyberattacks, weaponization of energy and food, and disinformation.
She argued that because these activities are made possible through Moscow's funding, "we have to show [the] Kremlin it cannot outlast Ukraine and the free world economically," in part by helping "dry up" Russia's income.
While in Washington, Kallas is meeting with US lawmakers to urge more support for Kyiv and convey how important Ukraine's success in defending its sovereignty is for US national security. "That has resonated" with lawmakers, she argued, because "freedom… is one of the basic principles of the United States."
"What is at stake here is the fundamental functioning of the world," she said. "Would-be aggressors in the world are very carefully taking notes [on] how this plays out. And if our response is not strong enough… then what the aggressors learn is that it pays off."
Kallas said she hopes that the EU will "soon seal the deal" on long-term aid for Ukraine, referencing a plan for military aid proposed this summer that would allocate up to twenty billion euros to Kyiv over four years.
The prime minister called upon other EU members to support Ukraine in its EU candidacy. She said that now, fighting for their country, Ukrainians "have the will to root out corruption" and to enact strong reforms, both of which are prerequisites to Kyiv's membership.
"People are afraid that we're going to support Ukraine forever. No: We have to support them to do the necessary reforms," she explained. "If the economy functions, they can prosper on their own, and we can all benefit from that."
---
Katherine Walla is an associate director of editorial at the Atlantic Council.
Watch the full event
Further reading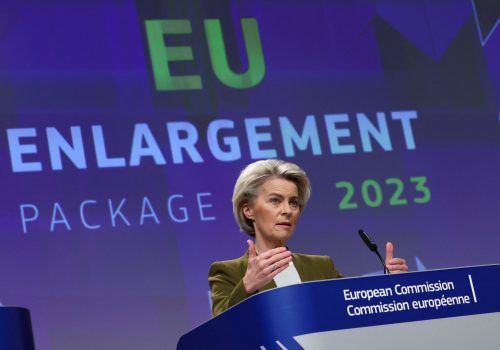 Thu, Nov 9, 2023
New Atlanticist By Atlantic Council experts
Ukraine, Moldova, and Georgia just saw their bids to join the twenty-seven member bloc boosted by the European Commission. Atlantic Council experts explain what it means for EU enlargement.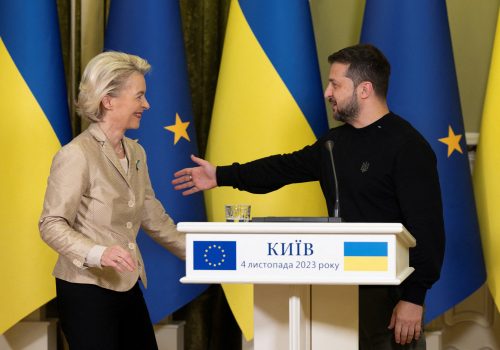 Thu, Nov 9, 2023
UkraineAlert By Peter Dickinson
The European Commission this week recommended opening EU membership negotiations with Ukraine. The move represents historic progress at a time when Ukrainians are fighting to defend their independence and their right to choose a European future, writes Peter Dickinson.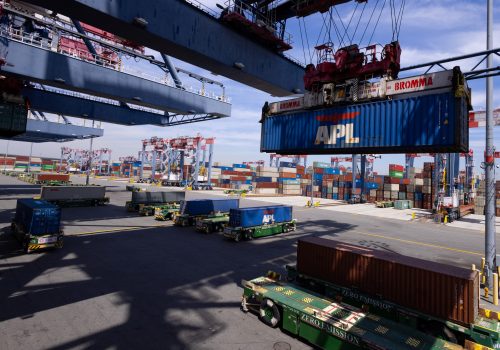 Wed, Oct 18, 2023
Issue Brief By Erik Brattberg, Frances Burwell, Jörn Fleck, Charles Lichfield, Zach Meyers, James Batchik, and Emma Nix
Both sides of the Atlantic are confronting the geopolitical necessity of adapting trade and industrial policies to be fit for purpose in an increasingly competitive world. To avoid competition between Washington and Brussels, policymakers must recognize each side's priorities and commit to further cooperation to bridge the transatlantic economic relationship, not widen it.