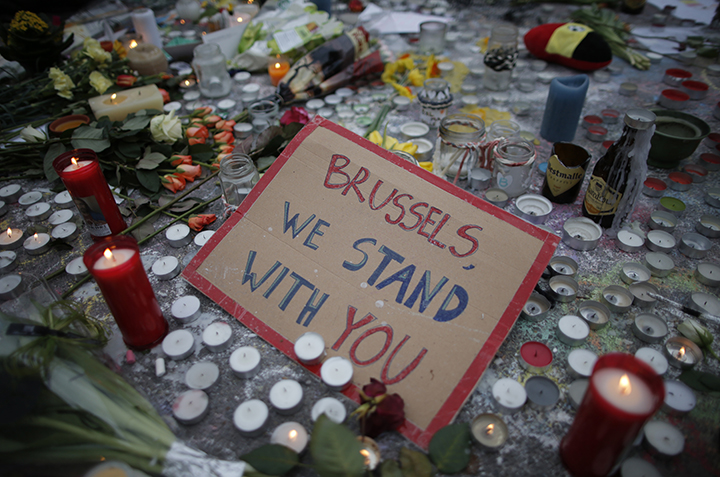 Terrorist attacks against the West will continue as long as Europe fails to integrate Muslim communities into its fold and organizations like the Islamic State of Iraq and al-Sham maintain their ideological stranglehold over these disaffected communities, according to senior fellows at the Atlantic Council.
"These attacks are going to continue as long as two conditions exist: a recruitment pool of alienated Muslims in Europe and ISIS [exists] as a model inspiration and enabler," said Faysal Itani, Senior Fellow at the Atlantic Council's Rafik Hariri Center for the Middle East. Itani spoke on an Atlantic Council media conference call on March 23, a day after suicide bombers attacked Brussels leaving at least thirty-four people dead and wounding more than 200 others.
"The Belgium attack really presses the fast-forward button on a number of trends that were already underway [in the West]: the rise of bigotry, anti-refugee sentiment, anti-Muslim sentiment," Itani added.

Stefano Stefanini, a Senior Fellow at the Atlantic Council's Brent Scowcroft Center on International Security, also joined the call, which was moderated by Barry Pavel, Vice President, Arnold Kanter Chair, and Director of the Scowcroft Center.
Belgian authorities have identified two of the suicide bombers as brothers and have launched a manhunt for another suspect in the attacks. ISIS has claimed responsibility for the attacks.
The Brussels attacks have put questions about the European Union's future and the international community's response to ISIS front and center. Similar questions last year dominated discussions after the ISIS-sponsored attacks in Paris on November 13, 2015. Europe is already under pressure from a historic influx of migrants fleeing wars in Syria, Iraq, and Afghanistan.
Stefanini said that it is important to understand that Europe is not entirely free from fault in light of the Brussels attacks.
"Two failures on Europe's part that led to this attack: first is the incapacity of Europe to integrate Islamic communities and second is the reluctance to respond [to ISIS] with military [force]," he said.
As Belgium enters three days of mourning, the international community is witnessing the EU come to terms with two critical questions: how will the Brussels attack define the future of European unity; and how will the international responses against ISIS, the migrant crisis, and the conflicts in Syria and Iraq change?
"ISIS is waging war against the West," said Stefanini. "The international community must look at this as an attack on Europe."
The EU's role for its member states and overall strategic foreign policy have been jarred following the Brussels attacks. Stefanini noted that the attacks will fuel discussions about EU membership and the urgency with which the bloc needs to address the migrant crisis and terrorist cell operations in its member states—particularly in France, Belgium, and Germany.
"Here the danger lies with the tendency in Europe to split and divide in the face of crisis. Brexit [and pressure from the migrant crisis] have the potential to spark a secessionist frenzy Europe-wide. These crises will largely determine the EU's future. Today's Europe has a choice between trying to stay together or going national with responses and defenses," Stefanini said.
EU unity could be bolstered by increasing international pressure against ISIS in Syria and Iraq, but Stefanini said that this pressure must be increased: "It is not enough to talk about simply degrading ISIS. ISIS has so-called capitals in Raqqa in Syria and in Libya. They are vulnerable. We have the means to destroy them."
Itani noted that the expansion of ISIS' operations against the West is fundamentally borne out of instability in Iraq and Syria. "It is the implosion of Iraq and Syria that is fueling ISIS and empowering Sunni jihadism globally," Itani said.
The need for US and European-led action against ISIS may require partnership or diplomatic acquiescence from Russia and China to ultimately destroy the terrorist organization, which has operational headquarters in embattled areas of Syria and Iraq. An official cessation of hostilities was declared earlier in March, but this means little unless it leads to a firm settlement.
"A settlement like that would allow Syrians to focus on ISIS," said Itani.
"If other foreign actors—Russia, China, Iran—are willing to work towards stabilizing [Iraq and Syria's] conflicts, that would be a very welcome development," he added.

Mitch Hulse is an intern at the Atlantic Council.