"I am the king—the lion king." In the final days of Argentina's presidential campaign, Javier Milei again likened himself to the king of the jungle, intent on devouring the "political caste" of his country. In the second-round election on Sunday, the former television personality known for his libertarian economic views and unruly mane easily bested Minister of Economy Sergio Massa, representing the Peronist status quo, to become Argentina's next president. The new leader's first task will be to tame Argentina's sky-high inflation, which has risen to more than 140 percent this year. Below, experts share their insights on what to look for next with Milei, Argentina, and the region.
Click to jump to an expert analysis:
Jason Marczak: Two versions of Milei campaigned for president. Which will govern?
Martin Mühleisen: Facing constraints, Milei might just break a decade-old political logjam
Isabel Chiriboga: Argentina must learn from Ecuador's dollarization
Alejo Czerwonko: The old economic policies were not working, but it's not yet clear if the new ones will
---
Two versions of Milei campaigned for president. Which will govern?
The regional anti-incumbency trend was the clear winner at the voting booth on November 19; this time in Argentina where outsider Milei (La Libertad Avanza [LLA]) clearly defeated Massa (Unión por la Patria [UP]). The nearly 11.5 percentage point margin of victory (55.7 percent to 44.3 percent) would have seemed unlikely earlier this year or after Milei came in second place in the first round. Even heading into election day, the polling average showed a relative dead heat with a slight advantage to Milei.
In the end, Argentines, frustrated with 143 percent inflation, insecurity, and unmet promises of the current government, opted for a clear break from Peronism. Milei won in twenty-one of twenty-three provinces plus the city of Buenos Aires. Massa's struggles were quite acutely reflected in the Peronism stronghold of the province of Buenos Aires, home to 37 percent of voters: In this traditional bastion of support, Massa eked out only a slight advantage (1.5 percent) over Milei. In the electorally important province of Córdoba, home to the highest percentage of voters who had chosen neither Milei nor Massa in the first round, Milei defeated Massa by over 48 percentage points.
What does this mean? Milei's proposals to dollarize, close the central bank, and drastically cut spending may have initially been too much change for voters. But with the notable addition of former President Mauricio Macri as a supporter (alongside former Minister of Security Patricia Bullrich) following the first round and a tempering down of Milei's rhetoric, the change represented by Milei became more reassuring for the Argentine public. In Argentina, as with the August election of Bernardo Arévalo in Guatemala (although with a different ideological position), frustrated voters who want democracy to better deliver for the people were reassured into opting for a clear break from the current government.
What happens next? Milei's Monday morning meeting with President Alberto Fernández is the first step in the three-week period of transition. Many ministers have already been named and other top posts will soon be announced. But the question is: Which Milei will govern as president? In his victory speech, Milei began by noting that "today the reconstruction of Argentina begins." He then went on to say that what brings Argentines together is more important than what separates them and welcomed all to be part of his movement. And in a nod to the radical change he desires, Milei noted that "no space exists for gradualism." Will the more measured Milei of the last few weeks govern or will his presidency reflect some of the more extreme rhetoric seen in parts of his campaign?
What will a Milei presidency mean for the region? The extremely important relationship between Argentina and Brazil—partners in Mercosur—will be tested and this test will come ahead of a December 5-7 Summit of Mercosur Heads of State in Rio de Janeiro. The summit comes days before Milei's inauguration on December 10 and is seen as a pivotal meeting to decide on the future direction of Mercosur and its potential agreement with the European Union. Brazilian President Luiz Inácio Lula da Silva congratulated the next government of Argentina without referencing Milei by name. Meanwhile, former Brazilian President Jair Bolsonaro was quick to turn to X to exclaim that "hope shines again in South America."
Beyond Brazil, expect a fractious relationship with Colombian President Gustavo Petro, who openly campaigned for Milei's opponent. As well, Milei has said he will not maintain political relations with communist governments. If he follows through, China will see a significant downgrade in its overall ties with Argentina, where it has become the country's second largest commercial partner.
Argentina will be in overdrive during this short transition period. The festivities in the streets on Sunday night will quickly turn to preparations for a transition. All eyes will soon turn to who fills ministerial posts, how Milei prepares for governing, and how he will work with an Argentine congress, in which the UP coalition is expected to be the primary legislative bloc.
—Jason Marczak is vice president and senior director of the Atlantic Council's Adrienne Arsht Latin America Center.
---
Facing constraints, Milei might just break a decade-old political logjam
The surprise win of Milei might just be the type of shock that finally gets Argentina out of its decades-long economic misery. But this is no more than wishful thinking one day after the election, and it could all go south very quickly. The immediate question is whether the new president will be able to put together a functioning government and prevent Argentina from defaulting on its external lenders during the first few months in office. If instead Milei was to follow through on the economic measures he advocated on the campaign trail, those who voted for him to spite the establishment could quickly change sides as his policies hit their pocketbooks. Dollarization and fiscal austerity would be highly deflationary, meaning that unemployment and poverty rates could skyrocket, throwing Argentina into a disorderly tailspin and, possibly, leading to mass protest and civil unrest.
What, then, could be the upside from a Milei presidency? Assuming the new administration is staffed at least partially by experienced hands drawn from previous governments or the private sector, one could also imagine a more cautious policy path, starting with a tighter monetary stance and fiscal consolidation aimed at slowly bringing inflation under control. Reforms to unlock private investment and higher productivity require a congressional majority, however, which Milei doesn't have. But given the country's dire situation, his popularity as an outsider might offer a last chance to break a decade-old political logjam that saw the two established parties letting the country suffer rather than support proposals put forward by the other side. It is hard to imagine a chainsaw-wielding libertarian becoming the catalyst for some minimal economic consensus, but Milei will face constraints everywhere he turns. Uniting the country behind him may well be the only possible way forward.
—Martin Mühleisen is a nonresident senior fellow at the Atlantic Council's GeoEconomics Center and a former IMF official with decades-long experience in economic crisis management and financial diplomacy.
---
Argentina must learn from Ecuador's dollarization
Milei's victory signals a significant geopolitical and macroeconomic shift for Argentina and the broader hemisphere. Milei will inherit an economy with two major economic challenges: hyperinflation and exchange rate volatility, both of which are heightened by an international context and perception of Argentina that is unfavorable to its economic growth projections. Milei's campaign centered on the promise of dollarization to stabilize Argentina's economic crisis, a practice also employed in Ecuador, El Salvador, and Panama. However, the specifics of Milei's plan for achieving dollarization remain unclear, particularly given Argentina's central bank's negative reserves.
Successful implementation of a dollarization program depends on fostering economic growth and competitiveness, which are currently lacking in Argentina. Opting for dollarization means ceding control of monetary policy to manage the economy, and it will have limited success unless it is accompanied by significant growth. This may be achieved through strategic investments in key industries, such as energy, tourism, and agriculture, which are essential to transform Argentina into a competitive economy. This must also be accompanied by a clear separation between the government and its central bank by limiting the central bank's ability to finance the public sector, addressing the issue of excessive peso printing to fund public spending and the resulting scarcity of dollars due to the country's volatile exchange rate. 
While a comprehensive macroeconomic policy may benefit Argentina and Milei's plan for dollarization, it is important to acknowledge and prepare for potential challenges and growing pains, similar to those experienced by Ecuador in the 2000s, when dollarization was adopted there. The current reality of Ecuador is an example of some of its key challenges: a government grappling with a significant deficit, unable to attain financing, limited foreign investment, and stagnant growth, leading to shortages in basic resources for the general population. Argentina's path toward economic transformation demands strategic planning and a commitment to mitigating the potential drawbacks of dollarization.
—Isabel Chiriboga is a program assistant at the Atlantic Council's Adrienne Arsht Latin America Center, where she contributes to the center's work on Colombia, Mexico, and the Andes.
---
The old economic policies were not working, but it's not yet clear if the new ones will
Insanity is often defined as trying the same thing over and over again, while expecting different results. Argentines faced a difficult choice in the ballot box on November 19. Massa's economic policies have been tried and tested multiple times, and most recently led the country to a painful combination of recession and hyperinflation. A strong majority of Argentine voters therefore opted for a different set of economic policies in Sunday's elections.
Some of Milei's economic proposals are radical and controversial. It is healthy to remember that a gap often exists between what politicians say on the campaign trail, and what they are willing and able to do while in office. Milei does seem to have reached the correct conclusion that the Argentine government cannot continue spending beyond its means, and that doing business in the country today is virtually impossible given an asphyxiating combination of price distortions, taxes, and regulations.
Milei's ability to govern the country remains a top concern for investors, rightly so given a fragmented congress and a Peronist party ready to fight back from the Province of Buenos Aires. Milei's decisive victory, together with the fact that he brokered a political agreement with several members of Macri's party, Juntos por el Cambio, somewhat mitigates governability risks and modestly extends the initial honeymoon period of his administration.
—Alejo Czerwonko is managing director and chief investment officer of Emerging Markets Americas at UBS Global Wealth Management, based in New York. He was a 2022 millennium leadership fellow at the Atlantic Council.
Further reading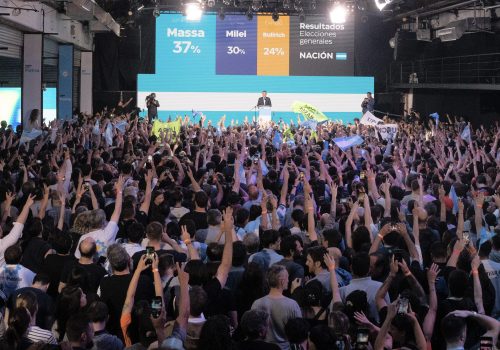 Mon, Oct 23, 2023
New Atlanticist By Atlantic Council experts
After a surprising first-round result, the November 19 election will now pit Economy Minister Sergio Massa against right-wing populist Javier Milei.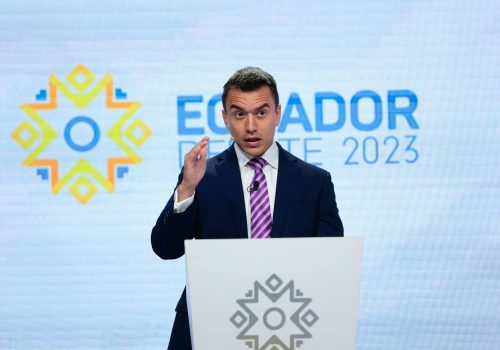 Mon, Oct 16, 2023
New Atlanticist By Atlantic Council experts
On October 15, Noboa was elected Ecuador's next president, beating out Luisa González, a protégé of former President Rafael Correa.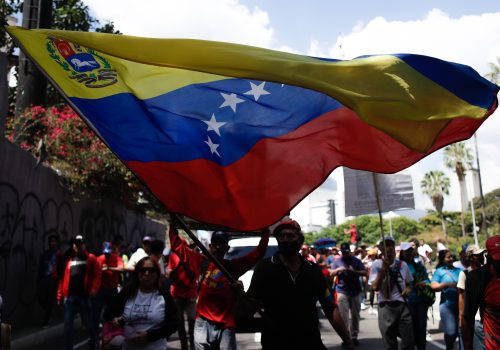 Wed, Oct 18, 2023
New Atlanticist By Atlantic Council experts
On October 17, Venezuela's government and members of the opposition signed a deal to work toward making next year's presidential elections more free and fair. Sanctions relief could be next.