Four questions (and expert answers) about new Ecuadorian President Daniel Noboa
The heir to a banana fortune has appeal. On Sunday, Daniel Noboa, a thirty-five-year-old politician whose family runs a business empire that includes a major banana company, was elected Ecuador's next president. He beat out Luisa González, a protégé of exiled former President Rafael Correa, in the second-round election. Noboa's win comes as Ecuador faces a spike in violent crime and drug trafficking, and after the outgoing president, Guillermo Lasso, invoked "muerte cruzada," or "mutual death," in May to dissolve the parliament ahead of an impeachment vote.
In his acceptance speech on Sunday, Noboa said that now the work begins "to rebuild a country that has been severely hit by violence, corruption, and hatred." Urgency is needed as the next election is currently scheduled for just fifteen months from now. Below, experts answer four important questions about what Noboa's victory means for Ecuador and for the wider region.
---
1. Who is Daniel Noboa and what are his policy priorities?
The one surprise in Ecuador's presidential election: The polls were right. Noboa, who is set to become Ecuador's youngest president when he takes office on November 30, also bucked another global trend. Rather than electing a break from the current government, Ecuadorians chose the candidate—by a slight margin of 4 percentage points—who represents continuity with the business-friendly policies of the outgoing Lasso administration. Noboa will have just over a year to deliver; his mandate is to serve out the remainder of the current presidential term.
With a campaign marked by high insecurity and the assassination of candidate Fernando Villavicencio, Ecuadorians yearn for quick action to quell violence gripping the country. Noboa, with a short mandate, has no honeymoon period to begin to deliver. Expect Noboa, who hails from one of the largest business families in Ecuador, to make Washington one of his first international trips. What will be imperative is additional US support to help the new government that builds on the ramped-up assistance already being provided. That assistance should come in the form of expanded security partnerships but also in growing the commercial opportunities for Ecuadorian goods to improve the domestic economic market.
—Jason Marczak is the senior director of the Atlantic Council's Adrienne Arsht Latin America Center.
Noboa faces significant challenges in such a short term in government. In addressing security concerns, he has advocated for prison reform, particularly isolating high-risk inmates. Additionally, he has emphasized enhanced surveillance using drones and cameras, along with stricter penalties for drug consumption. While these strategies have been utilized in other countries in the region, evidence suggests their effectiveness hinges on concurrent efforts to fortify reliable institutions and combat corruption. Given the limited timeframe available, it appears improbable for him to fully implement these proposals.
—Erika Rodriguez is a nonresident senior fellow of the Adrienne Arsht Latin America Center, professor and associate researcher at Complutense University of Madrid, and special advisor of the high representative and vice president of the European Commission.
---
2. How does Noboa plan to address security concerns?
While historically less affected by organized crime than neighboring nations, Ecuador in the last decade has seen a significant increase in violent criminal activity. This was exemplified by the assassination earlier this year of Fernando Villavicencio, then a leading presidential candidate. Noboa has spoken of closing Ecuador's borders—a recognition of the infiltration of influence of organized Colombian criminal groups. Noboa has also advocated unprecedented measures, such as putting hardened criminals into offshore prison hulks, echoing the tough law-and-order policies of Salvadoran President Nayib Bukele.
—Kevin Whitaker is a nonresident senior fellow at the Adrienne Arsht Latin America Center. He served forty-two years in the US Foreign Service, achieving the rank of career minister, and he was US ambassador to Colombia from 2014 to 2019.
---
3. What is the biggest challenge Noboa will confront in the next fifteen months?
Noboa faces a monumental challenge in the next fifteen months. Despite outlining an extensive five-year government plan to address pressing issues such as the security crisis, erosion of democratic institutions, the impacts of El Niño, an unsustainable pension system, and medical shortages in Ecuador, his primary obstacle lies in the lack of financial resources needed to tackle these challenges effectively within a fifteen-month timeframe. With a fiscal deficit of nearly three billion dollars, equivalent to around 2 percent of the nation's gross domestic product, Noboa inherits an economy characterized by fear and low growth rates, which isolate it from international financial markets, and a severe security crisis that demands substantial investment. Ecuador's dollarized economy further limits the government's agility in responding to crises of this magnitude. Consequently, Noboa may be compelled to make difficult choices, potentially sparking public discontent, whether through gas subsidy reductions or significant cuts in public spending. 
—Isabel Chiriboga is a program assistant at the Adrienne Arsht Latin America Center.
With a closely contested outcome, Noboa confronts a nation rife with escalating crime and a divided Congress, all within a tight fifteen-month timeframe to stabilize the country, dismantle organized crime, and establish a foundation for effective governance. Realistically, the youngest president in Ecuador's history should prioritize focusing his initial hundred days on gaining internal political support through a coalition government to combat criminality. By securing early victories related to his main campaign promise and garnering international support, he can position himself for a successful reelection.
—Diego Area is a deputy director at the Adrienne Arsht Latin America Center.
Apart from security concerns, Noboa's biggest challenge may be ensuring the vitality and credibility of Ecuador's democracy. Having come to power after an unprecedented election called by the outgoing president, and himself being an outsider, he'll need to demonstrate how he can work with the other components of Ecuador's democratic institutions.
—Kevin Whitaker
Although security is a big issue and a topic on which much of the voting was based, the main issue, I believe, is economic stability. The new president is faced with a shortage of funds, few reserves, and a difficult environment for finding external financing. It also has a dollarized economy that, even if it has provided great stability and a control on inflation, depends on incoming dollars, since Ecuador cannot issue its own currency.
The dollar remains popular in Ecuador. Governments can be elected or not simply by suspicion that a candidate may veer the country away from the dollar. To maintain a dollarized economy, sound fiscal policies are required, plus a constant influx of dollars. Unfortunately, the outgoing government has not maintained its sound policies, which it constructed for almost two years, only to abandon them in the last few months. As a result, the global market has shown signs that demand for products will not grow, but rather decrease. Trade with the United States, although a main partner, could grow much more, but unfortunately Ecuador has no free trade agreement or a preference program, which could boost Ecuadorian products access to the US market. If a bill such as the Innovation and Development in Ecuador (IDEA) Act would be approved, the positive results for Ecuador's economy would be fast and large.
—Felipe Espinosa is the president of AmCham Ecuador.
---
4. How will the election's outcome influence US-Ecuador relations and regional stability?
Noboa's background suggests that he will have both the experience and the inclination to work effectively with the United States, which would be in the interests of both nations. Regional stability will be enhanced If Noboa is able to chart credible and effective approaches to address the security and democratic concerns that Ecuador now faces.
—Kevin Whitaker
Noboa's presidency is expected to maintain a level of bipartisan US support similar to Lasso's in the last two years. Noboa is known for his economic liberalism and openness to the international community as a longstanding businessman in Ecuador's agricultural export sector. At the same time, he has consistently emphasized his commitment to democracy, economic prosperity, security, and environmental sustainability throughout his campaign. These priorities align closely with the core elements of the US-Ecuador diplomatic relationship. However, given the limited duration of his fifteen-month term, Noboa will likely need to prioritize one or two key aspects from this list and intensify his efforts to demonstrate tangible progress to the Ecuadorian population. This may mean collaboration with many actors, including China, Colombia, Mexico, and other partners that do not always align with US interests.
—Isabel Chiriboga
The outcome of the election provides an opportunity to deepen Ecuador's relations with the United States. Noboa has advocated for an increase in foreign trade, recognizing the importance this has on the country's economic growth and particularly with its main trading partner, the United States. Furthermore, he has a positive view on increasing cooperation and will not have, in any case, ideological barriers toward further ties with Washington. He has been outspoken on democratic values and his team has spoken of a win for democracy.
González, on the other hand, is backed by a populist party, whose leader had a negative view on US-Ecuador relations. Even though González has met with the US ambassador and has spoken of deepening relations, the ideological and populist views would have made the road a lot bumpier.
As far as regional stability, Noboa's election provides a new chance to increase democratic principles, institutions, and the rule of law in the country. In a region with populist and leftist governments, the opportunity to continue to have a democratic government in Ecuador provides the political right room to deepen its roots. However, this opportunity has a short window for the United States and Ecuador. Both countries must move fast and efficiently.
—Felipe Espinosa
In regard to the relationship with the United States, it is anticipated that the Noboa administration will continue the current approach, which is underpinned by a liberal ideology. Ecuador may express a desire for heightened support from North America in its efforts against drug trafficking. However, the complex nature of the international security environment has led to reduced incentives and capabilities for the United States to promptly address and fully engage with the requirements of Latin America.
—Erika Rodriguez
Further reading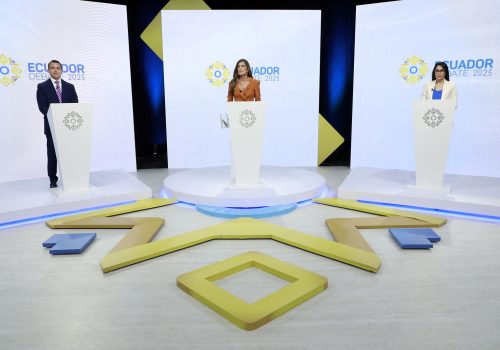 Thu, Oct 12, 2023
New Atlanticist By Isabel Chiriboga
Ecuadorians head to the polls on October 15 to vote in a runoff election between Daniel Noboa and Luisa González.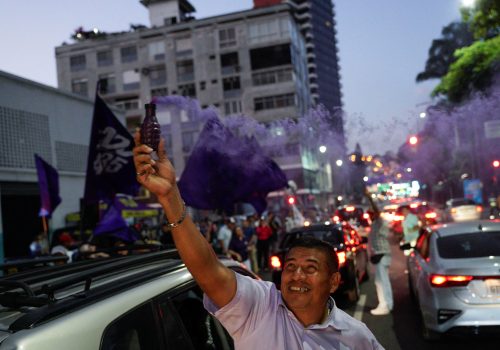 Tue, Aug 22, 2023
New Atlanticist By Isabel Chiriboga, Diego Area
Luisa Gonzalez and Daniel Noboa will now go head-to-head in a runoff election on October 15 to determine the next leader of the Andean nation.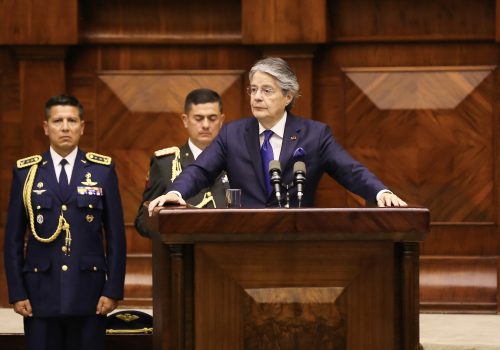 Wed, May 17, 2023
New Atlanticist By Atlantic Council experts
President Guillermo Lasso of Ecuador has used a rare constitutional mechanism to dissolve the National Assembly. Atlantic Council experts share their insights on what it means and what comes next.