Experts react: Will Venezuela now hold freer elections and get sanctions relief?
It's not yet 2024, but next year's elections are already resulting in surprises. On Tuesday, Venezuela's government and members of the opposition met in Barbados and signed an agreement to work toward making Venezuela's presidential election next year more free and fair. The agreement is part of ongoing negotiations between Venezuela and the United States that could see Washington ease sanctions on the government of President Nicolás Maduro in exchange for electoral reforms. Could Venezuelans finally see free elections in their country? And what can the United States do to make this emerging deal a reality?
Below, our experts share their insights on this agreement and its implications for Venezuela's future.
Click to jump to an expert analysis:
Jason Marczak: A step forward for quiet diplomacy
Geoff Ramsey: The opposition got significant concessions. Now comes the hard part.
Ellen R. Wald: Heartening progress for freedom, but no quick fix for Venezuela's oil industry
David Goldwyn: A new direction for US sanctions on Venezuela comes not a moment too soon
William Tobin: Rebuilding Venezuela's oil industry has a hefty price tag
---
A step forward for quiet diplomacy
The restart of negotiations between the Venezuelan government and the opposition is a significant development that brings renewed, but cautious, hope for an eventual peaceful and democratic resolution to the systemic injustices in the country. Reports of an agreement by the United States to progressively ease certain sanctions in exchange for concrete democratic guarantees is a pragmatic step forward—though vigilant monitoring of any deal will be essential, as Maduro is not one whose words can be trusted.
This development, reached in Barbados in the presence of representatives of twelve countries and the European Union, comes amid news that last year's major United Nations humanitarian accord to benefit the Venezuelan people will finally be implemented—an accord that we at the Atlantic Council have sought to advance since its signature. Releasing political prisoners and ensuring competitive conditions for the upcoming 2024 presidential elections are vital steps toward an inclusive process that can be internationally recognized. But these steps must mean all the international pre-, post- and day-of electoral conditions for a free and fair process be respected, including allowing the opposition to run a candidate without restrictions.
The road to reconciliation and genuine democratic progress remains a challenging one. Much work will be necessary to ensure vigilant monitoring and enforcement of any agreement to ensure that Maduro upholds his side of the bargain. The United States and the broader international community will have to keep a watchful eye, holding Maduro accountable for his promises and actions moving forward.
The resumption of talks is a step forward for quiet diplomacy and comes after months of groundwork. The global community should offer its support and assistance to democratic actors at the negotiating table in any way possible to help ensure that these negotiations lead to lasting peace and a brighter future for Venezuela. This calls for optimism and international cooperation, but also realism and greater multilateral coordination as we wait to see if this marks a potential turning point.
—Jason Marczak is senior director of the Atlantic Council's Adrienne Arsht Latin America Center.
---
The opposition got significant concessions. Now comes the hard part.
In the agreement signed Tuesday in Barbados, opposition negotiators managed to secure some very significant concessions, including a commitment from the government to hold next year's presidential elections in the second half of 2024—giving the opposition more time to prepare—and a commitment to allow credible international electoral observation. They also obtained key technical conditions that are vital to making the vote more competitive, including an audit of electoral systems and an update of the voter registry.
By signing this agreement, the opposition has managed to force the government to budge ever so slightly. Now it's up to the opposition, with the help of the United States and international community, to use this wiggle room to put Maduro off balance. The opposition, in its upcoming primaries on October 22, has a chance to reconnect with voters who have grown weary of politics in the absence of change. What Maduro fears most, more than any one political opponent, is a disciplined opposition that is popular, organized, and ready to mobilize its base in 2024. The prospect for renewed mobilization, in combination with the conditions achieved by the opposition in Tuesday's agreement, create a golden opportunity.
In some ways, the most important agreements are still private. It's an open secret that the Biden administration will announce some form of sanctions relief in response to Tuesday's agreement and resumption of talks with the opposition. And reports indicate that the Maduro government will free multiple political prisoners in the coming days. These developments, if they occur, are unlikely to be isolated exchanges. The past few months of quiet backchanneling, in coordination with opposition negotiators, will almost certainly produce further agreements as the US-Venezuela relationship keeps shifting.
Now comes the hard part. Moving forward, the White House will have to monitor compliance and implementation in order to ensure that Maduro holds up his end of the bargain. But questions remain about whether and how the United States can snap back the pressure if the regime veers off course.
—Geoff Ramsey is a senior fellow at the Atlantic Council's Adrienne Arsht Latin America Center.
---
Heartening progress for freedom, but no quick fix for Venezuela's oil industry
Although it is heartening to see progress towards freedom in Venezuela, the likelihood that these developments will materially impact the oil market is negligible. The troubles faced by the Venezuelan oil industry predate US sanctions and will continue to plague the country long after sanctions are eased. Even if sanctions were eased immediately, Venezuelan oil output might only increase by a mere 200,000 barrels per day (bpd). According to S&P Global, Venezuela produced only 770,000 bpd in September 2023. This is actually much improved since Venezuela hit a low of 500,000 bpd in 2020 but still far below the 2.6 million bpd Venezuela produced in 2005.
Venezuela has the largest oil reserves of any country in the world, but most of that oil is a sludgy, heavy, sour crude that is locked in the Orinoco belt. To increase Venezuela's oil production and bring that oil to market will require huge amounts of investment and expertise. Venezuela's heavy oil must be run through upgraders that mix it with diluents just to transport it through pipelines to ports. Many of the companies that used to work with Venezuela's state oil company, PdVSA, will likely be hesitant to reinvest their money and manpower in Venezuela given the likelihood that sanctions could be reimposed or that foreign nationals could be imprisoned. Even if the Maduro government does meet the Biden administration's conditions and the sanctions are eased, there is no quick or easy fix for Venezuela's oil industry.
—Ellen R. Wald is a nonresident senior fellow with the Atlantic Council Global Energy Center and the president of Transversal Consulting.
---
A new direction for US sanctions on Venezuela comes not a moment too soon
The Venezuelan-led political agreement reached in Barbados, and its subsequent joint statement, will now open the door to a long overdue redirection of the current US sanctions regime against Venezuela.
The series of economic sanctions imposed by the Trump administration, a "maximum pressure" strategy intended to dislodge the Maduro regime beginning in 2017, have had the perverse effect of causing both significant humanitarian distress inside Venezuela and undermining US strategic interests in the region and elsewhere. The sanctions, which prohibited trade in Venezuelan crude oil and products, even in exchange for debt owed by the regime, have been deeply unpopular with the Venezuelan public including those opposed to the regime because they caused enormous privation throughout Venezuelan society.
As a result, Venezuela has been short of crucial fuel supplies—fuel to transport food from farms to tables, fuel to power the electric grid, and gasoline essential for public mobility. The sanctions have not dislodged the regime, of course, but they have had the effect of increasing migration pressure on Venezuela's neighbors as well as on the United States at a time of already significant immigration challenges in US cities.
Meanwhile, the sanctions have led to the redirection of nearly all exports of Venezuelan crude to China (at significant discounts) and created a major role for Iran as supplier of condensate needed to produce domestic gasoline. Deprived of access to Venezuelan crude, countries such as India (also barred from importing Iranian crude) saw increased demand for Russian crude, which matches the grade and quality their refineries require for domestic consumption. While China and Russia have been able to retire a significant part of the Venezuelan debt owed to them and improve living conditions in Venezuela, US and European creditors have been barred from doing so. Although Chevron has been allowed to resume operations to produce crude oil under conditions that provide minimal benefits to the regime, current US sanctions prohibit companies in France, Spain, and Italy from doing the same. Importantly, these countries have been key diplomatic partners in the effort to ensure the Venezuelan opposition can compete in legitimate elections in 2024, and they share the wider strategic goals and interests of the United States.
A refresh of the US sanctions program thus comes at a crucial moment—and not a moment too soon. Importantly, this revision should not be seen as a concession to the Maduro regime. Rather, it is a timely effort to mitigate the humanitarian crisis inside Venezuela and reduce migration pressure to the United States and its allies in Latin America. Furthermore, this necessary revision will enable Western companies (those which act with integrity) to return to Venezuela and increase crude oil production, which can be used to repay the debt owed to them. All of this is possible while also depriving China of discounted crude oil and potentially lessening demand for Russian crude oil as well. This change in posture has notable benefits to Venezuela's developing country neighbors such as Trinidad and Tobago. Trinidad has just received an amended license from the United States that will allow it to pay Venezuela in cash for the natural gas it will import from Venezuela's Dragon Field. This gas will keep Trinidad's ammonia and liquefied natural gas industries afloat and support its role on regional food and energy security.
If the sanctions revisions come to pass, allowing trade in Venezuelan oil and products as long as Venezuela keeps its electoral commitments, there is great potential to relieve humanitarian distress inside of Venezuela and throughout the region. At the same time, Washington will have redirected its policy to one that serves US interests as well as Venezuela's.
—David L. Goldwyn is a nonresident senior fellow at the Atlantic Council's Global Energy Center and co-chair of the Caribbean Energy Working Group at the Adrienne Arsht Latin America Center's Caribbean Initiative. He is the president of Goldwyn Global Strategies, an international energy advisory consultancy.
---
Rebuilding Venezuela's oil industry has a hefty price tag
The Venezuelan National Oil Company, Petróleos de Venezuela (PdVSA), is poorly positioned to bring anything but cursory relief to tightening global oil markets in the near term.
The company has been subjected to a mass flight of technical and commercial expertise, epitomized when President Hugo Chávez fired 19,000 employees in 2003 following a general strike, filling vacant positions with regime loyalists. This purge comprised 55 percent of the company's highly skilled professional and technical workers—including engineers skilled in the specialized extraction of the extra heavy crude found in Venezuela's Orinoco basin—and 70 percent of the company's executives, according to reports at the time.
Since these interventions, PdVSA has declined from a world-class oil and gas operator and the third-largest supplier of crude oil to the United States as recently as 2013 to an inkling of its former self. Its crude production has declined by 70 percent over the past decade.
Persistent underinvestment due to sanctions and a fledgling economy have left PdVSA's production infrastructure in disrepair. To restore Venezuela's oil industry to 1998 levels, when production totaled 3.4 million barrels per day (versus 730,000 barrels per day in August 2023), it is estimated that an investment of fifty-eight billion dollars would be required, perhaps more.
Most of this funding would need to be sourced from the international private sector. In any case, foreign investment and technical cooperation will be necessary to restore the country's economic engine. This could yield both humanitarian and environmental benefits. In 2022, Venezuela's oil production was the most carbon-intensive globally, and its "leakiness" pollutes local communities—a problem fixed only by reinvestment in the country's infrastructure.
—William Tobin is an assistant director at the Atlantic Council Global Energy Center, where he focuses on international energy and climate policy.
Further reading
Fri, Aug 11, 2023
Issue Brief By Geoff Ramsey, Ignacia Ulloa Peters
Venezuela's crisis has generated a large and complex global emergency. Recent negotiations have resulted in agreements between the Maduro regime and the opposition, including a $3.2 billion Social Agreement. This issue brief highlights five key recommendations for leaders in the United States and abroad to help shape the way for its successful implementation.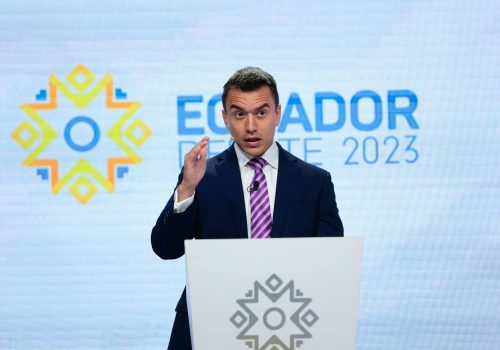 Mon, Oct 16, 2023
New Atlanticist By Atlantic Council experts
On October 15, Noboa was elected Ecuador's next president, beating out Luisa González, a protégé of former President Rafael Correa.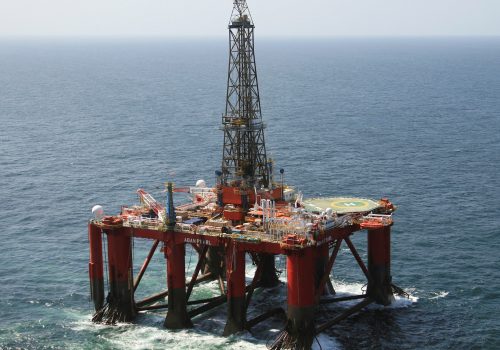 Wed, Jan 25, 2023
Experts react By Atlantic Council experts
The agreement would boost Caribbean energy supplies while creating an exception for some US sanctions on Caracas—without allowing cash payments to go to President Nicolás Maduro's government.