Watch the full event
Peace and security are "not free of charge," Sigrid Kaag, the Dutch deputy prime minister and finance minister, said Friday.
"If we lose the war in Ukraine, we're all lost. No peace and security on this continent," she argued. "This is something we have to keep financing."
At the Transatlantic Forum on GeoEconomics in Berlin, hosted by the Atlantic Council and Atlantik-Brücke, Kaag said that Russia's war in Ukraine is part of a trend of international conflicts "increasingly being fought on economic terrain." That, she added, has brought a geoeconomic awakening for the European Union (EU).
Before, the EU had previously focused closely on markets and trade, "but it didn't spread its political wings," Kaag explained. Now, the EU "needs to assert itself on the international stage," to ensure liberal democracies come out on the winning side.
Below are more highlights from her conversation with Atlantic Council President and CEO Frederick Kempe, which touched upon how the EU should navigate a geoeconomically fragmented world and a future response to Russia's aggression.
Wide awake
Kaag said that the EU needs to assert itself in part because the international playing field has become more complex, for three reasons: first, technology such as artificial intelligence; second, the declining importance of the West; and third, a retrenchment of globalization, spurred by public backlash.
For the EU to assert itself, Kaag recommended using economic tools such as trade agreements, access to markets, and foreign investments. "Geoeconomics is a source of our strength," she said. And, she added, the EU should use these tools "in a collaborative way with its partners." 
As the EU undergoes this awakening, it needs to "take a good look" at itself, Kaag said, to make member economies "more competitive, innovative, and resilient to shocks," and to solve its own internal fiscal policy and political problems.
One way the bloc is "getting our own act together," she said, is the EU's Green Deal Industrial Plan, a "follow-up" to the US Inflation Reduction Act.
A fragmented world
Kaag argued that in facing today's geoeconomic challenges, the EU should employ "a mix of defensive and open policy instruments." Defensive measures, she noted, "remain important" because they can help countries avoid creating dependencies on other countries, which "can all too easily be weaponized" by leaders with ill intentions.
But those instruments have drawbacks. Kaag warned that fragmentation could cost 7 percent of the global gross domestic product; it would also impede "our ability to address global issues such as climate change" and poverty, she added.
While Kaag said it is vital to focus on strengthening and enhancing global economic cooperation, she acknowledged that multilateral cooperation "is not always… effective" when alliances are shifting and countries are changing. That means working with countries beyond the "usual suspects," even when it's difficult and there's less common ground. "We consider a new approach to the Global South essential," she said.
Cooperation is central to "open strategic autonomy," a concept that Spain and the Netherlands promote in strategic autonomy discussions at the EU and which calls for cooperating whenever possible, while ensuring that the bloc can cope on its own when it must. "We see our security also strengthened through an investment in shared prosperity."
Keeping up resolve
With elections approaching on both sides of the Atlantic—and with some politicians calling for an end to supporting Ukraine—Kaag said she is not "entirely optimistic" about the ability of the EU, its member countries, and the United States to continue their military and financial support until the war's end.
She explained that it will depend on countries' abilities to foster economic growth and support their citizens' purchasing power. There's a "false choice" between financing the war in Ukraine and keeping costs of living from spiraling at home, Kaag argued.
Sanctions have had "a significant effect" on the Russian economy already, Kaag explained, pointing to Russia's declines in consumer spending and arms production, coupled with rising inflation. But sanctions are really "long-haul" mechanisms, she said.
"Sustain the pace," Kaag told the audience of financial policymakers and experts. "Look for loopholes to avoid sanctions diversion," to find ways the Russian economy is still accessing "financial avenues."
"We will always find new packages, more sharper and so-called 'smarter' sanctions" to disrupt Russia's procurement of the instruments of war, Kaag said. She noted that the Netherlands is willing to explore additional sanctions, in addition to having discussions about using frozen Russian assets to assist in Ukraine's reconstruction. "We should not leave any avenue unexplored," she said. 
---
Katherine Walla is an associate director of editorial at the Atlantic Council.
Watch the full remarks
Further reading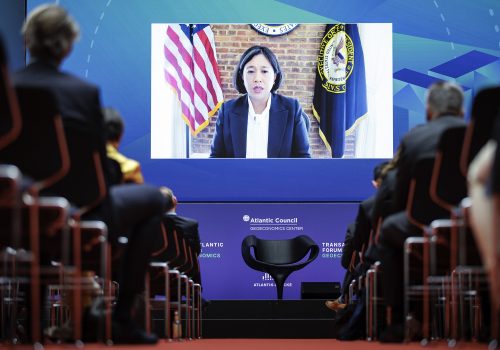 Fri, Sep 22, 2023
New Atlanticist By Nick Fouriezos
US Trade Representative Katherine Tai reiterated the importance of managing the US-China relationship at the Transatlantic Forum on GeoEconomics.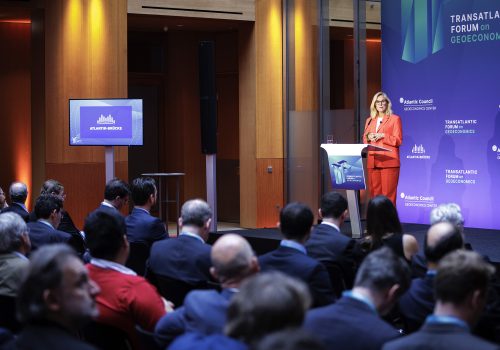 Fri, Sep 22, 2023
Transcript By Atlantic Council
At the Transatlantic Forum on GeoEconomics, the Dutch finance minister also laid out the "significant effect" that sanctions have had on Russia's economy.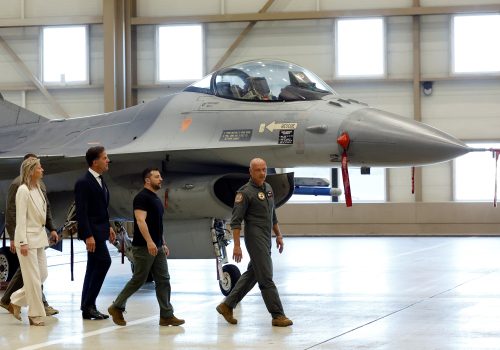 Tue, Aug 29, 2023
New Atlanticist By Timo S. Koster
The Netherlands is punching above its weight in terms of military aid to Ukraine, in part because the Dutch have felt firsthand the threat Putin poses.