The Dutch are leading the way on military aid to Ukraine. Here's why.
With its recent decision to supply F-16 fighter jets to Ukraine, the Netherlands once again showed its leadership on the critical European security issue of our time and went a step further than any nation has so far. Of the forty-two F-16s in the Dutch fleet, "part will be for the training, and the rest is for Ukraine," Minister of Defense Kajsa Ollongren explained last week. This follows early Dutch support for sending Leopard 2 tanks to Ukraine in January.
The Netherlands is punching above its weight in terms of overall military aid to Ukraine, too. So far, it has pledged $2.7 billion, the fourth most of any European nation, according to the most recent data from the Kiel Institute for the World Economy. The Netherlands is only surpassed in this amount in Europe by three countries several times its size by population: Germany, the United Kingdom, and Poland.
Although not all contributions have been made public, it's clear that the Netherlands is doing more than many other nations of its size, and Dutch Prime Minister Mark Rutte is clearly taking the lead in showing other nations the way on how to support Ukraine in its defense against the brutal onslaught of Russian President Vladimir Putin's Russia.
It's worthwhile to take a closer look at the what, why, and how of this effort, and the remarkable change in posture of the Dutch. And it's important to note that Dutch aid to Ukraine goes well beyond defense-related assistance, including humanitarian aid, reconstruction, protection of cultural heritage, and more.
The Dutch have felt firsthand the threat Putin poses.
Soon after the Russian invasion, Rutte was one of the first European leaders to recognize the war in Ukraine for what it was: a European war, a war that jeopardized peace and freedom on the continent. His speech at the Sorbonne University in Paris on March 9, 2022, clearly marked the awakening of the Dutch government and general public. After decades of declining Dutch investments in our common security, Rutte spoke of raising the defense budget (finally!), aid to Ukraine, and European and transatlantic unity. "War has returned to Europe," he said.
There were a few reasons for this approach. First, the Netherlands has a unique feature among sovereign nations in that it has the promotion and the preservation of the rules-based international order inscribed in its constitution as a task for the government. This has led to a strong track record on protection of human rights, development aid, and multilateral cooperation on security, underscored by the status of The Hague as the international capital of peace and justice. The Dutch are simply compelled to act in a situation like this.
Second, whereas the international community largely chose to ignore the Russian attack on Crimea and the Donbas in 2014, the Dutch were drawn into the conflict through the disastrous downing of flight MH17 by a Russian missile above Ukraine on July 17, 2014. The Malaysia Airlines passenger jet en route from Amsterdam held 193 (of 238) Dutch passengers, all of whom perished. This, combined with incidents such as the attempt by the Russian Main Intelligence Directorate (GRU) to hack into the Wi-Fi network of the Organisation for the Prohibition of Chemical Weapons in The Hague in 2018, brought about a turnaround in the Dutch perception of security in Europe. The Dutch have felt firsthand the threat Putin poses.
And while the Netherlands had relegated itself close to the bottom of the list of NATO nations on defense spending, it now has pledged to actually meet the 2 percent of gross domestic product (GDP) spending target in 2024. Currently, Dutch defense spending amounts to 1.7 percent of GDP.
It needs to be acknowledged that the Dutch have always been relatively effective and efficient in the way they put their under-par defense budget to use. Dutch forces have fielded several niche capabilities sought after by NATO defense planners, including Patriot batteries, missile defense frigates, and Apache attack helicopters. With their limited capabilities, Dutch forces were able to sustain a presence of several thousand strong in Afghanistan for years before they had to give up due to a lack of depth.
Since Rutte's 2022 speech in Paris, the Dutch have indeed put their money where their mouth is. The defense budget is on the rise, and an impressive array of capabilities has been delivered to Ukraine, ranging from training to hardware to logistical and medical equipment. What's more, the Dutch have led European and transatlantic allies in the supply of capabilities of increasing lethality, moving from field hospitals and demining equipment to air defense batteries, main battle tanks, and now F-16 fighter jets. Truth be told, a lot of the equipment was mothballed or up for replacement anyway, but it certainly gives European and transatlantic security a serious bang for the Dutch buck. Germany eventually followed suit with main battle tanks, and Denmark and Norway are with the Netherlands in supplying F-16s. Hopefully other NATO allies—and in particular the United States—will follow suit.
The Netherlands' posture on Ukraine is about much more than one leader.
For the Dutch, this posture change seems to have gone beyond a point of no return. Although Rutte, whose thirteen years in office make him the longest serving Dutch prime minister in history, has announced his retirement from national politics, parties across the political spectrum are now committed to meeting the NATO Defense Investment Pledge (DIP) of 2 percent of GDP or more. Even Frans Timmermans, the new leader of the Social Democrat/Green faction, which is traditionally reluctant when it comes to military investments, suggested to write the NATO DIP into law, making 2 percent a mandatory spending benchmark. So the investments in equipment (F-35 jets, new submarines, cyber capabilities, etc.) are expected to keep rising, and personnel strength will need to go up significantly. The Dutch leadership in Europe and NATO as the biggest of the small nations (or the smallest of the big?) will likely continue, including when it comes to supporting Ukraine.
All this makes Rutte a strong contender to succeed Jens Stoltenberg as secretary general of NATO next year (although he maintains he is not interested). But the Netherlands' posture on Ukraine is about much more than one leader. Expect the Dutch commitment to remain solid over the long haul.
---
Timo S. Koster is a former career diplomat at the Dutch Ministry of Foreign Affairs and NATO International Staff, and nonresident senior fellow with the Atlantic Council's Scowcroft Center for Strategy and Security. From 2018 to 2020, he served as ambassador-at-large for security policy and cyber. Follow him at @tskos.
Further reading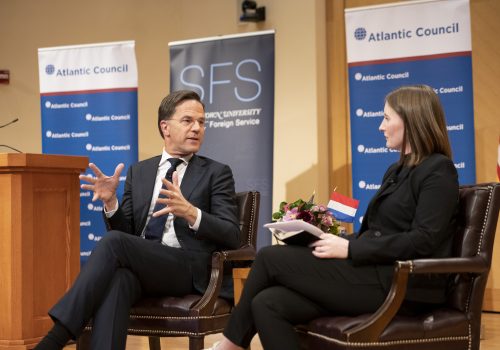 Wed, Jan 18, 2023
New Atlanticist By Nick Fouriezos
Prime Minister Mark Rutte spoke at an Atlantic Council Front Page event on Tuesday, where he discussed Ukraine, the Caribbean, China, and more.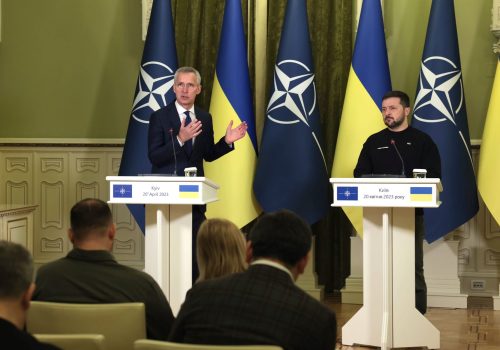 Tue, May 23, 2023
Issue Brief By Hans Binnendijk, Franklin D. Kramer
This issue brief evaluates membership and other security options for the alliance and its members to consider with regards to Ukraine, from formal actions by NATO as a whole to collective or individualized efforts by member nations.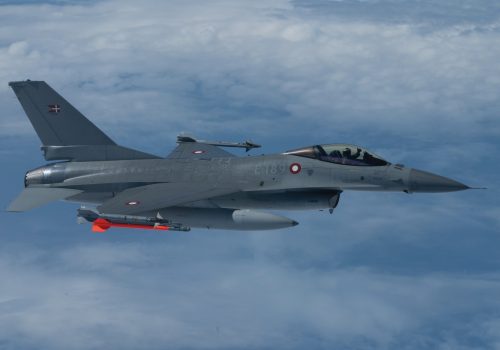 Fri, Aug 25, 2023
New Atlanticist By Clementine G. Starling, Jacob Mezey, and Holly Ryan
The Netherlands and Denmark have announced they will send F-16s to Ukraine as soon as training is complete, and the United States has unveiled new plans to train Ukrainian pilots and ground crew.