How to hold the Assad regime accountable, even as countries normalize relations with Syria
Not long ago, countries in the Arab League condemned Syrian leader Bashar al-Assad's "mass slaughter" and demanded accountability for his regime's chemical weapon attacks. Today, those words ring hollow as Assad was warmly welcomed back into the Arab League this month.
This latest step in normalizing ties with Assad was met with protests in northern Syria and feelings of disgust and anger among Syrians who fled the country and the Assad regime's crimes. Many are left with questions about whether Assad and his regime will ever face justice.
There are many reasons to think that countries' moves to normalize relations with Assad could make it more difficult to hold him and his regime accountable for their war crimes and crimes against humanity. But there still remains a slate of accountability tools for Syria. In fact, certain avenues for seeking accountability may be expanding with normalization.
Universal jurisdiction trials
One of the few accountability tools currently employed for Syria is the framework of universal jurisdiction, which enables domestic courts to try atrocity crimes committed outside of their borders based on the premise that the crime is so grave that it threatens the international community as a whole. Many countries only allow cases to proceed if a suspect is present within their borders, and thus there have been a limited number of cases on Syria. Many of these cases have focused on terrorism charges and only a few have been against Assad regime–linked perpetrators.
With normalization, Assad and his regime's senior leadership may increasingly travel outside of Syria and the region. Any country wanting to support Syrians' demands for accountability should ensure they have the laws and resources available to arrest, investigate, and prosecute any suspected war criminal who ends up on their soil.
Most perpetrators will likely avoid traveling to countries in Western Europe that oppose normalization and are known for bringing universal jurisdiction cases, such as Germany and France. However, universal jurisdiction laws extend outside of Western Europe, to Eastern Europe, Asia, South America, Africa, and even some countries in the Middle East. While most of these countries have rarely or even never used their universal jurisdiction laws, concerted advocacy by civil society in Syria and the relevant country, combined with support or resources from countries with more practice on universal jurisdiction cases, could help change the tide.
Where perpetrators are found in countries that fail to try them under universal jurisdiction frameworks, countries could also follow the example set by Belgium in seeking to prosecute former Chadian dictator Hissène Habré for war crimes, crimes against humanity, and torture. This could include issuing arrest warrants under their universal jurisdiction laws, following up with extradition requests wherever perpetrators are found, and bringing cases at the International Court of Justice or other international tribunals to ultimately ensure trials.
Trials of senior leadership in national courts
While universal jurisdiction trials typically require the presence of a perpetrator, some civil law countries allow for certain trials to proceed in absentia, provided there are sufficient safeguards to protect a defendant's fair trial rights. For example, France can hold in absentia trials when the victim is a national of that country. French authorities are using these laws to try three architects of the Assad regime's detention and torture apparatus—Ali Mamlouk, Jamil Hassan, and Abdel Salam Mahmoud—for their alleged role in arbitrarily detaining, torturing, and killing a father and son who were French-Syrian dual nationals. This trial will not result in the imprisonment of the accused if they are found guilty, at least for now. It will, however, serve as a powerful moment for Syrian victims and lawyers to present evidence against those responsible for designing and ordering atrocity crimes in Syria.
To help close the justice gap for Syria, countries with authority to hold in absentia trials should explore opportunities that may be available and fill strategic gaps in the Syria accountability space. For example, this might include cases against high-level perpetrators who may be less likely to travel to countries with universal jurisdiction trials but whose cases may have significant symbolic importance for victims.
Expanding universal jurisdiction trials related to Ukraine
While universal jurisdiction trials are proceeding slowly for Syria, many countries have been eager to bring universal jurisdiction cases related to Ukraine. In the past year, Germany, Canada, and other countries have opened structural investigations to begin building universal jurisdiction cases against Russian perpetrators. These countries should proactively investigate links between the conflicts in Ukraine and Syria to ensure that any future trials related to Ukraine also incorporate relevant links to Syria. For example, a Russian commander responsible for atrocity crimes in Ukraine may have committed those same crimes in Syria. Officials liable for the use of Iranian drones to facilitate atrocity crimes in Ukraine may have done the same in Syria. Or Syrian soldiers reportedly recruited to Ukraine may have committed atrocity crimes in Syria.
Whenever an apprehended perpetrator is suspected of committing crimes in both Ukraine and Syria, both sets of crimes should feature in a universal jurisdiction trial.
Ensuring reparations for Syrian victims
One element of justice, in addition to trials determining legal responsibility for crimes, is reparations for victims to help them recover and rebuild their lives. Since Russia's full-scale invasion of Ukraine last year, countries have eagerly explored legal avenues to seize Russian assets and use the proceeds to ensure reparations and reconstruction in Ukraine. As recently as May 17, the Council of Europe established a register of damages for Ukraine as a first step toward ensuring compensation for Ukrainian victims. Lest countries want to support selective justice, they should explore the application of these legal tools to ensure that Syrian victims also receive reparations for the harm they have suffered.
Normalization will ensure that individuals connected to the Assad regime have increasing access to global financial markets. These perpetrators could attempt to purchase properties overseas or place their money in foreign banks. This, in turn, would increase legal pathways to seize assets and repurpose them as reparations for Syrian victims.
Countries could also fund reparations for Syrian victims using existing pools of funding obtained as a result of violations in Syria—for example, the $778 million judgment against the French industrial company Lafarge for violations in Syria, or proceeds from sanctions violations, or the assets of Bashar al-Assad's uncle Rifaat al-Assad, which France seized after finding him guilty of corruption.
Cases at the International Criminal Court
The International Criminal Court (ICC) is not investigating crimes committed in Syria because Syria is not a member state of the ICC and because Russia and China vetoed a United Nations Security Council referral to the ICC. However, Syria does not fall entirely outside of the ICC's jurisdiction. Using the precedent established for Myanmar in 2019, ICC Prosecutor Karim Khan could open an investigation into crimes committed in Syria that resulted in forced deportation to Jordan, an ICC member state.
The ICC is a particularly important accountability avenue to activate for Syria. An ICC investigation would, for example, make available additional resources to investigate and build cases. It would also send a message to Assad because the ICC can issue arrest warrants for and try sitting heads of state. National courts do not have this authority under international law. Thus, while Assad is still in power, the ICC is virtually the only avenue to secure his arrest and subsequent trial. And the modern era of accountability has seen relatively high success for ensuring that heads of state or major military forces who are subject to arrest warrants or indictments face accountability.
Khan has received multiple requests to open an investigation into Syria but has thus far failed to do so. A referral of Syria by an ICC member state would significantly increase the likelihood of an investigation. Dozens of countries were motivated last year to refer Ukraine to the ICC and should consider doing the same for Syria.
Cases at the International Court of Justice
The International Court of Justice (ICJ) also can ensure accountability for Syria by hearing a case against the state (in contrast, the ICC tries cases against individual perpetrators). The Netherlands and Canada are preparing to bring the first ICJ case against Syria for violations of the Convention Against Torture.
Countries could bring other cases against Syria at the ICJ, for example, for violations of the Chemical Weapons Convention. Since Syria acceded to the convention in September 2013—a month after carrying out a sarin gas attack near Damascus that reportedly killed 1,300 people—the Assad regime has been accused of hundreds of chemical weapons attacks. Any member state of the Chemical Weapons Convention that wishes to support accountability could bring a case against Syria at the ICJ.
The trend towards normalizing relations with Assad was not inevitable. Normalization is happening now because states have failed to use existing accountability tools to bring Assad and his regime to justice. But the tools are still available, and some opportunities to use them may be increasing. Justice for the horrors experienced by millions of Syrians is long overdue, and more concerted efforts by countries to pursue justice may help counter the trend in normalization.
---
Elise Baker is a staff lawyer with the Atlantic Council's Strategic Litigation Project. Previously, she worked at the United Nations International, Impartial and Independent Mechanism on Syria and led Physicians for Human Rights' Syria Mapping Project, which documented attacks on Syria's health care system.
Further reading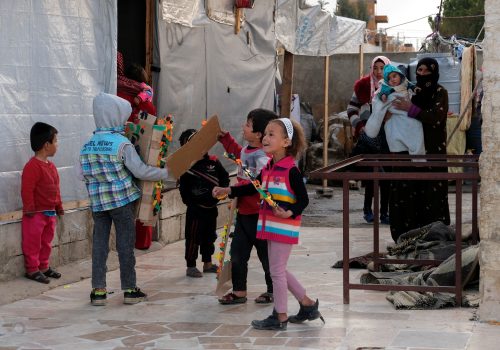 Tue, May 16, 2023
MENASource By Arwa Damon
Syrian refugees fear that "normalization" of ties will boost the narrative that "Syria is safe now," giving further justification to rid Syrian refugee populations.
Fri, May 19, 2023
New Atlanticist By Qutaiba Idlbi
Pre-summit conversations centered around three issues: the return of refugees, countering narcotics, and the reestablishing the state authority and institutions in Syria.