Syrian refugees fear normalization with Assad. Because it means they will have to return—and not by choice.
"We would always hear talk about how Lebanon would start forcing Syrians to go back," Safa, a twenty-year-old Syrian refugee in Lebanon, tells me. "But we never took it all that seriously. Not until now. Now it's a rollercoaster."
The news of the Arab League bringing Syrian dictator Bashar al-Assad back into its fold after a decade of civil war has exacerbated a constant, almost paralyzing fear that Syrian refugees have felt for years. No one who lived through this era can forget the barrel bombs indiscriminately raining hell down on civilian neighborhoods; the roar of Syrian and Russian fighter jets bombing schools and hospitals; the massacres of entire families—including children slaughtered for no apparent reason other than evil itself—and the months-long sieges of neighborhoods that left populations so hungry they ate grass.
But it would seem that it's now in the interest of Arab League nations to move past these crimes. They argue that Assad's isolation did little to alter his behavior and that re-opening communication is the best way to tackle the threat of terrorism, the growing drug trade flowing through Syria, and the headache caused by Syrian refugees. After all, if Syria is no longer a pariah state in the eyes of Arab nations, then surely its citizens can return. It's a prospect that terrifies Syrians who fled.
They fear that this "normalization" of ties between the Arab League and Syria will boost the narrative that "Syria is safe now," giving further justification to governments, politicians, and citizens of countries who have wanted to rid themselves of their Syrian refugee population for years. According to the United Nations High Commissioner for Refugees, 5.5 million Syrian refugees live in its neighboring countries. This does not count those who fled and made it to Europe, where many countries would like to—and in some cases have already—sent them back home.
The "Syrians can go back home" narrative is nothing new—it has been parroted for years. This action by the Arab League will potentially give any country wanting to deport Syrians the smokescreen it needs to justify its actions.
Safa is a university student who has lived as a Syrian refugee in Lebanon longer than she has lived in her homeland. As a child, she lived with the fear of being forced to go back home. As a young adult, it now permeates every aspect of her existence, growing by the day, and launching her into a constant state of anxiety.
"It's crazy what is happening now," she laments. "Imagine, they have a curfew for us now. As Syrians, we're not allowed outside after 7 pm in my village in the south. They say it's for the security of the Lebanese."
The Lebanese army has been carrying out increasing raids across the country in areas inhabited by Syrian refugees, detaining and deporting hundreds, according to Amnesty International and other rights organizations.
Individuals detained are dumped straight into the hands of Syrian authorities, where enough are reportedly arbitrarily detained, forcibly conscripted, or just disappeared that it sends waves of fear through the refugee population.
Lebanon's caretaker Prime Minister Najib Mikati has already cited a "decline in intense military tension in many areas" in Syria, as he called on the international community to facilitate a new approach to rid Lebanon of Syrian refugees, whether it be sending Syrians back home or to a third country. Lebanon has been increasingly scapegoating its refugee population, leading to a stunning increase in aggression and hatred.
Safa and her family live in fear within their own home. They recently moved towns and were visited by the Lebanese security forces, who informed them that they must register with all their documents or be deported immediately.
It's not just fear of the possibility of deportation, even though their papers are in order. It's the hatred that serves as an equally strong driver of the fear: "How secure is my life here?" It permeates every aspect of Safa's life to the point that her insides clench each time she steps outside. She's a university student working after class to help support her studies and her ten-person family.
"Our neighbors, even my friends at school, my boss at work, you feel their hatred of Syrians," she explains. "They say things like, 'Oh, you came, and now you're leeching off of us. Go back to your country. Half of you are thieves.'"
Anti-Syrian refugee sentiment has been snowballing lately, especially in the two countries that host the largest number of refugees: Lebanon—where Safa lives—and Turkey—where the refugee crisis is in the top three concerns driving voters in Turkey's razor-thin presidential elections, which are going to a run-off scheduled for May 28.  
"I cried, I cried, and I asked my father about all of this." Weam, a twenty-seven-year-old Syrian woman living in Turkey, explains to me. "First, it was Saudi Arabia, the United Arab Emirates, and even Turkey is talking about it."
The Assad regime killed Weam's brother, uncle, and grandfather. She can't erase the memory of seeing her brother's lifeless body in an ambulance on her laptop; of knowing, at that moment, that she would never get a chance to say goodbye. Weam will never forget the way that her family found her grandfather's scorched corpse after regime forces burned down his home, knowing that he was still inside.
"I am angry, frustrated," Weam says, her voice shaking with emotion. "Twelve years of fighting, being displaced within Syria and outside of Syria. All of this, just to be erased, to go back to normal ties?"
The pain is coupled with the uncertainty of the fate of those she loves. Weam is among the Syrians who successfully pursued a path to citizenship in Turkey. Her sisters are still waiting.
"They are terrified," Weam says. "They are just waiting to see what will happen after the elections."
Weam is unsure who to vote for or if she should even vote at all.
"Safe repatriation" of Syria's more than 3.5 million refugees in Turkey is the rhetoric swirling around and is an openly-stated pledge of the opposition candidate, Kemal Kilicdaroglu. But it's worth remembering that talks were started with the Syrian regime by the government of the incumbent, Recep Tayyip Erdogan. Add to that Syria's ascension into the Arab League, and the argument of "Syria is safe, people can go back home" takes on a new life no matter who wins.
"Me as a Syrian, I have no hope in the Arab League," Malik, a thirty-year-old Syrian refugee in Turkey, who has been waiting for his citizenship to go through, explains. "I was more upset by the rapprochement between Syria and Turkey. And, now, if it's the party that says it supports refugees that wins, there will be a backlash against us, and they will have to do something. And if it's the party that wants to kick us out, they will have to demonstrate that they are doing that. We don't know how it's going to materialize."
For many, going back to Syria is a non-starter. Safa's family, for example, is seriously considering having her take the deadly journey to Libya and then to Italy. It's not something she wants to do, but her family is pressuring her to try, thinking that it might lead to a chain of events that will allow them better and safer prospects.
Safety for those who fled is not just defined by whether bombs and bullets are falling. Much more terrifying than that is the fear of disappearance; fear of regime forces that arrive in the dead of the night to whisk someone away; fear of being stopped at a checkpoint and disappearing only to languish in Assad's prisons; fear of saying the wrong thing to the wrong person only to be recuperated by loved ones as a corpse; fear of all of the factors that were the drivers of the revolution in the first place. None of that has changed.
It's why Syrians who fled endure the misery of being in Lebanon. It's why internally-displaced Syrians stay in a tent rather than return to their cities and towns. It's why Syrians in Jordan would rather live in limbo than return. And it's why Syrians in Turkey will suffer the blatant racism, aggression, and politicization of their plight.
No global power, no politician, no population has ever really understood what it is to be a Syrian refugee. Their life and suffering is merely rhetoric to be manipulated. What better way to manipulate the Syrian refugee "crisis"—to justify sending Syrians back home—than to be able to point to the Arab League's acceptance of Assad and say, "But, look, things are going back to normal, relations are normalizing, things are fine. You can all go back home."

Arwa Damon is a nonresident senior fellow at the Atlantic Council's Rafik Hariri Center for the Middle East. She is also the president and founder of the International Network for Aid, Relief, and Assistance (INARA), a nonprofit organization that focuses on building a network of logistical support and medical care to help children who need life-saving or life-altering medical treatment in war-torn nations.
Further reading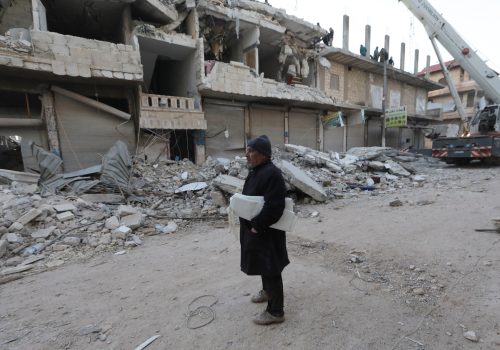 Thu, Feb 9, 2023
MENASource By Arwa Damon
While aid increasingly flows into Turkey from around the world by air, land, and sea, areas on the other side of the border in Syria's rebel-controlled areas are seeing none of that.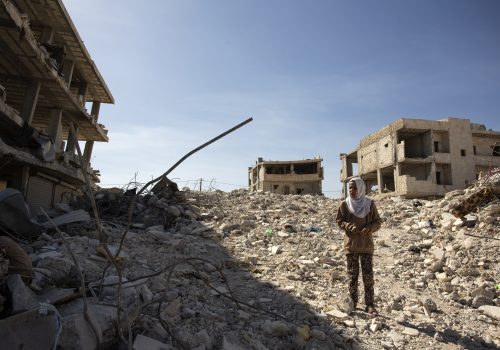 Fri, Mar 17, 2023
MENASource By Samir Aita and Zedoun Alzoubi
Politics is the art of the possible, and the tragic earthquake has put Syria on the priority list again.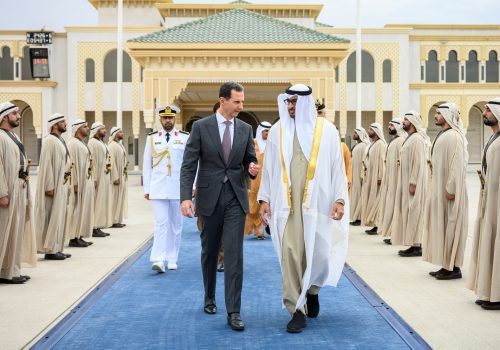 Thu, Apr 6, 2023
MENASource By Malik al-Abdeh and Lars Hauch
Now diplomatic relations are set to be restored between Syria and two behemoths of the Arab League: Egypt and Saudi Arabia, who are the holders of the all-important veto on Assad's return to regional respectability.