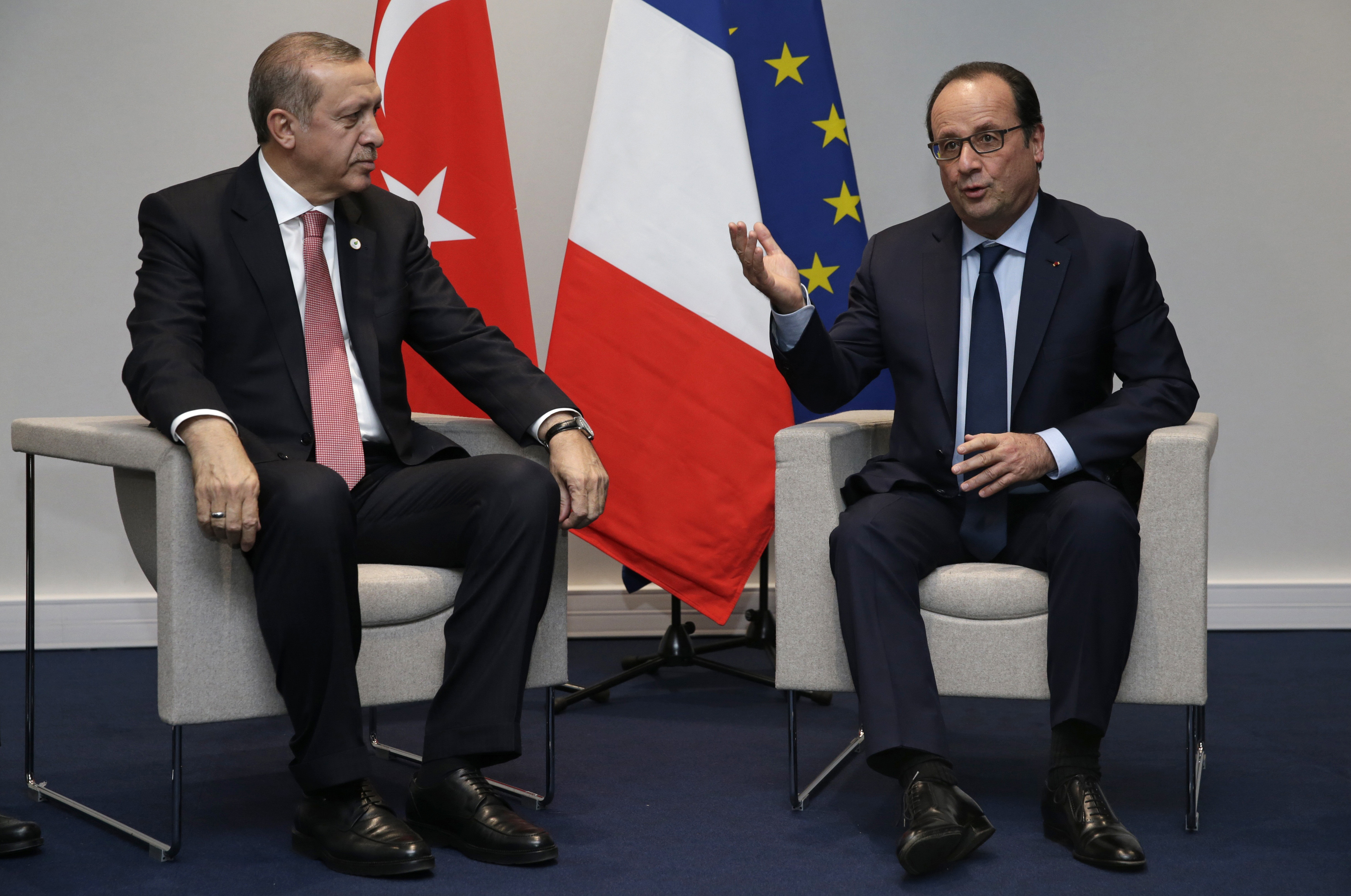 The downing of a Russian warplane by Turkey could derail the grand coalition against the Islamic State of Iraq and al-Sham (ISIS) that French President François Hollande is trying to put together by visiting Washington and Moscow, and getting Beijing on board.
The escalation of tensions between Russia and Turkey — historic rivals around the Balkans, the Black Sea, and the Caucasus — is not in Western interests, and should be defused before it careens out of control. Russian President Vladimir Putin and his Turkish counterpart, Recep Tayyip Erdoğan, should meet on the sidelines of the Paris COP21 climate change summit and set up protocols to prevent incidents such as the jet shoot-down from occurring in the future.

The Russians should not feign surprise over the downing of their Su-24 Fencer. I predicted such a scenario early in November. Prior to the Nov. 24 incident, Ankara had twice summoned Russia's Ambassador and demanded that Russia cease violating Turkish airspace. Turkey advised both the North Atlantic Council and the United Nations Security Council in early October of Russian violations.
When Erdoğan refused to apologize for the downed bomber, Putin, his erstwhile friend, decided to up the ante. At stake are tens of billions of dollars worth of energy and economic ties.
One missile may have destroyed a twenty-year-old geopolitical partnership.
Gazprom, Russia's state-owned gas giant, was planning a Turkish Stream gas pipeline project worth $30 billion. It may now be dead in the water.
Rosatom, the Russian state-owned nuclear behemoth, had signed agreements to build a four-reactor power station in Akkuyu worth $20 billion. That deal is on life support.
Four million Russian tourists have been spending over $10 billion per year in Turkish coastal resorts — but now Moscow is terminating the visa-free travel regime.
Turkish companies executed high-profile Russian construction projects worth billions of dollars. It's over. Moscow plans to send home the 200,000 Turks who work in Russia.
Moscow has banned imports of Turkish fruits, vegetables, and clothing.
Turning Turkey from a friend to an enemy occurred overnight — and with Orwellian vehemence. The state-controlled Russian media heaped on the opprobrium, blaming Erdoğan for "Islamization" of Turkey, claiming that his son Bilal supports ISIS by buying its contraband oil, and passing a resolution denouncing the Armenian genocide.
Ankara's reaction to the Russian warplanes can be explained as being the result of fear mixed with dishonor. At the recent Atlantic Council Economic and Energy Summit in Istanbul, Erdoğan blasted not only Syrian President Bashar al-Assad for the humanitarian catastrophe created by the war in Syria, but pointedly denounced "those who support him." Iranians at the summit saw a warning to Iran and Russia. Erdoğan views Syria as Turkey's "near abroad." Putin would understand. This had become a matter of honor.
In addition, Turkish diplomats have expressed to me their fears of the growing Russian military power, with its massive buildup in Crimea — and now in Syria. The deployment of state-of-the-art Russian S-400 long-range anti-aircraft missile batteries to the Khmeimim air base in Syria will cover a wide aerial envelop, including southern Turkey, and will complicate the coalition's air operations over Syria.
What should the United States do?
The United States and its allies have to recognize and reinforce the key role Turkey is playing in NATO's southern flank, keeping ISIS in check and balancing both Russia and Iran in Syria and Iraq. The White House, the State Department, and the Pentagon need to augment bilateral political-military and military-to-military ties as well as NATO relations with Ankara.
On an immediate basis, an air traffic control center for Syrian air operations needs to be created so that all the actors in Syria's airspace: the United States, Turkey, Russia, Israel, France, and soon Britain, can see who is flying where. This will help Moscow and Ankara avoid future clashes.
Washington should also encourage the resumption of military-to-military ties between Turkey and Russia, including a de-conflicting hotline, so as not to repeat the Fencer fiasco.
Turkey needs the United States and its allies to return the Patriot missile batteries, which are being withdrawn. The United States and NATO need to deepen intelligence sharing with Ankara about Russian and Iranian involvement in the Middle East.
Longer term, this is an opportunity to examine Turkey's strategic energy dependence on Gazprom, and in the future, on Rosatom. Washington should advise Ankara to improve certain frayed regional relationships, such as with Israel and Cyprus, so that eastern Mediterranean gas projects can be developed and a gas pipeline can go to the Turkish markets and to European consumers.
The United States should also consider the Turkish government's concerns about the Gülen Movement, an international Islamist organization, and formerly a political ally of Erdoğan's. The Movement has reportedly penetrated Turkey's law enforcement and judicial establishment, and has spearheaded persecution of Turkey's top brass and leading secularists. The Movement has been banned in many countries and US law enforcement authorities are investigating a number of US-based charter schools with links to it.
History teaches us that military incidents and local wars can be harbingers of world conflict in which millions die. From Agadir to the Balkan Wars to the Spanish Civil War, the rumblings of future battles were clear to those who had ears to listen.
It is imperative that the United States, our NATO allies, and Russia keep their eyes on the strategic goal of defeating ISIS, which, like a maelstrom of mayhem is spreading murder and sending millions of refugees across the Middle East and into Europe. The United States and its allies, including Turkey, need to formulate and pursue a coherent strategy at the Vienna talks to bring peace to Syria and get rid of the Assad regime.
Our leaders need to act before it is too late. The world cannot afford a Turkish-Russian clash.
Ariel Cohen is a Nonresident Senior Fellow in the Atlantic Council's Dinu Patriciu Eurasia Center and the Global Energy Center.