On January 22, France and Germany will celebrate the sixty-year anniversary of the Elysée Treaty, which sealed reconciliation between the long-time adversaries. It's an auspicious day to hold the annual Franco-German Council of Ministers, which convenes after months of strife and slights—perceived or real—between Berlin and Paris over the big challenges facing Europe and the cooperation needed to tackle them.
The European Union's (EU) two sine qua non powers are used to having different views on strategy and policy but working through their differences. Yet for a time late last year, their determination to reach common ground to advance European interests seemed to falter. Their lack of progress on issues from energy and inflation to defense, amid a war raging in Europe and heightened geopolitical tension, impacts the ability for the whole of Europe to remain economically strong and strategically relevant.
US policymakers should care about this particular episode of Franco-German sitcom drama. The Paris meeting will take on higher stakes for the EU and transatlantic unity as Moscow's war in Europe continues and Washington and Beijing square off. The flurry of visits of top officials between the two countries—plus a joint visit to Ethiopia by their foreign ministers—since the postponement of the summit are a sign that Germany and France intend to restore the dynamic of the partnership; yet the road remains bumpy.   
Both sides' cabinet officials created this format exactly twenty years ago, and Paris' decision to postpone the convening from October to now was an unusually blunt diplomatic signal from France that the so-called French-German engine of the EU needed resetting. The effects of diplomacy by Zoom during the COVID-19 pandemic on professional relationships, the departure of German Chancellor Angela Merkel (who worked with four French presidents during her tenure), and stylistic differences between French President Emmanuel Macron and new Chancellor Olaf Scholz contributed to the estrangement. They also had genuine policy differences, due to the two countries' divergent energy mixes and economic structures, resulting in visible disputes for months.
At best, Berlin and Paris seemed uncoordinated on defense initiatives—from the Future Combat Air System project to a new German-led initiative for a European Sky Shield Initiative aiming to create an air- and missile-defense system. At worst, Germany seemed to suggest open disregard for French and European interests: It devised its own two-hundred-billion-euro shield against exploding energy prices, in the form of household subsidies and price controls, while resisting French proposals for an EU-wide price cap for fossil fuels. Macron even felt compelled in October to publicly warn Germany not to isolate itself.
Since then, a concerted effort by German leadership to re-engage with its inevitable partners in Paris seems to have reset atmospherics. Scholz's announcement in Brussels of German support for a natural gas price cap came after French-led revisions to the EU plans to make them more palatable to Berlin. In particular, the Green leadership duo in Scholz's complicated three-way coalition, vice chancellor and economy minister Robert Habeck and foreign minister Annalena Baerbock, established new rapport and initiatives with their French counterparts. This should not be surprising since, with the notable exception of nuclear policy, the Greens are closest to Macron's vision for a more assertive EU on the geopolitical stage. 
The stakes in Paris
But at stake for the January 22 meeting is greater alignment and a renewed fruitful dynamic between Europe's two essential powers over the continent's place in a fundamentally changing geopolitical and geoeconomic context. US observers should not expect a resolution and grand strategic bargain from the joint cabinet retreat. Yet the ability of this unnatural partnership to deliver, especially in the context of the war in Ukraine, is essential for the transatlantic community.
This summit does not only offer the opportunity to make progress on bilateral issues but is also about making this cooperation relevant to the new strategic context: The Elysée Treaty reconciled long-time enemies and is a milestone in the European project, one of peace. The return of war on the European continent and the exacerbation of strategic geopolitical competition call into question the very identity of Germany's foreign policy. They also pose fundamental challenges for Europe's political and economic model, creating the risk of being left behind economically and strategically. The French-German relationship must adapt by redesigning itself to meet these new challenges together and then forge a shared vision for moving forward. Their ability to do so will be key for the future of European and transatlantic policy.
A strong German-French partnership, as desirable as it might be for both countries and Washington, may not appear so for some of their European partners. This is especially true at a time when the legitimacy (let alone capability) of these countries to lead has been questioned by their performance in the lead-up to Russia's war in Ukraine and cautiousness in supporting Kyiv militarily over the past year.
Yet the dynamic of cooperation remains vital for Europe. While the electoral landscape shifted dramatically in favor of far-right movements in the past few years (more recently in Sweden and Italy) and Brexit made European cooperation with the United Kingdom a headache, the French-German relationship remains a reassuring signal of stability.
Second, any ambitious EU action requires upstream agreement between Berlin and Paris. For instance, reaching compromise made the European recovery plan, the largest stimulus package ever financed in Europe, possible; announcing together (along with Italy and Romania) support for Ukraine's EU membership candidacy made it much more likely. Keep an eye on the ability for both countries to reach consensus on industrial policy addressing the US Inflation Reduction Act (IRA), a vision for Europe's future, energy, or China policy—either in the joint statement or at the post-summit press conference.
At the same time, both will have to make sure their partnership is not looking inwards, but instead effectively engaging other European partners. Russia's war against Ukraine has changed EU dynamics more than many in Paris and Berlin might acknowledge. Europe's center of gravity is moving eastward, and France and Germany need to successfully work with Central and Eastern Europeans on major questions of Europe's future.
Finally, both countries should keep in mind that without strong coordination, their respective initiatives are less likely to thrive. The French announcement of a European Political Community, if coordinated with Germany, may not have struggled as much to define its purpose. Germany may find more diplomatic success if it not only consults France ahead of time but also considers Europe more effectively in its decision-making process—as demonstrated by the criticism from Germany's neighbors of its two-hundred-billion-euro shield against high energy prices.
Bridging economic and geopolitical divides
While German-French cooperation encompasses many policy domains (including between civil societies), two stand out for transatlantic and European policy. The first regards economic cooperation. Following the postponement of their cabinet summit, France and Germany convened high-level meetings and reached significant agreements: Economy ministers Habeck and Bruno Le Maire issued a joint statement calling "for a renewed impetus in European industrial policy… boosting European strategic sovereignty." A month later, they published a paper called "For a European Green Industrial Policy" to offer a vision for the EU in response to the IRA—which has been widely criticized as protectionist by European leaders.
Yet France and Germany (or more accurately, the German coalition) do not yet share a joint vision on how to make sure the EU leads on green industry. The debate runs hot within the coalition over potential additional joint financing instruments, with the chancellor also under pressure from European partners (which don't have the same deep pockets as Germany to afford industrial subsidies).
While the IRA has been a necessary wake-up call across Europe, the strategic answer remains to be found—and will require French-German agreement. Ursula von der Leyen, the president of the European Commission, announced a Green Deal Industrial Plan at the Davos conference this week, but the question of funding remains open, as Germany so far is reluctant to agree to a European Sovereignty Fund.
Other options (which are not necessarily mutually exclusive) range from relaxing state aid rules, adding tax credits, and simplifying EU procedures for investments (especially on breakthrough innovation and infrastructure via the Important Projects of Common European Interest), to developing European green industrial partnerships or ensuring a minimum level of European-made production in strategic sectors, such as clean technologies. While they agree on the need to address the issue of competitiveness, European economies have such diverse needs and capacities that there is a high threshold for reaching consensus. But Franco-German agreement and coordination remains a necessary prerequisite for a European-wide deal.  
Another related key domain of cooperation regards energy policy. On November, 25, both countries issued a "political declaration on Franco-German solidarity." Both countries made different technological choices on nuclear energy, but there is a need to make progress now on hydrogen policy and to come up with compromise for the EU's reform of the electricity market, which is currently linking power and gas prices, an untenable position after the surge of gas prices in 2022. The European Commission plans to come up with a market reform this spring after consultations with EU member states, and once again, the ability for Germany and France to find common ground will be critical.
The second item is Europe's geopolitical strategy. Last year was a rough one for Germany, with its foreign-policy culture fundamentally challenged if not discredited, leading to a makeover with the Zeitenwende. Germany is addressing its energy dependency on Russia, but it is uncertain whether it will address its economic dependency on China—as shown by the much-criticized China trip by Scholz and a delegation of business leaders in November. Paris will be closely scrutinizing the new German strategy on China, which should come shortly after the country's first-ever national security strategy, which was expected to be released for the Munich Security Conference in February but is likely to be delayed. France has hardened its stance toward China in the past few years but intends to pursue a distinct policy from that of the United States, as Central and Eastern European states have also grown wary of China.
The Zeitenwende, if translated into China policy, could thus provide an opportunity for a more united European policy toward Beijing. Nonetheless, it is Germany's third dependency that France may be the most wary of—dependency on the United States for its security. While NATO remains the cornerstone of collective security for both countries, France expects Germany to adopt strong language on European strategic sovereignty in its forthcoming national security strategy, including on industrial defense capabilities. Germany may not want to. What France views as military dependency on the United States that weakens the transatlantic relationship, Germany largely sees as part of securing NATO integration and a US presence underpinning the partnership with the United States. Both will have to come to a broad consensus that allows for more European capabilities and the ability to use them without Washington's direct involvement, while maintaining strong integration with NATO.
Viewed from Washington, the January 22 Franco-German summit may seem like a symbolic reunion to restore a welcome bilateral dynamic with limited wider impacts. But US observers should watch more closely. In the past, the partnership has proven to be essential to the new stability of the European continent and a force breaking taboos of what the EU can and cannot do. Facing a strategic environment that questions the validity of what this relationship can achieve, these two essential EU member states must find common ground, and quickly, on the big challenges facing the EU—from energy security and global competitiveness to defense cooperation and Europe's future as a geopolitical actor. The United States and its global interests will lose out if Europe, its partner of first resort, remains rudderless and divided on the major strategic decisions of our time. A new alignment between France and Germany is a necessary first step in devising a coherent European response.      
---
Marie Jourdain is a visiting fellow at the Atlantic Council's Europe Center and previously worked for the French Ministry of Defense's Directorate General for International Relations and Strategy.
Jörn Fleck is the senior director of the Europe Center.
Further reading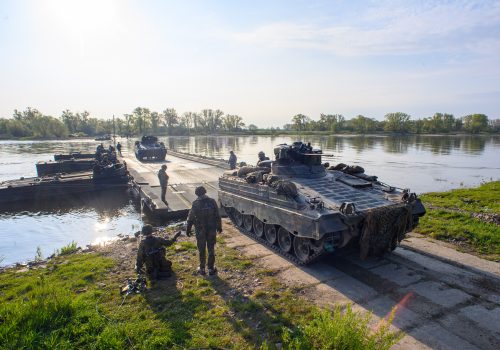 Fri, Jan 6, 2023
New Atlanticist By Atlantic Council experts
What do these additions mean for the battlefield? What do they signal about the positioning of France, Germany, and Europe as a whole in this protracted conflict?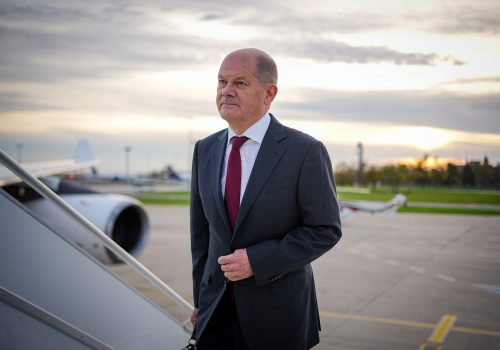 Thu, Nov 3, 2022
New Atlanticist By Rachel Rizzo, Jörn Fleck
Plodding Germany will be forced to adapt its role in Europe and the world much sooner than it expects. Here's why.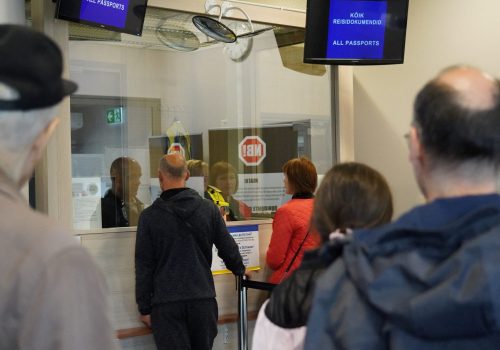 Fri, Sep 23, 2022
New Atlanticist By Petr Tůma
The consensus on visa policy toward Russia is yet another sign of Central and Eastern Europe's rise to political prominence.