Here come the tanks—or at least tank-like vehicles. Following France's announcement on Wednesday that it would send AMX-10 RC armored fighting vehicles to Ukraine, Germany and the United States revealed on Thursday that German Marder fighting vehicles and US Bradley fighting vehicles will soon be on their way to the front. Germany also threw in a battery of Patriot air-defense systems. What do these additions mean for the battlefield? What do they signal about the positioning of France, Germany, and Europe as a whole in this protracted conflict against Russia? Our experts are rolling in with the answers.
John Herbst: Once again, the weapons are welcome but too long delayed
Marie Jourdain: France leads the way in European security—and could strain relations with Germany
Jörn Fleck: Berlin's hand was forced by Washington and Paris
Justin Conelli: What another Patriot battery will do for Ukraine
Once again, the weapons are welcome but too long delayed
The news this week that the United States, France, and Germany are providing light armor to Ukraine—not tanks—is a welcome but late step that continues the pattern of Western arms supplies from the three countries to Ukraine. Going back to last winter before Moscow launched its massive invasion, all three countries have hesitated before sending Ukraine the weapons it needs. That started with Javelins and Stingers, and continued with MiG fighters, anti-ship missiles, longer-range artillery (to eighty-five kilometers), and Patriots and other air-defense systems.  
The good news is that supply is becoming more sophisticated. But the slow pace means that the war lasts longer than necessary and desirable. The Biden administration needs to state that its clear objective is to help Ukraine make the Russian presence in Ukraine untenable. The smart way to do that is to provide Kyiv the still longer-range artillery, missiles and drones (to three hundred kilometers), tanks, and aircraft (F-16s) enabling Ukraine to sever the land bridge to Crimea and thereby force a Russian retreat from southern Ukraine, making it extremely difficult for Russia to supply its military and more in Crimea.
—John Herbst is the senior director of the Eurasia Center and a former US ambassador to Ukraine.
France leads the way in European security—and could strain relations with Germany
The announcement of France supplying AMX-10 RC light tanks following a phone call between the French and Ukrainian presidents came at a surprising time given that the visit by the French minister of defense to Kyiv just a few days ago provided the opportunity for such an announcement. The French decision and communication in that regard sends clear signals on the evolving French policy in support of Ukraine: Since last February, France has supported Ukraine in all dimensions (including helping to organize the "Standing with the Ukrainian People" conference in Paris) but, to many observers, the military component was falling short. There was little communication around defense issues and limited deliveries, although France did send critical Caesar howitzers and helped fund the European Peace Facility—which has backed the Ukrainian armed forces. 
It is not only significant that France decided to go forward with delivering such military gear without other Western partners (its announcement coming a day ahead of Germany and the United States), but that France emphasized that it is indeed sending tanks. (Whether AMX-10 RCs are actually tanks is an open question for military experts.)
The delivery may not be the decisive military move to allow Ukraine to face the expected Russian offensive in spring. Instead, it is much more a political move: Coming a few weeks before the French-German Summit, the signal is not good for the two countries' relationship. It is too soon to tell the impact of French leadership in Europe, but France, more than Germany, seized the importance to demonstrate that a European country can also lead the way forward. Demonstrating its reliability as a partner behind Ukraine is a prerequisite to have its voice heard when the time comes to design a new European security architecture along with Ukraine and NATO allies.
—Marie Jourdain is a visiting fellow at the Europe Center and previously worked for the French Ministry of Defense's Directorate General for International Relations and Strategy.
Berlin's hand was forced by Washington and Paris
The German government's decision to join the United States and France in providing infantry fighting vehicles to Ukraine follows a familiar pattern in Berlin's support for Kyiv—better late than never. The commitment to send a significant number of Marder tanks finally does away with one of Germany's biggest phantom debates—largely conducted with itself—about the escalation potential of tank deliveries vis-à-vis Moscow. One can only hope Thursday's coordinated action will focus minds in Germany on what Ukraine actually needs to push back Russia's aggression. The addition of one Patriot system to the package—one of the more valuable and rare assets of the German armed forces—and talk of more Gepard anti-aircraft guns that have proven effective against Russian drones are a strong sign in the right direction too.
But allies should still temper expectations of a fundamentally new quality of German leadership from the decision to deliver Marders and Patriots amid Chancellor Olaf Scholz's proclaimed Zeitenwende policy shift. Scholz can say his government stuck to the much-repeated principle of Germany not moving alone and only in conjunction with allies. But in Thursday's announcement, Berlin once again looked like its hand was forced by Washington and Paris and it did the right, overdue thing only when left with no other options. Voices among Scholz's Green and liberal coalition partners acknowledge that the Marders should have gone to Kyiv last spring. The strategic and mentality shifts a successful Zeitenwende will require have yet to fully materialize. Or to put it in terms of Scholz's 2021 domestic campaign promise—that's not (yet) the German leadership any of his allies ordered.
—Jörn Fleck is the senior director of the Europe Center.
What another Patriot battery will do for Ukraine
Germany's recent commitment to provide a Patriot missile battery to Ukraine comes at a time when air-defense capabilities represent Kyiv's most pressing near-term requirement for Western support. The ruthless Russian strike campaign targeting critical infrastructure and key resources is enacting a terrible toll on Ukraine and its civilian population, which will only accelerate as brutal winter conditions continue to set it. The barrage of ballistic missile and drone strikes not only terrorizes population centers, it also serves to deplete Ukrainian air-defense munition stocks, with Russia often enjoying the asymmetric advantage of relatively cheap loitering munitions being intercepted by very expensive air-defense missiles.
On the front lines in the Donbas, slow attritional warfare is taking place across more entrenched and defensible positions than previously seen. As Ukrainian air-defense capabilities continue to dwindle, Kyiv will have to make difficult prioritization decisions to either protect cities from Russian strategic bombardment or defend front-line positions. This type of prioritization could allow for more damaging operations by Russian Aerospace Forces in areas left vulnerable by the lack of air defenses. The Patriot missile battery provided by Germany, coupled with the one from the United States (along with a steady supply of munitions), will be critical to Ukraine protecting its cities and securing hard-won positional gains while simultaneously defending against localized offensive operations by Russian forces.
—Justin Conelli is the senior US Air Force fellow in the Scowcroft Center for Strategy and Security's Forward Defense practice.
Further reading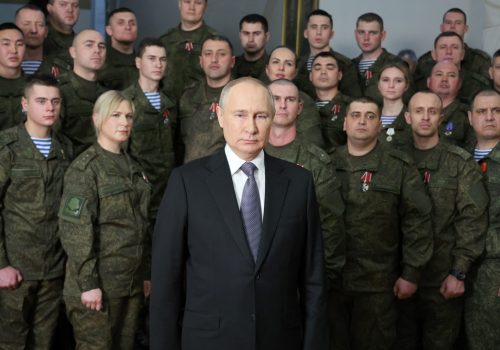 Tue, Jan 3, 2023
UkraineAlert By Alexander Motyl
Vladimir Putin used his traditional New Year address on December 31 to mobilize the Russian public for a long war in Ukraine while warning that the West is intent on "destroying Russia," writes Alexander Motyl.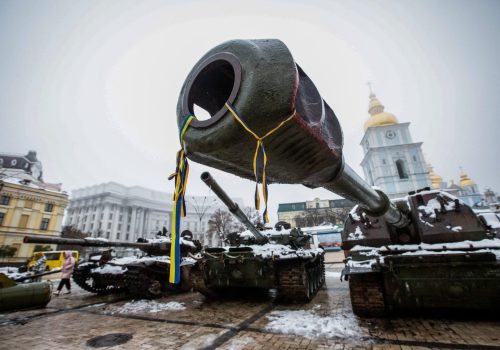 Thu, Dec 22, 2022
UkraineAlert By Oleksii Reznikov
Ensuring that the Russian invasion of Ukraine ends in defeat is vital for the international security system and must be the strategic priority for 2023, writes Ukrainian Defense Minister Oleksii Reznikov.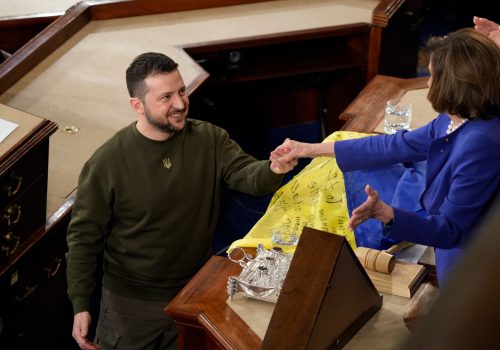 Wed, Dec 21, 2022
Experts react By Atlantic Council experts
What are the stakes for Zelenskyy, Biden, and Congress—and what does the Ukrainian president want the American people to know? Here's your expert guide.