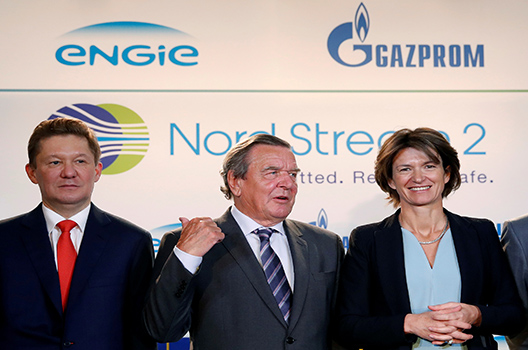 This week, Western leaders will gather at the NATO Summit in Brussels to discuss the most pressing issues of the day, likely including the construction of the Nord Stream 2 natural gas pipeline. The pipeline, owned by Russian energy giant Gazprom, would significantly increase Moscow's capacity to export natural gas directly to Germany. Nord Stream 2 is too often mistakenly framed as primarily a German commercial issue or a Ukrainian transit problem, since the country will be bypassed by the new pipeline. Sometimes, even more misleadingly, it is portrayed as a rival to the United States' liquefied natural gas (LNG) export ambitions to European markets.
But is this gas pipeline really that bad for Europe?
The short answer is an unequivocal yes. Here are the four main reasons why:

1. It undermines Europe's energy security strategy
Back in 2014, the European Union (EU) adopted its energy security strategy, which argued that the Union must diversify its energy sources, suppliers, and routes. If Nord Stream 2 is built, it would run counter to this strategy by concentrating the bulk of bloc's gas imports via a single route, while boosting imports from a single Russian source and supplier.
Currently, there are four major pipelines that bring Russian gas to the European Union: Yamal, Brotherhood, Soyuz, and Nord Stream 1. Yet following the expansion of the Nord Stream route, Russia would likely gradually discontinue the use of the Brotherhood and Soyuz pipelines via Ukraine in order to save on transit fees and punish Kyiv for its turn westward. The European Union would be left with the Yamal pipeline via Belarus, and the two Nord Stream pipelines that traverse the Baltic Sea.
The expanded Nord Stream route would further boost Russia's share in Europe's gas market, raising it to around 40 percent of the European Union's overall gas imports. Such a move would be highly questionable, given the Kremlin's sabre rattling in Europe since 2014 and the fact that Moscow is currently under EU sanctions for its aggression in Ukraine.
2. It would help Russia export corruption to Europe
While Russia is most known for its vast energy resources, it is also notorious for widespread corruption and rampant cronyism. Given Gazprom's close links with the Kremlin's kleptocratic elite, Nord Stream 2 might bring not only Russian gas, but also the worst type of business practices to Europe.
Russian efforts to export corruption to Europe are well documented. Last year, individuals close to the Kremlin and its state-owned companies popped up in a high-profile investigation, where they were suspected of being involved in a financial fraud scheme titled the "Russian laundromat." This money laundering scheme, which also involved numerous European companies, enabled kleptocrats to move some €17–68 billion out of Russia from 2010 to 2014.
If Nord Stream 2 is built, Germany would be the EU country most exposed to dubious Russian influence. Moscow already has a track record of relying on German businesses and lawmakers to advance its own strategic goals. For instance, following Russia's invasion of Crimea in 2014, large German companies with considerable business ties with Russia were among the harshest critics of Western sanctions against Moscow.
Moscow has also succeeded in enlisting Gerhard Schröder, Germany's ex-Chancellor, as the chairman of Nord Stream AG since 2005 and as the chairman of Russia's biggest state-owned oil producer Rosneft since 2017. He has not only lobbied on behalf of Russian business interests, but also voiced loud anti-American sentiments in German domestic political debates.
3. Explosions or military accidents could disrupt Europe's gas supplies
With a few minor exceptions, Nord Stream 2 will run in very close proximity to the Nord Stream 1 pipeline. This threatens Europe's gas supply for a couple of reasons.
The Baltic Sea is a small, flat body of water – less than twenty meters deep in some places – and is littered with countless mines, unexploded bombs, and sunken vessels from the two world wars. It is highly plausible that some of this material would drift towards the pipelines and cause an explosion. In fact, in 2015, part of the Nord Stream 1 pipeline was briefly closed after the Swedish navy discovered an unexploded mine nearby.
Russia could also pose a security threat to Europe's gas supplies, albeit inadvertently. Despite its small size, the Baltic Sea is buzzing with Russian military activity, including large-scale exercises and regular patrol missions. Unfortunately, Russian servicemen do not have a great reputation for professionalism. Over the years they have recklessly caused numerous high-risk incidents against NATO forces, some of which happened near the Nord Stream route. It makes little sense for the pipelines to go through such a hazardous path.
4. Nord Stream 2 increases exposure to cyber risks
The concentration of Russian pipelines and a significant portion of European gas imports along a single route in the Baltic Sea goes well beyond traditional security risks. It greatly increases the risk that a terrorist or hacker group could try to disrupt Russia's gas exports to Europe.
There is rising concern that cyber-attacks against critical energy infrastructure can have devastating consequences. Last year, Saudi Aramco, the world's largest energy company, was reportedly the target of a cyber-attack, which sought to tamper with the company's infrastructure and trigger an explosion. Had the attack been successful, it could have caused carnage at the facility, sabotaged the firm's operations, and led to disruptions of energy exports.
Although it would be wrong to suggest that Ukrainian gas pipelines – just like any other dated pieces of engineering – are more resilient to cyber threats than newer pipelines, there are major drawbacks to concentrating pipeline infrastructure, as Nord Stream plans to do.
It is very likely that Nord Stream 1 and 2 will have overlapping software monitoring day-to-day operations, and, at the exit, the two pipelines will be joined up with interconnected hardware. Both pipelines will also be operated by the same company – Nord Stream AG. Therefore, if a hacker wanted to gain access to both pipelines, he would only have to hack into one system, not two. This is incredibly dangerous, given that between a third to a fourth of EU gas imports could be at risk.
The verdict
Nord Stream 2 not only runs counter to the European Union's energy security strategy, but also creates new security risks. Decision makers from Lisbon to Helsinki should make it unambiguously clear that they oppose the building of this pipeline.
Still, given the political delicacy of the matter, it is up to Germany's Chancellor Angela Merkel and her coalition partners to decide how Berlin wants to be seen by its neighbors and allies. As Europe's leading power, will Germany rise to the challenge and, for Europe's sake, demonstrate genuine leadership by blocking Nord Stream 2? Or will Berlin succumb to local interests, the Kremlin's wooing and pressure, and undermine EU solidarity at a time when greater unity is most needed? The ball is in Germany's court.
Agnia Grigas is a senior fellow at the Atlantic Council in Washington D.C. Her latest book is "The New Geopolitics of Natural Gas." Follow her on Twitter @AgniaGrigas.
Lukas Trakimavičius formerly worked at NATO. Currently, he is an independent Brussels-based security analyst. Follow him on Twitter @LukasTraki.