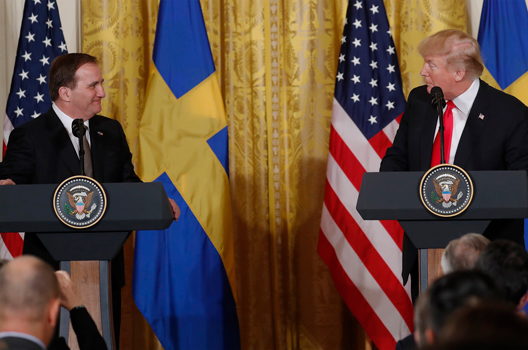 When Swedish Prime Minister Stefan Löfven meets US president Donald J. Trump for the first time on March 6, security and defense collaboration will likely be at the top of the agenda. A number of Nordic leaders have already met with Trump, and in their first meeting, he and Löfven have an opportunity to ensure that cooperation, not competition, sets the tone for future transatlantic security efforts between the United States and Nordic nations.

Löfven can demonstrate that the past year has been one of significant US-Swedish military collaboration, in accordance with the bilateral defense agreement signed in May 2016. In September 2017, 1,400 US troops participated in Aurora, the biggest Swedish military exercise in over twenty years. Soon after, Sweden decided to procure the US-manufactured Patriot air defense missile system. Swedish-US defense cooperation is only shadowed by the possibility that Sweden signs the United Nations (UN) treaty banning nuclear weapons. Washington has clearly signaled that signing the treaty could affect US-Sweden cooperation, Sweden's relation to NATO, as well as US military support in the event of war, since nuclear deterrence is a cornerstone for US defense as well as for NATO.



The transatlantic link is crucial for Nordic security and defense. In spring 2016, the Nordic-US relations peaked with a US-Nordic summit at the White House and a joint declaration, emphasizing common values as a base for deepened cooperation.
However, Trump's inauguration in 2017 created waves of uncertainty in the Nordic capitals. Questions piled up on the impact of Trump's isolationist agenda, disregard for NATO, critique of the levels of European defense spending, attempt to repair relations with Russia, and lack of emphasis on the Baltics.
Over one year later, the fears of Nordic nations have not come true—at least, not so far.
The increased US military presence in Europe through the European Reassurance Initiative (ERI), initiated by former US President Barack Obama after the illegal Russian annexation of Crimea, has benefited and strengthened Baltic Sea and Nordic security. The Trump administration is set to strengthen the military presence even further as part of the European Deterrence Initiative (EDI), the follow-up to ERI. The Trump administration has put forward a 40 percent budgetary increase for the fiscal year 2018 for EDI. There is an expected increase of an additional $1.7 billion in the fiscal year 2019 defense budget.
Further, US relations with Russia have not softened. The Trump administration's National Security Strategy labels Russia a threat to US interests. This accounts for the US military's return to Europe. With regard to Ukraine, US sanctions against Russia have been upheld, and the military support to Ukraine has even increased.
As a result, after one year with the Trump administration, the Nordic countries remain close to the United States on security and defense. A range of bilateral efforts in the past year has ensured this trend.
Norwegian Defense Minister Ine Eriksen Søreide met US Secretary of Defense Jim Mattis one month after Trump's inauguration, and Trump met Norwegian Prime Minister Erna Solberg at the White House in January 2018. Despite an initially harsh tone from the United States, demanding more engagement and defense spending from NATO allies, US support for Norway has improved during the Trump administration. Three hundred US Marines are on continuous rotation in Norwegian territory for exercises and training. Norway has also procured fifty-two US-manufactured F-35 fighter aircrafts for national defense. Among the Nordic countries, Norway has the highest level of defense spending, on track to allocate around $7 billion by 2020.
Denmark's Prime Minister Lars Løkke Rasmussen visited the White House in March 2017, at which time Trump described Denmark as a "very good ally." Ahead of the bilateral visit, Denmark offered to deploy two hundred troops to the NATO Enhanced Forward Presence (EFP) mission in Estonia. In November 2017, Denmark decided to procure twenty-seven F-35 fighter aircrafts from the United States. Further, in January 2018, Denmark increased its defense spending and allocated $2.14 billion over the next six years. The country also made plans to establish a brigade that will focus on defense of the Baltic Sea.
Iceland is important to the United States from a geographic standpoint as it provides an excellent location from which to patrol the area between Greenland, Iceland, and the United Kingdom, the so-called GIUK gap. This space is of strategic importance both to the United States and Russia, and its defense is a significant concern for NATO countries. In recognition of Iceland's strategic importance, the United States has, in its last two defense budgets, allocated $36 million for refurbishing facilities at Naval Air Station Keflavik in order to house one to two submarine-hunting P-8A Poseidon jets on a rotational basis. The United States and Iceland agree this does not imply reopening of the Keflavik base.
Finland and Sweden remain outside of NATO. Both countries signed bilateral defense agreements with the United States in 2016, building on long-lasting relations dating back to the Cold War. In more recent years, US defense and security cooperation with these nations has mainly developed through Swedish and Finnish participation in all NATO-led international missions from the Balkans to Afghanistan, which has contributed both to interoperability and trust. In addition, war games conducted after the illegal Russian annexation of Crimea have clearly illustrated the strategic importance of cooperation in case of crisis or war with Sweden and Finland, although they are not formal allies. Access to Swedish territory would significantly facilitate the operations of US forces defending the Baltics, while Finland plays a crucial role in holding the long border towards Russia.
Finland's president, Sauli Niinistö, visited Trump in August 2017. During the meeting, Trump emphasized the importance of protecting the Baltic Sea region from Russia, and hailed Finland for its role at the forefront of cyber security developments, saying: "In fact, we should be calling you pretty soon." Mattis reaffirmed the US commitment to its defense agreement with Finland, and said that the US-Finland statement of intent "has a stabilizing purpose here in Northern Europe."
In sum, the Nordic countries have thus far made strong, and rather successful, efforts to establish good bilateral relations with the Trump administration. However, joint efforts to follow through and act on the goals set forth at the Nordic-US summit have been put on hold. As the Trump administration tends to emphasize bilateral, rather than multilateral frameworks and forums, it might be tempting for a smaller state to get attention by following this path of collaboration.
However, there remains an embedded risk in pursuing that track. There must be an awareness among the Nordic states that the margins are narrow. The unpredictability surrounding the Trump presidency, as well as the uncertainty that it brings to global affairs, is likely to remain.
In order to establish a pattern of cooperation rather than competition among the Nordic in their relations with the United States, it is time for the Nordic states to work closer together to emphasize common ground and mutual interests in the region, in Europe, and across the Atlantic. For smaller states, their voices are better heard in concert. It is also in the interest of the Nordic states to safeguard the institutional frameworks that have kept the peace in Europe, such as the European Union (EU) and NATO, by keeping them relevant in the current international context.
Sweden, Finland, and the United States have established trilateral defense collaboration, which is a good start. However, more should be done by the Nordic states to cooperate among themselves to optimize external outreach. In particular, this should be done in four dimensions:
Promote a new US-Nordic Summit with the Nordic prime ministers and Trump.
Solidify Nordic Defense Cooperation (NORDEFCO) as the core of Nordic defense and security cooperation. Through this initiative, participating nations can follow through on a range of initiatives such as strengthened cross-border training, increased situational awareness, and joint procurement. It can also be opened up for a regular Baltic participation on issues of common interests.
Develop the EU's military cooperation by initiating Permanent Structured Cooperation (PESCO) projects with a Northern European dimension in the fields of intelligence and situational awareness. Further, Nordic nations could push for third-country participation to include Norway, Iceland, and the United Kingdom as much as possible. That is of benefit also to EU members Sweden, Finland, and Denmark.
Pursue Sweden and Finland's close partnership with NATO by establishing a structure for political consultations in case of crisis and develop advanced exercises with the Enhanced Forward Presence (EFP) units in the Baltic States and Poland. The support of and practical cooperation with Norway, Denmark, and Iceland as allies is key in this regard.
In an era where security has vastly deteriorated in the Northern European region, and security interdependence is higher than ever, challenges can only be successfully addressed if coordination and cooperation among the Nordic countries, and with the United States, is enhanced.
Anna Wieslander is director for Northern Europe at the Atlantic Council and secretary general of the Swedish Defence Association.