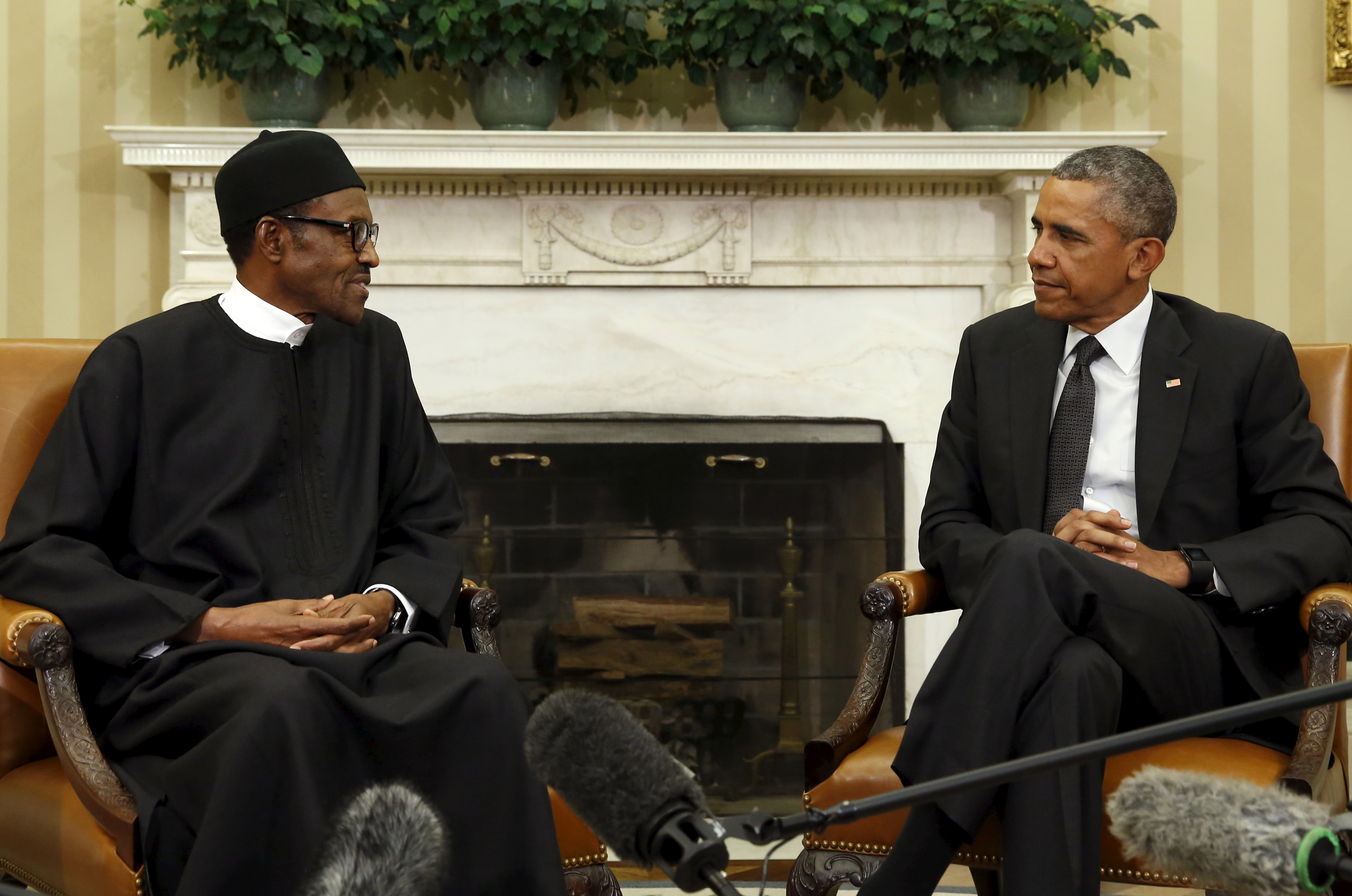 Boko Haram, trade will be at the top of the agenda, says Atlantic Council's J. Peter Pham
Nigeria's war on Boko Haram will be at the top of the agenda when US President Barack Obama meets his Nigerian counterpart Muhammadu Buhari at the White House July 20, says the Atlantic Council's J. Peter Pham.
The two leaders are also likely to discuss ways to grow trade between the two countries to plug the revenue gap created after the United States stopped purchasing petroleum products from Africa's largest oil producer.

The White House meeting presents an opportunity for the two leaders to reset a relationship that had become strained under Buhari's predecessor Goodluck Jonathan, said Pham, Director of the Atlantic Council's Africa Center.
Buhari was elected in March and assumed power in a historic transition for Nigeria—the first time a democratically elected President was replaced by a democratically elected opposition leader.
The US-Nigeria relationship became strained after the Obama administration raised concerns about atrocities committed by Nigerian soldiers in their war on Boko Haram and blocked the sale of US-origin Cobra helicopters by Israel to Nigeria.
Late last year, Nigeria responded by abruptly canceling the final phase of a specialized program run by Pentagon trainers to help Nigerian troops fight Boko Haram.
Buhari has his hands full with a war against Boko Haram militants that have allied themselves with an Islamic State franchise and rejuvenating the economy that has been battered by falling oil prices.
"The fact is that the Obama administration, by squeezing in this trip before the President travels to Africa, sends a very strong signal of its interest in resetting that relationship" with Nigeria, said Pham.
J. Peter Pham spoke in an interview with the New Atlanticist's Ashish Kumar Sen. Here are excerpts from our interview.
Q: Is President Buhari's visit to Washington an opportunity to reset the relationship, which became strained under his predecessor?
Pham: His election presented the opportunity. The fact is that the Obama administration, by squeezing in this trip before the President travels to Africa, sends a very strong signal of its interest in resetting that relationship.
A number of us at the time of the election of President Buhari advocated using this fresh start in Nigeria, this landmark moment when for the first time in the country's history one democratically elected President yielded power to another democratically elected President from an opposition party, to reset the relationship.
I had suggested that if it was not possible for President Obama to visit Nigeria as part of his Africa trip that President Buhari be invited to Washington for a working visit before the visit because of Nigeria's importance as Africa's most populous country, its largest economy, home to its largest Muslim population as well as its largest Christian population, and what should be a key partner in Africa. I am very glad that call was taken to heart.
Q: What will be on the agenda when the two Presidents meet?
Pham: First and foremost, especially for a newly elected President, this is a get-to-know-each-other moment. Rebuilding a relationship takes time, but it is a fresh start.

On the practical terms of the agenda, looming large will be the question of Boko Haram. Although the military offensive carried out in the last months of former President Goodluck Jonathan's administration by Nigerian forces in cooperation with neighboring forces from Niger, Chad, and Cameroon, succeeded in pushing Boko Haram out of territorial dominion over large areas of northeastern Nigeria, the group then affiliated itself with the so-called Islamic State, or Daesh. The Islamic State West Africa Province (ISWAP), as Boko Haram is now calling itself, has grown in virulence, substituting territorial control for ramped-up guerilla tactics as well as terrorist attacks, including in Niger and in the Chadian capital of N'Djamena.
Another major issue is economics. Nigeria is no longer an important supplier of US energy needs. Several years ago Nigeria was the fourth-largest source of US petroleum imports. Now, literally, we have all but ceased importing Nigerian petroleum. Between the fact that the US, formerly a big customer, no longer purchases Nigerian petroleum because of the energy revolution here at home, and falling prices globally, a severe strain has been put on Nigeria's government budget.
Although the Nigerian economy is very diversified the government budget is 85-90 percent dependent on oil revenue. That means the resources available to the administration of President Buhari to do all the things that it is expected to do are vastly diminished.
Nigeria is still a wealthy country and doesn't need foreign assistance, but it is in Nigeria's interest as well as the United States' interest to increase trade with each other in sectors other than energy. There are many opportunities for American companies.
President Buhari needs not only economic growth in order to have revenues for government programs but also for employment creation, especially for youth.
By the way, the conversation with President Buhari is only the beginning of a series of bilateral dialogues that needs to take place in the coming months between the United States government and private sector and their Nigerian counterparts. To give just one example, Nigeria, like the United States, has a federal system of government. The states of the Nigerian federation have considerable autonomy and resources as well as distinct needs. A number of the governors elected on the ticket with President Buhari have infrastructure and other needs which American businesses are well-positioned to meet.
Q: What restrictions does the Leahy law put on US security assistance to Nigeria?
Pham:The Leahy laws ban assistance to individuals and units, which are credibly accused of human rights abuses. The fact is units and individuals can be vetted. Even in Nigeria, until training was interrupted by the Jonathan administration, there was a full battalion being trained in counterinsurgency tactics by US Special Operations forces in Nigeria. All of the members of this battalion had been individually vetted and cleared of any human rights accusations. So there are personnel that can receive training.
Leahy is often too easily invoked as an excuse for not doing things. In fact, if you vet there are people and units that can receive training.
Nigeria is not asking for a handout. With some other African militaries you have to supply them with everything from uniforms to equipment. Nigeria needs training—tactical, operational, strategic—and capacity building.
Part of the dispute between the US and Nigeria was the Obama administration blocking the sale of Cobra attack helicopters manufactured in the US and used by Israel. Israel was going to sell refurbished helicopters to Nigeria. Nigeria didn't ask to be given those helicopters. Nigeria wanted to buy them.
Q: What is the status of the military training program that the Jonathan administration abruptly ended last year?
Pham: It has not been restarted. That will probably be part of the discussions here. It has only been this past week that President Buhari dismissed the service chiefs he inherited from his predecessor. Several of them were named in the Amnesty International report as being among those accused of human rights violations. Removing those officers removes a potential obstacle.
Also, it is only this past week that the Nigerian President announced the new defense intelligence chief and a new National Security Advisor. Only now do we have people in place with whom we can discuss Nigeria's needs and requirements and what we might be able to do to help.
Ashish Kumar Sen is a staff writer at the Atlantic Council.