On Wednesday, Ukrainian President Volodymyr Zelenskyy accepted an Atlantic Council 2023 Global Citizen Award for leading the Ukrainian people in the fight to protect his country's sovereignty. Read his moving address to the gala dinner in New York in the transcript below.
Gear up to watch the exclusive broadcast of the event
Thank you very much, a great honor to be here. I didn't prepare a long speech. Sorry, too much for one day. And tomorrow, I'll be in [the] White House, so I have to save energy. I'm not alone here; I'm with my wife, I just want to see her somewhere… And our team, you there. Thank you so much that you invited us. Really, I don't have, in real life, I don't have, often, I don't have time to be near with my wife, together, so thank you so much. Yes, if you want to applause, please. Thank you very much.
Really, to be serious and to be very honest, this is not my award, and I address this award to all Ukrainian men and women in uniform. I address this award to all our sweet children who have been killed by Russian terrorists—I will never forget them. I address this award to our fathers [and] mothers who brought up [such] brave Ukrainian soldiers. And to all teachers and to all doctors who didn't leave the Ukraine from [the] first days of full-scale war, have been together with us, taught our clever boys and girls; even under Russian missiles, taking Russian missiles and Iranian drones. And of course, I address this award to all the partners: United States, EU, all brave countries who have been with us and supported us. Thank you so much.
And, of course, I address this award to all the people in the world who fight for freedom and democracy like we, we Ukrainians. Slava Ukraini.
Watch the full remarks
Further reading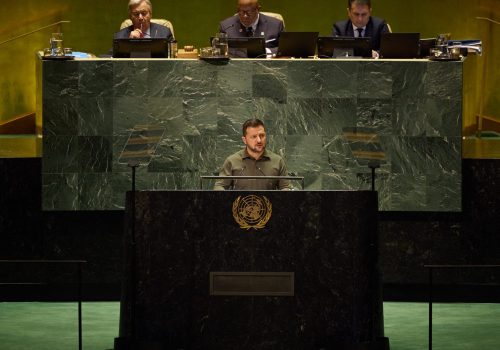 Wed, Sep 20, 2023
UkraineAlert By Taras Kuzio
Ukrainian President Volodymyr Zelenskyy told the UN this week that Russia is committing genocide in Ukraine. Efforts to legally prove genocidal intent will likely focus on the genocidal rhetoric of Putin and other Russian leaders, writes Taras Kuzio.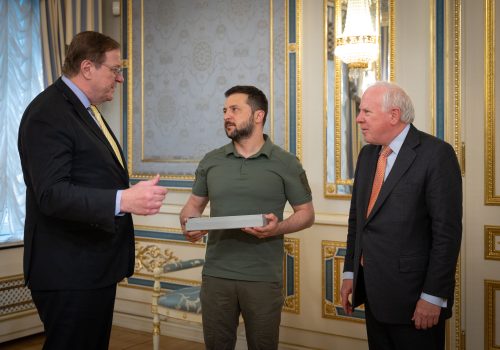 Sun, Jun 4, 2023
Inflection Points By Frederick Kempe
An Atlantic Council delegation's trip to Kyiv this week highlighted how important additional support is to Ukraine.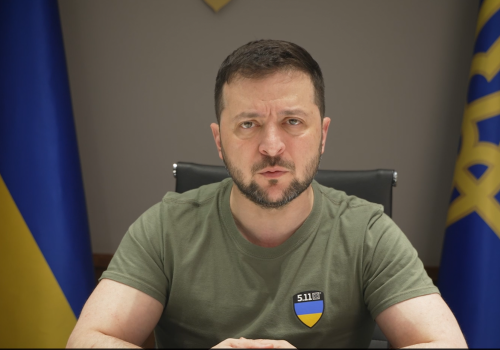 Wed, May 11, 2022
New Atlanticist By Atlantic Council
Appearing by video at the Atlantic Council's Distinguished Leadership Awards, the Ukrainian president offered a moving, personal dedication to the heroism of the Ukrainian people under Russian assault.