Watch the full event
"The old world is gone, a new world is rising," Germany's Federal Minister of Economics and Climate Action Robert Habeck said on Friday. "This is a new world where the economic question alone can't be the political leading question."
Amid Russia's invasion of Ukraine, populist backlashes to globalization throughout Europe, and intensifying US-China competition, Germany has shifted its traditionally free trade and export-oriented economic approach. "Globalization, as known in the past, is changing," said Habeck, "and a new period—some call it geopolitics—is coming." The Green party politician spoke at the Transatlantic Forum on GeoEconomics in Berlin, hosted by the Atlantic Council and Atlantik-Brücke.
Germany's new approach has included a pursuit of what Habeck called "economic sovereignty" as well as stricter investment screening to protect critical German industries, and it's not without challenges. "This shift in the global policy framework is a difficult situation for open-market economies like Germany's," he said. Given the ongoing shifts, Habeck argued "we have to create a political idea of Europe," rather than just an economic one. "We have to look to the future."
Below, find more highlights from Habeck's keynote talk at the forum, which was moderated by Julia Friedlander, a nonresident senior fellow with the Economic Statecraft Initiative at the Atlantic Council's GeoEconomics Center and the chief executive officer of Atlantik-Brücke.
Globalization and its discontents
"Globalization has fulfilled its promises in many, many areas," said Habeck, citing reductions in poverty and severe hunger. But, he argued, the backlash to the "losses" of globalization has led to "an all-time high of right-wing populism since World War II" and "a shrinking number of liberal democracies."
Habeck argued that "to fight right-wing populism, we have to understand the source of it," which he said is "disappointment with the promise that if you try hard, you can make it always on your own. This is not true, actually." To fight back against this brand of populism, said Habeck, "we have to solve our problems."
"Globalization, as we knew it in the past, let's say, three decades is now at a tipping point," said Habeck. Now, he said, "all major economies are trying to build interest spheres around their economic model."
As an export-driven economy, "fair rules are to our advantage," Habeck said, citing the World Trade Organization's (WTO) rules. But, he said, "I sometimes have the feeling that we are the last ones doing it. Nobody's playing to the rules anymore." Germans, he said "are the last romantics of WTO."
German—and European—economic security
Habeck pointed to the "harsh discussion" on Germany's economic model, which until now "relied on cheap Russian gas and the Chinese market." Moreover, he said, "we haven't done our homework" on making Germany more economically competitive, arguing that "digitalization is not at the forefront," and "our permitting processes take too long."
Habeck said Germany is not seeking "economic independence" from the rest of the world, which he called a "stupid idea" that isn't possible to achieve. Rather, he advocated "economic sovereignty," which means that Germany should have "some resilience" and that some raw materials for production should be "within our own hands."
Within the finance ministry, that means increased investment screening. "In a lot of cases," said Habeck, "we have stopped Chinese investment in Germany because they go into critical areas," including satellites and semiconductors.
But, argued Habeck, this approach to economic security "must be done on a European level." This means that "cooperation in the defense industry" among European countries, he said, is "more than necessary."
Germany is now adopting what Habeck called "selective multilateralism." "We have to work for the multilateral institutions," he said, but "we can't be naïve."
The US-Germany relationship
Germany cannot overlook, said Habeck, that "the biggest defining relationship for the US is not Europe but China." He argued that the Inflation Reduction Act (IRA) caused "a problem" to the European auto industry because the United States "thought not about Europe," but "just thought about China."
Habeck argued that "the IRA is a problem for Europe" because it has led to a "subsidy race" between Europe and the United States in sectors like the solar industry. He said this "could be a problem for the US, because if the world is doing this subsidy race, you never know who will win."
Habeck expressed concern about how European industry would be affected if "the US-China conflict becomes more harsh, if they force us to make a decision" between trading with the United States or China.
Speaking of the need to reinvent "the European idea of cooperation," Habeck said that it is "in the interest of a democratic US government" to have "a strong European partner" working with Washington "hand-in-hand for liberal democracy."
---
Daniel Hojnacki is an assistant editor on the editorial team at the Atlantic Council.
Watch the full remarks
Further reading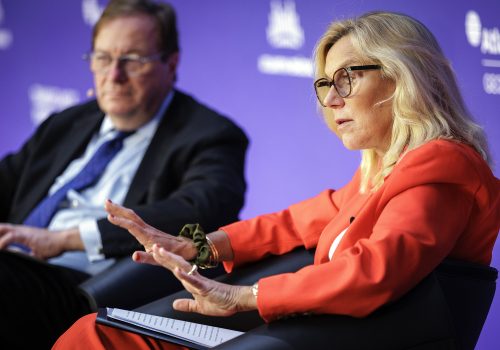 Fri, Sep 22, 2023
New Atlanticist By Katherine Walla
"If we lose the war in Ukraine, we're all lost. No peace and security on this continent," Sigrid Kaag argued at the Transatlantic Forum on GeoEconomics. "This is something we have to keep financing."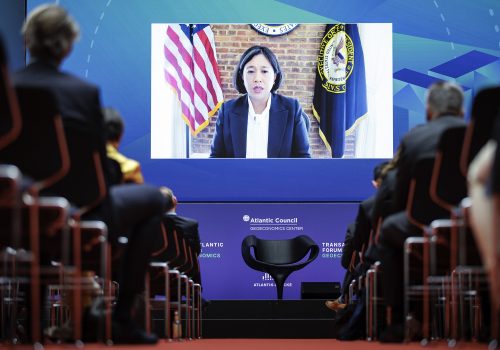 Fri, Sep 22, 2023
New Atlanticist By Nick Fouriezos
US Trade Representative Katherine Tai reiterated the importance of managing the US-China relationship at the Transatlantic Forum on GeoEconomics.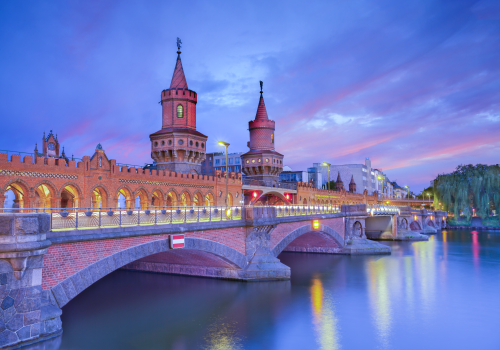 Wed, Sep 20, 2023
Report By Kimberly Donovan, Maia Nikoladze, Nicole Goldin, Mrugank Bhusari, Sarah Bauerle Danzman, Ambuj Sahu, and Daniel McDowell
The economic statecraft landscape is becoming more complex as transatlantic partners increasingly leverage the tools to counter transnational threats. There is a growing need to understand how these tools are used, by whom, and when, as well as their intended and real impacts worldwide.