As Russia continues its assault on Ukraine, the Atlantic Council's Digital Forensic Research Lab (DFRLab) is keeping a close eye on Russia's movements across the military, cyber, and information domains. With more than seven years of experience monitoring the situation in Ukraine—as well as Russia's use of propaganda and disinformation to undermine the United States, NATO, and the European Union—the DFRLab's global team presents the latest installment of the Russian War Report.
Security
Russia escalates attacks in Avdiivka as new private-military-company unit launches in Crimea
Tracking narratives
Russia and its political allies in Moldova continue to inflame information space around Transnistria
Putin and Lukashenka announce plans to deploy tactical nuclear weapons to Belarus after news of UK uranium-depleted ammo transfer
Secretary of Kremlin Security Council accuses NATO of being "party to the conflict" in Ukraine
Documenting dissent
New audio allegedly documents Russian elites criticizing Putin for war in Ukraine
Russia escalates attacks in Avdiivka as new private-military-company unit launches in Crimea
Russian forces continue their attempts to break through Ukrainian army defenses in several directions. Russian units attacked Ukrainian positions in Pervomaisk, and conducted strikes on Zaporizhzhia and Kharkiv. On March 30, at least ten Iranian-made Shahed drones targeted Ukrainian territory as Russian aviation dropped guided bombs on Lvove village in Kherson Oblast.
The Russian army continues to pressure Ukrainian forces in the direction of Avdiivka, where fighting has recently escalated. Ukraine's 36th Marine Brigade, active in Avdiivka, has been successful in countering Russian attacks. However, Russian Telegram channels claimed that incendiary shells struck Ukrainian positions around the Avdiivka Coke and Chemical Plant.
On March 29, Russia claimed that Ukraine had struck a railway depot in the Russian-occupied city of Melitopol, located deep behind the front line, knocking out power. Ukraine's exiled mayor of the city also confirmed the explosions. Footage published online shows explosions lighting up the night sky. Melitopol is located on the edge of the range of Ukraine's HIMARS multiple rocket launchers but is within reach of newer weapons, including air-launched joint direct attack munitions and ground-launched small-diameter bombs (GLSDB). The strike could disturb Moscow's logistics at a time when Kyiv has suggested it could soon launch a counterattack.
On March 28, Russia reported for the first time that it had shot down a GLSDB. The Russian Ministry of Defense also claimed that air defenses had shot down a new Ukrainian Hrim-2 ballistic missile in the area of Novoandriivka, Donetsk Oblast.
Meanwhile, the Kremlin-installed head of occupied Crimea, Sergey Aksyonov, has created his own Wagner-like military unit. To lead the group, dubbed "Convoy" (Конвой), Aksyonov has recruited Konstantin Pikalov, a former Wagner commander who served in Africa. The mercenary unit is said to be composed of three hundred fighters and has reportedly already deployed to occupied parts of Kherson Oblast. On March 16, Aksyonov spoke about the "professional military unit" on Crimean television. "The guys who have gone through everything that is possible," he said, discussing military honors they had received. "The leaders have several Orders of Courage; the chief of staff is a Hero of Russia."
A video published on the Convoy Telegram channel showed Aksyonov inspecting the positions of the new unit. The channel was created last November and heavily features Russian Orthodox imagery and icons. It also refers to Ukrainians as "satanists."
Vladimir Osechkin, the founder of the Russian human-rights organization Gulagu, said the new private military contractors are designed to replace Wagner units on the frontlines. He said the new unit could be expected to operate alongside the Russian army in Zaporizhzhia, Donetsk, and areas just north of Crimea.
Convoy's training grounds are located in the village of Perevalne, southeast of Simferopol, according to the independent Russian news outlet Important Stories. This village has existing military infrastructure from the Cold War era, including the 165th Training Center, used for the training of foreign military personnel. A January 2023 Convoy ad recruiting snipers on Telegram offered room and board at the training center, as well as clothing, equipment, and a scholarship worth 100,000 rubles ($1,286).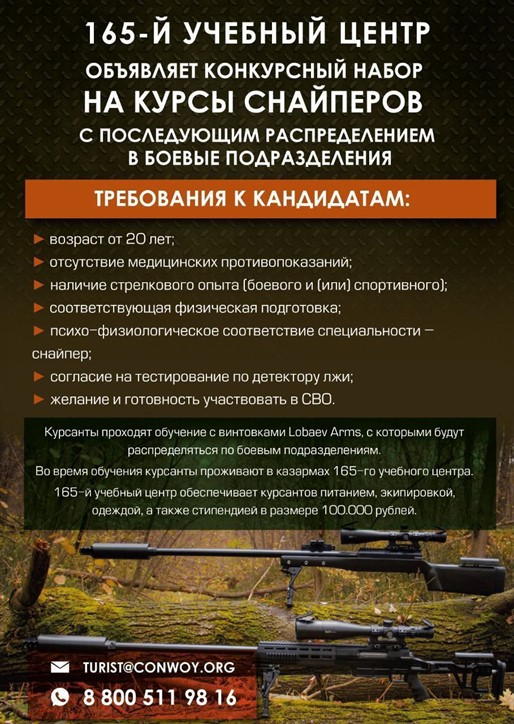 The ad included a contact email address with the domain conwoy.org; according to a WHOIS search, the domain was registered on June 15, 2022, by "'Military Security Company Convoy' Limited Liability Company" in Leningrad Oblast.
—Ruslan Trad, resident fellow for security research, Sofia, Bulgaria
Russia and its political allies in Moldova continue to inflame information space around Transnistria
In an interview with the Russian state-owned news outlet TASS, Foreign Minister Sergei Lavrov alleged Ukrainian interference in the unrecognized breakaway region of Transnistria, saying Ukrainian leadership "[demonstrates] in every way its readiness to interfere in this process, including with the use of force." Lavrov accused Ukraine of playing an "extremely negative, subversive role" in the "5+2" negotiation format, a diplomatic platform designed to settle the Transnistria conflict. The minister said that by clearly siding with Chisinau, "Kyiv authorities support its belligerent, destructive policy towards Transnistria." Lavrov also emphasized Russia's responsibility for the security of Transnistria, which according to him, is "in full accordance" with the mandate of Russian troops.
Earlier, Marina Tauber, vice president of the pro-Russian Moldovan opposition party Sor, claimed that Moldovan authorities were preparing a military provocation near the border of Transnistria, scheduled for April 17, after the Easter holidays. "[Moldovan President] Maia Sandu and [Moldovan Prime Minister] Dorin Recean are preparing a military provocation on the border with Transnistria," Tauber claimed, citing "international intelligence services." Tauber further asserted that Moldova had sent ten thousand uniforms to Romania for the Romanian security forces, with the goal of involving them in a military conflict. She also claimed that authorities had ordered three thousand coffins.
Moldovan government spokesperson Daniel Voda dismissed Tauber's claims, saying, "Tauber's statements are false and are part of a constant discourse promoting fear and division in society."
The Russian Defense Ministry had previously alleged that Kyiv was preparing an armed provocation against Transnistria, which Kyiv and Moldova have denied.
—Victoria Olari, research assistant, Chisinau, Moldova
Putin and Lukashenka announce plans to deploy tactical nuclear weapons to Belarus after news of UK uranium-depleted ammo transfer
The Kremlin may be exploiting a March 20 announcement by the United Kingdom concerning the transfer of depleted uranium armor-piercing rounds to Ukraine, using it as an excuse to allegedly deploy tactical nuclear weapons to Belarus.
Despite the fact that depleted uranium rounds do not actually contact radioactive elements, state-owned Russian news outlets claimed the ammunition could indeed contain radioactive uranium, which fueled a Kremlin-led narrative advocating for deploying tactical nuclear weapons to Belarus as retaliation. Putin said the transfer of weapons by the West containing "nuclear components" called for "an adequate answer." State-owned news outlet TASS reported that Foreign Minister Sergei Lavrov called the transfer of these rounds a further escalation of the conflict, and claimed without evidence that the use of them would contaminate Ukraine's food supply.
In a March 23 video on the Russian military TV station Zvezda News, Belarusian President Alyaksandr Lukashenka said that if Russian forces are targeted by Ukrainian depleted rounds, "the response will be terrifying, it will be a lesson for the whole planet." On his personal Telegram channel, Lukashenka noted that discussions about the transfer of nuclear weapons took place in November 2021.
In a March 25 interview on Rossiya 1, Putin announced plans to relocate tactical nuclear weapons to Belarusian territory. He said that Belarus was already equipped with ten bomber aircrafts as well as Iskander systems compatible with nuclear-class weapons. The Russian president insisted the weapons would be deployed to Belarusian "territory." Using this wording indicates that Putin is trying to avoid being accused of nuclear proliferation to a neighboring country.
According to a report by the Belarusian website Motolko Help citing Putin's interview, Russia will reportedly build storage facilities for tactical nuclear weapons in Belarus by June 1. Citing a video posted on the Belarusian YouTube channel ONT, Motolko also assessed that the 465th Missile Brigade in Osipovichi district—the only missile brigade in Belarus—was likely already equipped with Iskander missile systems. This claim has not been independently verified.
Motolko also reported that Lukashenka recently announced that additional SU-25 fighter jets would undergo "reequipment" to adapt their technical capabilities to carry nuclear payloads. However, the Belarusian president also made similar claims in June and August 2022.
—Valentin Châtelet, research associate, security, Brussels, Belgium
Secretary of Kremlin Security Council accuses NATO of being "party to the conflict" in Ukraine
On March 27, Nikolai Patrushev, secretary of the Kremlin Security Council, said that NATO is a party to the war in Ukraine. The government newspaper Rossiyskaya Gazeta quoted Patrushev saying, "in fact, NATO countries are a party to the conflict. They made Ukraine one big military camp. They send weapons and ammunition to the Ukrainian troops, provide them with intelligence."
On March 21, at a meeting in Ulyanovsk, Russia, Patrushev said that foreign intelligence agencies are trying to "stir up protest and separatist sentiments in Russia," with the support of "pseudo-political structures" located abroad and foreign nongovernmental organizations. The remarks were made amid ongoing military setbacks by the Russian military in eastern Ukraine and internal problems within the officer corps fueled by a power struggle in the Kremlin that has been on display since the early months of the full-scale invasion.
Patrushev, a close ally of Putin, previously served as the head of the Russian Federal Security Service (FSB). He has served in the powerful role of secretary of the Kremlin Security Council since 2008. The anti-NATO remarks are the latest in an ongoing campaign of narratives that the Kremlin has utilized to justify its war on Ukraine.
—Ruslan Trad, resident fellow for security research, Sofia, Bulgaria
New audio allegedly documents Russian elites criticizing Putin for war in Ukraine
On March 7, audio emerged online purporting to capture a phone call between Russian music producer Iosif Prigozhin and Farhad Akhmedov, the Azerbaijan-born billionaire and former Russian senator, in which they criticized Putin for the war in Ukraine. The audio did not gain traction until March 24, when Ukraine's Channel 5 published the conversation.
During the alleged call, Prigozhin seems to refer to Kremlin leaders as "criminals." He then appears to claim that former Russian Prime Minister Igor Sechin, Foreign Minister Sergei Lavrov, and National Guard Director Viktor Zolotov are "united" and "blame everything" on Defense Minister Sergei Shoigu. "Putin is pinning everyone against each other to save himself," Prigozhin allegedly added. Akhmedov, in turn, appears to say that Putin would not be able to save himself and would be held accountable for his actions.
The independent Russian media outlet Important Stories reported that the audio was genuine, citing an anonymous source in Russian intelligence services. According to the source, "the leadership of the FSB recently held a meeting and instructed subordinates to take action."
When the audio first gained attention, Prigozhin shared a video on his Telegram channel insisting the audio was fake. "This recording is a symbiosis of spoken phrases and those that were generated, they were never spoken," he insisted.
Wagner Group founder Yevgenzy Prigozhin, who bears no relation to the music producer, called Iosef Prigozhin "impudent, aggressive, and quick-tempered." He speculated that whoever recorded the call may have thought that they had been recording the Wagner Group leader instead of the music producer.
—Ani Mejlumyan, research assistant, Yerevan, Armenia
Further reading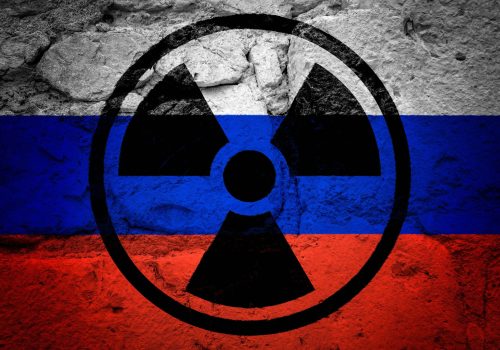 Thu, Mar 30, 2023
UkraineAlert By Peter Dickinson
Vladimir Putin's latest bout of nuclear saber-rattling is a clear indication of Russia's growing desperation as the invasion of Ukraine continues to unravel amid mounting military losses, writes Peter Dickinson.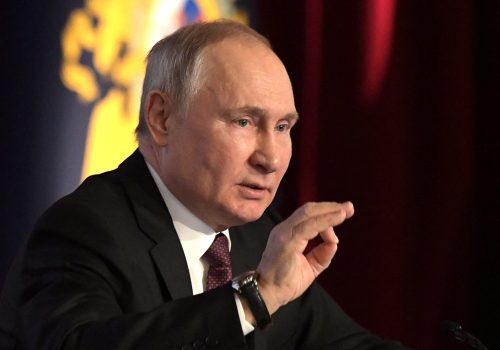 Wed, Mar 29, 2023
UkraineAlert By Taras Kuzio
A leaked document detailing Russia's plans to absorb Belarus highlights the scale of Vladimir Putin's imperial ambitions and provides insights into the true objectives behind the invasion of Ukraine, writes Taras Kuzio.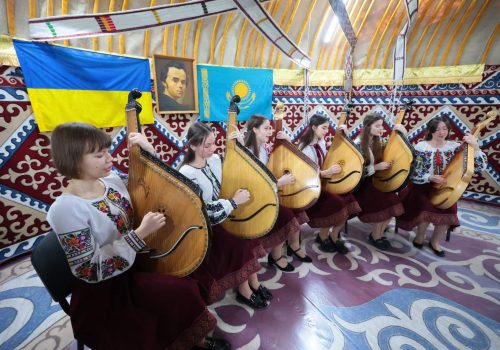 Tue, Mar 28, 2023
UkraineAlert By Kamila Auyezova
The invasion of Ukraine was meant to advance Vladimir Putin's vision of a revived Russian Empire. Instead, it is forcing other neighboring countries like Kazakhstan to urgently reassess their own relationships with Moscow.