As Russia continues its assault on Ukraine, the Atlantic Council's Digital Forensic Research Lab (DFRLab) is keeping a close eye on Russia's movements across the military, cyber, and information domains. With more than seven years of experience monitoring the situation in Ukraine—as well as Russia's use of propaganda and disinformation to undermine the United States, NATO, and the European Union—the DFRLab's global team presents the latest installment of the Russian War Report.
Security
Russia attempts to storm Bakhmut after Ukrainian retreat from Soledar
Renewed Russian shelling along the southern frontline as Ukrainians attempt to push back
Tracking narratives
Pro-Kremlin sources amplify forged diplomatic letters targeting Ukrainian refugees
International response
Ukraine to receive advanced Leopard tanks as Germany takes U-turn
Russia attempts to storm Bakhmut after Ukrainian retreat from Soledar
As Ukrainian forces retreated from Soledar following two intensive weeks of battle, shelling across the Bakhmut-Donetsk axis intensified and hit several civilian residential areas across the region. On January 20, Russian Defense Minister Sergei Shoigu announced that Russia had also gained control over Klishchiivka. Videos posted on Twitter and Telegram appeared to document Russian use of thermobaric warheads in Novoselivski. In Luhansk oblast, heavy shelling inflicted damage to residential buildings in Kreminna.
The DFRLab geolocated a civilian residential apartment building in the Russian-occupied city of Avdiivka that was struck on January 24. Footage of the heavily damaged apartment allowed us to confirm its location on Hrushevsky Street in the western part of Avdiivka. 
Russia's buildup of forces continues just outside of Ukraine's eastern and southern borders. Geolocated footage shows an increase in Russian military vehicles stationed in Alexeyvka, Belgorod oblast. This equipment is staged to support the Russian army in its offensive against Bakhmut.
Several military air bases were identified on social media as harboring Russian military transport aircrafts. The DFRLab identified a dozen military transport aircrafts – likely Ilyushins and Tupolevs, as well as smaller aircrafts and helicopters – at Russia's Tsentralny military air base in Rostov-on-Don on January 25.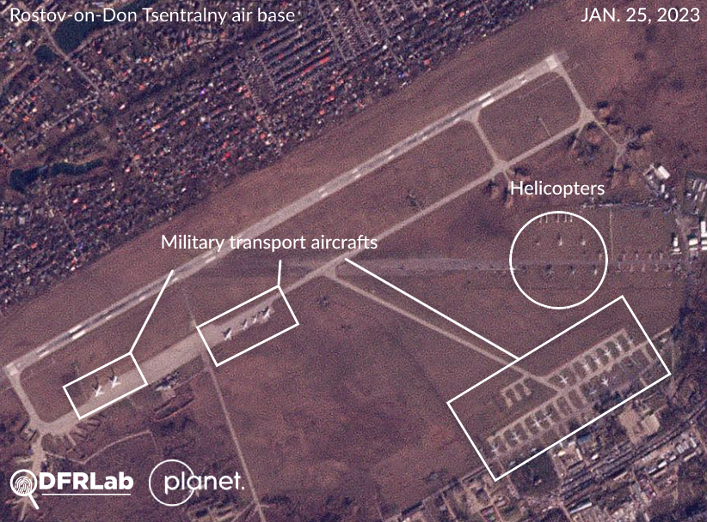 Additional evidence of the current buildup was corroborated by open-source researcher Brady Africk, with satellite imagery indicating eleven Russian transportation military aircrafts at Taganrog air base.
The Taganrog air base is the Russian air force coordination center nearest to the Ukrainian border. It is also regarded as the likeliest location for the delivery of the Iranian Shahed drones that were responsible for a massive attack on January 26 in the Sea of Azov.
—Valentin Châtelet, Research Associate, Brussels, Belgium
—Ruslan Trad, Resident Fellow for Security Research, Sofia, Bulgaria
Renewed Russian shelling along the southern frontline as Ukrainians attempt to push back
Additional fighting concentrated last week across the Kherson and Zaporizhzhia regions of southern Ukraine. As Ukraine prepares for a spring offensive to regain control over the lower bank of the Dnipro River, the Russian DPR brigade and the Russian army tried to contain Ukraine's progression near Stepove, south of the Ukrainian-controlled city of Orikhiv.
Although initial analysis documented Russian forces erecting fortifications from the city of Tokmak, south of Zaporizhzhia, up to Polohy, Russian shelling on Polohy suggested its armed forces were unable to secure their positions. On January 24, the city of Kherson suffered another round of Russian attacks comprised of artillery and air strikes. A geolocated photograph posted on Twitter indicated that Russian soldiers managed to raise their flag on the river island of Velykyy Potomkin, suggesting the front on the lower and upper banks of the river remains unstable.
—Valentin Châtelet, Research Associate, Brussels, Belgium
Pro-Kremlin sources amplify forged diplomatic letters targeting Ukrainian refugees
Several pro-Kremlin telegram channels and media falsely reported that European countries, in response to the request of the Ukrainian government, would deport Ukrainian refugees to serve in the military. To prove the point, channels provided forged letters allegedly written by Ukraine's ambassadors to Latvia and Lithuania. The channels also fabricated Facebook responses from the mayors of Liepāja and Vilnius that appeared to offer support for the letters. The DFRLab previously investigated a similar campaign aimed at Poland with the same claim of sending male refugees back to Ukraine.
The forged letters and Facebook posts contained several red flags. The letters featured incorrect email domains for the embassies, using mfa-ua.info instead of mfa.gov.ua. A Facebook post attributed to Vilnius Mayor Remigijus Šimašius used the wrong profile picture and omitted his verified badge. One Telegram channel added a 'this content isn't available' screenshot to imply one of the Facebook pages had been deleted.
Additionally, the forged letter allegedly written by Ukraine's ambassador to Latvia included an email address with the fake domain name mfa-ua.info and requested that Latvian officials send information about Ukrainian refugees, including their personal details. This may have been an attempt by the forgers to collect refugee data from the Latvian government. The scale of the forgery campaign remains unknown. Two of the Telegram channels – Rezident and MediaKiller – deleted their posts soon after publishing them.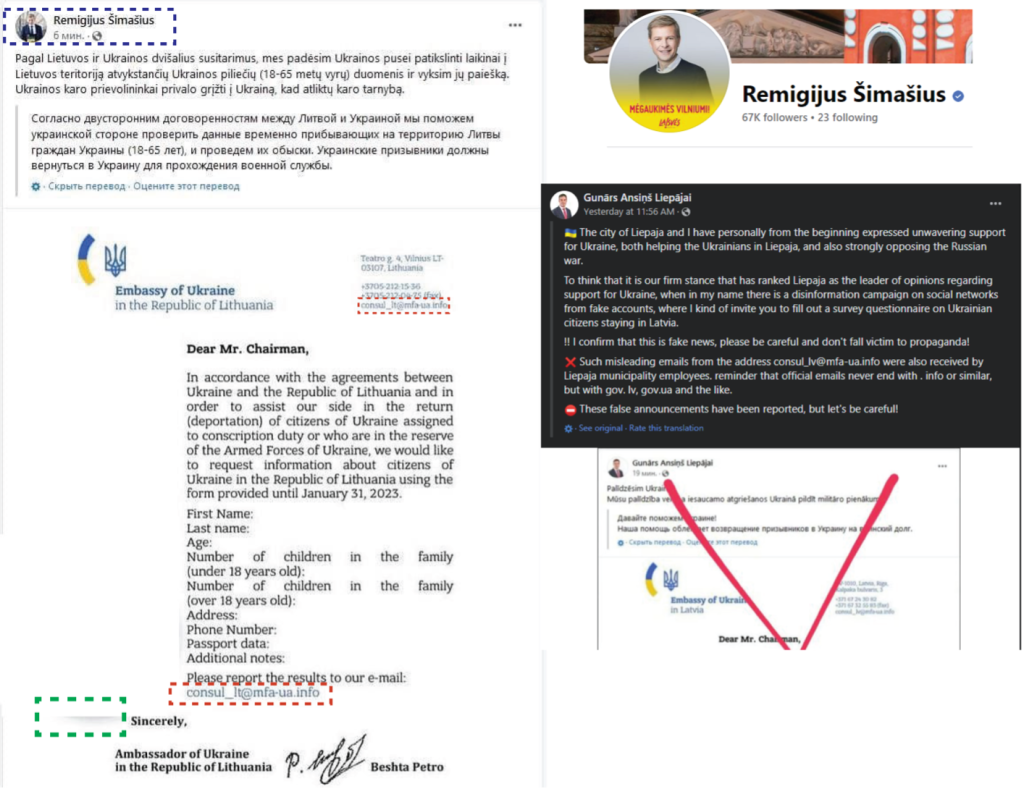 —Roman Osadchuk, Research Associate
Ukraine to receive advanced Leopard tanks as Germany takes U-turn
On January 25, Germany confirmed it will make fourteen Leopard 2A6 tanks available for Ukraine's war effort and give partner countries permission to re-export further battle tanks to Kyiv. The German decision, which will also allow Poland and other countries to export their German-made Leopards, comes after NATO talks in Berlin.
Norway announced that will give Ukraine eight Leopard 2A5 tanks. In addition, the Netherlands is currently leasing tanks from Germany, but the Dutch government is likely to buy eighteen of them and give them to Ukraine as aid.
Sweden's defense minister said that he had not ruled out supplying Stridsvagn 122 tanks, a licensed version of the German Leopard 2A5, to Ukraine at some point in the future. The advanced tank features enhanced protection against anti-tank systems, improved protection system against chemical, biological and radioactive weapons, and the ability to pinpoint several targets at once.
According to a New York Times report, the United States will increase 155-millimeter shell production, needed by Ukraine's army, to 90,000 shells per month, a sixfold increase from the previous year's level. This is the highest level of US production since the Korean War. The US military is also expected to increase production of Stinger missiles to sixty per month by 2025, a 50% increase over current levels. Additionally, the US will likely send between thirty and fifty M1 Abrams tanks to Ukraine, sources told Politico on January 24. Later, new information suggested that the US planned to transfer M1 Abrams tanks of the A2 modification to Ukraine, and not the older A1, as was previously assumed. The A2 has much more advanced aiming optics, thermal imagers, and combat control systems.
Turkish company Baykar donated two Bayraktar TB2 attack drones to Ukraine. According to reports, Baykar completed the design of a Ukrainian plant to produce its own drones. The plant is expected to be built in the next two years and will employ more than 300 Ukrainian specialists.
The Security Policy Committee of the Swiss Parliament voted on an initiative under which the country will allow the re-export of its weapons from third countries to Ukraine. The committee noted that despite Switzerland's neutrality, re-exports should be allowed in cases where international law is violated, as the Russian Federation did when it attacked Ukraine.
Lastly, Slovakia is ready to discuss the transfer of its MiG-29 fighters to Ukraine, as well as thirty T-72 tanks, said Defense Minister Jaroslav Naď during an online briefing at the Ukraine Media Center-Odesa on January 26. Belgium also will provide Ukraine with missiles for NASAMS air defense systems, as well as small arms and ammunition as assistance.
—Ruslan Trad, Resident Fellow for Security Research, Sofia, Bulgaria