As Russia continues its assault on Ukraine, the Atlantic Council's Digital Forensic Research Lab (DFRLab) is keeping a close eye on Russia's movements across the military, cyber, and information domains. With more than seven years of experience monitoring the situation in Ukraine—as well as Russia's use of propaganda and disinformation to undermine the United States, NATO, and the European Union—the DFRLab's global team presents the latest installment of the Russian War Report.
Security
Interference on satellite imagery suggests Russia is increasing its means to surveil border activity
Zelenskyy says Ukraine preparing for "new events" as Transnistrian official asks for increased Russian troop presence
Tracking narratives
Prigozhin accuses Russian defense ministry of creating "shell hunger" in Bakhmut
Russian city organizes Victory concert on riverbank facing Estonia
Interference on satellite imagery suggests Russia is increasing its means to surveil border activity
A May 6 satellite image caught by the Sentinel-1 satellite of the European Space Agency revealed an interference pattern that was recorded stretching 172 kilometers in north-eastern Ukraine. This pattern almost exactly covers the border between the Russian city of Belgorod and Kharkiv, Ukraine's second most populous city. The interference was cast as a result of electromagnetic emissions caught within the 5Ghz range, also known as the NATO C-band. Open source researcher Brady Africk first reported the pattern.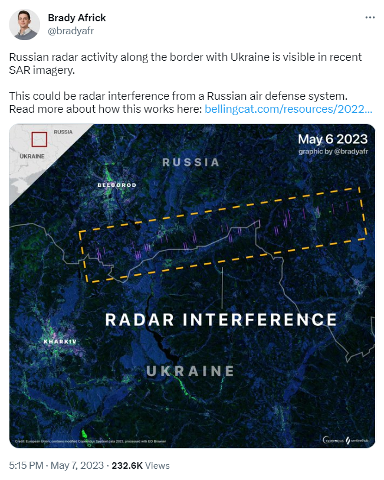 The imagery shows several layers of pink straight lines, which are different from patterns usually observed by analysts. In a January 2023 edition of the Russian War Report, the DFRLab reported an interference pattern with bulkier interferences that was attributed to a potential anti-air defense missile system deployed in the Krasnodar Krai region.
Additionally, similar patterns were recorded throughout April 2023. The DFRLab compiled imagery data from April 14 to April 21 that shows how Russia may have increased its deployment of military radars and anti-air defense systems in the region. The April 29 drone attack against an oil depot in Crimea also indicates that Russia could have been building up its defense systems in the southern occupied territories of Ukraine.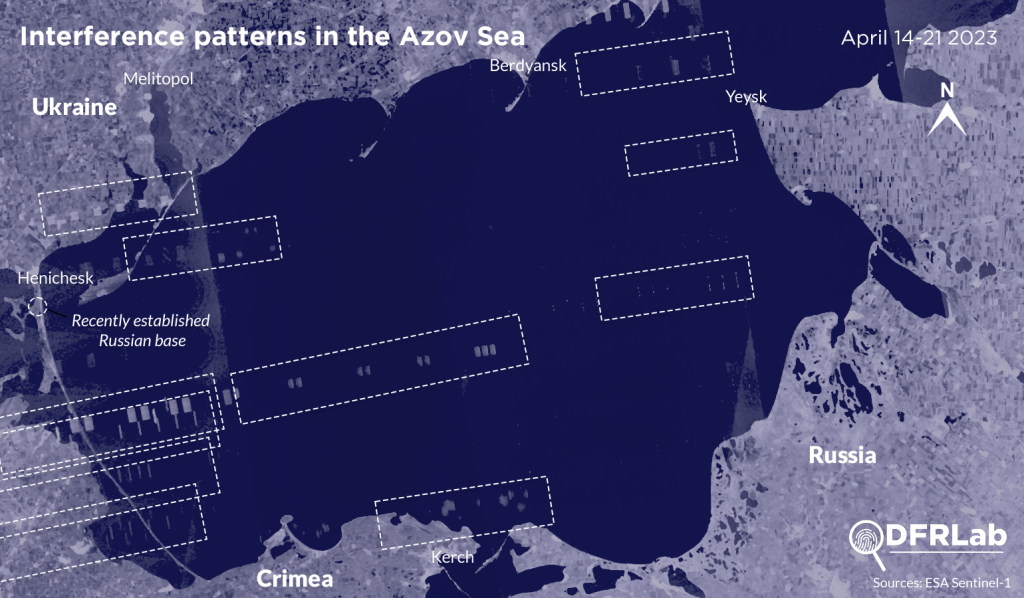 The May 6 interference pattern resembles the one cast over mainland Crimea in April, suggesting similarity in the type of devices or equipment responsible for its emission. This assessment indicates that Russia could be transitioning towards further deployments of defense systems and military-class radar monitoring on its borders with Ukraine and in occupied territories.
–Valentin Châtelet, Research Associate, Security, Brussels, Belgium
Zelenskyy says Ukraine preparing for "new events" as Transnistrian official asks for increased Russian troop presence
The Russian army carried out a large-scale missile and drone strike over Ukrainian territory in the early hours of May 8. The General Staff of the Ukrainian Armed Forces reported on May 8 that Russian forces launched sixteen missiles at Kharkiv, Kherson, Mykolaiv, and Odesa, and that Ukrainian troops shot down all thirty-five launched Shahed drones. A drone appears to have hit a tall building in Kyiv, possibly after being shot down. There were also reports that falling debris caused other damage. The drone strike is one of the largest attacks on Kyiv since February 2022.
Ukrainian President Volodymyr Zelenskyy announced on May 7 that Ukrainian forces are preparing for "new events" in May or June 2023, an indication that Ukrainian forces may be preparing to conduct counter-offensive operations. Ukrainian military sources said that Russian forces continue to transfer equipment, ammunition, and supplies to prepare for defensive operations.
Footage from Bakhmut on May 5 shows the possible use of incendiary shells against the remaining areas held by the Ukrainian army. The footage suggests ammunition is available, despite Wagner's Yevgeny Prigozhin claiming the group does not have enough ammunition in Bakhmut.
Meanwhile, the evacuation of civilians from Russian-occupied frontline towns in the Zaporizhzhia region has led to fuel shortages, problems with ATMs, and connectivity issues, according to Enerhodar Mayor Dmytro Orlov. He added that Russian forces have reportedly removed medical equipment from the city's hospital, asked patients to evacuate, and closed several hospital wards.
Elsewhere, conflicting reports are emerging from the Orikhiv region. The city is in north Zaporizhzhia Oblast, eight-five kilometers from Melitopol. On May 3, Russian media claimed that Ukrainian forces were trying to attack Orikhiv. On the same day, Vladimir Rogov, a member of the Zaporizhzhia occupation administration, told the media that the situation in the direction of Orikhiv was under control, adding that Ukraine's army is conducting surveillance. The Zaporizhzhia region is critical to Russia because of its proximity to Melitopol. On May 9, Russian Telegram channels reported their belief that the Ukrainian army had completed preparations for a counter-offensive and that Orikhiv would be among the areas that would come under pressure. In addition, reports emerged that the Russian Volunteer Corps, fighting for Ukraine, is conducting attacks against Russian forces in Orikhiv. The Russian Volunteer Corps is a paramilitary unit that claimed responsibility for an attack in Russia's Bryansk region in March 2023. The same unit published a video on May 9 claiming they are actively fighting against Russian forces in Orikhiv.
The Russian government does not recognize that Russian actors are fighting on the side of Ukraine, shifting responsibility for the attacks to Ukrainian forces. The strengthening of such military units is a trend that likely causes concern within the Russian command structure. Moscow will likely continue to deny the participation of Russians in the battles against Russian forces. However, as Ukraine prepares a possible counter-offensive, the Russian command could use the presence of Russian volunteers as propaganda, creating a state of paranoia and suspicion to attack opposition groups within Russia. The video footage of the Russian Volunteer Corps received attention among Russian opposition groups, like Rospartizan, who on May 9 attacked the liberal opposition for not taking arms against the Russian government.
Lastly, Leonid Manakov, Transnistria's representative in Moscow, asked Russia to increase the number of Russian forces in Transnistria due to claims of "terrorist risks." His request follows reports that Moldovan authorities detained members of the pro-Russian Shor party in April and May. US officials warned in March that individuals linked to Russian military intelligence were planning staged protests against the Moldovan government. Russia is unlikely to increase its military presence in Transnistria, especially when considering a possible Ukrainian counter-offensive. However, the risk of infiltrations and attempts to destabilize Moldova remains, including through disinformation and fear-mongering, which would serve Russia's military goals in the Odesa region and western Ukraine.
—Ruslan Trad, Resident Fellow for Security Research, Sofia, Bulgaria
Prigozhin accuses Russian defense ministry of creating "shell hunger" in Bakhmut
In a press release published on May 6, Wagner financier Yevgeny Prigozhin revealed more details about the group's ongoing dispute with the Russian Ministry of Defense (MoD). Prigozhin said that in October 2022, in cooperation with Sergei Surovikin, General of the Russian Armed Forces, Wagner launched "Operation Bakhmut Meat Grinder" to provoke Ukrainian President Volodymyr Zelenskyy into sending as many Ukrainian forces as possible to defend the city. Prigozhin argued that taking control of Bakhmut was not a key objective of the operation; rather, the primary goal was "grinding the units of the Armed Forces of Ukraine" to allow the Russian army respite to restore its combat capability. Prigozhin stated that Wagner killed about 50,000 Ukrainian soldiers in Bakhmut and prevented Ukraine's counter-offensive.
The statement claimed that Wagner has successfully managed to occupy 1,500 square kilometers of Ukrainian land and seventy-one settlements, while the Russian MoD has suffered setbacks and defeats on the frontlines. Prigozhin purported that the Russian army faced a lack of control and discipline, was embroiled in mobilization scandals, and had supply problems. He asserted that to compensate for their failures and envy towards Wagner, the MoD took counter-actions against Wagner, prohibiting it from recruiting Russian prisoners as volunteers and reducing the supply of ammunition to 30 percent of the amount Wagner required, followed by a further decrease to 10 percent. Other measures reportedly taken by the Russian MoD included suspending issuing orders and medals to dead Wagner fighters, denying personnel transfers from Africa to Ukraine, and disabling special communication systems.
Prigozhin added that to impose a complete "shell blockade" on Wagner, the Russian MoD fired Colonel General Mikhail Mizintsev, who led the siege of Mariupol in 2022 and later became deputy ninister of defense overseeing logistics and supplies. After leaving the MoD, Mizintsev reportedly joined Wagner as a deputy commander. Prigozhin said that most of Wagner's fighters and commanders left the Russian army to join Wagner because they had lost confidence in the MoD. Due to this, he ruled out the possibility of Wagner integrating into the MoD.
After seven months of carrying out "Operation Bakhmut Meat Grinder," Prigozhin concluded that Wagner has lost its combat potential. He claimed that between October 2022 and May 2023, Wagner received 38 percent of the ammunition requested from the MoD and 30 to 40 percent of the tanks, artillery, and armored vehicles required for combat missions. He added that Wagner currently has 30,000 soldiers on combat missions in Bakhmut, while Ukraine has around 35,000 troops in the area, and its numbers would need to be three times higher to achieve success. He suggested that "shell hunger" resulted in two-thirds of Wagner's losses and killed "tens of thousands" of Russian soldiers.
—Givi Gigitashvili, Research Associate, Warsaw, Poland
Russian city organizes Victory concert on riverbank facing Estonia
The Russian city of Ivangorod, separated by a small river from the Estonian city of Narva, organized a May 9 Victory Day concert for residents of Narva, a predominately Russian-speaking town with a large Russian population. This is the first time Ivangorod has organized a May 9 concert on the riverbank, opposite the Narva Museum. In response, the Narva Museum hung a large poster on the exterior of the building depicting Russian President Vladimir Putin with blood-like spatter over his face and the text "Putin War Criminal."
The decision to host the "large format" concert on the Narva riverbank for "Narva inhabitants to see" was made at the "federal level," according to Aleksandr Sosnin, head of the Ivangorod administration, during an April 12 press conference.
Videos shared online show that scores of people gathered in Narva to listen to the concert. LenTV24, a pro-Kremlin regional infotainment YouTube channel, reported an altercation between a younger man carrying a Ukrainian flag–more than five hundred Ukrainian refugees reside in Narva–and an older man who attacked him. The altercation was captured on video and spread on Telegram and Facebook. Zhanna Ryabceva, a member of the Russian Duma, shared the video on Telegram. It was then shared approximately one thousand times, including by sixteen public Telegram groups and channels, according to Telegram monitoring tool TGStat. Later, the video, with a caption identical to the one used in Ryabceva's post, was published by at least three Facebook accounts that identified as being based in Russia. One of the accounts, Ruslon Bely, was previously involved in amplifying a Secondary Infektion influence operation targeting Denmark with a forged letter that alleged Greenland was seeking independence and closer cooperation with the United States.
—Nika Aleksejeva, Resident Fellow, Riga, Latvia