Watch the full event
The passage of Uganda's law criminalizing LGTBQI+ identity is only one recent example of efforts to turn the global human-rights agenda "on its head," said Samantha Power, administrator of the US Agency for International Development (USAID). And "it's not just happening in Uganda," she warned.
Power spoke at a Pride Month special edition of Atlantic Council Front Page on Wednesday, where she discussed USAID's role in advancing LGBTQI+ inclusive development globally.
She addressed some of the agency's most difficult challenges when it comes to achieving its inclusive development goals, including anti-LGBTQI+ discrimination—legal or otherwise—that prevents vulnerable communities from receiving needed services. "Even where there's not a law," Power said, discrimination is "a deterrent" that often stops people from accessing care and assistance.
Power also discussed USAID's efforts to promote the development of a more inclusive postwar Ukraine. "Ukraine's work to liberalize and build checks and balances and build in human-rights protections"—including for LGBTQI+ rights—"has accelerated," she said.
She also argued for prioritizing LGBTQI+ human rights on the global stage. If the United States "[goes] quiet," she said, "I think we would really shortchange what is distinguishing about American foreign policy."
Power also previewed a new USAID policy promoting LGBTQI+ inclusive development, which she said would be the "first-of-its-kind."
Below are more highlights from the discussion on USAID's efforts to advance LGBTQI+ human rights and inclusive development, moderated by Washington Post and MSNBC journalist Jonathan Capehart.
Steps back—and leaps forward
Uganda's recently passed Anti-Homosexuality Act "would set back not only the health of LGBTQI+ communities," but the health of all Ugandans, Power said. The Biden administration has publicly criticized the bill, joining leaders in thirty-one other countries in condemning the Ugandan law.
Power explained that USAID works with local actors when determining how to best oppose discriminatory laws. "It's the communities that are going to be affected by these laws that provide cues to us on how vocal to be" against anti-LGBTQI+ legislation, the USAID administrator said. Otherwise, the United States could risk becoming the center of attention and "potentially triggering nationalism and other forces." Such a backlash, Power said, is "just what people who would seek to repress or terrorize vulnerable communities would like to see happen."
Despite challenges and setbacks in some countries, there are nevertheless signs that international LGBTQI+ human-rights norms are gaining ground, Power explained: Same-sex marriage legalization, as was recently accomplished in Estonia, as well as the decriminalization of same-sex relations in countries such as Barbados and Singapore indicate that "these principles are getting traction," she said.
Inclusive reconstruction in Ukraine
Power explained that Ukraine has made progress on LGBTQI+ rights since the start of Russia's full-scale invasion; she said it is "remarkable that a country that's fighting for its life and its people" has also managed to extend LGBTQI+ protections through legislative measures, regulations, and judicial vetting.
Power argued that Ukraine's mission to "[integrate] into Europe," will encourage the Ukrainian legal and social ecosystems to increase their support for LGBTQI+ communities. "The criteria that Ukraine is going to need to meet, the roadmap and so forth, is going to entail much stronger protections than have existed in the past," she said.
The commitment to inclusive postwar reconstruction in Ukraine is in line with the Ukrainian peoples' motivation for resisting Russian aggression, Power argued. "Part of what Ukraine is fighting for and part of what Russia is trying to squelch is liberalization, is [a] broad understanding of who human rights protections apply to," she said.
The role of LGBTQI+ human rights in US foreign policy
Prioritizing LGBTQI+ human rights is consistent with the United States' economic development and foreign policy interests, Power said. "It is in our interest to fight repression," she said. "It is in our foreign-policy interest to stand up for our values."
Power argued that the United States' human-rights commitments obligate it to advocate LGBTQI+ rights in its foreign policy, leaving no room for neutrality on the issue, Power said. "Imagine the counterfactual," she said. A US foreign policy that did not promote LGBTQI+ rights would "legitimate some of the [anti-LGBTQI+] rhetoric and actions and legal measures that are being put forward," she said.
Power pushed back on the criticism that promoting global LGBTQI+ human rights abroad interferes with other countries' affairs. She said that the United States hears such complaints about interference often from Russia—even as it invades Ukraine—as well as from countries that sell surveillance technology and spread disinformation beyond their borders. "The noninterference claim is usually made in a selective way," she said.
---
Daniel Hojnacki is an assistant editor of editorial at the Atlantic Council.
Watch the full event
Further reading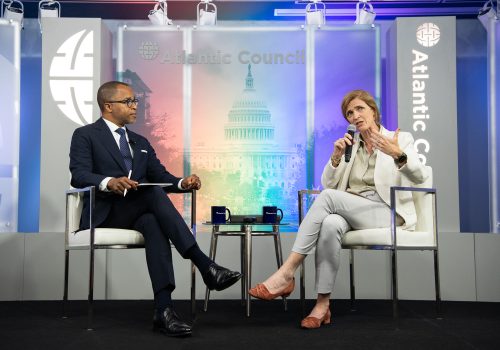 Wed, Jun 28, 2023
Transcript By Atlantic Council
Power gave a preview of USAID's forthcoming policy that emphasizes proactive outreach to LGBTQI+ communities around the world.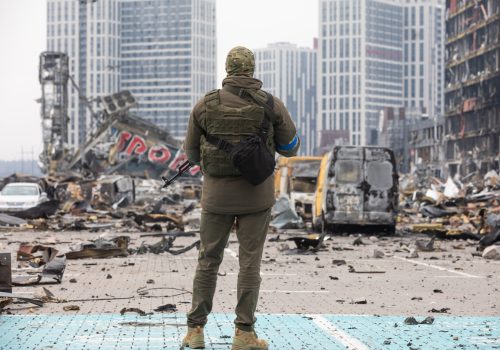 Sun, Jan 8, 2023
UkraineAlert By Stephen Blank
Ukraine's post-war reconstruction will be one of the largest international undertakings of the twenty-first century. The Ukrainian authorities must begin laying the foundations for future success before Putin is defeated.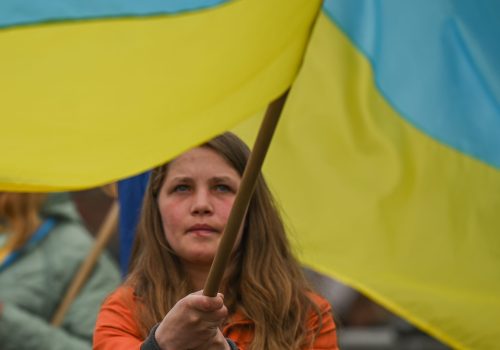 Mon, Jun 19, 2023
UkraineAlert By Peter Erben, Gio Kobakhidze
Western military aid has helped Ukraine defend itself against Russia's full-scale invasion, but the West must also support Ukraine's efforts to consolidate the country's democracy, argue Peter Erben and Gio Kobakhidze.