The Álvaro de Bazán-class Aegis frigate SPS Méndez Núñez (F-104) steaming alongside one of our most lethal and capable naval assets, USS Abraham Lincoln (CVN 72), is a sight to behold. For a better part of the past year, Méndez Núñez and its crew, led by Capt. Antonio Gonzalez del Tanago de la Lastra, have integrated into the Abraham Lincoln Carrier Strike Group, and will continue to operate as one of Lincoln's escorts during its around-the-world deployment, which is currently underway. This is a powerful display of how integrated the United States is with its NATO allies, including la Armada Española, the Spanish Navy.
US guided missile cruisers and destroyers are the most capable warships in the world due in part to the Aegis Combat System. This fully integrated combat system is used by a handful of other navies, including Spain's. When we work together we enhance the collective capabilities of our maritime forces.
We often use the word "interoperability" — an ambitious goal of understanding and co-mingling between our navy and the navies of our most trusted allies and partners. This involves working through vastly different processes and systems, as well as cultural differences and even language barriers. It is not always about whether we can achieve interoperability, but how close we can come to working through these challenges to enable our most capable NATO allies and partners to essentially become an extension of one another.
Our most recent and notable example of interoperability in action was the massive Trident Juncture exercise this past fall, where NATO allies and partners, including Spain, contributed more than 50,000 troops, 250 aircraft, 70 ships, and 10,000 vehicles to ensure that NATO forces are trained, able to operate together, and ready to respond to any threat from any direction. Those are impressive numbers. But perhaps the most impressive number is thirty-one — the number of NATO allies and partners that participated in the exercise. Consider that for a second: how many processes, systems, and language differences we worked through to pull it off. Truly magnificent. If I am a lone adversary faced with that reality, I am quickly rethinking my next unprovoked act of aggression. That was precisely the point: deter aggression, but be ready to defend. That is why thirty-one sovereign nations came together, to further the hopes and ideals of preserving peace and stability throughout Europe.
Among our best navy-to-navy examples of interoperability in action is our relationship with our NATO ally and host nation Spain. The history of our navies goes back to the US War of Independence, when a Spanish immigrant from the island of Minorca joined our cause and helped us earn our independence. Jordi Farragut not only became one of our revolutionary heroes, but was also the father of David Glasgow Farragut — a US Civil War hero himself and our first navy admiral. Jordi, much like Spain today, was driven by what was in his family's best interest, as well as a common sense of purpose and moral obligation.
Today, our interoperability with Spain could not be stronger. Beyond entrusting Méndez Núñez with the massive responsibility of escorting Lincoln, I can point to several examples of combined, consistent, and equitable commitments.
The Méndez Núñez-Lincoln integration is the fourth of its kind. SPS Álvaro de Bazán similarly integrated with carrier USS Theodore Roosevelt in 2005, then SPS Almirante Juan de Borbón with USS George H.W. Bush in 2011 and SPS Blaz del Leso with destroyer USS Jason Dunham, part of USS Harry S. Truman Carrier Strike Group 8, in 2012.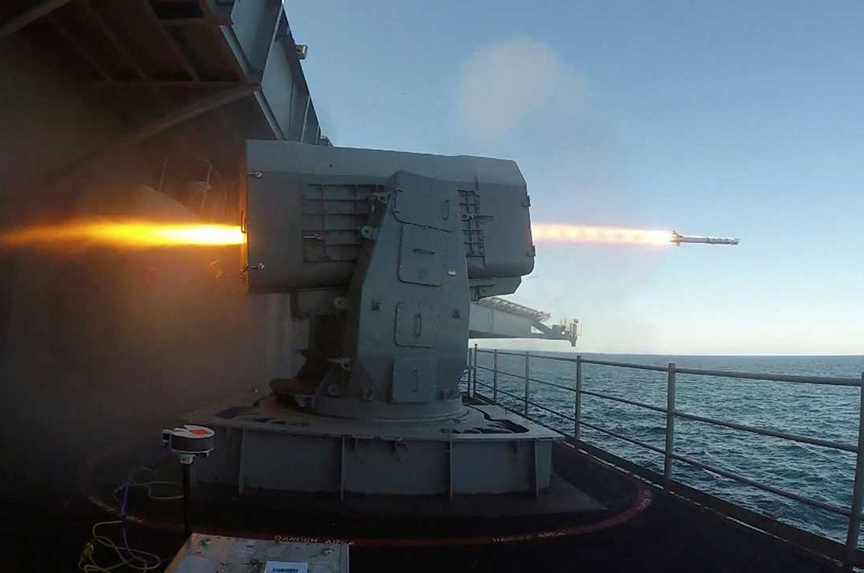 Within the context of NATO, our interoperability with Spain is also remarkable. Most notable is Spain's participation in NATO's integrated air and missile defense (IAMD) exercise Formidable Shield in October 2017, when Álvaro de Bazán successfully fired an Evolved SeaSparrow Missile at an incoming anti-ship cruise missile. It was the first time NATO's "smart defense concept" was demonstrated with ships serving as air-defense units protecting naval ballistic missile defense units. We are excited that Spain will join us again and participate in the next iteration of Formidable Shield later this year.
Additionally, Spain is making a significant contribution to the readiness of our four Forward-Deployed Naval Forces (FDNF) Europe multi-mission Arleigh Burke-class destroyers. USS Carney (DDG 64), USS Donald Cook (DDG 75), USS Porter (DDG 78), and USS Ross (DDG 71) are based in Rota as part of the European Phased Adaptive Approach. Seeing our ships — Spain's Aegis frigates and our Aegis destroyers — sharing a pier in Rota and operating out of Cádiz Harbor is another sight to see.
These bonds, in addition to our continued training and commitment, help us achieve the critical goal of interoperability. In achieving it, we project a united front that serves as the most powerful deterrent and helps preserve peace and stability.
Our naval partnership with Spain goes back more than 200 years, may it continue for another 200, and beyond.
Adm. James G. Foggo III is Commander, US Naval Forces Europe and Africa and Commander, NATO Allied Joint Force Command Naples. Follow US Naval Forces Europe-Africa/US 6th Fleet and NATO JFC Naples on Twitter @USNavyEurope and @JFC_Naples, respectively.