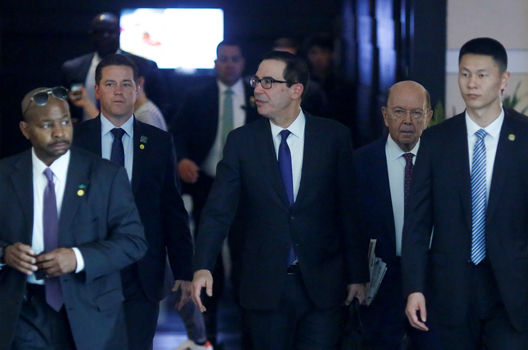 The US government recently sent a large delegation to China in hopes of averting a looming trade war with a major economic competitor. While the intent of the May 2-4 meetings was laudable, it failed to produce any significant outcomes. Negotiators—including US Secretary of the Treasury Steven Mnuchin, US Secretary of Commerce Wilbur Ross, US Trade Representative Robert Lighthizer, and Trade Adviser Peter Navarro—left the meetings with only an escalation of previous demands made by both Washington and Beijing.
However, Chinese President Xi Jinping's top economic adviser Liu He will visit Washington next week to continue the talks.

Assessing the gains and losses of the conversation, it seems the current state of economic competition might be the calm before the (trade) storm.
Where do we stand?
In March, US President Donald J. Trump announced steep tariffs on Chinese aluminum and steel imports. He followed these tariffs with threats of additional tariffs on up to $150 billion in Chinese goods, pursuant to China's trade practices related to technology transfer, intellectual property, and subsidized innovation. Trump also insisted the Chinese cut their trade surplus with the United States by $100 billion in the next year.
The Chinese were quick to respond by promising around $50 billion of tariffs on targeted US products, should Washington follow through on its threats.
However, Beijing's threat of counter tariffs did not have their intended effect. Rather, the escalatory threats, compounded with last week's meeting served only to raise the stakes. A leaked document showed that in negotiations the United States doubled its previous demands, asking that China cut its trade surplus by $200 billion by 2020. This would mean a cut of almost 60 percent of China's $336 billion surplus in trade in goods and services with the United States over the next two years.
Additional demands made at the meeting include the elimination of improper tariff and non-tariff barriers that restrict exports of US goods or services to China, and the abolition of subsidies of advanced technology and manufacturing industries pursuant to its "Made in China 2025" industrial strategy. Moreover, Washington demands that by July, China must drop its requests for consultations with the World Trade Organization (WTO) related to their dispute. The document also revealed that the US delegation demanded that China "not take any retaliatory action, whether in the form of tariffs on imports of US products or in any other form […] in response to actions taken or to be taken by the United States, including any new U.S restrictions on investments or imports."
Among other considerations, Beijing wants the United States to drop the $50 billion in announced tariffs pursuant to the section 301 action, triggered to "determine whether China's acts, politics, and practices related to technology transfer, intellectual property, and innovation are unreasonable, unjustifiable, or discriminatory and burden or restrict US commerce." China has also issued further demands that Washington recognize China's treatment as a market economy in the WTO.
While there is no longer uncertainty regarding specific US demands for China, US negotiators cannot have expected that China would agree to their demands. This leads to the assumption that the proposal might from the onset have been designed to be refused by China, and for the Trump administration to proceed with the previously announced tariffs.
The Way Ahead
While the official White House statement on the US delegation's China visit does not provide any details regarding Washington's demands to China, it largely seems to support the leaked strategy. However, what is more telling is what the document fails to mention. There is no indication of US plans to drop the previously threatened tariffs on up to $150 billion of Chinese goods in response to the 301 allegations.
This is not to say that these tariffs are now inevitable. US businesses can still voice their concerns at a public hearing on May 15 or through written comments until May 22. After that time, the administration will have 180 days to review and make a final decision. This schedule places the timing of any decision during campaign season for the 2018 US midterm elections.
Despite competing interests, Beijing and Washington did agree to continue their dialogue on these issues while seeking means to increase US exports to China, scheduling regular meetings between Washington and Beijing on economic and trade issues. Examples of such meetings include the previously conducted US-China Comprehensive Economic Dialogue, which has been dormant for some time.
The current situation may result in three possible scenarios. One is the continuation of the current posturing by both Trump and Xi, resulting in scant bilateral dialogue with few concrete results which would prolong the dispute while creating market uncertainty and slowing down investments. In the meantime, the United States may still reconsider its position on the recently completed Comprehensive and Progressive Agreement for Trans-Pacific Partnership (CPTPP). This would provide a strong foothold for the United States in the Asia Pacific and increase Washington's negotiating position vis-à-vis Beijing.
A compromise between China and the United States would be another option. Washington could drop the threat of additional tariffs in exchange for clear deadlines for China to effectively advance systemic reforms that would improve Chinese trade practices. This option, favored by US businesses, would likely include clearly outlined consequences and punishments in case China fails to meet these deadlines.
Yet, it remains possible that the talks will fail—the third option. If this happens, Trump may go through with additional tariffs on $150 billion of Chinese goods, a move which would be sure to trigger Chinese retaliation. Revenge could come in the shape of retaliatory tariffs imposed on US goods, though China would soon run out of additional US goods to target. Beijing only imported roughly $130 billion of US goods in 2017.
China could also retaliate by targeting specific US companies operating in China, such as General Motors, which holds the biggest market share (14 percent) in Chinese car sales. Beijing could also sell huge shares of their US Department of the Treasury security holdings. These currently stand at $1.2 trillion (8.2 percent of the total amount). This option seems the least likely. While it would increase the borrowing costs for the federal government, domestic demand for the securities is still high and Beijing would likely suffer significant capital losses on its reserve portfolio as such a big turn in divesting would take considerable time.
Geostrategic Spillover
A trade war would have no winner, but would produce large economic costs due to market uncertainty, both for the United States and China, as well as globally. It is a conflict likely to have vast political and geostrategic implications. The current trade dispute, combined with US policy responses, might tempt China to disrupt the United States' diplomatic efforts in North Korea. Accordingly, the outcome of the current dispute between the United States and its European partners over a permanent exemption for the EU from the steel and aluminium tariffs is likely to affect the EU's position in a possible US-China trade war.
China's malpractices regarding technology transfer and intellectual property must be addressed through a coordinated, multilateral approach. Caution is key, because the threat of a global trade war is not worth all the tea in China.
Marie Kasperek is associate director of the Atlantic Council's Global Business and Economics Program.