European Commission President Ursula von der Leyen is in Washington this week to meet with US President Joe Biden, a key moment in relations between the European Union (EU) and the United States. From his first days in office, Biden made improving relations with the EU a priority. Since then, Washington's relationship with Brussels has been defined by extensive collaboration and convergence on Russia, but also by significant challenges in trade and differing views on China.
At the same time, Europe is undergoing a shift in its role in the world, with massive implications for the transatlantic relationship. The Biden-von der Leyen meeting agenda reflects the European Union's growing role as a geopolitical actor on the global main stage—a role that the EU itself continues to grapple with. Here's what the world can expect to see out of Friday's White House convening.
1. Coordination on supporting Ukraine and weakening Russia
Since Russia's full-scale invasion of Ukraine a year ago, the Biden administration has put a colossal stake in displaying transatlantic unity in support for Ukraine. The Biden-von der Leyen meeting will be another opportunity to reiterate that unity and pledge further support for Ukraine.
The meeting is the latest in a parade of high-level European meetings for Biden in recent weeks. In February, Biden made his historic visit to Kyiv to meet Ukrainian President Volodymyr Zelenskyy, and he also traveled to Warsaw to meet Polish President Andrzej Duda and leaders of the so-called Bucharest Nine countries in Central and Eastern Europe. Back in Washington, Biden welcomed German Chancellor Olaf Scholz to the White House last week and hosted Dutch Prime Minister Mark Rutte in January. With von der Leyen's visit, Biden has saved one of the most consequential European leaders, the one responsible for guiding the whole bloc, for last.
In the coalition against Russia, Brussels has been an indispensable partner. The EU—with the Commission in the driver's seat—has levied ten rounds of sanctions packages against Russia, removed Russian banks from the SWIFT messaging system, frozen Russian state assets, closed European airspace to Russia, and rapidly diversified away from its dependence on Russian energy. The EU's total committed aid to Ukraine is second only to the United States—but the EU has committed and delivered more budgetary support to Ukraine. The support also includes direct military aid, a first for the bloc.
While most still look to the United States to lead the campaign against Russia, the war shows that Washington needs Brussels as a partner of first resort. The Biden-von der Leyen meeting will be another opportunity to display that partnership, send an important signal about transatlantic support for Ukraine, and voice a shared policy in support of Ukraine's victory. With the tenth sanctions package recently announced in Brussels, another round of joint sanctions will be unlikely at the Biden-von der Leyen meeting. However, they could realistically announce another tranche of aid to Ukraine.
2. An attempt to move past the Inflation Reduction Act
While Biden and von der Leyen can point to their collaboration on Ukraine as a high point of relations between Washington and Brussels, they face a tougher test on green-tech subsidies. The meeting is a chance to put the US-EU trade relationship on a more positive footing.
Last year, the passage of the US Inflation Reduction Act (IRA), which doles out billions of dollars in subsidies to US firms to foster the green transition, was met with howls of disapproval in Europe for potentially excluding European firms and sparked concerns of a transatlantic rift. The IRA issue was quickly parked in a joint task force dedicated to solving the issue of European access to US subsidies. In the likelihood that negotiations have progressed behind the scenes, von der Leyen and Biden on Friday could announce a breakthrough and help settle the largest dispute in US-EU relations under Biden's presidency. If negotiations are still in flux, expect the two to make a scaled-back announcement about EU access to US subsidies and punt the issue back to the task force for ongoing consultation.
Both the administration and the EU have gone to great pains to reassure transatlantic watchers that the IRA would not throw a wrench in the US-EU relationship, but the IRA saga has left its mark. Like the COVID-19 pandemic and the Russian invasion, the dispute has contributed to a rewiring of European attitudes on trade, strategic autonomy, and the EU's geopolitical position. Historically a defender of free-trade philosophy at least inside the single market, the EU has moved to embrace a more activist, debt-financed approach to industrial policy and trade, with huge economic implications for US-EU commercial ties underpinning the transatlantic relationship.
Recently, von der Leyen announced what is widely regarded as the European response to the IRA: the Green Deal Industrial Plan, which puts the EU squarely in the trade subsidy race. The plan, however, is only part of a slew of new Commission proposals including the Critical Raw Materials Act, the European Chips Act, and other measures targeting the industrial and tech sectors in an effort to support European autonomy.
The task for US and EU policymakers now is coordinating and deconflicting a subsidy race. Friday's meeting likely won't get into the granularities of the EU's initiatives, but the meeting could be an opportunity for both sides to commit to working around conflicting subsidy programs in support of the transatlantic trade and investment partnership.
3. Coordination, but not convergence, on China
Europe and the United States have not been on the same page when it comes to China—Europe historically has had a softer touch but is undergoing a shift in its thinking toward Beijing.
This meeting is an opportunity for the United States to get Europe on board with sanctions against China amid concerns that Beijing is preparing to send Russia lethal military aid. That assessment is met with some skepticism across the Atlantic as Europeans hold their nerve until they see hard evidence. Direct Chinese support for Russia would cross a red line for Brussels and likely accelerate the shift in strategic thinking and policy approach the US administration is looking for.
The United States has placed national security at the heart of its China policy, imposing export controls on advanced technologies for end-use in China, and introducing both rip-and-replace programs and "Buy American" requirements. China's relationship with Europe is much more nuanced. Brussels characterizes Beijing as a "partner for cooperation and negotiation, an economic competitor and a systemic rival."
At the member-state level, France and Germany—the EU's largest economies—have also habitually walked a fine line on China. French President Emmanuel Macron attempted to position his country as a balancing power between the United States and China, and Scholz brought a coterie of German business executives with him on his recent trip to Beijing to promote the two nations' business ties. However, Europe's position that it cannot simply decouple from China is coming up against a growing pressure to re-shore production and shield strategic supply chains, especially as China appears to take a more active role in Russia's war in Ukraine. The Netherlands, for its part, is increasingly aligned with US policy on China, having joined the United States in planned export controls on semiconductor technologies for use in China.
A lack of clarity on China from Europe's most influential powers will prompt Biden to seek a better understanding from von der Leyen regarding the Commission's stance toward Beijing. The EU's industrial policy is more forward-leaning on China than some member state positions. Friday's meeting could offer an opportunity for von der Leyen to get US endorsement of her idea for a "critical raw materials club" of like-minded partners to wean the transatlantic partners off of significant dependencies on China. How far will the success of collaboration on Russia take the EU-US partnership on key global challenges? China offers the next great transatlantic test.   
---
Jörn Fleck is the senior director of the Europe Center.
James Batchik is an assistant director in the Europe Center.
Nicole Lawler is a program assistant in the Europe Center.
Further reading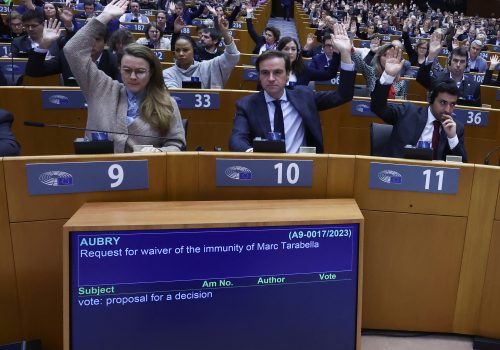 Thu, Feb 2, 2023
New Atlanticist By Atlantic Council experts
How will the EU continue to bolster its security? Can Brussels forge a new path toward better relations with its partners? Our experts give their recommendations on how to get there.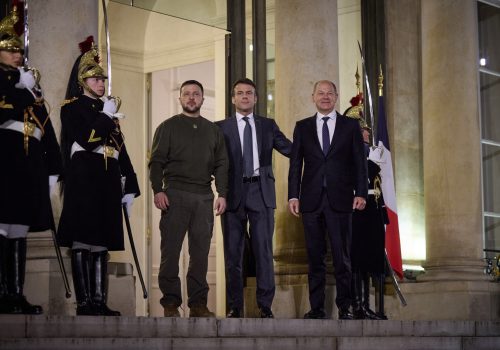 Thu, Feb 9, 2023
New Atlanticist By Atlantic Council experts
Ukrainian President Volodymyr Zelenskyy zipped from London to Paris to Brussels this week. His message to leaders and lawmakers was more military aid is needed.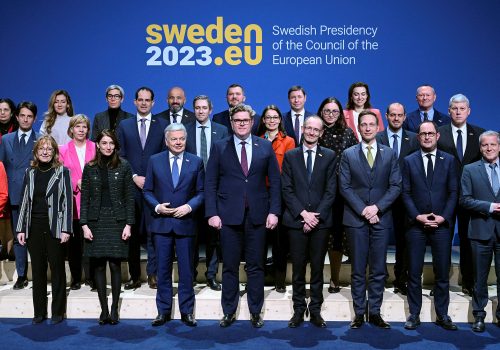 Mon, Jan 30, 2023
New Atlanticist By Franklin D. Kramer
Sweden can wield the agenda-setting powers of its presidency to push a EU security and defense budget directed toward three crucial aims: mobility, sustainment, and critical infrastructure protection.