In 2022, the war in Ukraine awakened Europe. Here's how it must adapt in 2023.
The landscape before the European Union (EU) at the beginning of 2023 is unrecognizable from that of just one year ago. Europe has been faced with a new geopolitical reality in the aftermath of Russia's illegal invasion of Ukraine, and the EU has been compelled to reconsider everything from its military posture and relations with Ukraine to tech and trade challenges and its own institutions. How will the EU continue to bolster its security with conflict raging in its backyard and a changing world order? Can Brussels forge a new path toward better relations with partners in the United Kingdom, Ukraine, and the Western Balkans? Our experts spell out the areas where the EU needs to adapt in 2023.
Click to jump to an expert reaction:
Dave Keating: Think big with EU treaty reform
Daniel Fried: Sustain momentum on aid to Ukraine and Russia sanctions
Marie Jourdain: Find the ridgeline of EU military support to partners
Ilva Tare: Find a meaningful path forward for EU enlargement
Rachel Rizzo: Integrate and deepen defense efforts—with a leadership role for Germany
Aaron Korewa: Develop a 'military Schengen' and forge a stronger Polish-German relationship
Olga Khakova: Come together for the sake of energy security and decarbonization
Frances Burwell: Push a more active US-EU Trade and Technology Council
Tyson Barker: Advance a heavy digital legislative docket
Security and defense
Think big with EU treaty reform
Russia's invasion of Ukraine roughly one year ago has prompted an EU response that for years had seemed unthinkable, and 2023 may see the bloc implement institutional changes to formalize that shift into EU structures. The idea of a European Defense Union, long just a pipe dream, is now a reality and is guiding the EU's first-ever funding of equipment for a foreign conflict. Russia's gas brinksmanship has also prompted unprecedented decisions on energy sourcing, another area which, like defense, has typically been a competence belonging to member states, not the EU.
So far, these unprecedented moves have been made using existing institutions and the existing EU treaties. But the EU is long overdue for another round of treaty reforms, having last updated what serves as the EU's constitution in 2009. Last year, citizens at the Conference on the Future of Europe called for the treaties to be revised to enable the EU to act with greater speed and unity of purpose. That would first require calling a constitutional convention, such as the one that took place in 1999 to draft what eventually became the 2009 Lisbon Treaty. This time, the EU would want things to move much faster, given current events.
Treaty reform has been embraced with varying degrees of enthusiasm by some member states in Western and Southern Europe and by European Commission President Ursula von der Leyen. But it is being strongly opposed by member states in Eastern and Northern Europe—and particularly opposed by Sweden, which currently holds the rotating presidency of the Council of the EU. French President Emmanuel Macron is keen to put the subject on the Council's agenda this year. One of the most contentious ideas, supported by German Chancellor Olaf Scholz, Macron, and von der Leyen, is ending remaining unanimity voting requirements in the Council in areas like foreign policy—so for instance, Hungarian Prime Minister Viktor Orbán can no longer veto EU action against Russia. But this is strongly opposed by smaller member states who fear they will always be outvoted by larger ones under qualified majority voting, which is weighted by population.
If these changes are made, it could make the EU a more dependable and flexible partner for the United States on diplomatic and security matters.
—Dave Keating is a nonresident senior fellow at the Europe Center and the Brussels correspondent for France 24.
Sustain momentum on aid to Ukraine and Russia sanctions
Despite shortcomings, a slow disbursement of funds, and agonizing German debate on military assistance, the EU and European member states helped Ukraine sustain its fight against Russia in ways that few—and especially not Russian President Vladimir Putin—anticipated before February 24 last year. Arms and funds for Ukraine, support for millions of Ukrainian refugees, and sanctions against Russia look impressive in the aggregate. Europe, with the help of a warm winter, resisted Putin's use of his energy leverage. While Poland, the United Kingdom, Baltic and Nordic states, and other Eastern European states led the way, the French and German governments have stepped up, notwithstanding uneven rhetoric. A few years ago, there were no NATO plans to defend its eastern frontier from Russian attack. Now, Western Europeans debate not whether to send armor to Ukraine but what sort and how much.
But Putin appears determined to crush Ukraine by attacking civilians and creating stalemate or even retaking the offensive. In that case, European (and US) resolve will be tested, especially if Putin offers a "peace plan" that includes the West's acceptance of his aggression while he prepares for more.
In 2023, Europe's (and the United States') task will be to help end the war on Ukraine's terms. That means intensifying the flow of military and economic assistance to Ukraine and ramping up economic pressure on Russia.
The economic to-do list includes making the oil price cap work; finding other Russian exports to restrict; enforcing and expanding export controls on Russia; and enforcing existing sanctions, going after sanctions violators wherever they are. As the price tag for assistance to Ukraine rises, Europe and the United States should find ways to repurpose immobilized Russian exchange reserves to benefit Ukraine.
Skeptics from the outset questioned whether Europe and the United States could stay the course politically. The track record so far, and evidence suggesting continued Russian atrocities and war crimes, suggests they may in the future.
—Daniel Fried is the Weiser Family distinguished fellow at the Atlantic Council and a former US ambassador to Poland.
Find the ridgeline of EU military support to partners
Over the past year, the EU devoted an unprecedented level of resources and energy for Ukraine, making available up to thirty billion euros in financial, economic, and humanitarian support to Ukraine, plus twelve billion euros in military assistance, including 3.6 billion euros of support through the European Peace Facility (EPF). Ukrainian needs in its war effort require the EU and member states to maintain this mobilization through 2023. While the EU will continue to prioritize Ukraine, and rightly so, there is a risk that the EU will leave out other partnerships and unbalance them: The EU's credibility and attractiveness as a partner are at stake here. That does not mean the EU should stop investing in Ukraine's future, but it does mean that the EU must not disregard critical partnerships. The EU, in attempting to step up as a geopolitical actor, must maintain a global reach, which will help avoid allowing potential adversaries to shape the strategic environment in a way that affects the EU's stability and security.
Keeping an eye on the balance between the south, east, and close neighborhood will require close coordination within the EU. One instrument to do that is the EPF: It was designed to fund the costs of EU Common Security and Defence Policy missions and operations and to provide assistance to partners across the world (including providing lethal and non-lethal military equipment for the armed forces, as it is doing for Ukraine). The EPF's 2021–2027 budget was settled ahead of the war, meaning it did not plan for the level of support to Ukraine that it will end up issuing: In 2021, the EPF gave the Ukrainian armed forces thirty one million euros in support (compared with the 3.6 billion euros in support in 2022). As demonstrated by the EU's dormant training missions in Mali and the Central African Republic (although the EU did recently launch a new military mission partnership with Niger), the EU seems to be shifting from the south to the east with a new EU Military Assistance Mission for Ukraine, support for Moldova and Georgia that is likely to increase, and growing attention on the Western Balkans' needs. While the European Council agreed to increase the financing of the EPF (because 86 percent of the financial ceiling had already been committed for use by 2022), the EU must demonstrate its reliability by offering attractive partnerships to countries showing interest, risking otherwise to leave a vacuum that will quickly be exploited by adversaries.
—Marie Jourdain is a visiting fellow at the Europe Center and previously worked for the French Ministry of Defense's Directorate General for International Relations and Strategy.
Politics and diplomacy
Find a meaningful path forward for EU enlargement
The war in Ukraine has brought the question of EU enlargement to the forefront of European debate in ways that it hasn't been in more than a decade. By offering candidacy to Ukraine and Moldova, the EU has been forced to start grappling with why its policy of enlargement had stalled out in the first place. This reinvigorated debate may spur new thinking about how the dream of a Europe whole, free, and at peace may eventually get realized despite the many roadblocks still in its way.
The old enlargement policy was already showing early signs of weakness with Turkey's candidacy, but it really ran aground in the Western Balkans, which the EU had committed itself to fully absorbing at a summit in Thessaloniki, Greece in 2003. The path to full membership was based on the belief that the countries could be induced to reform and democratize in exchange for getting full voting rights in the bloc. But the carrot and stick approach lost credibility over the years, with reforms stagnating while European voting publics lost the enthusiasm for admitting new members.
The new thinking involves a process of "staged accession," or "gradual integration," wherein tangible benefits—most notably, access to and participation in the common market—are granted piecemeal as candidates make key reforms. By not promising full voting rights in the bloc in the immediate and medium term, the inherently political question of how new members might upset existing power balances in the union are set aside. And tangible, potentially lasting, benefits for candidate countries' citizens and economies are likely to be accessed sooner.
The Western Balkans could be the laboratory for how this new approach could work. As Ukraine fights for its right to exist, building a workable model for integrating new countries into a meaningful and prosperous European system is of the highest importance. Once the shooting stops, Ukraine will have to have a meaningful path forward for its Western aspirations.
—Ilva Tare is a nonresident senior fellow with the Europe Center and host of the Europe Center's #BalkanDebrief series.
Integrate and deepen defense efforts—with a leadership role for Germany
The EU has shown impressive solidarity over the past year in response to Russia's invasion of Ukraine. From bilateral support including weapons and financial aid to taking part in (and helping hold together) a vast Western sanctions regime against Russia, the unity has been strong. The EU as an institution has also responded decisively by setting up mechanisms through which the EU can better integrate its defense and security efforts. The problems that have long plagued deeper integration, however, remain.
There is a fundamental lack of trust between some European countries, which leads to an unwillingness to work together or to hand over (either in reality or by perception) any part of their decision making to Brussels. There's also a lack of a real leader in European security. Germany set expectations sky-high last February after Scholz's "Zeitenwende" speech, but the country has been slow to deliver. Of course, Germany's contributions to helping Ukraine win this war should be lauded. However, the debate around whether Germany should send Leopard 2 tanks (or sign off on third party transfers of those tanks), for example, shows just how timid the country still is. Ultimately, Germany made the right decision, and it deserves credit for that. However, Germany must eventually be willing to truly play a leadership role instead of waiting for the United States to provide diplomatic cover. If this doesn't occur, I have my doubts whether the EU as a whole will be able to integrate and deepen its security and defense efforts in the way that it must, especially as the United States continues its rebalance toward Asia.
—Rachel Rizzo is a nonresident senior fellow at the Europe Center.
Develop a 'military Schengen' and forge a stronger Polish-German relationship
Just as with Russia's war of aggression against Ukraine in 2022, 2023 will likely see major developments for a crucial European relationship that has been strained by war but has the potential to emerge better and stronger if the right choices are made.
On the eve of the war, 60 percent of Poles viewed Germany as an ally. In October, that number had plummeted to 20 percent. Yes, key voices in the Polish government have publicly engaged in sharp anti-German rhetoric, but it would be a mistake to view this mistrust as partisan. With Berlin dragging its feet to provide necessary weapons deliveries to Ukraine, what looks like German ambivalence in the face of the Russian threat has left many Poles questioning if their NATO partner will have their back should Poland itself come under attack. Germany may be changing—witness the recent decision to send Leopard 2 tanks to Ukraine—but perhaps not fast enough. It may be hard for Germany to have its decades-long assumptions shattered about how best to handle Russia, but Ukraine hardly has time for a German therapy session.
A constructive and operationally relevant Polish-German relationship is key for the future of transatlantic relations. For Germany, Poland is now a frontline state, the way it was during the Cold War. For Poland, Germany is the strategic depth and supply line for US military aid. Thankfully, there are many officials on both sides who realize this, even if the public debate may suggest otherwise.
For the EU, a smart policy would be to develop a "military Schengen area" that would make transportation of allied forces across borders easier and incentivize strategically important German-Polish defense cooperation. What Brussels should avoid is any perception that the EU prefers one side in the Polish parliamentary elections this fall—particularly since Poles sometimes equate Brussels with Berlin.
With the right kind of engagement, Poland will influence Germany's and Europe's view of Russia. Considering that the Poles were right about Putin, that is a very good thing.
—Aaron Korewa is the director of the Europe Center's Warsaw Office.
Trade and technology
Come together for the sake of energy security and decarbonization
Russia's weaponization of energy irreversibly transformed European energy systems. In response to the cutoff of Russian gas, Europe pivoted to alternative supplies and routes in record time. This transformation continues into 2023. But this year, Europe is taking the reins of its energy strategy and moving beyond mitigating the shocks from the Kremlin's unsuccessful blackmail in 2022. Even though Russia lost the energy war, Europe must continue the shift toward a clean, secure, and affordable energy future.
To sustain and accelerate its energy transformation, the EU will need to maintain solidarity across member states and with its Western allies, while balancing immediate needs with long-term security and decarbonization concerns. The bloc has multiple avenues for achieving these goals.
Within Europe, energy ministers should work together to ensure that temporary emergency measures such as the natural gas price caps and windfall taxes do not impede investments. The impacts of these mechanisms on private-sector behavior and confidence must be carefully assessed. Europe must also agree upon efficiency measures, which the continent desperately needs to resolve the supply crisis.
A broader challenge involves unifying pathways to fund new clean energy and low-carbon generation. The proposed Sovereignty Fund—a joint borrowing mechanism—is one possible solution, but it already faces fierce opposition from some parts of the EU. The public sector should not shoulder these investment costs alone, but it must play a bigger role in incentivizing clean energy and low-carbon projects and mitigating risks to unlock private sector financing.
On the multilateral front, the transatlantic cohesion over multiple waves of sanctions is an undisputable, unprecedented win for the alliance. Fine-tuning implementation and enforcement will optimize sanctions' sting on the Russian economy and funding for the war. This unity must continue as global routes are reshuffled for oil and refined products in order to comply with the Group of Seven (G7) nations' price caps, which aim to reduce Russia's revenues while keeping the volumes on the market.
But tensions remain for US-EU relations due to the massive US climate law, the Inflation Reduction Act (IRA), which favors homegrown electric vehicle manufacturing among other climate incentives. The EU and the United States must find ways to mitigate these concerns and focus on areas of cooperation, such as critical minerals supply chains, standards alignment, permitting reform, and expedited commercialization of new technologies. And finally, multilateral coordination will be essential to securing multiple alternative energy suppliers. Europe will have to commit to the next wave of long-term contracts to satisfy future demand, while working with exporters to lower the carbon intensity of shipments.
By strengthening internal and transatlantic cohesion, the EU will be able to get ahead of the looming supply shortages anticipated for next winter, while forging a broader security and climate strategy for decades to come. Russia's role will be diminished irrevocably in both.
—Olga Khakova is the deputy director for European energy security at the Atlantic Council's Global Energy Center.
Push a more active US-EU Trade and Technology Council
In 2023, the European Union will find the global multilateral trading system—which has been key to Europe's own prosperity—increasingly challenged. Leading EU economic policymakers, including Executive Vice President Valdis Dombrovskis and Director-General Sabine Weyand, have made clear the continuing EU commitment to the World Trade Organization (WTO)—albeit a reformed WTO. Meanwhile, the new Swedish presidency of the EU Council of Ministers has identified trade negotiations as a priority (the EU currently has trade agreements with seventy-two countries and negotiations ongoing with thirty more).
Yet the multilateral trading system is arguably a thing of the past. The current geopolitical climate has made everyone re-examine their supply chains. Cost and market access can no longer be the sole determinant of where goods are made. The EU's own policies will also challenge the system of free trade, especially with growing environmental, social, and governance (ESG) rules. New EU reporting requirements or restrictions on forced labor, deforestation, carbon emissions, and other issues will force companies to adjust their supply chains.
But the biggest challenge to the EU's trade policy in 2023 will be the approach of its closest economic partner, the United States. US trade policy, with its "worker-centric" focus and emphasis on reshoring key industries, is moving far from its former leadership of the multilateral trading system. This shift has been demonstrated in the Biden administration's rejection of the WTO decision against the Trump administration's steel tariffs, as well as the discriminatory provisions in last year's Inflation Reduction Act (IRA).
At the same time, the US-EU Trade and Technology Council (TTC) has emerged as the most prominent bilateral transatlantic mechanism. It has largely focused on building cooperation on future tech and trade challenges and harmonizing some responses to the Russian invasion of Ukraine, while avoiding tough trade conflicts, with the IRA and steel tariffs assigned to special task forces. Those task forces should be brought into the purview of the TTC, so that its leadership and credibility can address the growing transatlantic gap over the global trading system. This will be a risk for the TTC, but cooperation on artificial intelligence taxonomies will mean little if the United States and EU cannot find a way to jointly address the changes needed in the global trading system, especially as related to subsidies and sensitive supply chains. Geopolitics has made returning to the old multilateral system impossible, but the United States and Europe, along with their like-minded partners, could build a new (or reformed) system that balances rule of law with resilience and security. As the United States heads toward its 2024 elections, the EU must take the lead.
—Frances Burwell is a distinguished fellow at the Europe Center and a senior director at McLarty Associates.
Advance a heavy digital legislative docket
This year will see a last, mad dash of EU digital legislation before the 2024 European Parliament elections. This will mean a flurry of legislative and new implementation actions—as the Von der Leyen Commission tries to fulfill the promise of Europe's "digital decade"—with significant stakes for US and Euro-Atlantic interests.
First, the window is narrowing for the EU to scale up its signature techno-industrial policy on semiconductors—resolving EU CHIPS Act funding questions on semiconductors, fast-tracking Important Projects of Common European Interest authorization, and accounting for increased gas and raw-material prices resulting from Russia's war in Ukraine. On Europe's double helix of platform governance—the Digital Services Act and Digital Markets Act—2023 will see the first major enforcement push, testing big tech's ad-based business models and challenging, at times, wayward content-moderation decisions from Musk to Meta. Euro-Atlantic discussion around EU legislative enforcement in the metaverse is also likely to increase. As this enters the enforcement phase, some have contended the TTC could play a bigger role.
At the same time, the EU is undertaking an ambitious set of interlocking rules around the Internet of Things and industrial data. These touch on cybersecurity (the Cyber Resilience Act), data ownership and usage (Data Act), algorithmic governance (AI Act and AI Liability Directive), data space creation, and cloud governance. With an adequacy decision on the US-EU Data Privacy Framework, successor to the ill-fated US-EU Privacy Shield, expected to be in force by summer 2023, the United States and Europe need to focus on a thriving Euro-Atlantic data space that guarantees free data flows, cybersecurity standards, rule of law, and human-rights protections. Even as it does so, the EU—together with the United States—should anticipate potential blind spots and divergences. Some areas include EU proposals for "fair share" payments by data-intensive tech to internet service providers, implementation of the Organization for Economic Cooperation and Development (OECD) agreement on a 15 percent minimum corporate tax, and increased techno-industrial policy around satellite internet connectivity. Both sides should also start consultations on next-generation strategic tech policy, including high-performance computing governance and 6G standards.
—Tyson Barker is a nonresident senior fellow with the Europe Center.
Further reading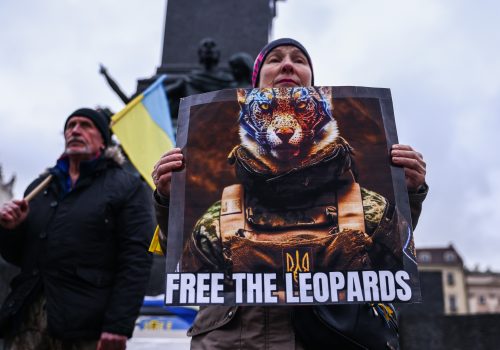 Wed, Jan 25, 2023
Experts react By Atlantic Council experts
Is this a turning point for Germany's participation in arming Ukraine? Our experts lay out what's next.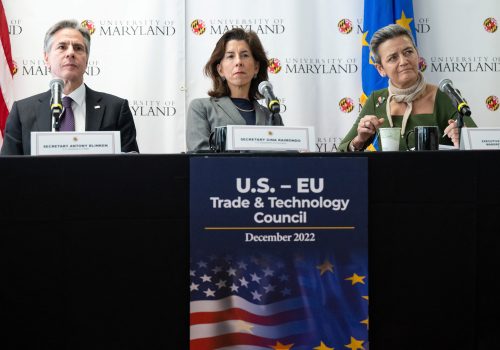 Mon, Dec 5, 2022
New Atlanticist By Clete R. Willems
Monday's TTC ministerial meeting did not make major progress on sensitive climate and digital issues. The council needs to evolve now to solve the toughest disputes.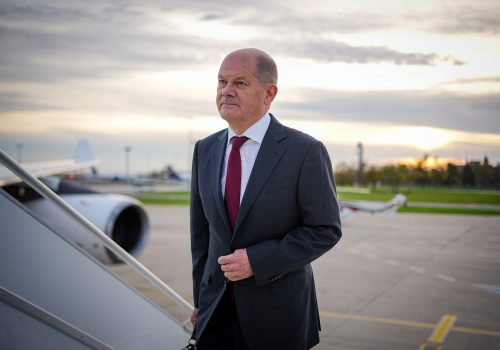 Thu, Nov 3, 2022
New Atlanticist By Rachel Rizzo, Jörn Fleck
Plodding Germany will be forced to adapt its role in Europe and the world much sooner than it expects. Here's why.