Ukrainian President Volodymyr Zelenskyy zipped from London to Paris to Brussels this week in his second trip abroad since Russia's full-scale invasion of his country nearly a year ago. His message to leaders and lawmakers was that their military aid so far to his country has been substantial, but is not enough to repel Russia's brutal invasion. More is needed, Zelenskyy urged.
What came of his meetings with UK Prime Minister Rishi Sunak in London, and with French President Emmanuel Macron and German Chancellor Olaf Scholz in Paris? Will European lawmakers now support hastening Ukraine's entry into the EU? Will Western tanks beget fighter jets? Below, our experts on the inner workings of European politics break down the meaning of Zelenskyy's trip and what to expect next from each capital.
Click to jump to an expert reaction
The view from London: Doug Klain
The view from Paris: Marie Jourdain
The view from Brussels: Dave Keating
The view from Berlin: Jörn Fleck
The view from Kyiv: Peter Dickinson
The view from London
Itinerary: arrival at London Stansted airport on Wednesday, speech at Westminster Hall, meetings with King Charles III and Sunak, visit with Ukrainian forces training with the British military in Dorset
Zelenskyy's surprise visit to London underscored that Britain stands out as one of the few Western European powers able to marshal both the resources and political will to substantially aid Ukraine in pursuit of outright victory over Russia—something Sunak aptly identifies as an explicit shared goal of his government.
Sunak's statement that "nothing is off the table" shows that the United Kingdom is not letting up after announcing it will send Challenger tanks to Ukraine—now set to deploy on the battlefield in March. Along with sanctions and an "immediate surge" of equipment that will surely aid a coming Ukrainian offensive, what really stands out is the United Kingdom's plan to train twenty thousand Ukrainian soldiers and marines. This kind of NATO-style training is one of the keys to Ukraine's success in consistently outmaneuvering a numerically superior but professionally inferior Russian army.
British politicians may well be trying to outdo each other in just how much they can support Ukraine. Within hours of Zelenskyy's visit concluding, former Prime Minister Boris Johnson called for the transfer of Typhoon fighter jets for Ukraine to make use of the newly announced training for Ukrainian pilots on NATO fighters. (The suggestion was quickly identified by some experts as less likely to help, since Typhoons are ill-equipped for fighting conditions in Ukraine.) Still, Britain's military, financial, and rhetorical support is meeting the moment as Ukrainians prepare for what may be a decisive next few months, facing down a likely Russian offensive while preparing their own.
—Doug Klain, a London-based nonresident fellow at the Atlantic Council's Eurasia Center. Find him on Twitter @DougKlain
The view from Paris
Itinerary: arrival at Paris Orly airport on Wednesday night, dinner meeting at the Elysee Palace with Macron and Scholz, flight Thursday morning with Macron to Brussels
Zelenskyy could not skip Paris in his European tour, and his message Wednesday was clear: Ukraine has weaponry needs, and France has capabilities.
In recent weeks, French strategic communication has evolved regarding the delivery of military equipment to Ukraine. Paris is now more assertive, even as the drivers of the decision about military aid have not changed. The aim is still to avoid escalation, match the Ukrainian operational needs, and preserve French national capacities. But France's recent decision to send AMX 10-RC armored vehicles is not only significant for what it might change on the battlefield, but also because they were presented in official statements as "tanks," in part to encourage other allies to move forward with their own tank deliveries to Ukraine. This move reveals that France does not now view these deliveries as unacceptably escalatory and suggests that France is considering Ukrainian requests to send additional weapons that were excluded before. However, it does not mean Paris will actually send its Leclerc tanks, which are very limited in number, unlike the German-designed tanks. Nor does it mean France is any closer to sending Rafale or Mirage jets, even as Zelenskyy's visit aimed to push French leaders in that direction, as did the visit ten days earlier by Ruslan Stefanchuk, speaker of the Verkhovna Rada of Ukraine, who addressed the French National Assembly with a similar message. On jets, Paris's hesitation is similar to the Biden administration's thinking: questions about constraints on training, maintenance of the jets, and how they will be used.
Zelenskyy's quick visit is a reminder that, for Paris, what is at play is not only the necessity for Ukraine to prevail and European stability to be restored, but also the credibility of France as a reliable European military partner able to lead. For Ukraine, it is key to have the continuous support of France when it comes not only to the war but for its future in Europe.
—Marie Jourdain, visiting fellow at the Atlantic Council's Europe Center and a former staffer for the French Ministry of Defense's Directorate General for International Relations and Strategy
The view from Brussels
Itinerary: arrival Thursday morning at Melsbroek military airport, where met by Belgian Prime Minister Alexander De Croo, President of the European Council Charles Michel, and President of the European Commission Ursula von der Leyen; address to European Parliament; meeting with twenty-seven European Union (EU) heads of state
While Zelenskyy was mainly focused on weapons delivery during his visits to London and Paris, in Brussels his main message was one of European unity. Ukraine's place is in the EU, he said, and "a free Europe cannot be imagined without a free Ukraine." During a joint press conference, Zelenskyy told Michel that he wants to see accession talks with Ukraine begin this year. That requires unanimity among all twenty-seven member states, Michel reminded him. The reality is that EU accession is a long process and, as von der Leyen said Thursday, it has to be "a merit-based process." There can be no fast track for Ukraine simply out of sympathy. Otherwise, the message sent to the Western Balkans is, "You can only join the European Union if you're at war."
The difference between this visit and Zelenskyy's visits to London and Washington was perhaps best represented by his choice of language. When speaking to the US Congress and British Parliament, Zelensky spoke in English. In all his appearances in Brussels, he spoke only Ukrainian—even though English would have been the natural choice as it is the main working language of the EU. He explained why at his press conference. "The Ukrainian language is part of the European discussion." Hearing Ukrainian "will be common practice when Ukraine will be part of the European Union." In the United States and United Kingdom, he was a guest and spoke his hosts' language. In the EU, he wants to be home.
—Dave Keating, nonresident senior fellow at the Atlantic Council's Europe Center and the Brussels correspondent for France 24
The view from Berlin
Itinerary: no stop scheduled
The absence of Berlin among Zelenskyy's European tour isn't exactly a snub, as some might have it. Scholz joined Macron and Zelenskyy in Paris, and the last-minute addition of the French capital was likely a concerted effort by Zelenskyy to lock Macron into more meaningful military support than France has thus far provided. For its part, Germany is still the leading EU member state in terms of gross military and financial aid to Ukraine, despite its dithering and delaying on tanks. And following Scholz's decision to provide Leopard 2 tanks and to let other allies do the same, Ukrainian-German relations seem to be on the up again. A constructive visit by the new German defense minister, Boris Pistorius, to Kyiv a few days ago seems to have underscored this.
The choice to go to Paris, not Berlin, then likely has more to do with what the Ukrainian president hopes to get from France than what he is not getting from Germany. Macron has thus far escaped the fever-pitch of criticism Scholz has faced for his handling of assistance to Ukraine, and Zelenskyy's visit was paired with an interview in a French daily in which he expressed his confidence that Macron had fully come around to the threat from Putin and Russia—having shown impatience with the French leader in the past for his diplomatic outreach to Putin. Combined with Zelenskyy's time constraints and the potential for more French support, a preference for Paris over Belin makes strategic sense.
—Jörn Fleck, senior director of the Atlantic Council's Europe Center
The view from Kyiv
Itinerary: return to Ukraine TBA
Zelenskyy's whirlwind European tour has not produced any immediate breakthroughs in terms of military aid, but Kyiv audiences have been encouraged by positive signals in London, Paris, and Brussels that indicate Ukraine will eventually receive the tools it needs to defeat Russia. There remains considerable frustration in Ukraine over the slow pace of the decision-making process, but the statements that have accompanied Zelenskyy's visit underline the recent shift toward abandoning earlier red lines and supplying new categories of weapons and equipment. While many Ukrainians have been highly critical of the overcautious approach adopted by many Western leaders, the key message now seems to be that "nothing is off the table" when it comes to arming Ukraine.
Zelenskyy's triumphant trip has also underlined the continued strength of international support for Ukraine. This is important at a time when Ukrainians are acutely aware of Russian efforts to weaken Western resolve. Russian President Vladimir Putin hopes the West will eventually lose interest in Ukraine and is counting on war-weary Western leaders to pressure Kyiv into accepting a compromise peace that would allow Russia to retain its Ukrainian territorial gains. In this context, the rapturous applause that followed Zelenskyy from Westminster Hall to the European Parliament was particularly welcome. Many Ukrainians noted gleefully that these scenes must have made for particularly grim viewing in the Putin bunker.
—Peter Dickinson, editor of UkraineAlert
Further reading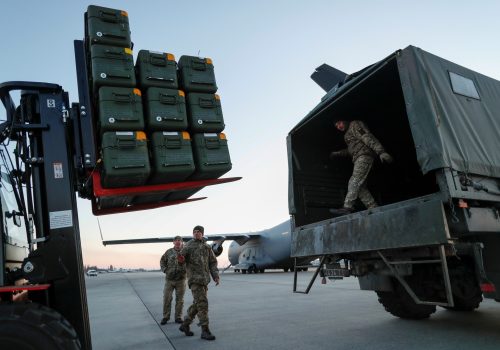 Fri, May 13, 2022
Trackers and Data Visualizations By Emma Nix, Akshat Dhankher, Nancy Messieh
The West has shown a common understanding of the need to support Ukraine with military and humanitarian aid. Our interactive maps track the aid that Western countries are sending.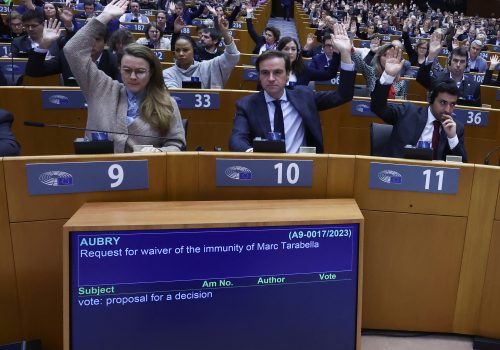 Thu, Feb 2, 2023
New Atlanticist By Atlantic Council experts
How will the EU continue to bolster its security? Can Brussels forge a new path toward better relations with its partners? Our experts give their recommendations on how to get there.
Wed, Feb 1, 2023
New Atlanticist By Katherine Walla
The former UK prime minister urged the West to stop tiptoeing around Putin's threats and equip Ukraine with the weapons it needs to end the war.