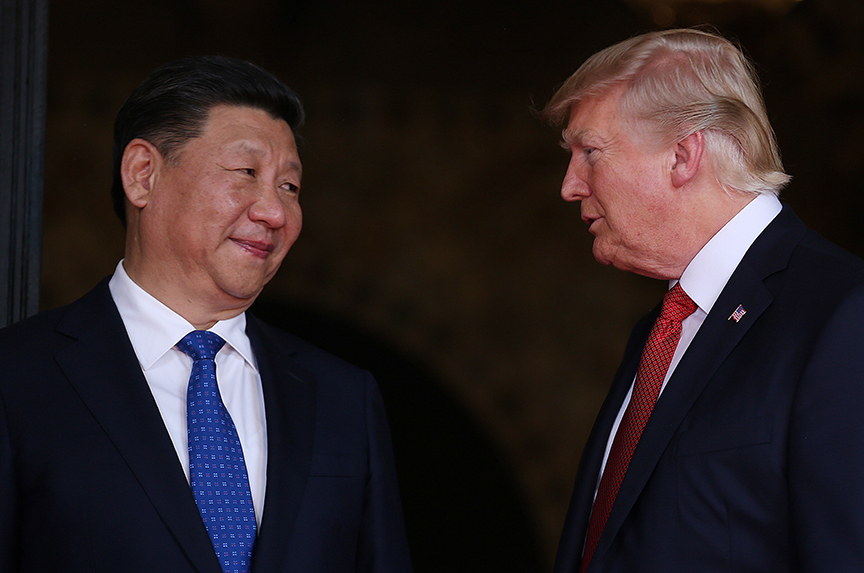 US President Donald J. Trump's "America First" policy—marked by a retreat from multilateralism—has paved the way for China to step into the void and for its president, Xi Jinping, to realize his "Chinese Dream," according to two Atlantic Council analysts.
Trump and Xi met at the US president's Mar-a-Lago resort in Florida on April 6 for a two-day summit.
Trump's "America First" policy is a "double-edged sword" for China, said Robert A. Manning, a senior fellow with the Atlantic Council's Brent Scowcroft Center on International Security and its Strategic Foresight Initiative.
"On the one hand, Trump is handing the 'Chinese Dream' to Xi on a silver platter," said Manning. Xi has described the "Chinese Dream" as "the great rejuvenation of the Chinese nation." But on the "flip side is American nationalism… and Trump's indictments of China," Manning added.
Jamie Metzl, a nonresident senior fellow for technology and national security at the Scowcroft Center, said Trump's "America First" policy has "so far proven mostly bluster by talking loudly but carrying a very small stick and undermining elements of America's strengths in the Asia-Pacific region, including our alliances and the Trans-Pacific Partnership."

Trump's decisions so far have allowed Xi to stake a claim for China to shape the "new world order."
For example, Trump has allowed China to shape the future of Asia's trade architecture with his decision, early in his presidency, to take the United States out of the Trans-Pacific Partnership (TPP) free-trade agreement with Pacific Rim nations. China is not included in the TPP and it is pushing an alternative regional trade pact that excludes the United States.
Trump's budget cuts to multilateral organizations, including the World Bank, the International Monetary Fund, the Asian Development Bank, and the United Nations, have also created a huge opportunity for China to expand its influence in institutions founded by the United States after World War II.
Similarly, on climate, Trump's plans to back away from US commitments to the Paris climate agreement have allowed China to take a leadership role in addressing the important issue of climate change.
This "America First" strategy has left US allies in China's neighborhood feeling uneasy.
"The Trump administration's early actions have undermined the faith of America's allies in America's role in the Asia-Pacific region and has forced them to move closer to China. This strengthens China at America's expense," said Metzl.
The Summit
Xi travels to Mar-a-Lago in a far stronger position than Trump. Xi was anointed China's "core" leader by his Communist Party colleagues in October of 2016; Trump's administration, on the other hand, is embroiled in investigations over its ties to Russia.
Trump also does not have a fully formed China policy, and has yet to fill the relevant leadership positions in government agencies, including the Pentagon and the State Department.
"President Trump enters these talks in an unnecessarily weak position," said Metzl. "Clearly the Trump administration does not have a fully formed China policy, but given how central China policy has been to the Trump platform there is a lot of pressure on the administration to take some type of action. This creates a very dangerous, uncertain, and unstable environment for the talks."
Trump is particularly handicapped by the fact that he doesn't have a point person on China. As a result, the Chinese government has developed a relationship with Trump's son-in-law and trusted adviser, Jared Kushner. Manning doubts that Kushner has the capacity to manage a complex relationship like the US-China one. "So far, that relationship [between China and Kushner] has been mostly about process and not about content," he said.
The Trump-Xi summit comes at a time of deep divisions between the world's two largest economies.
On the campaign trail, Trump—citing the US trade deficit with China—accused China of "raping" the United States with unfair trade policy, "killing" the United States on trade, and manipulating its own currency to make its exports more competitive on the global market. He also threatened to impose a 45 percent tariff on imports from China in an effort to diminish the huge trade deficit.
Following his election, Trump broke with four decades of US diplomatic tradition by accepting a congratulatory phone call from Taiwan's president, Tsai Ing-wen, and questioning Beijing's "One China policy."
US-China relations have, since 1979, been governed by the "One China policy" under which the United States acknowledges Beijing's claim that Taiwan is part of China. Trump later affirmed the "One China policy" in a phone call with Xi.
Manning said China is, nevertheless, mindful of the fact that the bipartisan consensus that has guided the United States' China policy since US President Richard Nixon's opening to the Communist nation in 1972 has been shattered.
"China needs to find a new normal," said Manning.
Another equally significant objective of the Trump-Xi summit is to establish a rapport between the two leaders that would be crucial to setting the tone for the US-China relationship over the next four years at the very least.
Can a trade war be avoided?
Trade has become a prickly issue in the US-China relationship and will, without doubt, top the agenda when Trump meets Xi.
Trump is "correct that the US economic relationship with China has been unbalanced in China's favor," said Metzl. "Hopefully, the administration will be able to pressure China to have a more reciprocal economic relationship, including by enhancing market access for US companies in China and better protecting the intellectual property of American corporations," he added.
Xi will come with ideas on how to reverse the trade deficit. For example, he may agree to impose voluntary restraints on dumping steel, cement, and aluminum, said Manning, citing a solution used during a similar situation between the United States and Japan in the 1980s. He will also come with "an army of Chinese businessmen" looking to invest in US infrastructure, said Manning.
"The real problem is not so much the trade deficit as the closing of the Chinese economy to foreign investors," said Manning.
The US business community, a strong supporter of US-China relations, has become increasingly disillusioned with China. A recent survey by the American Chamber of Commerce found that 80 percent of its members say foreign companies are less welcome in China. At the same time, Chinese companies have been buying up tech firms in Silicon Valley. An advisory panel in former US President Barack Obama's administration warned in a report issued early in January 2017 that the United States must protect the US semiconductor industry against a Chinese plan to dominate the sector.
Manning is less concerned than before about the prospects of a trade war erupting between the United States and China. This is because of what he described as "battles royale" between the "realists and economic nationalists" in the White House. "It appears that the realists have won and have persuaded Trump that he can achieve a lot of his goals using existing mechanisms within US trade law," he said.
While welcoming this development, he added: "If the Chinese do not move away from their predatory industrial policy… that is going to be a huge source of irritation."
The North Korea factor
North Korea, which is hugely dependent on Chinese aid and trade, has tested Trump and, more broadly, the US-China relationship. Pyongyang has kept up its provocations. On April 5, it fired an intercontinental ballistic missile into the Sea of Japan.
North Korea's nuclear and missile programs will be up for discussion at Mar-a-Lago. Trump is expected to urge China to reign in North Korea. In an interview with the Financial Times, Trump said: "China has great influence over North Korea. And China will either decide to help us with North Korea, or they won't. If they do, that will be very good for China, and if they don't, it won't be good for anyone."
If China doesn't do more, the United States is prepared to act alone, said Trump.
"North Korea could either be an important defining element of cooperation between the US and China, or it could be a source of major confrontation," said Manning.
Xi has no love lost for North Korean leader Kim Jong-un, especially after North Korea was declared responsible for the murder of Kim's half-brother, Kim Jong-nam, this February in Kuala Lumpur. The Chinese had provided the exiled Kim shelter in Macau.
China is willing to cooperate "to a certain degree" on North Korea, "but not to go so far as to jeopardize the regime in North Korea," said Manning. For example, he said, Beijing could cooperate by enforcing US sanctions on Chinese entities that have facilitated economic activity with North Korea.
China is reluctant to press the North Korean regime too hard in part because it worries that it could cause the regime in Pyongyang to collapse and send thousands of refugees streaming across the border into China.
What kind of leverage does China have over North Korea? China is North Korea's largest trading partner. "The problem is, it's not a rheostat, it is an on-off switch. They provide most of the fuel and food, and they could cut that off, but they are afraid of instability," said Manning.
Metzl expects China to give lip service to Trump's calls for more pressure on North Korea. But, he added, China "will ultimately be unwilling to exert the level of pressure necessary to change North Korea's strategic calculations and behavior."
Ashish Kumar Sen is deputy director of communications at the Atlantic Council. You can follow him on Twitter @AshishSen.