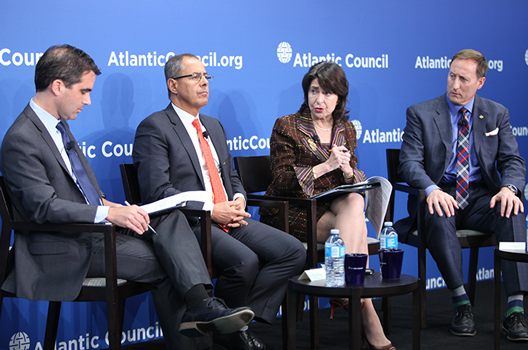 Former US, Canadian, and Mexican officials make pitch to keep strategic trade deal
US President Donald Trump has called the North American Free Trade Agreement (NAFTA) "the worst trade deal," but former US, Canadian, and Mexican officials, speaking at the Atlantic Council on February 22, warned against abandoning the strategic deal that binds their three nations while acknowledging that it is in need of an update.
"NAFTA should be updated… the world has changed, the market has changed in twenty-three years," said Carlos Gutierrez, who served as US Commerce Secretary in the George W. Bush administration. "This is an area where the United States can have a significant advantage if we can negotiate a better agreement where it's not a zero-sum game," he added.
US Secretary of State Rex Tillerson and Secretary of Homeland Security John Kelly were in Mexico on February 22 and 23. Paula Stern, who served as chairwoman of the US International Trade Commission in the Reagan administration, said the visit by the senior Trump administration officials provided an opportunity to lay the groundwork for updating NAFTA.

Peter Schechter, Atlantic Council vice president and director of the Council's Adrienne Arsht Latin America Center, said that Tillerson and Kelly were in Mexico in search of avenues for continued cooperation. Emphasizing the trade and security benefits for the United States resulting from good relations with its neighbors, he said that by threatening NAFTA, "we're in imminent danger of dismantling the North American experiment that we've built with Mexico and Canada."
Gutierrez, Stern, and Schechter spoke at an event titled "US-Mexico & Canada Trade Ties: What's the Way Forward?" While Schechter gave opening remarks and Gutierrez delivered the keynote address, Stern participated in a panel discussion with Peter MacKay, a former Canadian minister of justice and attorney general; and Rafael Fernández de Castro, a professor at Syracuse University who served as an adviser to former Mexican President Felipe Calderon. Jason Marczak, director of the Latin America Economic Growth Initiative at the Adrienne Arsht Latin America Center, moderated the panel.
"To make America great again, you have to make NAFTA great again," said MacKay, who is currently a partner at the law firm Baker McKenzie. He said the visit by Tillerson and Kelly to Mexico was "an opportunity to recast a wrong-footed approach and go back to the basics… not retrench or double-down on rhetoric, but hone in on just how important NAFTA is."
"Changing the rules of the game significantly at this point is where we'll get bogged down," said MacKay. However, he added that "tweaking specifics" can be worked out.
Ultimately, it is in the best interests of the United States to not only update NAFTA, but also to uphold the foundation of the agreement and maintain a strong North American partnership. According to MacKay, this was the position Canadian Prime Minister Justin Trudeau took when he visited Washington earlier in February.
Stern, founder and chairwoman of the Stern Group and an Atlantic Council board member, suggested that NAFTA be renegotiated by adopting the best parts of the Trans-Pacific Partnership (TPP). Trump has pulled the United States out of the TPP, a free-trade deal with Pacific Rim countries that was negotiated by the Obama administration.
Stern said the TPP is a more modern agreement than NAFTA and could suit Trump's intent to renegotiate an existing and outdated deal. "Quickly borrow where you had seen agreement between the three nations—Canada, Mexico, and the United States—already," she said.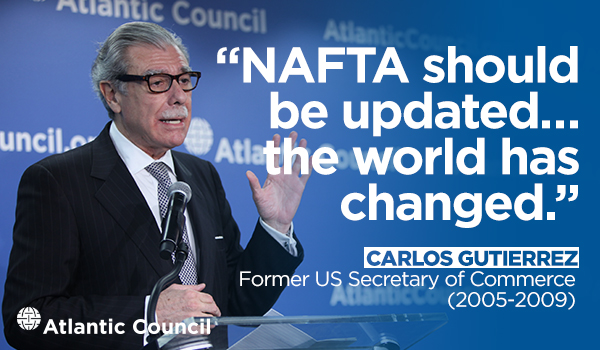 MacKay contended that Trump's criticism of NAFTA is directed at Mexico.
NAFTA is not only about trade or jobs, it is also about diplomacy, said Fernández de Castro. "All of that is at stake now with Mr. Trump," he said.
Relations between the United States and its southern neighbor have been threatened by Trump's alarming rhetoric regarding tariffs, immigration, and the loss of US jobs to Mexican citizens. Mexican President Enrique Peña Nieto recently cancelled a trip to Washington after Trump echoed his campaign promises and repeatedly demanded that Mexico pay for the wall that he wants to build along the US-Mexico border. Trump has also proposed a tariff on Mexican imports to pay for the wall.
The newest iteration of Trump's controversial immigration order, passed on February 22, dominated Tillerson and Kelly's meetings in Mexico. "We're talking about our free trade agreement with Mexico and Canada, and the backdrop is the new immigration executive order…that's going to add a level of complexity to this that I don't think we are fully acknowledging," said Gutierrez, who serves as chair of Albright Stonebridge Group.
"We cannot humiliate a country to the bargaining table," he claimed, adding: "You can't quantify national pride; you can't quantify national dignity, and that's what's at stake here."
In light of Trump's comments, it's hard for Mexico to do anything but take a combative stance against the United States, he said.
Though Peña Nieto has given a new sense of urgency to the US-Mexico relationship, Fernández de Castro said distaste for Trump's rhetoric has created consensus across the political spectrum in Mexico. He predicted that this will influence the outcome of the Mexican presidential election in 2018.
"We are creating the conditions for a presidential election in 2018 in Mexico where the winner could well be an anti-American populist," said Gutierrez. "That would be a strategic issue."
"We need to have the wisdom not to go for a tactical victory that down the road [we] will realize it was a strategic defeat," he added.
According to Schechter, "If we continue to antagonize Mexico, we risk our neighbor turning its back on us and turning its back on decades of cooperation."
Tillerson and Kelly should be looking to calm the waters in Mexico, said Marczak, because, ultimately, "intertwining the three North American economies simply keeps us safer."
There is a significant security component to the regional cooperation built upon NAFTA. While Trump has criticized Mexico on the basis of immigration, Mexican partnership is crucial to US efforts to stem the flow of illegal immigrants. While more Mexicans are leaving the United States than coming, it is people fleeing poverty and conflict in Central America that are mainly crossing into the United States.
Fernández de Castro described how over the past two years, more immigrants to the United States have come from the Northern Triangle of Central America—Guatemala, El Salvador, and Honduras—than from Mexico.
The Northern Triangle "has become a Syria of the Americas," said Fernández de Castro, and "Mexico is an essential partner of the United States to control that problem." Mexico deports five of every ten Central Americans who cross the border into Mexico before they reach the United States. "Strategically, I don't see a way for the United States… to improve the situation in Central America without Mexico," Fernández de Castro said.
According to Stern, Trump's actions against existing trade deals is rooted in promises he made on the campaign trail. "Our president ran successfully on a trade agenda," she said, describing how Trump claimed that on day one of his presidency he would move against NAFTA and the TPP.
However, "the political context is about jobs," she said, describing how technology has had an enormous disruptive effect on manufacturing jobs that are closely tied to the products traded within NAFTA. According to Stern, "the problem is… I think we've really neglected that. We haven't talked about human capital." She said that the United States did not deal adequately with these technological disruptions. "What Trump managed to tap into is neglect," said Stern.
However, she said Tillerson and Kelly must put the issue of trade into a proper economic context—NAFTA helps, rather than hurts US workers.
Schechter described how NAFTA has created 14 million jobs in the United States, while noting that Mexico and Canada are two of the top three US trading partners. Moreover, Gutierrez emphasized the essential infrastructure and regional integration of sectors ranging from agriculture to technology, which has been built upon the terms of the trade agreement.
Without NAFTA, there will be "lower growth, lower productivity, and we will not be gaining on the competition with the rest of the world that we have enjoyed," said Stern.
However, she said, trade negotiations are not enough to solve the current circumstances. Whatever the terms of a new NAFTA, Trump "has got to wrap it into an adjustment plan," to help those who were disrupted by new technology and the new digital world, Stern said.
This will require working toward a new infrastructure, based on the existing system set in place by NAFTA. According to MacKay, the products that will be a part of the infrastructure Trump has spoken to will be supplied by Canada and Mexico. "He'll quickly come to the realization that you can't go it alone" in establishing this new infrastructure, he said.
"A world without NAFTA is a much more difficult world for all three countries," said MacKay. However, he warned, "on some things we may have to part company."
MacKay said that while none of the three countries in NAFTA could be successfully independent, there may be a need to diversify trade relationships. "TPP may be dead for the United States, but it's not dead for Canada," he said.
With the disruption of North America supply chains that would result from the dissolution of NAFTA, "we, as a continental economy, will lose to competition in Asia," said Stern. "I don't think we can afford to shoot ourselves in the foot by unwinding all of the progress that we have made."
Rachel Ansley is an editorial assistant at the Atlantic Council.