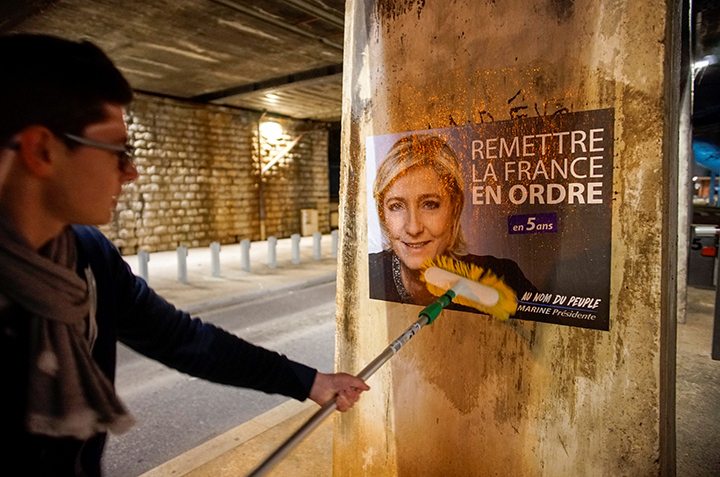 Europe's leaders face publics that are skeptical of globalization and multiculturalism, critical of the performance of the European Commission and European Council leadership, angry about the slow pace of economic recovery, and fearful of the inflow of immigrants and terrorism.
Far-right populist political parties have benefited from this sentiment. These parties are now in an alarmingly strong position as voters head to the polls this year in the Netherlands, France, Germany, and possibly Italy.

The Netherlands will hold national elections on March 15. Well-known Eurosceptic, Geert Wilders, head of the Party for Freedom (PVV), appears set to win the highest number of delegates in parliament, according to recent polls. Wilders has called for a referendum on Dutch membership of the European Union (EU) and for a ban on Muslim migrants.
A majority of analysts argue that even if the PVV wins the most seats, Wilders will not be able to form a governing coalition and current Prime Minister Mark Rutte will likely again pull together a governing majority. Nevertheless, Wilders and the PVV are expected to have an expanded base from which to attack the EU and pursue their nativist agenda.
France heads to the polls next for presidential elections in two rounds in April and May, to be followed by parliamentary elections. The three leading candidates include the far-right National Front leader Marine Le Pen (polling 22-26.5 percent in first-round preferences), the conservative Republican Party's François Fillon (polling 23-28 percent in first-round preferences, but that was before an unfolding scandal that now threatens his candidacy), and centrist and pro-EU candidate Emmanuel Macron (polling 16-24 percent in first-round preferences). Le Pen has pledged to renegotiate the terms of France's EU membership and hold a referendum on EU membership, in addition to pursuing her nationalist and anti-immigrant platform.
Polls for second-round voting preferences have had either Fillon or Macron beating Le Pen, but the National Front leader could receive the most votes in the first round of elections and might receive 29-43 percent of the vote in the second round, according to recent polls. In a new twist, Fillon has been accused of paying his wife and children with taxpayers' money for work that they did not perform. A poll showed him dropping behind Macron and being eliminated in the first round of voting.
Barring a surge in National Front votes beyond its historic highs, France is unlikely to emerge from the second round with a blatantly anti-EU leader. Fillon, however, has suggested that he may take a more critical view of EU solutions (perhaps in the tradition of Charles de Gaulle) and a more Thatcherite view of economic polices (accompanied by more conservative, Catholic views on social issues).
A Fillon victory could thus translate into new challenges to EU consensus-based decision making. If Macron bests Fillon with a surge in the first round of voting, recent polls have suggested he would beat Le Pen, and France would have a pro-EU president.
Germany, meanwhile, is expected to head to the polls for a general election in the fall. German Chancellor Angela Merkel's Christian Democratic Union of Germany-Christian Social Union in Bavaria coalition has a strong lead in voting preferences (32-38 percent compared to 21-22 percent for the Social Democrats and 12-15 percent for the Eurosceptic, far-right Alternative for Democracy). However, analysts will be watching closely to see how much of a protest vote emerges over Merkel's welcome to migrants. The anti-EU Alternative for Democracy currently has seats in ten of sixteen state legislatures, with its presence growing impressively since it emerged in 2013.
Italy does not have elections scheduled for 2017, but there is pressure to hold snap elections since voters defeated the referendum on political reforms supported by then-Prime Minister Matteo Renzi in December. Analysts argue anti-establishment parties, led by the Five Star Movement and the Eurosceptic, anti-immigrant Northern League and Brothers of Italy, could win early elections, and pro-European political forces accordingly favor putting off an early return to the polls. A recent Italian court decision on the current parliamentary electoral system has observers saying elections this year are now more likely, but they are still not required to be held until 2018.
All these elections, no doubt, will have surprises in store. WikiLeaks recently released a set of documents related to the French candidates, for example, raising concerns about Russian manipulation, similar to those that surfaced during the US presidential elections in 2016. If Eurosceptic candidates do better than expected, the EU could find its 2017 agenda becoming even more complicated. There is good reason for those in the United States to pay close attention.
Earl Anthony Wayne is a nonresident senior fellow with the Atlantic Council's Global Business and Economics Program and became a career ambassador in 2010.