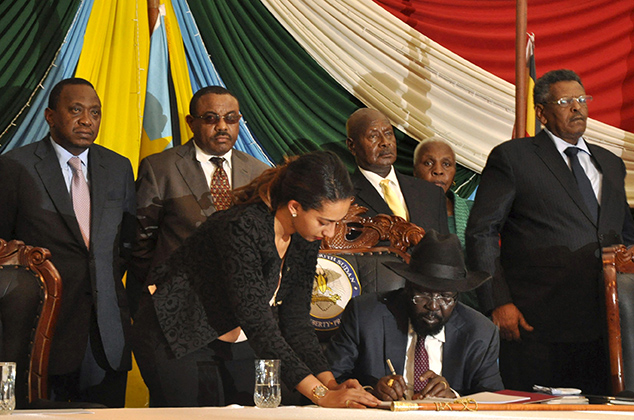 International community must keep up pressure to ensure this agreement sticks, says Atlantic Council's J. Peter Pham
The international community must keep up its pressure on rival sides in South Sudan if it wants to ensure the success of a peace agreement President Salva Kiir reluctantly signed August 26, says the Atlantic Council's J. Peter Pham.
Kiir and his former Vice President, Riek Machar, have signed more than half a dozen peace deals since a falling out that has plunged the world's youngest nation into a civil war for the past twenty months. Each and every time the ceasefire has fallen apart faster than it took to put together.
On August 26, Kiir signed the latest peace agreement, but in a sign that does not bode well for the future of the deal complained that he has reservations about its terms. He had earlier refused to sign the deal, while Machar did so by the August 17 deadline set by international mediators.

Previous deals only relieved international pressure on the various actors in South Sudan giving their fighters time to regroup, rearm, and return to war, said Pham, Director of the Atlantic Council's Africa Center.
Immense international pressure, significantly a threat from the Obama administration to use UN sanctions, was used to convince both sides to sign the deal.
"One would hope that the international community has learned something [from past experience], but I am not sanguine about it," said Pham.
"My concern is that the pressure relents after the signing [of the deal]," he added.
The agreement puts in place a transitional national unity government that will take office in ninety days from the deal being signed and govern for thirty months. A truce will come into immediate effect and "guard forces" will be in charge of security around the capital, Juba.
Machar will return as Kiir's Vice President, and in three oil-rich states—Jonglei, Unity, and Upper Nile—the rebels will have almost equal representation as the government. A Commission for Truth, Reconciliation and Healing will also be established to investigate human rights violations.
South Sudan, which gained independence from Sudan in 2011 following years of civil war, was once again engulfed in conflict after Kiir accused a Machar of plotting a coup in December 2013. The United States says it has no evidence to back up that claim. The civil war has been mainly fought on ethnic lines pitting Kiir's dominant Dinka tribe against Machar's Nuer.
At least 10,000 people have been killed in the war. More than two million have been forced from their homes and nearly five million face severe hunger because of the fighting.
J. Peter Pham spoke in an interview with the New Atlanticist's Ashish Kumar Sen. Here are excerpts from our interview.
Q: President Kiir has reservations about the peace deal he signed August 26. Will the Intergovernmental Authority on Development (IGAD) be willing to renegotiate as Kiir has suggested?
Pham: One has to put this deal in context. This is the ninth deal, according to my count, that Salva Kiir has signed since the civil conflict broke out in December 2013. Eight have come and gone very quickly. Each has been signed under pressure from the international community. The signing of the previous deals relieved that pressure, and once the international community was distracted the combatants went back to the conflict having used the time in between for their forces to recuperate and rearm.
The people of South Sudan have had enough suffering. It's a country that is barely four years old. It has seen nearly two years of war in which more than two million people have been displaced. A third of the country is facing severe food insecurity and the possibility of famine. So one hopes that this deal holds.
Q: Is Kiir's decision to ultimately sign the peace deal more about avoiding sanctions than making peace?
Pham: Until there is evidence to the contrary, one has to presume that it was the intense pressure of the international community that brought about this result.
I credit the international community for finally putting that pressure, but there has been no demonstration of good faith [by Kiir] thus far. The deadline [to sign the agreement] set by the international community was a week and a half ago, but [Kiir] missed that deadline. There is a bit of contumacy here as well.
Q: What can the international community learn from the experience of past ceasefires, and what should it be doing to ensure this one sticks?
Pham: One would hope that the international community has learned something, but I am not sanguine about it. My concern is that the pressure relents after the signing.
In the lead up to the August 17 deadline, the international community said there would be immediate repercussions if that deadline was not met. Yet when Machar signed the deal but Kiir refused to do so there were no repercussions. Deadlines haven't quite meant deadlines. Consequences haven't been automatic. The international community has yet to send an unambiguous signal that this is intolerable.
In the last two years alone, the government of South Sudan has spent more than $800 million fighting this war. It has imported missile systems and other weapons. This has got to stop.
The Kiir government has run up a debt of over $4 billion, literally mortgaging the future of the world's youngest nation. That debt wouldn't exist were it not for corruption in the government and the purchase of arms for this conflict.
Q: The last time we had a Kiir-Machar leadership combination the country was plunged into civil war. Can the two of them now stick together for the thirty-month period transitional period?
Pham: It depends on what you intend to do with the thirty months. It's not an unreasonable amount of time to organize elections, but elections don't solve any real issues. Elections are, in many respects, just the beginning of a very long process of nation building.
The elections were supposed to already have been held earlier this year. The last time elections were held in South Sudan was 2010, before independence. So this [deal] deprives ordinary South Sudanese of a say and gives the say on how they are governed to the people who have the most guns. The very people who have brought ruin onto this country are being given power, while ordinary citizens' voices are being stifled.
In an ideal world, or perhaps a world interested in more sustainable solutions, the international community would say, "Clearly your mandate has lapsed. You are not recognized as a sovereign government any more." And start from zero, rather than enshrining combatants into power. That would require a great deal more commitment and effort on the part of the international community, which, given various other crises and constrained resources, it is clearly unable or unwilling to make. What we wind up doing is limping from one just-good-enough peace deal to what is, hopefully, another just-good-enough, peace deal, operating constantly on an ad hoc basis, rather than strategically tackling the underlying conflict pathologies.
Q: Is the international community's approach to South Sudan shaped in part by the lack of options when it comes to political leadership in the country?
Pham: I think it's more because of a lack of a willingness on the part of the international community to get truly involved, to summon the political will, and muster the resources needed. The sheer magnitude of the challenge is too daunting.
Q: What signal does this approach send to other countries in the region?
Pham: The signal we are really sending is that if you start a conflict from a position of power—which is what Salva Kiir did—and you have enough arms to keep the fight going, even when your term expires we will give you an extension. It is rather ironic that we accept this in South Sudan at the very moment when we are going around other places in Africa talking about respecting term limits and the virtues of avoiding infinite extensions.
South Sudan has never had a free and fair election for a government as an independent country. What we are doing is effectively saying that the government elected as a regional government within Sudan [Editor's note: South Sudan became independent from Sudan in 2011.] will be allowed to continue as a national government with international recognition years past the period for which people gave them a mandate.
With this latest peace agreement—if it holds—we may be achieving something in the short term in South Sudan, but we are setting a terrible precedent for other places in Africa. An example would be the Democratic Republic of the Congo. The term of the DRC's President [Joseph Kabila] expires at the end of 2016. The constitution is crystal clear: not only is there a two-term limit on the presidency, but that two-term limit may not be amended.
But what happens if conflict breaks out in that country? Here is a guy who is desperately trying to cling on to power. If conflict breaks out are we going to allow him to extend his term? He is doing everything in his power to stoke conflict in the less than eighteen months left in his term, including breaking up provinces.
Q: One of the terms of the deal is the establishment of a Commission for Truth, Reconciliation and Healing to investigate atrocities committed during the civil war. How confident are you in the ability of this commission to carry out its investigation?
Pham: The reconciliation part, on which I think religious leaders in South Sudan have done an amazing job at the grassroots level before the conflict broke out between political elites, should continue. But let's not have investigations ad nauseam.
There was a commission of inquiry set up by the African Union and led by former Nigerian President Olusegun Obasanjo. Its report—a very thorough document—has still not been released. The commission of inquiry report names names; it documents incidents, including the horrific ethnic cleansing of the capital by government forces in the early days of the conflict; and presents a practical agenda for accountability. Instead of launching new investigations, let's first clear the docket by opening up the report we already have and implementing its recommendations—including prosecutions of those who have been identified as being most responsible for war crimes and other violations of human rights law—before expending scarce time, energy, and resources writing still more reports that will only gather dust.
Ashish Kumar Sen is a staff writer at the Atlantic Council.