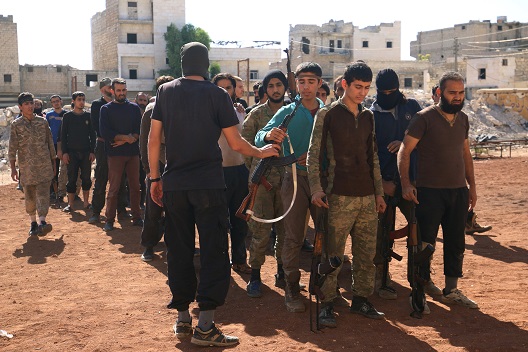 Most opposition leaders in northern Syria understand that there is no escape from a conflict with al-Qaeda. The defining features of this new conflict have started to appear, and include a recent attack conducted by members of Jabhat Fateh al-Sham (JFS, formerly the al-Qaeda affiliated Nusra Front). The Jaysh al-Mujahidin—a moderate opposition group, despite its jihadist name—lost control of most of its military bases in northern Syria, as did the Suqour al-Sham Brigade, a group totaling around 3,000 members who subscribe to a jihadist ideology closely paralleled to that of al-Qaeda.

A source close to Fateh al-Sham said in a phone call that, "members of Fateh al-Sham will not sleep until every voice of opposition, whether near or far, is eliminated." He explicitly threatened to "show people near and far that Fateh al-Sham is not a small faction, and to show everyone that we know who is providing the Americans with the coordinates of our bases and military formations." He concluded that, "those people have dark days ahead."
According to news of the latest ongoing battles within Syria, members of al-Qaeda have seized control of most of Jabal Zawiya, which the opposition captured from the regime in 2012, despite Ahrar al-Sham's presence in the area. Al-Qaeda has not waged war against Ahrar, but it has against all other groups who declared their intention to combat it. These include Suqour al-Sham, Jaysh al-Islam, the Levant Front, the Jaysh al-Mujahidin, and the Fastaqim Union. These groups were unsuccessful in their attempts to avoid a confrontation with al-Qaeda by declaring that they were joining Ahrar al-Sham. A battle against the Jaysh al-Mujahideen began, and al-Qaeda seized their military bases in the countryside regions of Western Aleppo, Idlib, and Latakia. The remaining Jaysha al-Mujahidin fighters announced that they were joining Ahrar al-Sham. Fateh al-Sham subsequently announced that they were going to fight Suqour al-Sham.
"Al-Qaeda will target anyone able to lead action against them. When they finish with the Jaysh al-Mujahidin, they will come for the Suqour al-Sham," said Ahmed Assi, a journalist from Jabal Zawiya. This claim comes against the backdrop of a statement by Suqour al-Sham leader Abu Issa al-Sheikh, who announced a call to arms against Fateh al-Sham, calling them "Fateh of Crimes."
The Syrian Islamic Council, which represents mainstream Sunni ideology, released a three-page statement on January 26, calling for the need to combat what it described as "tyrannical aggressors." The statement described members of Fateh al-Sham as "highway bandits wearing mujahid's robes." The Council cited a verse from the Quran that reads, "fight against the one that oppresses until it returns to the ordinance of God," or, that there is a duty to unite and fight aggressors, even if they are Muslim, until they return to what is right. The statement also highlights the role of civilians, or "the bastion(s) of the revolution," and urges them to stop aggressors by taking to the streets and protecting their bases.
Fateh al-Sham responded to the Syrian Islamic Council's statement the next day by questioning the legitimacy of religious leaders on the Council, and specifically naming them as sheikhs who are far removed from the on-the-ground reality. While the statement was not directly antagonistic, it challenged religious leaders to go inside Syria to understand what is happening, justifying their hostility to opposition groups as fighting a plot hatched against Fateh al-Sham, especially by groups who attended the recent talks in Astana.
The JFS released a statement on January 25, which justified their conflict with the Jaysh al-Mujahidin by blaming the fall of Aleppo on Jaysh al-Mujahidin for having supplies but not joining the fight. Fateh al-Sham accused Jaysh al-Mujahideen of discussing matters of which they were uninformed and unqualified, particularly recent negotiations. They also accused them of having ties to the United States.
Since the release of the JFS statement, more than 15 statements have been released by opposition groups. At the forefront of these groups is Ahrar al-Sham, who intervened, agreeing to unite with groups JFS was targeting. It also released a powerful letter stating that anyone who attacked these groups attacked the movement itself, which is led by Abu Ammar al-Taftanazi, and called on people to take to the streets and prevent fighting. After the statement was released, Nour al-Din Zenki, Liwa al-Haqq, and the Sham Legion all followed suit.
Individual members of these groups are also shifting around because of the increased conflict with JFS. Jihadist cleric Abdullah al-Muhaysini was thrown out by members of Fateh al-Sham when he tried to interfere with the Idlib Central Prison court case. Extremist members of the group had laid siege to the prison for 5 hours after nearly 25 combatants from Suqour al-Sham barricaded themselves within the prison. The siege operation ended when a joint security council, in conjunction with the Jaysh al-Fateh, gained control over the prison. Al-Muhaysini's fatwa prohibits members of Fateh al-Sham from fighting opposition groups, but it has not found support from other extremist members.
Looking internally, Ali al-Arjani (alias Abu Hassan al-Kuwaiti) recently defected from Fateh al-Sham. Arjani is an al-Qaeda legal scholar, and announced his departure on Twitter. Meanwhile, Abu Mariya al-Qahtani called on Fateh al-Sham's fighters to either combat the regime or stay at home, because the the other opposition groups are their "brothers."
So far, the facts seem to indicate that Fateh al-Sham is still strong: there are no data to the contrary, and there have been no divisions in the group's internal structure. The fact that Ahrar al-Sham has not joined alongside the rest of the groups is an additional factor in favor of Abu Mohammad al-Julani, particularly as all other opposition groups have been waiting for this moment that has not yet arrived. This gives members of Fateh al-Sham power and priority in combat, and aims to demolish the opposition forces. Despite claims that there are more than 15,000 combatants between them, the Army of Mujahideen, the Levant Front, and Suqour al-Sham all lack presence in the region. At one point there were in fact 4,000 active combatants with ties to these groups, all of whom aided Fateh al-Sham's combatants in a quick strike.
However, the groups' weak numbers will likely cause them to absorb each other one after the next. The groups continue to refuse joining together, despite being targeted by ongoing offensive attacks. For the past three years, the Nusra Front, and then Fateh al-Sham, have eliminated more than 15 groups who raised the banner of the Syrian revolution, most prominently the Syrian Revolutionaries Front and the Hazem Movement.
Despite an unsuccessful call for a reduction in fighting, Ahrar al-Sham continues to maintain their strength, and even increase it as a result of recruiting new members. This, in turn, helps prepare the group for any potential future conflict against Fateh al-Sham. Meanwhile, other opposition groups within the Free Syrian Army do not dare to directly challenge Fateh al-Sham. In fact, groups like the Free Idlib Army, the First Coastal Division, and Ajnad al-Sham recently released statements of neutrality.
Fateh al-Sham recently announced that it would be merging with other like-minded factions and forming a new "entity, "Tahrir al-Sham." Other groups joining the merge include: Nour al-Din Zanki, Liwa al-Haqq, the Fastaqim Union, the Ansar al-Din Front, and the Sunna Arm. This new entity also includes several individuals that had split from Fateh al-Sham, such as the reformist cleric al-Alyani.
Tahrir al-Sham is led by Abu Jaber Hashim al-Sheikh, a former engineer from the countryside of Aleppo. Notably, Hashim al-Sheikh is a former emir of Ahrar al-Sham, and is known for his ties to current al-Qaeda militants: He recently announced his split from Ahrar al-Sham and new affiliation with Tahrir al-Sham, as did Abu Youssef al-Muhajer, the former military spokesman of Ahrar al-Sham. Several prominent factions have split from Ahrar al-Sham, including the Tamkeen Brigade, which immediately joined Tahrir al-Sham.
The series of attacks launched by members of al-Qaeda, under Fateh al-Sham's cover, have not stopped, despite the formation of Tahrir al-Sham. The most recent attack was on the city of Darat Izza, where militants seized control of the city's courthouse. There was also an attack on the Ibn Taymiyyah Battalion, which is affiliated with Ahrar al-Sham. Ahrar al-Sham has not yet released a statement about the attack.
Fateh al-Sham's latest move was to announce its incorporation into the larger framework of Tahrir al-Sham. Fateh al-Sham has also guaranteed temporary protection from assassination attempts that often target its leaders and military figures. It is likely that Fateh al-Sham is protecting itself from the threat of being targeted in ways that have killed several of its leaders, including Ahmed Salama (alias Abu Faraj al-Masri) al-Qaeda's number two man in Syria.
Internally, this move is seen as another obstacle for Ahrar al-Sham, as the other group that raises the banner of jihad without any links to al-Qaeda. It is accepted in neighboring countries, particularly Turkey and Qatar. With this move, Fateh al-Sham sent a strong message to anyone thinking of confronting it – particularly Ahrar al-Sham. As a result of this maneuver, al-Qaeda has become larger and stronger, and will become an impediment for Syrian revolutionary forces, perhaps more so than for regional or international powers.
Saleem al-Omar is a freelance journalist who has written for Al-Jazeera, Alquds Alarabi Newspaper, Arabi 21, and Syria Deeply.