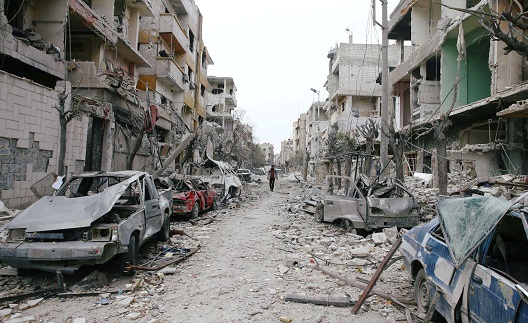 Four-year old Elias sits on the ground in a basement about 200 square meters with nearly 300 other people. He is playing with keys. He pretends that they are rockets falling and sprays imaginary shrapnel everywhere. His father tells me that he is a child and "his war games are already inspired by his reality." There is no ventilation in this basement in Eastern Ghouta and black mold defiles the walls around them, creeping up to a small beam of light from the outside. "We can't breathe. It's like a prison," Elias's father says. Still, he says that unfortunately they became used to bombardment after five years. But this, he says, is different. It is intense and non-stop. The people are exhausted from fear and tension. Every time someone leaves the basement, they are not sure he will return.

In an area less than half the size of the Baltimore, Maryland, nearly 400,000 civilians are trapped as dozens of bombs rain on them daily. Since February 18, the Syrian regime and its allies have pounded Eastern Ghouta with air strikes and artillery, killing at least 520 dead. The numbers are likely much higher given the chaos of the past week and this figure does not included those killed since the offensive began on 4 February. It also does not include the people who have passed away from treatable illnesses and chronic conditions as a result of shortages in medicine, lack of access to health centers during the bombardment, and lack of space in health facilities. Pregnant mothers in labor cannot leave hospitals due to the bombardment or get to medical facilities when they are in labor. Furthermore, 23 attacks on vital civilian infrastructure (hospitals, primary health centers, NGO offices, and Syrian Arab Red Crescent centers) were reported from 19 to 22 February alone. Two centers belonging to the Syria Civil Defense rescue workers, also known as the White Helmets, were damaged by bombardment in Saqba and Jisrein towns.
Some families run to basements or underground shelters for cover. In some areas, civilian traffic has come to a complete halt. However, in most cases, these underground spaces do not protect those inside from a direct hit, which, as the aerial bombardment continues, is more likely every second. Some take their chances above ground, ultimately terrified of being pinned under tons of cement and rubble. They fear being lost forever underground as the chaos overwhelms rescue and medical workers toiling day and night to save lives already weakened by a years-long siege. Using expired medicine and aging equipment, medical staff and civil defense workers try their best to save who they can, often being killed themselves while trying.
Dr. Mohamad Katoub of the Syrian American Medical Society (SAMS), an organization that recently lost two staff members in Eastern Ghouta, states that they cannot even bring patients to the hospital since all moving vehicles or ambulances are being targeted. They lost at least ten ambulances in four days and the Syria Civil Defense are also struggling to bring the wounded to medical points around the enclave. When their hospital in Arbin neighborhood was directly targeted by aerial attacks, including barrel bombs, at least 300 hospital staff and patients were trapped for five hours. SAMS staff outside the enclave could not reach them. This is one of the biggest fears for humanitarian workers and activists: losing communication with and becoming invisible to the outside world.
A de-escalation agreement was signed in May 2017 by countries meant to be the guarantors of such an agreement: Iran, Russia, and Turkey. The Syrian regime used the initial lull in violence to take care of Islamic State-held territory in eastern Syria, but it is now refocusing its energy on the supposed de-escalation zones, including Eastern Ghouta. The guarantors of the deal signed in May have either been unwilling to do anything about the recent escalation in violence or have been active participants in the violence, with Iran and Iranian backed Lebanese Hezbollah providing ground support and Russia providing aerial support to the regime. Turkey has been too preoccupied with efforts to battle the Kurds in Afrin, a region in northwestern Syria, to confront the regime and its allies on their recent incursions into so-called de-escalation zones. Not sharing a border with Turkey, the lives of those in Eastern Ghouta in distant southern Syria are not strategic enough for the Turkish government to object to the violence. Last week, Turkish President Tayyip Erdogan's spokesman Ibrahim Kalin simply warned the Syrian regime not to intervene in the Turkish-led invasion of Afrin.
On February 9, Kuwait and Sweden submitted a draft UN resolution that would have immediately started a 30-day ceasefire and humanitarian deliveries to besieged Eastern Ghouta. Russia first slowed the vote on the resolution and then blocked it with Russian envoy to the UN, Vassily Nebenzia, saying that the resolution was unrealistic and calling media reporting on heavy civilian casualties in Eastern Ghouta a product of "mass psychosis." The answer was expected given the ten previous Russian vetoes on UN resolutions regarding Syria and typical of Russian disinformation campaigns that muddy the reality of everything from high school mass shootings in the United States to the suffering of civilians trapped under Russian and regime aerial bombardment. Some journalists have also taken up the disinformation campaign. Robert Fisk recently undermined the humanitarian disaster by questioning and belittling numbers and portraying the news from Ghouta as a media conspiracy, all the while supporting the regime's (and Russia's) narrative that it is fighting Islamists and blaming the whole disaster on Western governments. As if the mere presence of armed actors somewhere in the enclave somehow allows an army to bomb civilian locations including bakeries, hospitals, civilian homes, and ambulances.
The subsequent Russian amendments to the proposed resolution include numerous loopholes which would allow rebel groups to be targeted. Given that the regime has always said it is only targeting armed groups even as videos and pictures of children in white shrouds appear every day, it is unlikely that a resolution with these amendments would stop the bloodshed. When the watered-down version of resolution was unanimously approved on Saturday by all 15 member-states and to be implemented "without delay", attacks unsurprisingly continued on Eastern Ghouta. Even if the sides do abide by the terms in a way that respects civilian life, it is unclear what would happen after the 30-day deadline was up.
With a weakened army dependent on paramilitary groups and foreign militaries, the Syrian regime must rely on brute force from the sky and siege tactics to beat the people down before it advances on the ground into areas like Eastern Ghouta. With Russian veto power at the Security Council and no country posing a tangible military threat to the Syrian and Russian bombardment of civilian populated areas and vital civilian infrastructure, the Syrian regime and its allies can continue their war on international humanitarian law unabated. Whether or not they will succeed in the near future is no longer the question. The question is how they will hold all the territory that they have no financial means of rebuilding, no viable army to secure, and no legitimacy to govern.
Another question is how to truly end this campaign militarily and secure the future of Syria. There are between 350,000 to 400,000 people in Eastern Ghouta. Even a partial evacuation from the enclave to the northwestern province of Idlib, the regime's dumping ground for unwanted civilians, activists, and fighters, would be an immense and dangerous undertaking. Even smaller evacuations from nearby Aleppo were precarious as Iranian militia groups interfered with the process, shooting at civilians at the outset and kidnapping others on route. Internally Displaced Persons (IDP) sites in Idlib are already congested and facilities such as toilets, showers, and water and sanitation are overwhelmed. Some sites are currently 400% above their planned capacity to serve according to the United Nations. IDPs in Idlib are in need of shelter, food, non-food items, medical assistance and water and sanitation services—in other words, everything.
Even dire medical evacuation cases which have risen to over 1,000 in Eastern Ghouta do not have a safe place to go. Out of the only 29 people that the regime approved to be evacuated in December, nine people refused to go because treatment was in Damascus and no one could ensure their safety in regime held areas. Nine people out of 29 chose certain death over an uncertain fate in regime held areas. This statistic is consequential for the future of Syria. With half the country already displaced, hundreds of thousands killed, and with many of those remaining choosing near certain death over living under the regime, the future of a Syria with an uncompromising Assad at the helm is a hollow, bombed out version of its former self. The Syrian regime and its allies can bomb and starve populations into surrendering. Russia, Iran, and the Assad regime can bask in gaining the upper hand, but battlefield victories at the expense of the civilian population does not a country make.
Natasha Hall is an independent analyst specializing in Syria and refugee and humanitarian crises.