Recent diplomatic escalations and a military build-up in Idlib province indicate a larger upcoming battle. The regime and Russia intend to recover the regime's sovereignty over Syria, and that has always included Idlib. After launching a successful offensive to retake Daraa and Quneitra provinces last month, Syrian President Bashar al-Assad announced that retaking Idlib was his next priority. The Assad regime is increasing airstrikes and shelling in Idlib and its surrounding areas and recently sent troops to the area.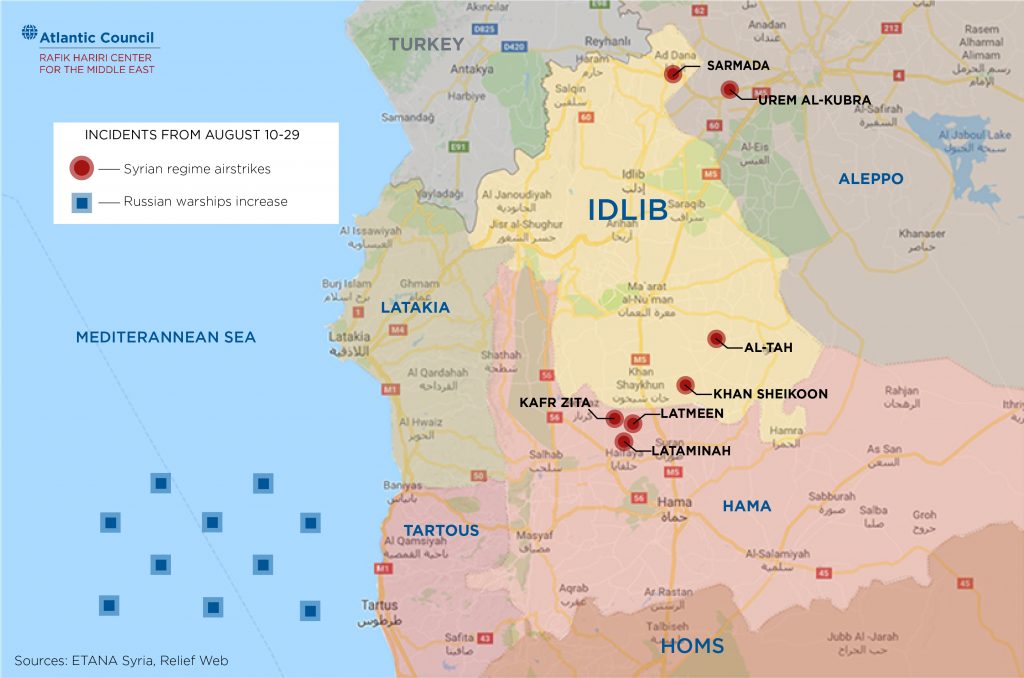 Currently, Idlib contains civilians and opposition fighters displaced or evacuated from fighting in Homs, Aleppo, Hama, and parts of Damascus. Prior to the conflict in 2011, Idlib had 1.5 million residents. Now, its population is approximately 2.5 million people.
In advance of an attack, Russia is stepping up its rhetoric, stating that "terrorists" in Idlib need to be wiped out. Additionally, Russia is increasing its military presence in the region. Russia now has ten warships and two submarines in Syrian waters—its biggest military presence since it entered the conflict in 2015. According to Russian state media, Russia is reinforcing its presence in the Mediterranean with new warships and technology.
On August 29, Turkey's Foreign Minister Mevlut Cavusoglu cautioned against bombing Idlib and creating a "massacre." However, "Turkey's motives seem tied more to the removal of elements of the Kurdistan Workers' Party (PKK) and return of Syrian refugees than to protecting current Idlib residents," according to Atlantic Council's Associate Director Reema Hibrawi. Other analysts share that belief; some expect that Turkey's setup of twelve observation posts across northern Syria is an attempt to expel Kurdish fighters from northern Syria, gain a military foothold in the region, and protect against a new influx of besieged Syrians.
On August 21, France, Britain, and the US issued a statement promising, "to respond appropriately to any further use of chemical weapons by the Syrian regime." More recently on Wednesday, a spokesperson for the US State department expressed continued concern that the Syrian regime may launch a chemical attack in Idlib if opposition forces slow regime advances. US Secretary of State, Mike Pompeo, also took to Twitter to state that the rhetoric from Russia and the regime are indications of an "escalation in an already dangerous conflict." Given the Syrian regime's past use of chemical weapons, United Nations (UN) Secretary-General Antonio Guterres echoed this concern, warning that "any use of chemical weapons is totally unacceptable." Conversely, Syria and Russia suggest that Syrian rebels may stage a chemical attack to force the West to strike Assad—a claim that Russia has made before.
Russia and Syria so far have stated that their actions in Idlib target a hotbed of terrorists. "It is true that framing the offensive as a counter-terrorism operation has public relations benefits for Assad and Russia," says Atlantic Council's Resident Fellow Faysal Itani. "But in truth they both consider any armed opposition to the state to be terrorism and intend to take Idlib, by force if necessary, whatever the ideology of the dominant militias there."
Armed opposition groups are also preparing themselves. There are reports of trenches, tunnels, and artillery troops at potential front lines. Groups even bombed a bridge in Hama to hamper the regime offensive.
Additionally, reports broke on Friday of large civilian protests across Idlib, with many across northern Syria pleading for Turkish protection and denouncing comments by UN Syria envoy De Mistura and threats by Russia and the regime. Adding to the increased tensions, pro-Assad followers are taking to Twitter to arouse more fear using the hashtag "Idlib Dawn," supplied with misleading information, perpetuating false flags, and with many predicting an assault soon.
Ultimately, according to UN Secretary-General Guterres, a large-scale offensive on Idlib could "create a humanitarian emergency at a scale not yet seen" in the seven-year Syrian conflict. Due to influxes of civilians from besieged regions such as Eastern Ghouta, two thirds of Idlib's 2.5 million residents are displaced. According to UN health agencies, a full-scale assault on Idlib could displace more than 700,000 Syrians.
The Russian Navy is expected to begin a major exercise in the Mediterranean on September 1, likely in preparation for an Assad regime assault on Idlib. These exercises are "aimed at deterring the West from carrying out strikes on Syrian government forces," according to Reuters.
Additionally, diplomatic efforts to prevent this impending crisis are ongoing. On September 7, Putin will meet with Turkish President Recep Tayyip Erdoğan and Iranian President Hassan Rouhani to discuss developments in Syria. However, previous meetings have not yielded substantial results.
Timeline:
August 9: The Syrian army dropped leaflets in Saraqib and Kafr Nabl, towns in Idlib province, urging people to cooperate with the state.
August 10-12: The regime carried out airstrikes in Sarmada, Urum al-Kubra, Khan Sheikhoon, al-Tah, and Tahtaya throughout the weekend, causing at least forty-nine civilian casualties.
August 25: Russian Major-General Igor Konashenkov claimed that the USS Ross, a US guided-missile destroyer, entered the Mediterranean Sea. The Russian defense ministry said that more than twenty five warships and support vessels and around thirty planes, including fighter jets and strategic bombers, would take part in a naval exercise in the Mediterranean from September 1 to 8.
August 28: Quoting anonymous sources, the pro-Kremlin newspaper Kommersant said that Russia sent two additional warships and an anti-aircraft missile system to the Mediterranean.
August 29: A source close to Damascus said that Syrian government forces are preparing for a phased offensive in the northwest province of Idlib. The official said that regime forces will target southern and western parts of the territory, staying outside of Idlib city.
August 30: A new fleet of Turkish tanks and armored personnel carriers entered Idlib. Syria's Foreign Minister, Walid al-Moallem, stated Syria will go "all the way" in Idlib. He added that Syria will try to avoid civilian deaths.
August 31: Cavusoglu discusses Idlib with Russian President Vladimir Putin.
It is still unclear when this offensive will occur, but it is unlikely that diplomatic relations and humanitarian outcries will halt the regime and Russian plans to strike Idlib. What remains to be seen is the extent of involvement from Western powers and Turkey as Russia and the regime ratchet up tensions to call their bluff.
Rachel Rossi and Aisha Han are interns with the Rafik Hariri Center for the Middle East at the Atlantic Council.