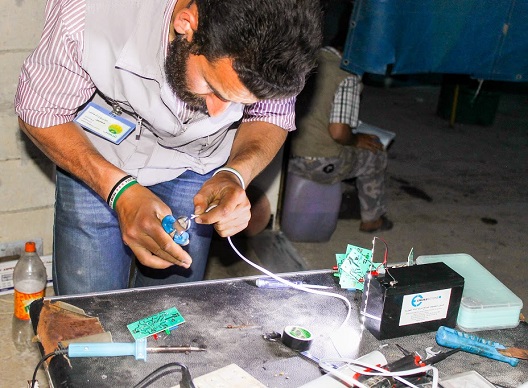 All parties in the Syrian conflict have used siege tactics to destroy infrastructure and force opponents into submission; a tactic predominantly used by the regime and its allies. Meanwhile, civilians in besieged areas struggle to find alternatives sources for essential services such as waste disposal, potable water, and electricity. With the support of local opposition councils and civil society organizations, Syrians have developed alternative energy sources, including solar energy and biogas, and also rediscovered traditional sources of fuel such as pomace.

Sustainable energy solutions merit support from international actors, because they provide for people's basic needs, reduce the ability of the regime to use siege tactics against civilian populations, and weaken the Islamic State (ISIS) by reducing the dependence on fuel from its territory.
In November of 2012, the regime cut off electricity and fuel from the city of Douma, which then had a population of 200,000. It is now estimated at 138,500 as residents have fled to other cities. Ahmad Taha, a member of the elected opposition Douma local council recalls, "Many of the engineers, technicians, and other eager individuals were trying to generate electricity using very basic mechanical techniques. One such effort was done by a friend of mine, in which he gathered heavy balls made out of steel and copper and tried to invent a wheel which uses gravity to wind itself once one loads it with the balls. Of course it didn't work out." Ahmad explained how people started turning to basic and easy solutions such as solar stoves, "a month later, one would see hundreds of household satellite dishes scattered across the roof tops of buildings, slightly modified to become reflective solar stoves. It felt like the age of enlightenment."
These were the early attempts to find substitutes for electricity, but they still had a long way to go. The crude solar stoves, for instance, did not function without near-direct sunlight—when it is cloudy or during evenings and nights. The Douma Local Council decided to try biogas solutions. They started with a simple pioneer project consisting of a rectangular pool in which they would put all the bio materials. Hearing that this might provide an additional source of fuel to them, local residents were enthusiastic to participate in this project. Ahmad said, "One day, on my way back home, I met three farmers who recognized me and told me that they had found a dead animal on the street so they dragged it and threw it in the pool." The biogas system worked. In 2014, the local council was able to generate biogas, and used it to operate water pumps and provide potable and irrigation water for the area.
After this initial success, the local council wanted to see if they could find a way to provide electricity to individual homes as well. They decided to try a simple application that uses cow manure. Ahmad describes the first experiment, "One of the farmers volunteered. We filled half of a barrel with manure, and waited for a few days. The farmer called me and told me that the barrel had exploded and that the feces are scattered across the roof. But I was happy, this meant that it was working, and now we could go ahead and design better versions that could be easily replicated."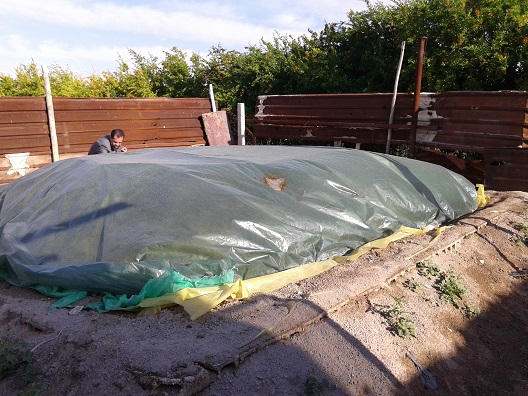 In addition to crude solar stoves and biogas, generating electricity by cycling became a widespread solution. Many car and bike maintenance shops switched to bicycle generators to generate income, and bikes in the living room become a familiar sight. Civil society organizations and local councils have encouraged biogas and electricity generation by cycling to provide for people's basic needs, but they are also defying the Syrian regime's siege on Douma and other areas.
In the year of 2012, Tammam Jamous, an activist from the southern city of Daraa and a board member of Ghosen Zaitoon organization, learned that he was wanted by the Syrian regime intelligence forces. He fled to Daraa and hide in the village of Tseel (west of the city). "If I was detained by intelligence forces, I would be tortured and I might face death in the detention centers. I chose Tseel because of the nearby woodland so I could have some peace of mind by taking a walk there." The same day he arrived at Tseel, he went to see the woodland, only to discover that the entire 14 square kilometers (5.4 square miles) of woodland had been cleared for lumber and fuel. "The first moment was one of shock and pain, I had many great memories in this woodland."
Upset at the destruction of the woodland, Tammam decided to find an alternative to logging. With his colleagues at Ghosen Zaitoon, he decided to bring back a traditional solution for fuel for heating and cooking: using pomace, which is the remains of olives after pressing them for oil and locally known as 'beerin.' The pomace can be shaped in small blocks and dried under the sun. "Daraa region is rich with olive trees. There are approximately eight trees per capita. We started producing and selling, and gradually we were able cover the costs of production. We are now becoming more independent. The irony is that even traders from regime controlled areas are buying pomace from us." Members of Ghosen Zaitoon first used personal funds to run the project, but later won a grant from an NGO to keep the project running. "I keep saying that our brains are the main renewable source of energy: if we keep thinking right, we're going to cover all of Syria's energy needs without needing to be fuel-dependent. Now there is no excuse for loggers to clear the orchards and woodlands anymore."
Omar al-Ismail from Takamol NGO was a student at the School of Medicine in Homs when he was forced to move with his family to the city of al-Qusayr in 2012. Like many of his colleagues, he volunteered in field hospitals to treat civilians injured in Syrian regime and Hezbollah attacks. "It was bearable until the regime cut the electric supply from the city. The medical ventilator in the field hospital stopped working, leading to the slow and painful death of injured adults and children." Following the regime and Hezbollah's capture of al-Qusayr in 2013, Omar and his friends, who were also active members of the Homs City Council, moved to Turkey.
Yet for Omar, the scene of ventilators running out of energy was the incident that triggered his small project "Shams" (meaning Sun in Arabic). Omar and his colleagues decided to promote renewable energy by starting with a small and easily affordable project. "Displaced families receive food and detergent baskets, sometimes each of the baskets would cost about $60, so we went to the families and asked them if they were okay with replacing one food basket with 'something else.' We told the families it's going to be a surprise gift, and most of the families agreed. The next week, we went back to the families with small, 20 watt solar power kits. Each kit would generate enough energy to light their houses, and more importantly, each of the kits costs less than $60." In the first stage, the Homs Local Council designed and funded the kits and had them locally assembled. The families welcomed the replacement, some even asking Omar and his friends not to bring food baskets anymore and replace them with other similar useful kits. The kits partially replaced the noisy and pollutant diesel generators and saved the families cost of oil and gas. Takamol organization provided solar kits for dozens of families in 2014, but Omar thinks that Shams is a success that needs to be expanded and replicated in other areas.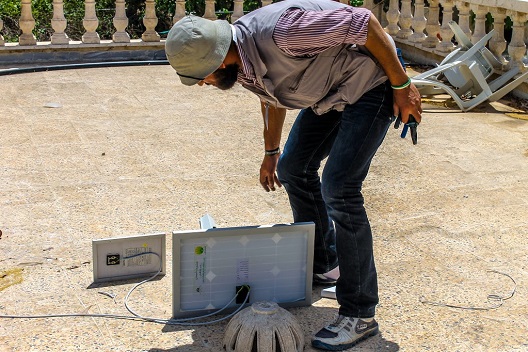 "I stand near the fence of the occupied Golan Heights, watching the windfarm which the Israelis erected on the occupied Golan Heights, and wonder whether we will have a similar project on our side of the border at any time in the future," said Ahmad Darwish from Madad Organization. Madad operates in Qunaitra, south of Damascus. Along with many other Syrian organizations in the liberated areas, Madad faces many challenges including local communities simply not being aware of renewable energy solutions and lack of funding from donors. "Donor agencies usually focus on fuel generators, even though they know that both liberated areas and regime controlled areas depend on poorly refined fuel coming from ISIS controlled areas," explained one activist. "By sending fuel generators to local councils, donor agencies are unintentionally supporting ISIS. Thus, promoting renewable energy systems in FSA controlled areas is a form of resistance against ISIS and the regime at the same time."
Amr al-Faham works at Syria Recovery Trust Fund. He has worked at different international and regional organizations in Syria, Iraq, and Turkey. He holds a masters in resource and environmental management from the Lancaster University and a Bachelors in civil engineering from Damascus University.