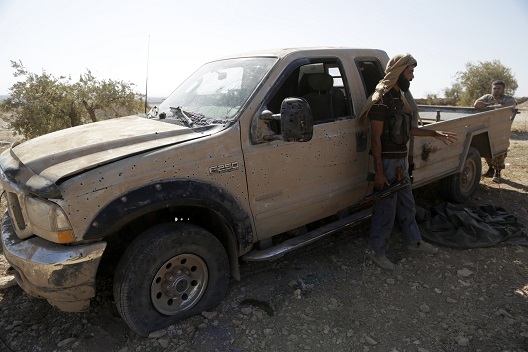 The regime retaking east Aleppo and decreased support from Turkey for Syria's rebels is having a deep impact on Syria's Salafi-jihadi scene. In the last couple of weeks, several statements, leaks, and information from other Islamist groups point to internal struggles in Ahrar al-Sham and Jabhat Fateh al-Sham. In both cases, the power struggles within the two groups may herald a wave of break-ups and could hinder the two groups' ability to work together. More broadly, these internal struggles could be followed by a reconfiguration of the Syrian Salafi-jihadi scene.

Early this month, hardliner figures within Ahrar al-Sham announced the creation of a new faction within the movement calling itself Jaysh al-Ahrar under the leadership of Ahrar's former leader, Abu Jaber Sheikh. Yet the split was not recognized by the group's new leader Ali al-Umar, known also as Abu Ammar al-Omar, who denied having any prior knowledge of the formation. It was also denounced by a group of 12 influential clerics demanding that Jaysh al-Ahrar pledge allegiance to the parent organization's leader (Ali al-Umar) and allow itself to be reincorporated into it.
The split comes on the heels of the election of Ali al-Omar as Ahrar's new leader in November 2016, after the end of Mohanad al-Masri's (Abu Yahya Hamawi) one year term, as mandated by Ahrar's bylaws. According to an advisor of the Syrian rebels speaking on the condition of anonymity, hardliners such as Abu Muhammad Sadiq and Abu Salih Tahan endorsed Hashem al-Sheikh's (Abu Jaber's) bid for a second term, while members of the pragmatic wing supported that of Kinan Nahas, the brother of Labib Nahas, who heads the organization's political relations bureau, and is known for his "dovish" stances. Hardliners endorse a global jihadi ideology, while the pragmatist emphasize the Syrian revolution and want open lines of communications with foreign powers.
A compromise resulted in the election of Ali al-Omar, who was supported by Kinan Nahas, Abu Azam Ansari, Abu Anas Saraqib, Abu Yehya Ghab, Labib Nahas, Eyad Shaar, the last being one of Ahrar's original founders. Just before the election, eight members of the the Shura Council, all considered to be hardliners, suspended their own membership in the council in protest. The eight members are Abu Jaber al-Sheikh, Abu Salih Tahan, Abu Mohammad Sadiq, Dr. Abu Abdullah, Abu Ali Sheikh, Abu Ayyub al-Muhajir, Abu Abdullah al-Kurdi and Abu Khuzaymah al-Falistini.
Several reasons may explain the growing escalation between the hardliners and pragmatists within Ahrar al-Sham. The fall of Aleppo has revived old rivalries within the group, each side blaming the other for the massive losses the opposition has incurred in the last few months. The divisions were exacerbated when the pragmatic wing realigned itself to work with Turkey, as evinced in the "fatwa war" that occurred in October after Turkey launched its Euphrates Shield operation. A tacit understanding between Turkey and Russia has allowed for the emergence of the Turkish Euphrates Shield operation, which includes a force comprised of Syrian opposition groups including Ahrar al-Sham focusing on fighting the Kurds and the Islamic State (ISIS) instead of the Syrian regime. Another reason resides in the fact that contrary to Ahrar al-Sham's hardliners, members of the pragmatic wing favored political relations with the West. Labib Nahas had launched a campaign to do just that in 2015, even publishing op-eds in international papers. Pragmatists also prioritized supporting the revolution and cooperating with the Free Syrian Army (FSA) over firebrand global jihadism adopted by hardliners. The latter apparently pushed in previous months for a merger between Ahrar al-Sham and Jabhat Fateh al-Sham, according to a recent piece published by Aron Lund for Carnegie.
Ahrar al-Sham is not alone in facing significant political challenges as the opposition loses ground in Syria—Jabhat Fateh al-Sham is also confronting its own internal struggles. "Confusion appears to be reigning over Jabhat Fateh al-Sham. We are hearing of mass defections of hardliners such as the Jordanian nationals Dr. Sami Oraydi, Iyad Tubassi (Abu Jalabib), and Abu Khadija al-Urduni (Bilal Khuraysat); others who disagreed with the break of the Nusra Front from al-Qaeda and its rebranding as Jabhat Fateh al-Sham; and still others who appear to be attempting to form a new group," says Hassan Dgheim, a Syrian cleric close to the rebel groups. This month, the Syrian Observer reported that some of these members split from their parent group and formed a new group called Taliban al-Sham under the guidance of the influential Jordanian cleric Sheikh Mohamad Maqdessi. Whereas Jabhat Fateh al-Sham had formed to officially break ties with al-Qaeda, Taliban al-Sham declared fealty to Ayman al-Zawahari, the head of al-Qaeda.
Two other dynamics are at play here also suggest that we are seeing a split between hardliners and pragmatists. First, Fateh al-Sham's leader, Abu Muhamnad al-Julani, suggested to the Islamist opposition to merge under his leadership, a proposal dismissed even by Islamist groups such as Jaysh al-Islam, Ahrar al-Sham, and Nouriddin al-Zinki. The failure of this initiative is leading hardliners to look for another means to unite.
Second, according to Dgheim, several influential figures have defected from ISIS, including Abu Samir and Abu Thar al-Tunisi, and they have attempted to relocate to Idlib. Syrian opposition websites also report that at least five leaders within ISIS have left for Idlib, but, Dgheim says there is no information as to their present whereabouts. One of ISIS defectors believed to have fled to Idlib is Abu Thar al-Tunisi. He is a former Nusra Front military commander and he appears to be accompanied by four ISIS commanders (emirs), including Bilal Shawish, who is also a former member of the Nusra Front who defected to ISIS in 2014.
These significant shifts on the Salafi-jihadi scene may result in a weakening of Syrian jihadi groups. As Aron Lund rightly pointed out in his recent analysis of Ahrar al-Sham, "Unless the Jaysh al-Ahrar dissidents can demonstrate that they are much stronger on the ground than in the Shura Council, it seems likely that their bid for power will fizzle out and evolve into a mutually damaging stalemate." Such a result would deal a major blow to one of the opposition's largest and most effective fighting groups.
Depending on how the Salafi-jihadists sort themselves out, we could also see a reconfiguration of the larger military scene, with possible regrouping of hardliners on one side and pragmatists on the other. A more pragmatic Ahrar al-Sham could appeal to other Islamist and FSA groups in northern Syria. Another possibility would be the current rivalry in Ahrar al-Sham pushing the hardliners to join forces with the more moderate wing of Jabhat Fateh al-Sham, while Fateh al-Sham's hardliners rally behind the ISIS defectors. Such trends would result in the expansion of the Salafi-jihadi spectrum, complicating an already complex rebel scene.
The fall of Aleppo and regional repositioning in northern Syria will not be without massive ripple effects on the Syrian rebellion, which appears to have opted for now for competition over cooperation.
Mona Alami is a Nonresident Fellow at the Atlantic Council's Rafik Hariri Center for the Middle East.