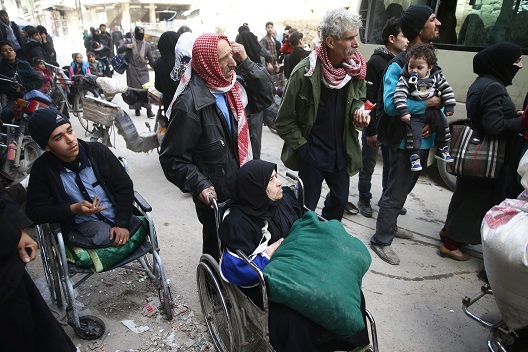 A new chapter began in Eastern Ghouta, part of Damascus governorate, on March 22. The government-imposed siege ended in certain towns and Syrian regime forces seized control of areas through a negotiated agreement between the Syrian regime and its Russian ally on one hand and opposition factions—the Rahman Corps and later Jaysh al-Islam—on the other. The terms of the agreement allowed the regime to begin forcibly displacing people from their homes.

Before the regime's displacement of its residents, Eastern Ghouta was home to about 400,000 people. They lived under siege where they lacked basic necessities and used underground tunnels to smuggle goods throughout Eastern Ghouta. Most hospitals in the area faced a shortage of medical supplies due to the Syrian regime's blockade and a lack of doctors which limited their ability to treat injuries by air strikes. This siege continues to this day throughout Eastern Ghouta despite sporadic reconciliation agreements between the regime and the opposition.
Civilians and opposition forces in the south of Eastern Ghouta were the first to leave; with Harasta, Arbeen and Hamouriya among the first towns to be evacuated. Evacuations then took place in Jobar and most recently Douma. Buses carrying internally displaced people (IDP) then continued to the town of Qalaat al-Madiq in the Hama countryside, a drop off location from which they could plan where and how to start a new life.
After reaching its agreement with the regime, Jaysh al-Islam left for Aleppo's Northern countryside. It is likely that members of this opposition group ended up in Aleppo as opposed to Idlib, unlike other Eastern Ghouta residents due to disagreements between them and Hayat Tahrir al-Sham and Jabhat Tahrir al-Sham, who control Idlib.
According to the "Response Coordinators," a local group of Syrian activists working on documenting incidents in Idlib, Aleppo, and other areas in in Northern Syria, the city of Idlib has taken in 51,553 people from the Damascus countryside over the past month. They came from al-Qaddam, Harasta, Arbeen, and parts of Douma in Eastern Ghouta. The majority of the displaced settled in Idlib and its countryside except for the people of Douma. They headed towards Syria's north—specifically the areas controlled by the Turkish-backed Euphrates Shield, in the northern Aleppo governorate.
Media activist Obeida al-Omar says Idlib's local residents found housing for the displaced, whether in abandoned houses or with families able to accommodate them. "After families from Qalaat al-Madiq came to Idlib, they settled in the countryside and the city of Idlib, especially in the cities and towns of Maarrat al-Nu'man, Kafr Nabl, Binnish, Kafr Ruma, Hafasraja, Salqin and Ariha."
"It was a bittersweet moment as the people of Idlib received the displaced, who grieved as revolutionaries, with high hopes of overthrowing the regime, but also relieved at surviving several years of siege," he said.
"The collection and distribution of aid to the displaced is ongoing. The local councils, families, and humanitarian organizations coordinated as a single unit to address and manage the needs of the displaced."
Dr. Mohammad Fadel, a doctor with the Syrian American Medical Association (SAMS) said, "There was a great deal of sympathy and welcoming from the people of Idlib, who feel for the people of Ghouta, that were besieged for five years. Fast food shop owners offered their food to the displaced free of charge and clothing shop owners offered them free clothing as well."
Medical and humanitarian organizations—such as SAMS, the White Helmets, the Syrian Arab Red Crescent, and others—remain on high alert for the town of Qalaat al-Madiq in Hama province; an area between territories controlled by the regime and the opposition.
"All medical facilities in Idlib and its suburbs are on alert to receive patients and injured people from Eastern Ghouta," Dr. Fadel said, adding that medical care is given to IDPs free of charge.
According to sources in Idlib hospitals, several patients from Ghouta—especially children—suffer from malnutrition caused by a lack of food and medication, resulting from years of siege.
This complicates the challenges medical facilities in Idlib face treating the displaced and their children. It also increases the urgency for humanitarian relief operations—including the delivery of medical supplies and equipment—from across Turkey's border to support Syrian organizations.
This author spoke to SAMS, who responded to sixty medical emergencies between March 24 and April 2 for Ghouta's IDPs; the majority displaced to Idlib. Its hospitals in the city and its countryside carried out 132 major surgeries and 512 minor surgeries; with operations ongoing.
Some of Douma's IDPs in Idlib were relocated to the Aleppo countryside; displaced again due to a lack of capacity. Media activist, Jalal Talawi, details their arrival to the city of al-Bab, in northeastern Aleppo. "The first group arrived at al-Bab from the Abu al-Zindin crossing; west of the city. About 1,100 people arrived first, then 1,200 people, and then another 630," he said.
"Upon arriving at the crossing, they were received and delivered to a camp located in the village of Shabiran in Aleppo governorate; which is a temporary accommodation center equipped with amenities," he said. "Food and drink were distributed directly. The White Helmets, al-Bab's emergency teams, and all organizations permitted to work on the ground were present."
Talawi himself was displaced. He first left his home in the Old City of Homs to the neighborhood of al-Waer, and again in May 2017, leaving with the last besieged group of forcibly displaced residents. He resettled in al-Bab after its liberation from the Islamic State (ISIS).
When Talawi first arrived to al-Bab, the city had practically been reduced to rubble, and lacked basic services. The displaced were left to fend for themselves with few resources and little to no assistance. Overall, the situation is now somewhat better as more people arrive and the city slowly rebuilds and life returns. "We received them openly so that they would not face what we faced when we were displaced," Talawi said.
"[When people first arrived,] it was joyful. The residents of al-Bab showed lots of love for the people of Ghouta and the other IDPs from Homs, Deir Ezzor, Raqqa, Abu Kamal, and Aleppo."
The situation in Aleppo's northern countryside, where Ghouta's displaced have settled, is similar to that of Idlib. According to Talawi, they were given free medical services, donations, discounted goods at shops, and discounted internet service.
The displaced from Eastern Ghouta are now attempting to settle in new areas they were unable to choose for themselves. The destinations for Eastern Ghouta's IDPs come as a direct result of the agreement reached between Jaysh al-Islam and the Syrian regime. The plight of civilians in Eastern Ghouta remains dire as those still there are trapped between Jaysh al-Islam, negotiating on their behalf without their consent, and the Assad regime. More reconciliation agreements are expected along with more convoys of displaced residents to other parts of the country as the regime consolidates territory and control in the capital.
Hasan Arfeh is a media officer for the Syrian American Medical Society (SAMS), and based in Turkey.