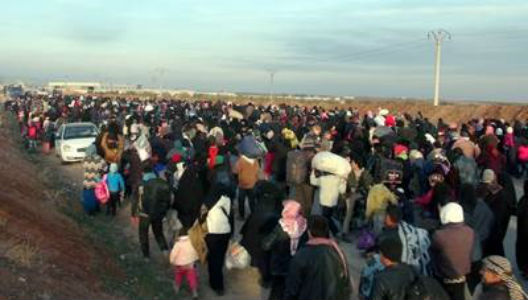 Four years of siege and starvation have forced remaining civilians in the Syrian city of Darayya to negotiate with the regime and accept being forcibly displaced in exchange for their lives. The city, which five years ago was home to 250,000 people, is now empty, just like so many other regions in Syria that have been devastated by forced migration tactics for political or sectarian ends.

Since the Syrian conflict began in 2011 with demonstrations demanding the resignation of President Bashar al-Assad, Assad has used different tactics to confront regions that have fallen outside of his control. In some of these regions, he has sought to engage in reconciliation, while in others he has deployed military tactics—using excessive force against opponents who reject his hold on power and laying siege to entire towns and cities.
According to UN figures, 700,000 people are currently living under siege in ten different regions across Syria. The regime's forces and militias besiege seven of those regions, including, most prominently, neighborhoods of Eastern Aleppo, towns in Eastern Ghouta, and the countryside north of Homs. Opposition forces besiege two towns loyal to the regime, Kufriya and Al-Fu'ah, while ISIS besieges neighborhoods in Deir Ezzor—a city under regime control.
After five years of conflict, many observers believe the Syrian regime has finally begun to reap the benefits of its siege of cities and neighborhoods outside of its control. It has rid them of opposition, changed their sectarian makeup, and brought in other groups that conform with the regime's policies and desires. This happened recently in Darayya and is currently occurring in Muadamiyat al-Sham, outside of Damascus, and the neighborhood of al-Waer in the city of Homs. Many fear that Assad's strategy of forced displacement and demographic change will also be directed towards the city of Aleppo in northern Syria—home to nearly two million people before the war began. Now, less than 300,000 people remain in the besieged city, where they suffer from starvation and daily bombings.
Neighborhoods in Homs' Old City experienced the first stages of Assad's forced displacement tactic. The two-year siege of the city ended on April 4, 2014 with a Russian-sponsored agreement between the regime and opposition. The agreement stipulated that 2,250 combatants, as well as civilians who had lived under siege with them, would be forced to leave the city and relocate to the northern countryside.
According to Ya'rub al-Daly, a journalist and activist from Homs, this agreement resulted in the regime's opponents being evacuated from the city and regime loyalists brought into the city in their place. The population of Homs dropped from 1.5 million before the beginning of the Syrian revolution to about 400,000 at present. Nearly 65% of the city's original residents have been displaced to neighboring countries and Idlib Governorate.
In another case, residents of al-Zabadani, a city west of Damascus with a population of 25,000, were also evacuated under an agreement between opposition forces and Iran earlier this year. The agreement stipulated that combatants and their families had to leave the city for Idlib Governorate and that al-Zabadani was to be handed over to Hezbollah-affiliated militias.
This same displacement scenario has occurred in numerous other regions of Syria. After enduring a four-year siege, residents of the city of Darayya, as well as some residents of Qudsayya on the outskirts of Damascus, began to be transported via UN convoy to Idlib Governorate last month.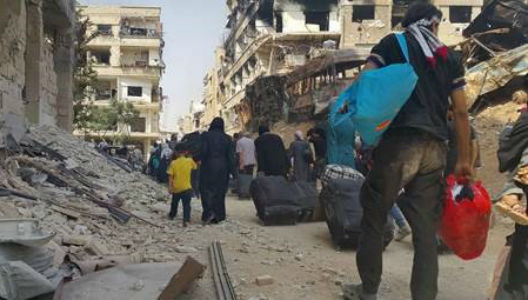 Photo: People carry their belongings before being evacuated from the besieged Damascus suburb of Daraya, after an agreement reached between rebels and Syria's army. SANA/Handout via REUTERS
Russian statements have confirmed the occurrence of forced displacement. A few days after the Syrian regime's siege of neighborhoods in Eastern Aleppo on July 17, Russia proposed a plan to evacuate residents from the city. On July 28, Russian Minister of Defense Sergey Shoygu stated that Russia was working in cooperation with the regime and would be launching a broad-reaching "humanitarian" operation in Aleppo in order to help civilians—who he described as "hostages of terrorists"—leave the city. He noted that four passageways out of the city had been opened, three for civilians and one for combatants.
Displacement is a way for the regime to achieve victory in both the short and long term. Members of the Syrian political elite and activists in the opposition have expressed their fears of demographic change as a result of this tactic. It is primarily employed around the capital of Damascus, Aleppo, and Homs—the regions Assad sees as "useful Syria." This method ensures that Assad controls enough contiguous territory to call himself president of Syria and guarantees him a base of popularity, even if he is unable to control the entire country.
Dr. Riyad Naasan Agha, a member of the High Negotiations Committee of the Syrian Opposition in Geneva, has said that "the Syrian regime intends, through this tactic, to expel residents of areas around Damascus, and replace them with Shiite settlers from Iran, Iraq, and Afghanistan, who will take over land, homes, and property that does not belong to them."
Agha also points to Iran's intervention in direct negotiations a year ago, when it insisted on implementing demographic change between the region of al-Zabadani, which has a Sunni majority, and Shiite towns of Kufriya and al-Fu'ah near the city of Idlib.
On the other hand, dissident writer Walid Agha believes the political purpose of displacement is to relocate each side's supporters to areas under their control. For example, the regime evacuated opposition members from areas around Damascus and Homs and moved them to the opposition forces' stronghold of Idlib. Meanwhile, it recruited loyalists besieged in the towns of Kufriya and Al-Fu'ah and moved them to Damascus.
Walid Agha believes there are openly-discussed indications that the country will be divided. Each side is trying to establish authority in regions under their control and ensure they have no opponents in their respective regions.
When the regime establishes and strengthens its control over these regions and the opposition becomes concentrated in Idlib Governorate, the latter can then be eliminated. Agha argues that the regime has adopted an old Russian strategy used in Grozny, capital of the Chechen Republic. It is gathering the opposition in a single region "to be published and destroyed, eliminated under the pretext of 'combatting terrorism,'" in what he calls "a fly trap." The regime and its Russian and Iranian allies have demonstrated that in such a situation, they would not differentiate between civilians and the military or between moderates and extremists.
Syrian civil society activists aligned with the opposition launched an extensive campaign on September 27 of this year that included demonstrations in Aleppo protesting against forced displacement. Activists expressed their fears that Syria would be divided and "turned into sectarian cantons."
The regime has cleverly played the international community and thwarted UN assistance. The United Nations has not been able to stop the regime's siege and starvation tactics, despite the international humanitarian laws that forbids them. Moreover, the regime has exploited the United Nations' role in transporting people when a local agreement or truce is signed in order to ensure transfer of population.
According to Syrian human rights researcher Safwan Najjar, since displacement began in 2013, the United Nations has been no more than "a middleman in these operations." Despite adopting several binding resolutions—including, most recently, Resolution 2254—the Security Council has been unable to deliver humanitarian aid to areas under siege. As a result, civilians have been forced to surrender to the regime's displacement tactics for fear of starvation.
Najjar points to how weak the United Nations proved to be during recent events in Aleppo, when a delivery of humanitarian aid intended for besieged areas was hit by Russian airstrikes—the Security Council was unable to take any action to force Russia and the Syrian regime to allow the United Nations to deliver aid.
"When people's conditions deteriorate in Aleppo, we'll see the United Nations intervene to play the role of middleman, expelling residents from their home regions instead of delivering aid to them," says Najjar says. "This shows the negative role the United Nations currently plays in the Syrian crisis and its inability to force the regime to carry out international resolutions."
Najjar notes that according to reports published by human rights and humanitarian organizations, there are now nearly 6 million Syrian refugees and more than 8 million internally displaced persons within the country, making Syria currently the largest crisis of displaced persons in the world. Indeed, a Pew Research Center report on refugees states that "about six-in-ten Syrians are now displaced from their homes, a number unprecedented in recent history for a single country." Handicap International, based in France, argues in a study from this month that extensive bombing, rockets, and shelling [is] the overriding factor behind this wave of displacement that characterizes the Syrian war.
Hosam al-Jablawi is a Syrian citizen journalist.