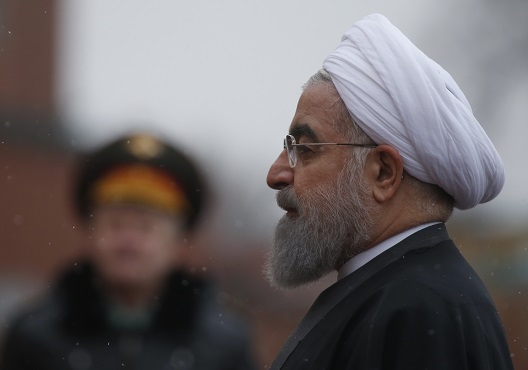 As Iran's new ambassador to Damascus, Javad Torkabadi, submitted his credentials to Walid al-Moalem, Syria's Deputy Prime Minister and Foreign Minister, Iranian president Hassan Rouhani scored a small, but notable, and much needed tactical victory over the extraterritorial operations Quds Force of the Islamic Revolutionary Guards Corps (IRGC QF).

Since Ambassador Mohammad-Reza Raouf Sheibani's appointment ended abruptly on October 6, 2016, the Quds Force leadership has tried hard to impose its candidate on Rouhani.
On December 7, 2016, the Quds Force activated its parliamentary supporters: Seyyed Sadeq Tabatabaeinejad and nine other parliamentarians took to the podium to ask Foreign Minister Zarif why a new ambassador had not been appointed to Damascus. On December 11th, the same group of parliamentarians launched a second wave of attacks in an open letter accusing Zarif of forsaking Ambassador Sheibani "in the trenches of the frontline [in Syria]."
There is also some indication that the Islamic Republic's embassy in Damascus was not the only point of contention between Rouhani and the IRGC.
On December 2014, Seyyed Hossein Niknam, former charge d'affaire at the Islamic Republic Embassy in Baghdad, Iraq, was appointed Ambassador to Yemen. Niknam has not been to Yemen because of the "impossibility of traveling to this country," which leaves the embassy under the direction of the Iranian charge d'affaire in Sanaa. The Iranian press however, openly speculates about how the charge d'affaire manages to fly fourth and back to and from Sanaa while the Ambassador is incapacitated.
Additionally, the Islamic Republic Embassy in Oman, which was heavily involved in facilitating backchannel diplomacy between Tehran and Washington, is facing a similar challenge. Since the end of the mission of Ambassador Ali-Akbar Sibevieh, the Iranian charge d'affaire directs the embassy.
It is quite possible that Rouhani, in the face of competition from IRGC QF, preferred to keep the embassies under the Iranian charge d'affaire's direction rather than appoint an IRGC QF officer as ambassador.
Finally, on December 31, 2016, Rouhani appointed Torkabadi as ambassador to Damascus, but that choice came with a price: On January 15, 2017, Rouhani appointed Brigadier General Iraj Masjedi, senior adviser to Major General Qassem Suleimani, Quds Force chief commander, as ambassador to Baghdad.
Torkabadi is an important asset for Rouhani and his technocratic camp in Tehran. On the surface, Torkabadi is an Iranian career diplomat with previous postings in Kuwait, Bahrain, Nigeria, and Sudan. But he has also gone through the radical to pragmatic metamorphosis characterizing an entire generation of Iranian diplomats.
In 1979, Tork-Abadi was a student of Mechanical Engineering at the Science and Industry University. He apparently was involved in student politics in the same group as future president Mahmoud Ahmadinejad, who was then the leader of revolutionary students at the university. As student representatives from different universities were planning the seizure of the American Embassy in Tehran, Ahmadinejad and the Science and Industry University opposed it and suggested seizure of the Soviet Embassy, since the Soviets, on top of being imperialists, were also "godless."
However, as the seizure of the American Embassy unfolded, Torkabadi became involved in it, and made a career for himself out of the hostage taking. Torkabadi has since tried to hide his past involvement in hostage taking of American diplomats in Tehran.
The details of the early phases of Torkabadi's diplomatic career are not known, but he seems to have shifted his loyalty to Hojjat al-Eslam Akbar Hashemi Rafsanjani, then parliamentary speaker and later president, which secured Torkabadi an ambassadorial tenure in Kuwait in 1989. Iran and Kuwait had very poor relations during the Iran/Iraq war, and Rafsanjani needed a competent Iranian diplomat to improve relations with that country after the war.
There is also clear evidence of Rafsanjani—and thereby Rouhani—trusting Torkabadi: on two occasions, there are references to Torkabadi in Rafsanjani's memoirs as his preferred "Arabic interpreter." Even at a time when Torkabadi was ambassador to Bahrain, Rafsanjani included him in a delegation to Damascus to take part in secret negotiations with Hafez al-Assad. Rouhani, then Supreme National Security Council secretary, was also present at that meeting.
Torkabadi was an effective ambassador in most of his postings and managed to improve and upgrade relations with Nigeria and Sudan, and organized several presidential level visits to those countries. In Syria, he is not only likely to serve as a capable diplomat, but will also be Rouhani's eyes and ears providing the president with information about the rival faction: The Revolutionary Guards.
Interagency rivalry between the Office of the President and the IRGC QF over appointment of ambassadors to strategically important missions abroad is nothing new. In Jafar Shir-Ali-Nia's 2016 monumental Revayati Az Zendegi va Zamaneh-ye Ayatollah Akbar Hashemi Rafsanjani (An Account of the Life and Times of Ayatollah Akbar Hashemi Rafsanjani), the late Expediency Council chairman openly complains that the Quds Force imposes its officers as ambassadors in the Middle East region, which in his opinion "hampers our diplomacy."
In this light, Rouhani appointing Torkabadi as ambassador to Syria seems like a tactical victory. Rouhani may not be capable of outmaneuvering the IRGC when it comes to Iran's overall foreign policy decision-making, but by taking a fight over the ambassadorial appointment to a strategically important Iranian embassy, Rouhani managed to have his own man as the head of that mission.
Ali Alfoneh is a nonresident senior fellow at The Atlantic Council.