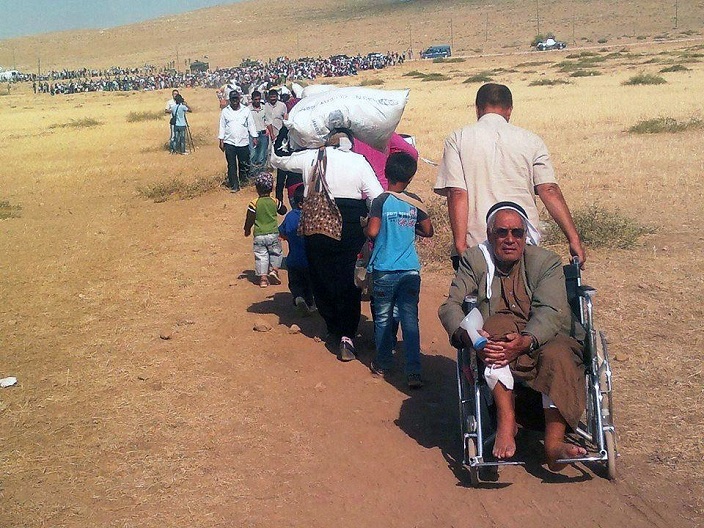 The recent regime advances in northern Syria have caused a new wave of people to head for Turkey seeking refuge from the fighting. However, the political maneuvering is worsening the humanitarian situation for Syrians in northern Aleppo. Turkey has begun building camps inside of Syria for those fleeing the violence in northern Aleppo, but this policy is trapping thousands of civilians in an active war zone.

At the end of January, Syrians started to amass in northern Aleppo countryside along the Kilis-Azaz stretch of the Turkish-Syrian border. The UN's Office for the Coordination of Humanitarian Affairs (OCHA) announced last week that 80% of the estimated 31,000 were women and children. Numbers have since increased to over 70,000. While cases requiring urgent medical attention have been allowed to cross into Turkey, the local governor of Kilis province told BBC World's Zeynep Erdim over the weekend that there were no plans to take in the Syrians. Deputy Prime Minister Numan Kurtulmuş told reporters that the aim was to keep those fleeing the violence on the Syrian side of the border and provide services there.
Turkish authorities are going to great lengths to prevent Syrians in northern Aleppo from crossing into Turkey. Not only have there been reports of Turkish border guards opening fire on Syrians trying to cross into Turkey illegally but also Turkish agencies, such as the Turkish Red Crescent and Islamic charity known for close ties with the governing AK Party, İHH, are establishing camps inside Syria. The Vice President of the Turkish Red Crescent shared photographs of 2,000 newly erected tents in Bab al-Salama, across the border from Öncüpınar.
While many blame the recent EU agreement with Turkey for the closure of the Kilis-Azaz border, this description is inaccurate. The EU wants refugees and migrants kept out of Europe, not Turkey. The EU funding is earmarked for Turkey's refugee response and will be utilized to improve services such healthcare and education to Syrians living in Turkey. Additionally, Turkey currently hosts more than 2.7 million Syrians, and the addition of 70,000 new refugees would not create undue pressure on any of the current infrastructure. Over the years of the Syrian crisis, Turkey has developed significant capacity, technical know-how and expertise in responding to humanitarian emergencies.
The Elbeyli district of Kilis has been known for over a year as a hot bed of ISIS, because of its border with ISIS controlled territory. Given the recent ISIS-linked attacks across Turkey, Ankara may be cautious about letting in refugees where ISIS members could slip into Turkey undetected, as was the case in Tel Abyad. However, Turkey has been allowing Syrians to cross into Turkey for years now, and illegal crossings are still common, and so the security risk does not explain the border closure.
In contrast to its policy in northern Aleppo, Turkey has allowed Syrians to cross over from Latakia. The last few days in January saw Syrians fleeing a regime ground assault backed with Russian aerial support in northern Latakia. Over 5,500 individuals, a mix of ethnic Arabs and Turkmens, waited for several days at the Turkish-Syrian border in Jabal Turkman, across from Yayladağı in Turkey (Arabic: al-Yamadeyyiah), and Turkey allowed them to cross on January 30. Over half were placed in Prime Ministry-linked Disaster & Emergency Management Authority (AFAD) refugee camps, and the remainder were absorbed into the local community through relatives and friends.
The main reason Turkey is building camps in Aleppo and keeping the Bab al-Salama border crossing sealed while implementing policies to the contrary in Latakia is so that it can use the civilian presence to justify the establishment of a safe zone, which would require a no fly zone and a ground force to protect it. A ground force is needed to protect civilians against the risk that one of the many belligerent parties in Syria might infiltrate a possible safe zone and perpetrate war crimes. During the Bosnian War, the Bosnian Serb Army of Republika Srpska captured Srebrenica, which had been declared a safe zone, and massacred 8,000 individuals.
Turkey is pressing for a safe zone in Aleppo, and not in Latakia, because it needs a buffer zone to prevent the Kurdish People's Protection Units (YPG) from creating an autonomous territory all along its southern border. The YPG has direct links to the Kurdistan Workers' Party (PKK), a US and Turkish designated terror group. Establishing a safe zone with ground forces around Azaz will keep Afrin separate from the Kurdish territories in northeast Syria.
The wider international humanitarian community never embraced the idea, which is why Turkey needs to create camps to justify it. UN High Commissioner for Refugees Antonio Guterres warned that "safe zones" did not serve as an alternative to addressing the need to provide asylum to those escaping conflict and stressed that "safe areas could not be seen as a deposit for refugees." As the situation stands, some 70,000 Syrian IDPs are seeking protection from the ongoing violence and being denied access to safety. Despite UK and US officials' claims that the idea was being closely examined and Turkey's intensive lobbying efforts at the G20 last year, Ankara has not been able to garner international or NATO support for the establishment of a safe zone. In November 2015, readouts from National Security Meetings coupled with troop movements to the Kilis border suggested that a safe zone was imminent, but nothing materialized.
While Turkey is looking for ways to justify getting a ground force into Syria and stopping the Kurds from uniting their territories, civilians of the conflict are finding themselves trapped between Islamic State, regime, YPG, and opposition forces. Each side is trying to capture the northern corridor for its own purposes, but it is the civilians who are caught in the middle of the fighting.
S. Keleşoğlu is a humanitarian aid worker based out of southern Turkey.