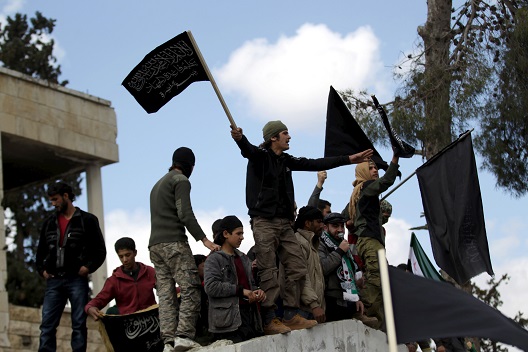 An assault by the Hay'at Tahrir al-Sham coalition led by Jabhat al-Nusra against Ahrar al-Sham in July left HTS in charge of the border with Turkey as well as border crossings including Bab al-Hawa, Atma and Khirbet al-Joz, prompting Turkey to temporarily close them.

As HTS took control of Idlib and the western Aleppo countryside as well as the border crossings, a response from Turkey was widely expected. Days later, Nusra issued a statement saying the Bab al-Hawa crossing would be run by a civil administration not controlled by any armed group. Some were not convinced, but Turkey opened the crossing to limited commercial traffic, and visitors were able to cross in order to celebrate Eid in Syria.
After HTS's military victory, it started to take control of civil affairs through an initiative it calls the "Civil Administration for Services," through which it aims to form a civilian body that takes on the administration of liberated areas and oversees the work of local councils and civil society organizations.
HTS, with major military capabilities, has not been involved in civil affairs to the same extent as its military campaigns. HTS knows such a move could create tension between itself and the local Syrian population which has resisted it notably with mass demonstrations. This happened during its assault on opposition factions and Ahrar al-Sham. HTS has previously fired on protesters with live ammunition killing and wounding several demonstrators, notably in Maarat al-Nu'man, Atarib, and Saraqib. Just a day before the attack on Ahrar al-Sham, Saraqib was the scene of major local activism unprecedented in the liberated areas since the start of the revolution. Activists sent messages to the international community separating itself from Nusra and stating that Idlib is not under jihadist control or run by the carriers of black flags, in order to avoid the province becoming the target of an international military campaign like Raqqa, on the pretext of fighting terrorism. Fearing a repeat of similar angry public responses, HTS began to focus on taking control of civilian affairs rather than using direct violence, hence its Civil Administration for Services.
Immediately after it was formed, the Administration issued a series of decisions regarding the work of local councils and service providers, demanding that they submit periodic reports on their work, activities and services, as well as submitting financial reports, and revealing which organizations support them. Many were disturbed by the orders to comply or withdraw under threat of arms. Dealing with such an administration, directly linked to a listed terrorist organization, could mean an end to the international support these organizations receive, forcing them to curtail their operations, which in turn would impact negatively on the public they serve, who rely on their services and in many cases are living in miserable circumstances. Refusing to cooperate with the Administration and leaving services in the hands of HTS would give the latter a chance to form new councils and service providers—its intention all along.
This triggered a conflict between HTS and civil groups in the area. Local councils, starting with Idlib city council, began issuing official statements responding to the formation of the new administration. The city council's statement said the directives were an attempt to subjugate the council's agencies, and were totally unacceptable. Next came a statement from Maarat al-Nu'man council, saying that it was not subordinate to any group. Jarjnaz council also issued a statement saying it came under the authority of Idlib provincial council, which in turn is under the Syrian provisional government, and that the council would not follow any new authority, a reference to the Administration.
During an August 15 meeting attended by most civil society groups in the liberated areas, Idlib city council called for a "salvation government" to shut down the progress of HTS. Those present also included representatives of the provisional government, the higher education council and the health and school departments, as well as representatives of Aleppo city council, the syndicates of lawyers, pharmacists, engineers and the fire service, as well as women's organizations operating in Idlib.
The council set out a work plan to set up a government that would produce an independent civilian administration not subordinate to any armed actor. This government would be built on contractual, institutional, and legal foundations that would work to establish an independent, strong, and effective judiciary. The council said that the ideas presented were not a finalized initiative but simply a vision for everyone who wants to work for the sake of the country.
HTS and Jabhat al-Nusra, led by Abu Mohammad al-Jolani, has imposed itself on the local Syrian society and on the world as a de facto authority. It has started to communicate with opposition political groups including the Syrian National Coalition (known as the Etilaf) and the provisional government, along with the Syrian Islamic Council and well-known revolutionary figures, in order to gain legitimacy for itself or at least for the civilian front it is trying to impose. Its outreach to such groups is a stark contrast to its previous narrative—Nusra considered all these groups and individuals infidels and accused them of working with the West. Most of the groups it tried to contact rejected its attempts at outreach. Only one person agreed to meet Jolani, Sheikh Hassan al-Daghim, who issued a statement after his meeting stating that discrediting Nusra's proposals as not serious. An internal dispute from within Nusra occurred as well due to this meeting with Nusra members unhappy dealing with groups considered infidels and apostates. It appears that Jolani's pragmatism, which has served Nusra well on several occasions to guarantee the group's interests and survival, did not work on this occasion.
In the context of this struggle and Nusra's attempts to impose itself as a civil administration, the international community must play a role to support and empower independent civil organizations to ensure their work continues and they can carry on providing services to Syrian citizens, who are very much aware of the dangers of Nusra's presence in their region. It must count on civilian challenges to Nusra's projects and attempts to gain control. Local councils and civil society depends on the pockets of nationalist opposition forces that remain in Idlib and the northern Aleppo countryside to launch armed operations against Nusra, whilst preventing large numbers of civilian casualties or damage to infrastructure, already damaged by Assad regime bombardment. The international community must avoid the current strategy used by the international coalition in Raqqa, which has devastated the area on the grounds of fighting terrorism.
Abdullah Almousa is a researcher and military analyst with four years of experience. Currently, he works as a manager for Hooz. He previously worked as a field officer for international organizations in Syria.