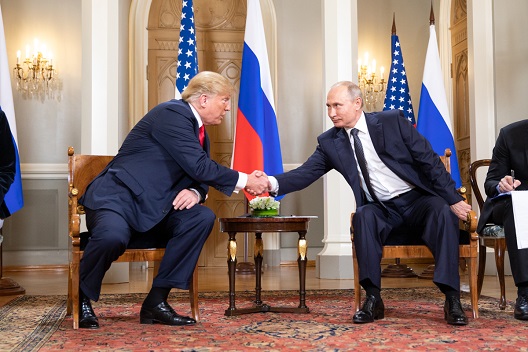 Whatever they may have discussed privately, Presidents Vladimir Putin and Donald Trump did not announce a grand bargain over Syria at their joint press conference in Helsinki. They indicated agreement on several issues: Israel's security, increased humanitarian assistance, the need to finish off ISIS (ISIL, Daesh, Islamic State), and the soundness of Russian-American military deconfliction. They seemed to be leaving it to subordinates to try to flesh out a broad, operational agreement.

Trump did not (in public, at least) brace Putin on Russia's ongoing violation of the southwest Syria de-escalation zone agreed to in 2017 by Moscow, Washington, and Amman. Trump did not allude to the failed Russian "mercenary" assault across the Euphrates River on American positions in February 2018. Trump was silent on the merciless Assad regime and Russian assaults on civilian residential areas. He even went so far as to mention Russian cooperation in the battle against ISIS—something very rarely rooted in fact. Perhaps the president calculated that avoiding unpleasantness was a diplomatic necessity.
In fact, all these topics could have been put on the public record by the American President with straightforward, measured, non-inflammatory language. It is regrettable they were not. But there remain real issues to be addressed by Washington and Moscow as they try to put meat on the bones of the Putin-Trump mind meld.
As American officials engage their Russian counterparts, the following basics will weigh heavily on them:
Putin's objective for Syria is the full restoration of the Assad regime to all the country. Trump ideally wants to complete the military defeat of ISIS (ISIL, Daesh, Islamic State) in the northeast and get out of Syria soon thereafter. Washington also wants Iran out of Syria: something Tehran categorically rejects.
Assad's full restoration would bolster Putin's central domestic political narrative: Russia returning to great power status. This narrative is designed to distract Russians from the breathtaking corruption of Putin and his oligarchic entourage. Trump's spoken desire to beat ISIS and quickly leave Syria is also designed to appeal to a domestic political base: one that sees little value in sustained engagement with difficult Middle Eastern problems.
Iran might be the key to a Putin-Trump understanding. Under no circumstances would Tehran evacuate its forces from Syria. Moscow has neither the means nor the motive to compel Tehran to do so. But a Putin promise—no matter how empty—to keep Iranian-led militias away from the Israeli-occupied Golan Heights may inspire Trump to do what he says he wants to do anyway: beat ISIS militarily, forgo the post-combat stabilization of liberated Syria (an area rich in oil and agriculture) east of the Euphrates River, and leave northeastern Syria completely. Assad and Iran would, quite naturally, move in.
Such an understanding would enable Trump to claim he's simultaneously escaped a quagmire and secured Israel's safety. Although Putin's ability and intention to deliver on any Syria-related commitments are invisible, months would likely pass before the Kremlin's failure to perform would be felt by Israel and recognized internationally; months in which Assad and his allies would establish themselves in a key part of Syria rid of ISIS thanks to nearly four years of effort by an American-led, anti-ISIS Coalition. That effort will have been wasted, as the presence of regime elements and Iranian-led militias will inspire Islamists around the world to respond.
The task of American officials willing to resist a superficially tempting offer by Putin—"I'll take care of Israel, you leave northeastern Syria"—is to persuade President Trump that taking the deal would be foolish. This will be particularly hard if Israel's Prime Minister Benjamin Netanyahu and Jordan's King Abdullah urge Trump to do it. Although Netanyahu and Abdullah are far from naïve, Putin is quite adept at inspiring credulity.
There is no evidence that Iran—whose militia ground forces sustain Assad far more than does the Russian air force—will stand for the marginalization of its role in Syria. There is no evidence that the Kremlin can compel Tehran to stand down or that it wants to do so. What is possible is Tehran agreeing to a pause in building its new "resistance front" near the Golan Heights; a time-out long enough for Putin to slide the United States out of Syria. Then, it's back to the main event: harass Israeli militarily from Syria so that Hezbollah in Lebanon can be immunized from Israeli attacks. Putin, no doubt, will unctuously blame others for his non-performance.
Israelis and Jordanians should, in short, review the bidding before urging President Trump to sign up to something that will likely backfire on them. By the same token, American officials negotiating with Russian counterparts must understand that the one thing most feared by Russia, Iran, and the regime is an alternative to Assad-style governance arising during the protected post-ISIS stabilization in the northeast. They should know that Putin will promise anything to induce the United States and its coalition partners to shirk their stabilization duties and flee Syria, thereby rendering years of effort against violent extremism useless.
The idea of Russo-American cooperation in Syria is attractive. But Mr. Putin spoke an obvious truth in Helsinki: Russia will pursue its interests. The United States should do the same. In Syria those interests fundamentally conflict. To pretend otherwise is to be an accomplice in the picking of one's own pockets.
Frederic C. Hof is a faculty member of Bard Colleges and a senior nonresident fellow of the Atlantic Council's Rafik Hariri Center for the Middle East.