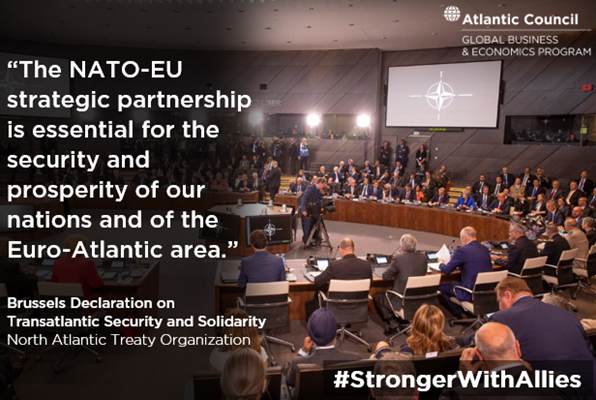 HEADLINES:
US: President Trump began the process of imposing a 10% tariff on an additional $200 billion of Chinese imports on July 11. This is the latest installment to the conflict over China's alleged forced technology transfer, which resulted in 25% tariffs on $34 billion of Chinese goods and matching Chinese retaliation on July 6.
Back in Washington, the United States hosted the 2018 AGOA Forum, named after the African Growth and Opportunity Act, from July 9 to 12. The theme was "Forging New Strategies for US-Africa Trade and Investment," which focused on promoting economic development, regional integration, and trade liberalization.
Brexit: On July 12, the UK government published a white paper outlining its official Brexit proposals. The key takeaways include: a free trade area for goods, but not for services, an end to the free movement of people from EU, a combined customs territory, and a continued security partnership. The document reflects much of the "soft" Brexit principles concluded from Prime Minister Theresa May's Chequers meeting on July 6, which prompted two senior cabinet members and Brexit hardliners, foreign secretary Boris Johnson and Brexit secretary David Davis, to immediately resign. In the meanwhile, EU Chief Brexit Negotiator, Michel Barnier, is in Washington, DC to outline the EU's vision for the post-Brexit relationship with the UK.
Upcoming: Donald Trump will meet with Theresa May on July 13 to discuss the future of the US-UK relationship. On July 16, UK will present its Brexit proposals to the EU in a meeting with chief Brexit negotiator Michel Barnier.
In Mexico City, Mexican President-elect Andrés Manuel López Obrador will meet top White House officials, including Treasury Secretary Steven Mnuchin and Secretary of State Mike Pompeo, on July 13. On the agenda: NAFTA, economic development, and the border.
SPOTLIGHT
Brexit: One Failed Plan, Two Resignations, and Plenty of Uncertainty
by Bart Oosterveld and Jörn Fleck
The illusion that British Prime Minister Theresa May's Conservative government had come up with something resembling a workable Brexit plan after months of uncertainty over the United Kingdom's decision to leave the European Union (EU) lasted little more than two days.
By July 9, Brexit Secretary David Davis and Foreign Secretary Boris Johnson, two senior cabinet members had resigned, leaving the future of the cabinet and the Brexit talks hanging in the balance. What does May's Brexit proposal mean for UK-EU negotiations, a post-Brexit deal, and her political future? Read our analysis here.

TRADE
Press Release: Statement by US Trade Representative Robert Lighthizer on Section 301 Action, Office of the United States Trade Representative
Official Remarks: Remarks by President Donald Tusk on EU-NATO Cooperation, European Council
Official Document: The Future Relationship Between the United Kingdom and the European Union, Department for Exiting the European Union
Official Remarks: Speech by Michel Barnier at the European American Chamber of Commerce, European Commission
News: US to Impose Tariffs on $200bn of Chinese Imports, Sam Fleming, Joe Rennison, and Lucy Hornby, Financial Times
Analysis: Trump's Tariff Barrage Pushes China Fight to Point of No Return, Brendan Scott and Enda Curran, Bloomberg
Analysis: Why Were There No Fireworks at Trump's July 4 Tariff Launch, Shawn Donnan, Financial Times
News: China Vows to Save Its Companies from Trade War Pain – With Cash, Danielle Paquette, Washington Post
Analysis: Chinese Investment in the US Tanks Amid Major Policy Crackdowns, Humza Jilani and Amy Cheng, Foreign Policy
Analysis: Trade Wars Risk Sparking Mass Currency Devaluations, Komal Sri-Kumar, Bloomberg
Timeline: How Trump's Trade War Went From 18 Products to 10,000, Keith Collins and Jasmine C. Lee, New York Times
Analysis: Trade Politics Comes to the County Fair, Alan Blinder, Thomas Fuller, and Monica Davey, New York Times
Analysis: What's in the Brexit White Paper? Peter Walker, The Guardian
Opinion: America Should Support Theresa May's 'Soft' Brexit, Editorial Board, Washington Post
Analysis: How Big Business Took on Hard Brexit and Won, Alex Morales and Suzi Ring, Bloomberg
News: ECB Under Fire as Critics of Bond-Buying Program Reach EU Court, Stephanie Bodoni, Bloomberg

Did you know that…
…Besides the United States, the countries spending the most on the NATO defense budget as a share of GDP are Greece, Estonia, Britain, and Latvia? While Germany only contributes 1.24% of its GDP, it still spends the fourth most overall ($51 billion) on the NATO defense budget. Read more here.

GLOBALIZATION
News: Global Debt Topped $247 Trillion in the First Quarter, IIF Says, Alexandre Tanzi, Bloomberg
Analysis: The Human Capital Gap: Getting Governments to Invest in People, Jim Yong Kim, Foreign Affairs
Analysis: Learning to Work With Robots, Molly Kinder, Foreign Policy
Analysis: Culture and the Labour Market Keep India's Women at Home, The Economist
Opinion: In an Uncertain Global Economy, Turkey May Be the Most at Risk, Peter S. Goodman, New York Times


WHAT WE ARE READING
Opinion: Election Gives Trump a Chance to Hit the Reset Button with Mexico, Earl Anthony Wayne, The Hill
Analysis: Here's What NATO Achieved at Its Brussels Summit, David Wemer, New Atlanticist
Analysis: NATO Engages: Shoring Up the Alliance, Ashish Kumar Sen, New Atlanticist
Analysis:Trump and Putin: Inside the Muddled American Policy on Russia, Courtney Weaver, Katrina Manson, and Max Seddon, Financial Times
Opinion:Trump's Neglect of Europe Goes Beyond Angry Tweets, David M. Herszenhorn, Politico
Webcast: A Conversation with Michel Barnier, European Chief Negotiator for the United Kingdom's Exit of the EU, EU in the US
Analysis: Divide and Invest: Why the Marshall Plan Worked, Melvyn P. Leffler, Foreign Affairs
Analysis: Breaking Point: December 2020, The Economist


UPCOMING EVENTS
July 13: Investing in South Africa's Future: A Conversation with Minister Rob Davies, Atlantic Council
July 18: Oil and Iran: How Renewed Sanctions WIll Affect Iran and World Markets, Atlantic Council
July 13: Brexit and the Future of Europe, Carnegie Endowment for International Peace
July 16: 7th Annual Municipal Finance Conference, Brookings Institute ​​​​​​
July 16: "No Collar Economy:" A Conversation on the Future of Work in Argentina, Wilson Center ​​​​​​
July 17: The Hometown Tour, Axios ​​​​​
July 18: Digitalization of the Industrial Sector: Implications for Energy, Technology, and Policy, Center for Strategic & International Studies ​​​​​​
July 23: Economic Mobility Around the World: New Data and Evidence, American Enterprise Institute


Your Newsletter Team:
Marie Kasperek, Associate Director, Global Business & Economics, Atlantic Council
Cecilia Pan, Intern, Global Business & Economics, Atlantic Council
Tristan van Rooden, Intern, Global Business & Economics, Atlantic Council
Please send us suggested news stories, opinion pieces, publications, and upcoming events that you would like us to highlight! Email mkasperek@AtlanticCouncil.org with your ideas and suggestions.
The views expressed in this newsletter and linked external articles and content do not necessarily reflect the opinions of the Atlantic Council, its staff, or its sponsors.
© 2018 Atlantic Council
Atlantic Council
1030 15th St. NW
Washington, DC 20005
Subscribe to the New Atlanticist | Unsubscribe from our emails
Trade War: It's (retaliatory) tariffs week. Early in the morning on July 6, the United States imposed 25% tariffs on $34 billion of Chinese goods in response to alleged intellectual property theft and forced technology transfer. China immediately retaliated with an equal tariff, targeting soybeans and cars. The United States could later expand tariffs to a second list of Chinese imports, totaling $16 billion, which China is expected to match dollar-for-dollar. President Trump has additionally threatened a third list of $200 billion in Chinese goods with a 10% tariff.
Meanwhile, on July 1, Canada imposed tariffs on approximately $12.5 billion in US goods, including steel, aluminum, and consumer goods. Mexico followed suit on July 5 with 20% tariffs on almost $3 billion in US goods, targeting agricultural products like pork, cheese, and apples.
EU: EU member states gave green light for the Japan-EU Free Trade Agreement (JEFTA) on July 6. It will be signed at the Brussels Summit on July 11 and come into effect within a year. It would abolish tariffs on almost 99% of EU exports to Japan and constitute the largest free trade area in the world.
Upcoming: The US Trade Representative will host top trade officials from dozens of sub-Saharan African states for the annual African Growth and Opportunity Act Forum (AGOA) on July 11 and 12. Opninion: Germany's Europe-Shaking Political Crisis, Explained, Max Fisher and Katrin Bennhold, New York Times
Analysis: Europe's Agenda is in the Hands of a 31-Year-Old, Anna Goldenberg, The Atlantic
Podcast: How Trump's Immigration Crackdown Could Slam the US Economy, Ben White, Politico
Analysis: Raising the American Flag Made in China, Michael D. Breidenbach, The Atlantic
Blog: Andrés Manuel López Obrador and a New Era of Politics in Mexico, Vanda Felbab-Brown, Brookings Institute Opinion: Election Gives Trump a Chance to Hit the Reset Button with Mexico, Earl Anthony Wayne, The Hill
Analysis: Here's What NATO Achieved at Its Brussels Summit, David Wemer, New Atlanticist
Analysis: NATO Engages: Shoring Up the Alliance, Ashish Kumar Sen, New Atlanticist
Analysis:Trump and Putin: Inside the Muddled American Policy on Russia, Courtney Weaver, Katrina Manson, and Max Seddon, Financial Times
Opinion:Trump's Neglect of Europe Goes Beyond Angry Tweets, David M. Herszenhorn, Politico
Webcast: A Conversation with Michel Barnier, European Chief Negotiator for the United Kingdom's Exit of the EU, EU in the US
News:Theresa May Faces Tory Rebellion on Brexit as Jacob Rees-Mogg Leads Bid to Formally Block Chequers Plan, Steve Hawkes, The Sun
Analysis: Divide and Invest: Why the Marshall Plan Worked, Melvyn P. Leffler, Foreign Affairs
Analysis: Breaking Point: December 2020, The Economist