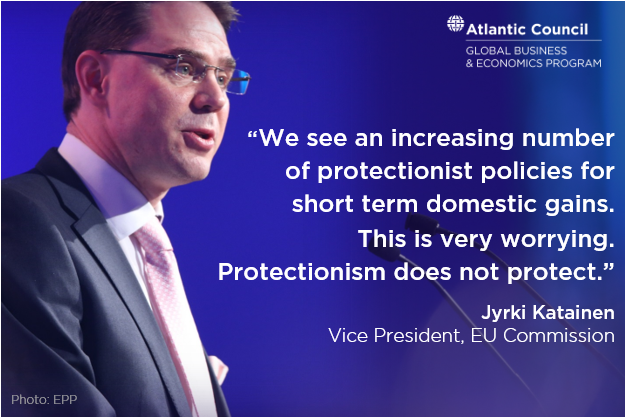 HEADLINES:
Trade War: China's top economic negotiator, Liu He is expected to visit the United States soon for talks with his American counterparts to calm trade tensions between the two sides and pave way for a meeting between the two countries' presidents at the end of the month. On November 14,China sent a written response to U.S. demands.
Car Tariffs: Earlier this week, President Trump met with his trade team to discuss the Commerce Department's Section 232 probe into auto imports, as the White House is circulating a draft report. There are no official statements on the findings of the report, which is not formally due until February.
US-EU: During her short US visit, EU Trade Commissioner Cecilia Malmström told reporters on November 14 that the EU has "not received any assurances" that the Trump administration won't implement auto tariffs. She is under the assumption that there will not be any new tariffs from either side, but is ready to retaliate if needed.
Brexit: The United Kingdom and the European Union have agreed on a draft Brexit agreement at a "technical level." More details in the "Spotlight" section below.
RCEP:The deadline for the signing of the Regional Comprehensive Economic Partnership (RCEP), a 16-member Asian free trade agreement, has been pushed back to 2019, a development that provides relief to the Modi government in the run-up to the general elections, as agreeing to tariff concessions that RCEP entry requires would have created electoral backlash.
Canada: Canadian Prime Minister Justin Trudeau and Chinese Premier Li Keqiang met on November 14 at the annual ASEAN Summit, a key gathering of Asia-Pacific leaders, hoping to push ahead on talks toward a free trade agreement.
ASEAN Summit: The Heads of State/Government of the Member States of the Association of Southeast Asian Nations (ASEAN) and Japan, gathered in Singapore, on 14 November 2018 at the 21st ASEAN-Japan Summit.


UPCOMING:
WTO: World Trade Organization Committee on Agriculture (COA) meeting will take place on November 26-27 wherein the US expects a robust discussion on how India implements and notifies its policies.
G-20 Summit: President Trump and Chinese leader Xi Jinping agree to talks at sidelines of G-20 summit to be held on November 30 to December 1 in Buenos Aires. Additionally, all three nations of USMCA are preparing to sign the agreement at the summit.
EU-Japan: EU-Japan trade deal will be put to a final vote in the parliament's full chamber set for December 13.
US-Japan: Trade negotiations to be held between the US and Japan in January.


SPOTLIGHT
May's Brexit Deal: With Cabinet Nod Secured, Next Stop Parliament
By David A. Wemer

New Atlanticist's David A. Wemer explains UK Prime Minister Theresa May's draft Brexit deal between the United Kingdom and European Union. The deal, which must next be approved by the British Parliament, faces significant opposition both from within May's Conservative Party and from other parties. Wemer also features commentary by Global Business and Economics' Bart Oosterveld. For more insight click here.

TRADE:
News: Brexit Deal Live- Key Developments, Daniel Thomas, Naomi Rovnick, and Mark Odell, Financial Times
Analysis: What a No-Deal Brexit Could Mean for Trade With the EU, Wall Street Journal
News: Trump Administration Delays Decision on Car Tariffs, James Politi, Financial Times
Opinion: Trump's Protectionism might just Save the WTO, Pascal Lamy, The Washington Post
News: China Sends Written Response to US Trade Reform Demands – US Government Sources,Jeff Mason and David Shepardson, Reuters
News: Trump Optimistic About Trade Deal After Receiving China Response, Shannon Pettypiece, Bloomberg
Blog: How to Fight a Trade War: Turn the Other Cheek, Shanta Devarajan, Brookings Institute
Analysis:Trump's Trade War Prompts Fight Among Top Economic Advisers, Alan Rappeport and Glenn Thrush, New York Times
Analysis: A China Trade Deal or a New Cold War, James Mackintosh, Wall Street Journal
Opinion: Xi Jinping, Not Trump Is the True Cold Warrior, Michael Schuman, Bloomberg
Opinion: The 'Madman' Behind Trump's Trade Theory, Annie Lowrey, The Atlantic
Opinion: China Always Promises to Stop Cheating But Never Does, Dan Dimicco, Market Watch
Blog: Trump's Steel Tariffs Have Hit Smaller and Poorer Countries the Hardest, Chad P. Bown, Eujin Jung and Eva Zhang, PIIE
News: China's Li Keqiang Says Beijing is Set on Path to Free-Trade Deal Talks with Canada,Teddy NG, South China Morning Post
News: US-Japan Trade Pact Will Be Model for Indo-Pacific Region: Mike Pence, NDTV
News: Asian Leaders Reaffirm Commitment to RCEP Trade Talks, Kentaro Iwamoto, Nikkei Asian Review
Analysis: The Case for RCEP as Asia's next Trade Agreement, Peter A. Petri and Michael Plummer, Brookings


FACTOID OF THE WEEK:
Did you know…that your Thanksgiving turkey might be cheaper this year because of trade wars? Prices for corn and soybeans, the primary feed blend for turkeys, are low due to trade disputes with China. Additionally, lower foreign demand and competition from other meats push bird prices down. While this is great for the consumer in the short run, it is likely to weigh heavy on American farmers. Read more here.



Did you know… that President Trump's trade war with China could jack up prices on all sorts of standard Christmas purchases? This includes televisions, computers, mittens and knit hats, diluting the Black Friday frenzy following Thanksgiving. American consumers' wages have barely kept up with inflation, thus many don't have enough disposable income to cover a 10 or 25 percent price hike from Trump's tariffs on potential Christmas presents. Read more here.

GLOBALIZATION:
Analysis: The U.S. Is Playing Catch-Up With Rivals as Globalization Marches On, Shawn Donnan, Bloomberg
Policy Research: Traders' Dilemma: Developing Countries' Response to Trade Disputes, Shantayanan Devarajan, Delfin S. Go, Csilla Lakatos, Sherman Robinson and Karen Thierfelder, World Bank Group
Analysis: How Farmers Cope with Shortages of Workers, The Economist
Opinion: The Case for Compensated Free Trade, Robert Skidelsky, Project Syndicate
Analysis: Empirical Evidence Show Migrants in South Africa Create Jobs, Shoghik Hovhannisyan, Christopher F. Baum and Helidah Refiloe Ogude, World Bank
Chart: Bye Bye Baby–How Crises Affect Fertility Rates, IMF Blog

WHAT WE ARE READING:
White House Statement: US-Japan Joint Statement on Advancing a Free and Open Indo-Pacific Through Energy, Infrastructure and Digital Connectivity Cooperation, The White House
News: Four Weeks That Will Determine Fate of the ECB's Bond Buying, Piotr Skolimowski and Alessandro Speciale, Bloomberg
Opinion: Wine, War, Donald Trump and Emmanuel Macron, Adam Gopnik, New Yorker
Analysis: Angela Merkel and the Future of the EU, Catherine Martens, Deutsche Welle
Opinion: Governments are Right to Get Tough on Multinational Company Taxation, Martin Sandbu, Financial Times
Podcast: How the China Trade War Could Get Very Bad, Very Fast, Ben White, Politico Money Podcast
Analysis: The 2018 Midterms, In 4 Charts, Rachael Dottle, Ella Koeze and Julia Wolfe, Five Thirty Eight
Analysis: What China Talks About When it Talks About Stimulus, The Economist

UPCOMING EVENTS:
November 27: 2018 Global Security Forum: Prospects and Priorities for US Gray Zone Competition, Center for Strategic and International Studies
November 27: USMCA at Signing: Implications for Consumers and the Road Ahead for Congress, Atlantic Council
November 28: The State of Ukraine's Energy Sector, Atlantic Council
November 29: China's Power: Up for Debate, Center for Strategic and International Studies
December 3: C. Peter McColough Series on International Economics with Randal Quarles,Council on Foreign Relations
December 4: Future Calling: Infrastructure Development in Central Asia, Atlantic Council


Your Newsletter Team:
Marie Kasperek, Associate Director, Global Business & Economics, Atlantic Council
Christina Gay, Intern, Global Business & Economics, Atlantic Council
Raina Hasan, Intern, Global Business & Economics, Atlantic Council
Please send us suggested news stories, opinion pieces, publications, and upcoming events that you would like us to highlight! Email mkasperek@AtlanticCouncil.org with your ideas and suggestions.
The views expressed in this newsletter and linked external articles and content do not necessarily reflect the opinions of the Atlantic Council, its staff, or its sponsors.
© 2018 Atlantic Council
Atlantic Council
1030 15th St. NW
Washington, DC 20005
Subscribe to the New Atlanticist | Unsubscribe from our emails