At the center of a fierce partisan debate regarding the American presidency, Ukraine is on the front page of every newspaper and the subject of the week. The stakes are high: Democrats allege that Donald Trump held up nearly $400 million in US assistance to Ukraine in exchange for an investigation into his rival Joe Biden and his son who had been doing business in the country. On September 24, Speaker Nancy Pelosi indicated that the House would launch an impeachment inquiry for violating the constitution. The Republicans dispute this claim and argue that it is the latest twist of a years-long effort to end the Trump presidency early.
The Atlantic Council is a nonpartisan organization dedicated to shaping the future with friends and allies. We do not take an institutional position on issues that become partisan, domestic affairs.
That said, UkraineAlert and our Eurasia Center have been at the forefront of providing greater context on Ukraine since Russia annexed Crimea in 2014. We maintain that it is in the interests of the US to help defend the country's sovereignty and territorial integrity and to promote reforms that strengthen its democracy.
With that in mind, we provide some background on Ukraine as the public attempts to sort through the controversy.
Many of the names are new to general readers, so we attempt to answer a few basic questions. If you have others, please drop us a line on Twitter.
Who is Viktor Shokin? One side presents him as a decent attorney general and another side says he stood in the way of reform. What's the truth?
Shokin was the prosecutor general of Ukraine for fourteen months in 2015-2016. He blocked investigations and prevented Ukraine from fighting corruption. The former US ambassador to Ukraine Geoffrey Pyatt called him "an obstacle" to anti-corruption efforts. Ukrainian civil society pushed for his dismissal constantly. The IMF, the G-7 ambassadors, and the EBRD agreed that Shokin needed to go. When he was fired, they all breathed a big sigh of relief.
Subscribe for the latest from UkraineAlert
UkraineAlert is a comprehensive online publication that provides regular news and analysis on developments in Ukraine's politics, economy, civil society, and culture.
Shokin was fired for obstructing the fight against corruption. Former Vice President Joe Biden—the point person on Ukraine in the Obama administration—did pressure Ukraine to fire Shokin and even threatened to cut off $1 billion in aid if he wasn't removed.
Some claim that Shokin was fired because he was investigating Burisma, a gas company on whose board Hunter Biden sat. Activists in Ukraine and former Ukrainian officials dispute that claim. They say that the investigation into the gas company was suspended before the vice president's ultimatum. According to Vitaliy Kasko, the deputy prosecutor general under Shokin and someone whom civil activists trust, the case had been shelved by prosecutors in 2014 and through 2015.
Christopher Miller with Radio Free Europe/Radio Liberty examines the Shokin timeline here.
Who is the new prosecutor general in Ukraine, and what is his reputation?
Ruslan Riaboshapka is the new prosecutor general in Ukraine and he is widely considered by top civil society watchdogs to have the right instincts. He helped write the 2014 anti-corruption legislation after the Euromaidan Revolution.
Sources tell us that Riaboshapka has a good relationship with the president.
Brian Bonner at the Kyiv Post has an excellent look into the new prosecutor general's priorities.
Who was the US ambassador to Ukraine and was she politically biased?
Marie Yovanovitch was the US ambassador to Ukraine from 2016 until she was recalled early on May 20, 2019. Some allege that Yovanovitch was unfairly biased toward the previous government in Ukraine and some allege that she was too hard on former President Petro Poroshenko. Before Yovanovitch was recalled and three weeks before the Ukrainian presidential election, she gave a tough speech pointing out where the Poroshenko administration had failed to seriously fight corruption that was widely viewed as an indictment of the Poroshenko government when it was vulnerable before the election.
Yovanovitch is a consummate diplomat. She has served as a US ambassador three times. This is highly unusual. Only the best of the best become ambassadors, and even the top diplomats generally only serve as an ambassador twice. In my interactions with her, she chooses her words carefully and has been utterly professional and apolitical.
Civil society in Ukraine and the independent press in Ukraine heap praise on Yovanovitch for her professionalism and for defending reforms.
How much does the European Union give to Ukraine?
A lot. The EU and European financial institutions have given more than 15 billion Euro in grants and loans since 2014.
And a freebie: Is it the Ukraine or just Ukraine?
It's not "the" Ukraine. Countless observers keep putting a definite article in front of Ukraine. Ukraine has been an independent country since 1991 and isn't a vassal state. Please don't do it.
Melinda Haring is the editor of the UkraineAlert blog at the Atlantic Council and a senior fellow at the Foreign Policy Research Institute. She tweets @melindaharing.
Further reading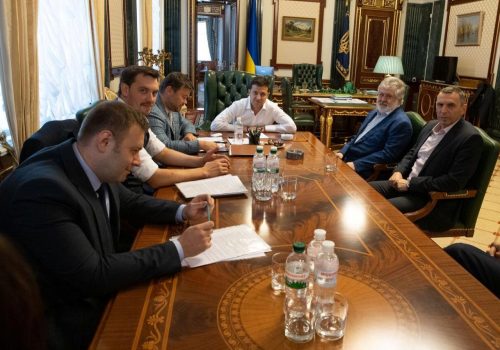 Thu, Sep 19, 2019
If Kolomoisky is not renounced and investigated, the world will turn its back on Ukraine. But the Russians and oligarchs won't.
UkraineAlert by Diane Francis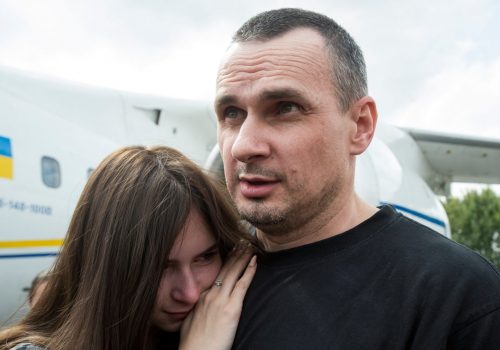 Sun, Sep 8, 2019
"Putin may hope that Western praise for his 'humanitarian gesture' will reduce the pressure on Moscow to end its undeclared war in the Donbas and place the onus on Zelenskyy to make all of the concessions."
UkraineAlert by Melinda Haring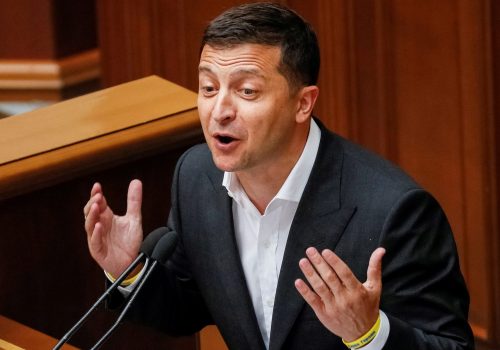 Tue, Sep 17, 2019
Zelenskyy is consolidating power. Ukraine is rapidly switching to a presidential republic from the parliamentary-presidential system its constitution prescribes. And the worst part is that there's little to stop him.
UkraineAlert by Melinda Haring